Sharde' Chapman
Assistant Professor of Religious Studies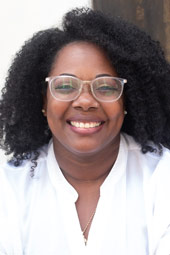 Contact Info: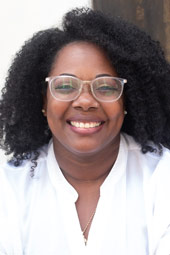 Areas of Expertise:
African American Religion
Gender and Religion
Religion and the Social Sciences
Religion and Black Literature
Degrees
Ph.D., Rice University
M.A., Rice University
M.Div., Union Presbyterian Seminary
B.A., Rhodes College
Biography
Shardé Chapman earned her doctorate in Religion with a concentration in African American Religions and a Master of Arts in Religious Studies from Rice University. Chapman's research at Rice University focused on how spatial identity constructions can be understood as religious formations in black communities. Prior to her doctorate, she earned a Master of Divinity in Religious Studies from Union Presbyterian Seminary and a Bachelor of Arts in Religious Studies from Rhodes College. Chapman's current research strategy combines social-scientific methods with black religious thought and critical theory to plumb and bring into view some of the depths, complexity and intricate movements of black religious formation and cultural life. At present, she is working toward her first monograph which links religion to black nerd communities and black cosplay.
Before coming to joining University of Detroit Mercy, Chapman was a postdoctoral fellow with the Center for the Study of African-American History and Culture (CAAHC) at Virginia Union University, where she continues to be a research associate. Her work has been published in the Huffington Post and various blogs addressing religion and hip hop, black women and embodiment, and social justice.
Chapman serves the community as an education activist and clergy ordained in the National Baptist Convention. In addition, she has worked with the Children's Defense Fund Freedom Schools program and the Presbyterian Church USA. She is an affiliate faculty of the African American Studies Program and the Women's and Gender Studies Program. She joined the University in 2022.