Yu Peng Lin
Associate Professor of Economics and Department Chair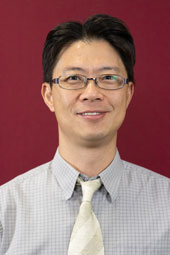 Contact Info: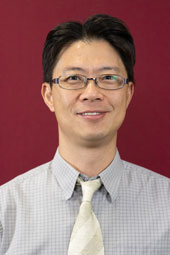 Areas of Expertise:
Financial Economics and Labor Economics
Degrees
Ph.D., Economics, State University of New York at Buffalo
M.S., Finance, University of Colorado
M.A., Economics, State University of New York at Buffalo
B.A., Tunghai University, Taiwan
Biography
Yu Peng Lin teaches Microeconomics, Macroeconomics, Financial Economics, Money and Capital Markets, Macroeconomic Policies and Econometrics. Lin's research and publications have dealt with employee compensation strategies, human resource management and productivity. Lin has published three textbooks and many research articles appearing in academic journals such as Industrial Relations and British Journal of Industrial Relations. He is currently doing research in the area of top executive compensation in an international context, the relationship between managerial compensation and firm survival, and information asymmetry. He holds a Bachelor of Arts (International Trade) from Tunghai University, a Master of Science. (Finance) from University of Colorado, and a Master of Arts and doctoral degree (Economics) from the State University of New York at Buffalo. He joined the University in 2011.
 

Referred Journal Articles

Lin, Yu Peng, "Strategic Thinking of Non-Executive Equity Compensation in Entrepreneurial Firms", International Journal of Business & Applied Science, 2021
Lin, Yu Peng, "The Distorted Grade Distribution: Inflating Grades Post 1980s", Journal of Higher Education Theory and Practice, Vol. 21(5), 2021, pp.116-126
Lin, Yu Peng, "On the Growth of Cities: Human Capital and Portfolio Rebalancing", invited book chapter, Insights into Economics and Management, Maria Ciurea (Edts.). B. P. International, London, UK, 2021, pp. 115-132
Lin, Yu Peng, "Student Behavior in an Online Learning Environment: A Small Sample Study", invited book chapter, Behavioral-Based Interventions for Improving Public Policies, Viorel Mihaila (Eds.), IGI Global, 2021, Hershey, PA, pp.75-94
Lin, Yu Peng (1st author; with Camara, Ablaye), "Network Effect as a Competitive Edge: What have we learnt from the Literature?", Journal of Strategic Innovation and Sustainability, Vol. 15(7), 2020
Lin, Yu Peng, "Rising Grades: A Review", Journal of Applied Economics and Business Research, Vol. 9(4), 2019.
Lin, Yu Peng, "From Data to Inference: The Issue of Self-Selection in Non-Experimental Data", Empirical Economics Letters, Vol. 18(3), March 2019.
Lin, Yu Peng, "Are Students Ready for Online Learning?", International Journal of Applied Behavioral Economics, Vol.7(1), 2018.
Lin, Yu Peng, "Earnings Management and Managerial Incentives: A Note", Empirical Economics Letters, Vol. 16(6), 2017.
Lin, Yu Peng, "The Productivity Effect of Employee Profit Sharing Programs: A Methodology Note", Southwestern Economic Review, Vol. 44(2), 2017.
Lin, Yu Peng, "Academic Tenure and the Rising Cost of Higher Education: An Economist's Point of View", Journal of Applied Business and Economics, 2016.
Lin, Yu Peng, "The Purpose of Higher Education: An Economics Perspective", International Journal of Economics and Accounting, Vol 7 (1), 2016.
Lin, Yu Peng, "The Scope of Professional Administrators in Academia and Its Implications", Journal of Economics and Economic Education Research, Vol. 16(3), 2015.
Lin, Yu Peng, "Diversification, Human Capital, and the Growth of a City: Examples of Eight Manufacturing Belt Cities", Empirical Economics Letters, Vol. 14(6), 2015.
Lin, Yu Peng, "Don't Put All Your Eggs on One Basket: The Lesson from Detroit's Bankruptcy", Annals of Financial Economics, Vol. 10(1), 2015.
Lin, Yu Peng, "Association to Advance Collegiate Schools of Business Accreditation: A Long-Term Perspective", Business Education & Accreditation, Vol.7(1), 2015.
Lin, Yu Peng, "Network Externality and Competing Strategy: Examples of Apple and Google", Empirical Economics Letters, Vol. 13(12), 2014.
Lin, Yu Peng, "The Scope and Structure of Executive Compensation in China and the U.S.", Journal of International Finance and Economics, Vol. 14(1), 2014.
Lin, Yu Peng, "The Fall of Detroit: A Financial Economist's Point of View", International Journal of Economics and Finance, Vol.6 (7), 2014.
Lin, Yu Peng, "Equity Compensation and Organizational Survival: A Conceptual Framework", Journal of Accounting and Finance, Vol.14 (4), 2014.
Lin, Yu Peng, "What Drives Employee Stock Options Program? Safeguarding Human Capital and Recruiting Wanted-skill", Journal of Applied Business and Economics, 2013.
Lin, Yu Peng (1st author; with Ryan D. Rhoades), "The Nature and Scope of Top Manager Compensation in the Ranch Industry". Journal of International Management Studies. June, 2012.
Lin, Yu Peng (2nd author; with James Sesil), "The Impact of Employee Stock Option Adoption and Incidence on Productivity: Evidence from U.S. Panel Data", Industrial Relations, Vol.50 (3), 2011.
Lin, Yu Peng (1st author; with James Sesil), "Do Broad-Based Stock Options Promote Organization Capital?", British Journal of Industrial Relations, Vol. 49(S2), 2011.
Lin, Yu Peng, "Broad-Based Stock Options: Adopters vs. Non-adopters", Journal of Applied Business and Economics, June 2009.
Lin, Yu Peng (1st author; with James Sesil), "Broad-Based Stock Options Program, Organization Capital, and Firm Performance", Best paper of the 2007 Academy of Management annual meeting and published in the conference proceedings.

 

Capstone Projects with Students

Sam Palmer and Yu Peng Lin, "The Impact of Specialization on Recruiter Productivity in the Staffing Industry", under review, August, 2022

Abstract

The United States Staffing industry has seen tremendous growth since the 1990s to the point where in 2019, the market share eclipsed $150 billion. While the magnitude of the staffing industry seems large, the amount of competition has increased exponentially. With fear of becoming commoditized and diluted through the influx of competition, industry leaders have begun to look for new ways to adjust their recruiter development to increase market share on local and national levels.

The concept of specialization in the staffing industry started by focusing on industry-related job openings. However, as the market became more competitive, the clients began to diversify their staffing vendor partners. Thus, it has become imperative for staffing companies to adapt to a dedicated specialized delivery model to increase market share and revenue.

This research seeks to understand if specialization has the intended impact on recruiter performance. By analyzing recruiter-level panel data from an IT staffing company, we found that specialization models have a positive impact on recruiter productivity. The influence is, however, statistically insignificant.  This is due to the fact that with 2021 being the adoption year, the true impact of specialization may be partially captured by the economy re-opening post the COVID-19 pandemic.  In addition, the real effect of implementing a specialization model may take a few years to materialize.  Therefore, we expect to observe a much more significant impact in subsequent years if the data becomes available.

 

College-level Textbooks

Lin, Yu Peng, Business Statistics and Econometrics I, 1st ed., 2012.
Lin, Yu Peng, Time Value of Money: A Key in Finance, 1st ed., 2010.
Lin, Yu Peng, An Application Guide to Macroeconomic Policy, 1st ed., 2009.

 

Courses Taught at Detroit Mercy

Money and Capital Markets
Economic Analysis of Enterprises
Analysis of Economic Conditions
Financial Economics
Data Analytics Foundations
Quantitative Foundations for Data Analysis
Economics Modeling for Data Analysis
Capstone Project