Joseph G. Eisenhauer
Dean of the College of Business Administration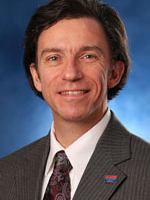 Contact Info:
Building:
Commerce & Finance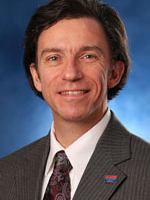 Areas of Expertise:
Economic Policy
US Economy
Degrees
B.S. in Economics, Wharton School, University of Pennsylvania
M.A. in Economics, State University of New York at Buffalo
Ph.D. in Economics, State University of New York at Buffalo
Biography
Joe Eisenhauer joined the College of Business Administration as Dean in 2010. He previously served as Professor and Chair of Economics in the Raj Soin College of Business at Wright State University, and as Professor of Economics and Finance in the Wehle School of Business at Canisius College. As the Faculty Research Coordinator for the Wehle School, he edited a working paper series and founded the Business Research Consortium, a professional association promoting scholarship related to business.
Dr. Eisenhauer has been a Visiting Research Fellow at the Catholic University of America in Washington, D.C., and a Visiting Professor at the Universita di Roma, La Sapienza in Italy. He is a Past President and Distinguished Fellow of the New York State Economics Association, and has been inducted into the national  business honor society, Beta Gamma Sigma, as well as the Jesuit honor society, Alpha Sigma Nu. He has served as an external evaluator for public and private colleges, and as a reviewer for numerous manuscripts submitted to book publishers and scholarly journals.
Eisenhauer earned his undergraduate degree from the Wharton School of Business at the University of Pennsylvania before working in the banking industry. He then earned his master's and doctorate in Economics from the State University of New York at Buffalo, and later returned to the Wharton School as a post-doctoral fellow in Risk and Insurance.
Eisenhauer's research focuses primarily on the economics of risk and ethical decision-making. He has published more than 100 articles and reviews in professional journals, and his work has been cited more than 1,700 times in books, journal articles, working papers, monographs, and doctoral dissertations worldwide.