Meet UDM Pride: Fostering campus inclusivity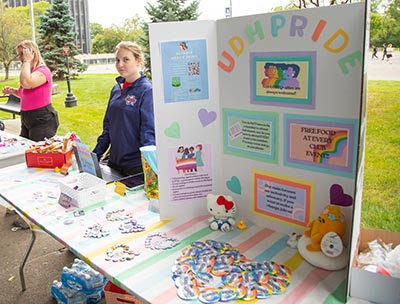 From time to time, Detroit Mercy's Marketing & Communications highlights student organizations on the University's McNichols Campus. This month, we have selected UDM Pride. 
The UDM Pride club has a rich history and has played a significant role in making the campus more inclusive and welcoming to all students, especially those who identify as queer.  
"There is an important role outward in the visibility of queer people on campus, which is especially important on a Catholic campus," said Megan Novell, UDM Pride's moderator. "This school, in particular, is so focused on social justice, human dignity and human value — but on the other hand, the official stance of the Church is still that homosexuality is intrinsically disordered. There are competing values here. Making a statement by having this kind of organization on campus takes a side in a way that I am proud to do." 
UDM Pride has been through some changes, starting as the Gay-Straight Alliance and then becoming Spectrum. However, it recently underwent a revival and was renamed UDM Pride, thanks in large part to the dedication of club president Adriana Molina.  
This name change was met with enthusiasm, with more than 50 students joining the club as it became active again. 
"There was clearly a desire and it has been so satisfying to see that need being met. Students wanted it and made it happen," said Novell.  
The club places a high value on organizing events that are not only educational but also promote advocacy for queer individuals. One of their recent initiatives includes hosting a panel discussion on queer healthcare, which is an important topic for many LGBTQ+ students.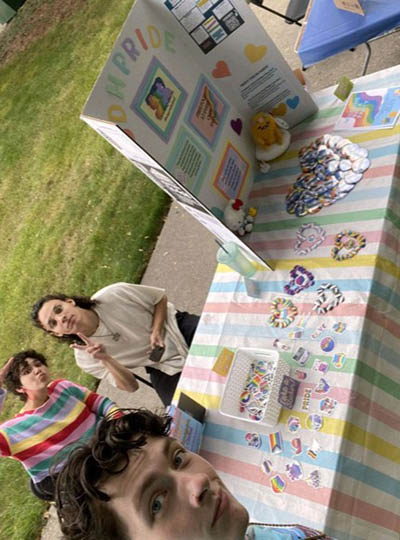 Beyond educational events, UDM Pride also focuses on promoting the well-being of queer students. Their meetings feature movie nights and games to foster a sense of community and belonging and are designed to be joyful. 
"There is an emphasis on fun in UDM Pride because it is important to show the community that there is more to being LGBT than overcoming struggle," said long-time member Joe Crandall. 
One of the club's regular activities is the LGBTea Party, which takes place every Wednesday at 1 p.m. It's a time for LGBTQ+ students and allies to come together, socialize and connect with one another. Additionally, the club hosts various holiday parties throughout the year, including Halloween and Christmas gatherings, adding to the sense of community and celebration. 
Those interested in becoming a part of UDM Pride can reach out to Novell at novellme@udmercy.edu to join the lively GroupMe and stay updated on upcoming events. The club is also open to students who want to take on leadership roles, whether they've been members for a while or are just getting started.  
UDM Pride emphasizes inclusivity and welcomes everyone, whether you consider yourself a part of the LGBTQ+ community or simply an ally looking to support and learn more. 
- By Marketing & Communications student intern Sam Gillmore