Jerica Williams to receive Spirit of Detroit Award at Nov. 21 home opener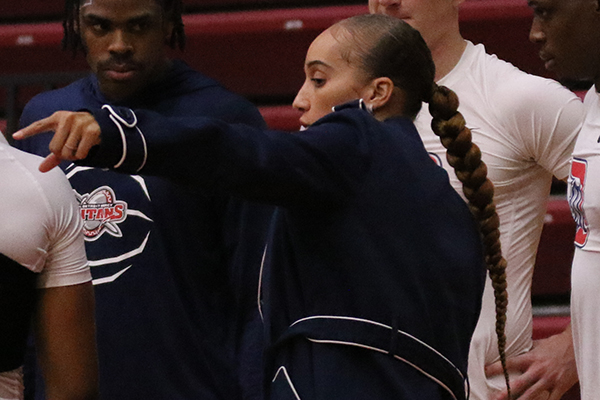 Jerica Williams is a trailblazer and is now being honored prior to the first men's basketball home game of the season.
At the beginning of Detroit Mercy's men's basketball home opener Tuesday, Nov. 21, City Council Member Angela Calloway will present the prestigious Spirit of Detroit Award to Williams for her outstanding achievement in becoming the program's first-ever female men's assistant coach. The game at Calihan Hall starts at 7 p.m.
The Spirit of Detroit Award is issued by the Detroit City Council to a person, event, or organization deemed to have performed an outstanding achievement or service to the citizens of Detroit.
Williams made history by becoming the first and only female assistant coach in NCAA Division I men's basketball, and she has maintained a standard of excellence as a coach and player throughout her basketball career. She's worked with top NBA talent such as four-time NBA Championship winner Steph Curry. Prior to her role at UDM, she was the girls basketball head coach at Detroit Country Day from 2020-22, where she was named Coach of the Year in her first two seasons after leading her team to back-to-back MHSAA Final Fours.
"Coach Jerica Williams is a history maker. Becoming the first women ever to be a men's basketball assistant coach in the NCAA Division I is no small feat and we are so proud of her," said Calloway. "I'm overjoyed that the University of Detroit Mercy chose her for this role, and I know she will be an inspiration to young women everywhere."
Calloway and the entire Detroit City Council commend coach Williams for her hard work and her amazing accomplishments.