UDM partners with Macomb to offer bachelor's completion in Nursing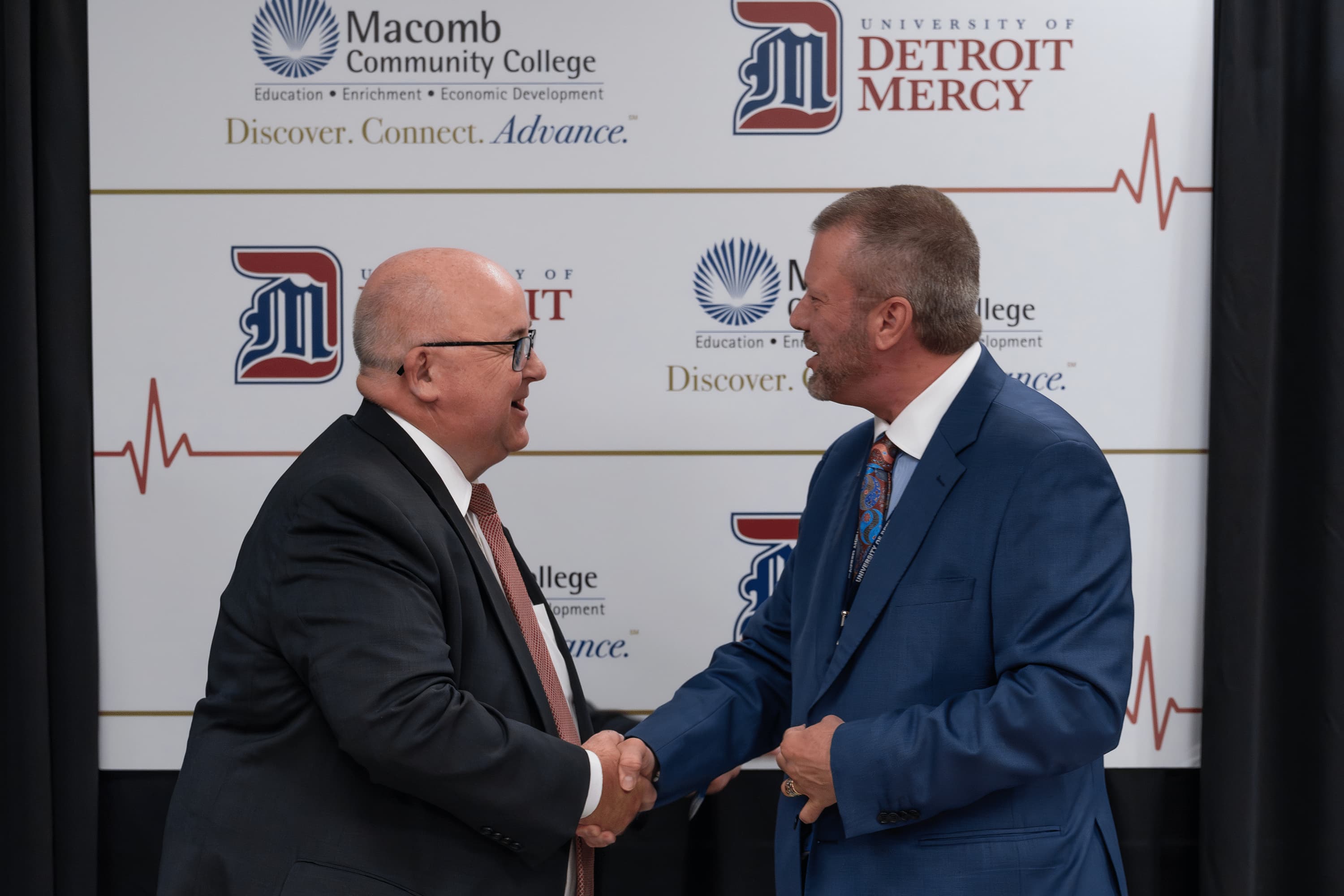 To address a high demand for nurses, University of Detroit Mercy and Macomb Community College are collaborating to bring a bachelor's degree in Nursing completion program to Macomb County.
The new program expands nursing education opportunities for practicing associate degree nurses and recent Macomb graduates and practicing associate degree nurses (ADN), helping to advance careers and to address the shortage of healthcare professionals. It is supported by a $2-million grant from the State of Michigan ADN to BSN Completion Grant Program. 
"This important partnership represents a critical strategic step for the University in helping to fill the critical workforce needs within the nursing field," said Donald B. Taylor, president of Detroit Mercy. "We are very humbled to work in partnership with Macomb Community College and look forward to many years of successful collaboration."
The program will be headquartered at the Macomb University Center on Macomb Community College's Center Campus in Clinton Township. In-person classes will be offered in addition to onsite program staff offering advising, career services, financial aid and mental health counseling. 
"We're deeply appreciative of Detroit Mercy's partnership and their commitment to fostering a home in our community for the BSN completion program," said James O. Sawyer IV, president of Macomb Community College. "The excellence of Detroit Mercy's Nursing programs, variety of course formats, and dedicated staff and resources located at Macomb create an incredible combination of support for our community's associate degree nurses to earn their bachelor's degree."
This program will provide ADNs with an accelerated pathway to earning a BSN in 12 months. Coursework will be comprised of seven-week courses in 15-week semesters, with classes offered in face-to-face, online and hybrid formats.  Those accepted into the program can attend either full- or part-time.
The program's first cohort will start in January 2024. This cohort and the second, which will begin August 2024, will have their tuition of approximately $13,500 for those attending full time covered. Each cohort is expected to be between 12 and 25 students.
Those interested in participating in the program will need to apply for admission to UDM and meet University requirements that include an overall GPA of 2.5. Candidates must have earned an ADN and hold an unencumbered nursing license in Michigan. Information about the program is available here.
To apply to the program or for further information, contact Donna Gormely, UDM admission counselor, at gormeldm@udmercy.edu.
For more, visit: healthprofessions.udmercy.edu/academics/nursing/undergrad/bsn-macomb.
Media Coverage
Detroit Free Press — Macomb Community College, University of Detroit Mercy partner to address nursing shortage
Crain's Detroit — First nurses accepted into new Macomb Community College, UDM program will get free tuition
Macomb Daily — Macomb, Detroit Mercy partner to bring BSN completion program to Macomb County
C&G Newspapers — Macomb and UDM partner to offer nursing completion program