UDM ranks in top 200 in U.S. News & World Report's 2024 Best Colleges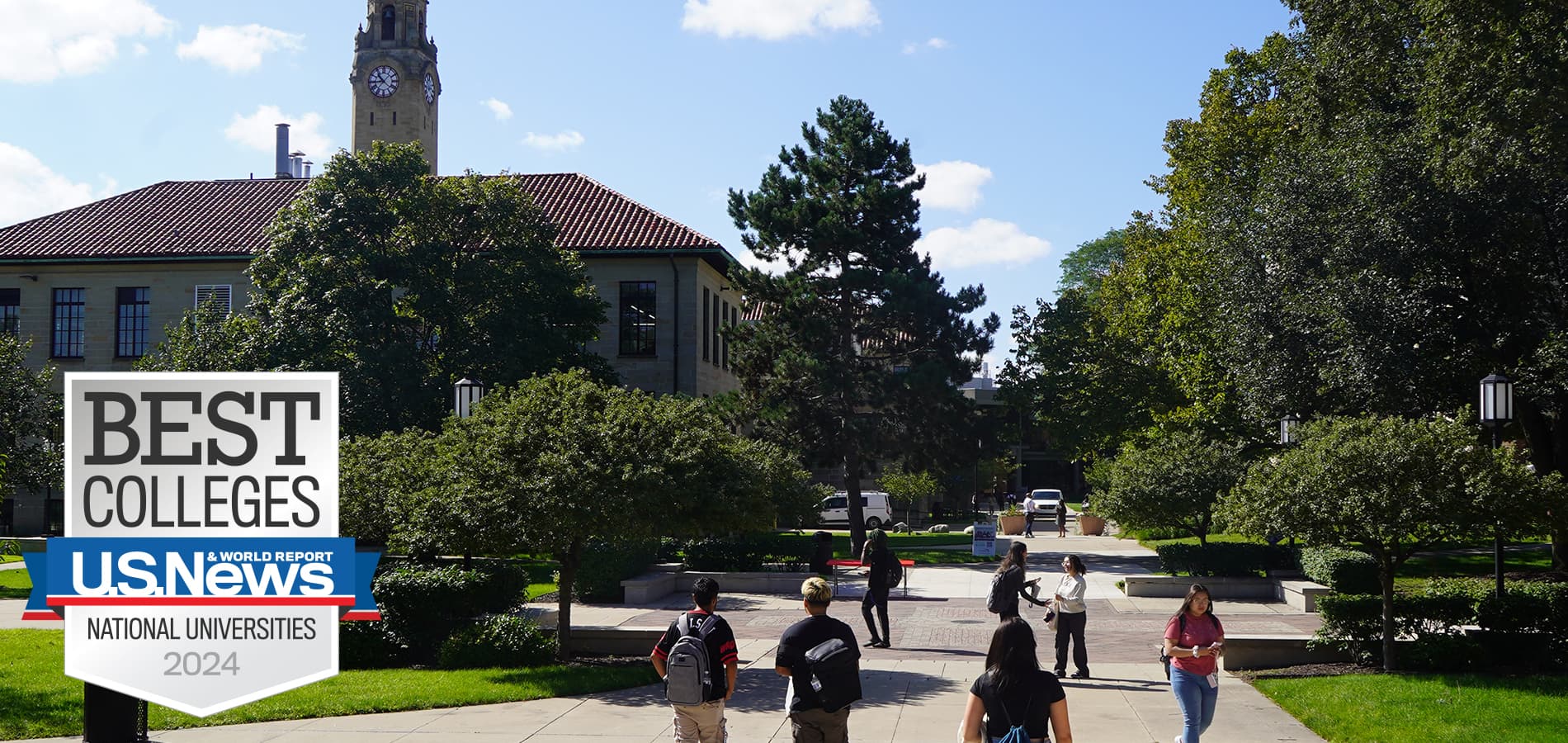 University of Detroit Mercy was ranked among the top national universities by U.S. News & World Report for a fifth year in a row, earning a No. 185 rank in the National Universities category of the publication's "Best Colleges" 2024 edition.
Thirteen other Michigan universities earned a place in this year's National University category. Detroit Mercy ranks fourth in the state and is the highest ranked independent university in Michigan.
Detroit Mercy also received favorable recognition in the following categories:
Best Value Schools, National Universities – No. 31 (up from 40 in 2023)
Top Performers on Social Mobility – No. 151 (up from No. No. 207 in 2023)
Best Undergraduate Business Programs, Management – No. 22
Best Undergraduate Business Programs, Entrepreneurship – No. 31
Best Undergraduate Business Programs, Finance – No. 50
Best Undergraduate Nursing Programs – No. 183
Best Colleges for Veterans– No. 129
"It is a tremendous honor to again rank among the best universities. The educational experience, affordability and outcomes our students achieve make UDM one of the best Catholic institutions in the country," said President Donald B. Taylor. "I am extremely proud of the work our faculty and staff do to ensure student success and to help engage with our community. This is truly a recognition that not only honors our faculty, staff and students, but also one that honors our home in northwest Detroit."
Taylor also noted that while UDM is thrilled with this honor, "We have big plans to do more in the coming months and years to strengthen our brand, draw more students to the University from around the country and strive to support our community in new and meaningful ways."
These new rankings come at a vital time for Detroit Mercy. Each year, UDM undertakes efforts to improve the student experience at the undergraduate, graduate and professional levels. This past summer, for example, the College of Health Professions on the McNichols Campus opened the new Simulation, Technology and Research (STAR) Center, a state-of-the-art technological resource that represents the future of healthcare education. This center promotes student-faculty collaboration in one space, enhances curriculum flexibility and provides technological simulation resources and scenarios to help students understand the different ways of treating patients.
This is one reason why high-achieving students enroll at the institution. This fall, UDM welcomed 558 freshmen, the largest incoming class on the McNichols Campus in more than 14 years. Of this number, 260 will be the first in their family to earn a bachelor's degree and 191 will be the first in their family to attend college. And these students are smart: 18 students graduated from their high schools as valedictorians and salutatorians, and the average GPA for this year's class was 3.65 on a weighted 4.0 scale.
"As a first-generation college student years ago, I know how important it is to take that first step and find an institution that will support you in so many ways inside and outside the classroom," Taylor said. "We are deeply humbled that all of our students have chosen Detroit Mercy and remain fully invested in helping them succeed as both students and graduates."
The U.S. News & World Report's Best Colleges rankings come on the heels of The Wall Street Journal/College Pulse national rankings released the week of Sept. 6. UDM achieved a new milestone when The WSJ ranked the University No. 52 in the nation and second highest in Michigan. For more, visit https://tinyurl.com/4nutexzt.
Since 2020, Detroit Mercy continues to be ranked among the best institutions in the National Universities category. Prior to 2020, Detroit Mercy was ranked in the top Midwest regional universities category by U.S. News & World Report for more than 18 consecutive years.
U.S. News & World Report released the 2024 rankings Sept. 18. For more, please visit https://www.usnews.com/best-colleges.