Law student captures space through astrophotography
Share: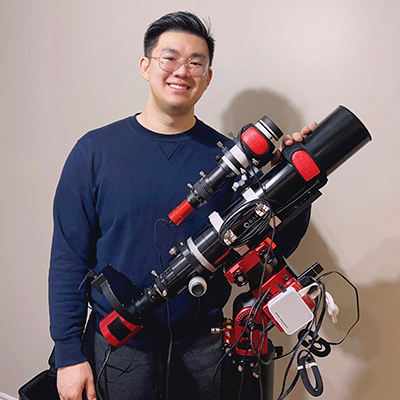 When Janson Fu isn't handling all the responsibilities that come with being a law student, he has his eyes on the stars. 
A second-year student in Detroit Mercy Law's dual JD program, Fu enjoys astrophotography, which involves photographing the night sky and celestial events.  
"I was always interested with anything to do with space," said Fu, whose undergraduate degree is in astronomy and physics. That program exposed him to various hardware and equipment, like telescopes and imaging software. 
Astrophotography is a time intensive hobby — it takes several days for Fu to shoot and process images to produce a final product — but the COVID pandemic allowed him the time to explore it. He's been doing astrophotography for more than two years. 
Fu's process starts with determining what he wants to capture. The website telescopius.com lets him frame targets while factoring in cloudiness and light pollution in the area. When it's a clear, dark night, with no moon or clouds in the sky, Fu can get to work. 
Once outside, Fu lines up his camera rig with the north celestial pole, Polaris, as it's where the sky rotates at night. An equatorial mount prevents star trails by moving his rig with the Earth's rotation and software ensures the image is properly framed so that clear photos are produced. After taking many long exposure shots with filters to capture faint details and different colors, Fu can process and combine them into a full color image. 
"With astrophotography, it's really about finding the perfect way to configure your setup with what you need, so that part is fun, and I mess around with my cameras and filters a lot," he said. "I like seeing the hard work I put into something pay off in the end. The hours it takes to plan, shoot and process, and then I finally get something I'm happy with, it brings me a level of joy that is hard to describe."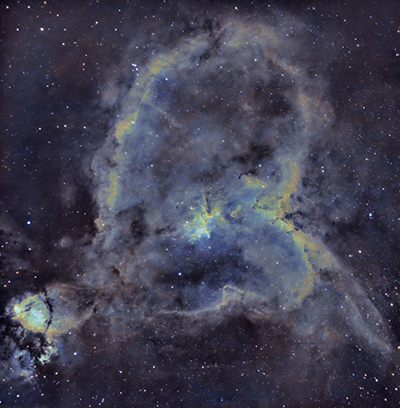 Fu showcases his astrophotography work on Instagram, @astrojanson, which he says acts like a journal to show his progression. 
"You can notice in the beginning that the images were cool, but they were a little blurry and buzzy," he said. "As I've spent more time refining my skills and processing and image acquisition, my details have gotten a lot better." 
Fu is dedicated to his law studies and extracurriculars, but manages to balance it with his hobby. 
"The nice thing is that astrophotography happens at night, while all my coursework and everything happens in the day, so it doesn't overlap," he said. "I can get all of my work done and everything I need to do and still set up for my astrophotography shots at night, which is really nice." 
Despite astrophotography being a hobby, Fu takes pride in the images he produces and has high goals for the future. 
"To win a NASA Astronomy Picture of the Day award or multiple, that's something that I'm working towards," Fu said. "I'm imaging Nebula right now because that's something I'm doing with my equipment. To image galaxies that are very high detail, you need very specialized and expensive equipment. That'll be something I want to work towards in the end."
 — By Ricky Lindsay. Follow Detroit Mercy on Facebook, Twitter and Instagram. Have a story idea? Let us know by submitting your idea. 
Share: