Detroit Mercy's new STAR Center will create healthcare stars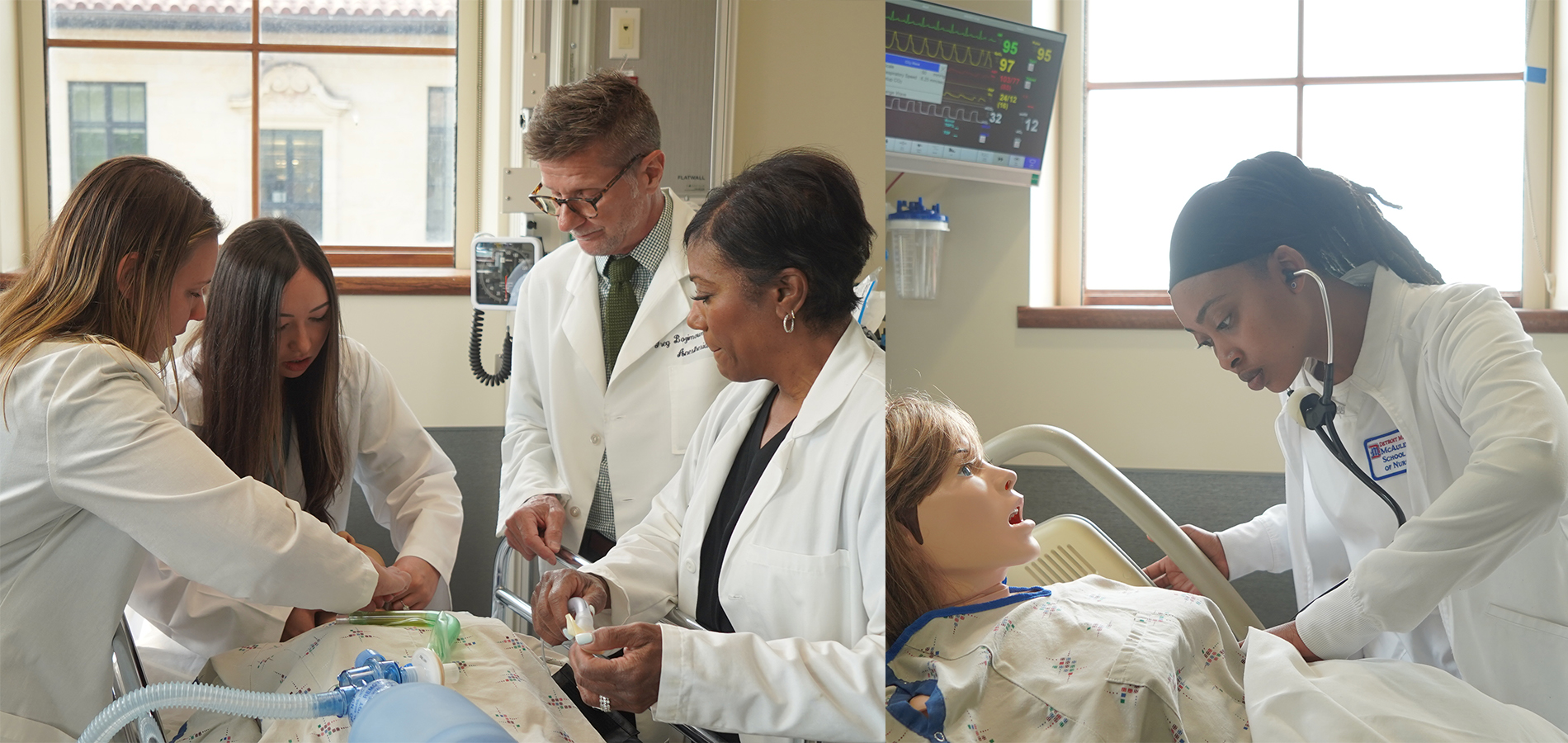 Tucked away in University of Detroit Mercy's College of Health Professions on the McNichols Campus is a facility that looks like a working hospital.  
Wide hallways and doors accommodate the movement of beds from room to room. Large windows showcase machines that beep vital signs. Patients are treated for trauma while others give birth. And all of it is done under the watchful eyes of simulation and clinical faculty in a nearby control room. 
This is the College of Health Profession's (CHP) new Simulation, Technology and Research (STAR) Center, and it is the future of healthcare education. 
"We have done simulation for years, but this is simulation through a different lens," said Nina Favor, assistant dean Prelicensure Clinical Partnerships. "This center broadens it and uses the discipline according to the International nursing Association for Clinical and Simulation Learning standards." 
The Center is designed to promote student-faculty collaboration in one space, enhance flexibility of the curriculum and the scenarios help students understand the benefits of different ways of treating patients.  
More than three years in the making, the STAR Center will redefine the CHP's interprofessional environment. Every program that falls under the CHP, from Physician Assistant to bachelor of Nursing will benefit, Favor said. The Center will be able to connect with Aquinas College in Grand Rapids, where Detroit Mercy runs the Nursing program and the new Novi Campus, where the Master's Entry Advanced Generalist Nursing (MEAGN) program is offered. 
"I'm really excited about this," Favor said. "We could have one patient and be teaching students on three campuses." 
That is beneficial to students on the three campuses who need training on serving rural, hearing impaired, aging, youth and other populations that have unique needs.  
It can also be used to expand some of the dual enrollment programs the CHP currently does with middle and high school students. It will also be an asset for recruitment and retention of CHP students. 
"And it serves our mission too, because it can be used to improve and increase our healthcare outreach to the community," said Interim Dean Janet Baiardi. 
It will also be vital in creating a better prepared workforce, which is badly needed.  
According to a new University of Michigan study, 39 percent of Michigan nurses said they plan on leaving their job in the next year. Among nurses younger than 25, 59 percent said they expect to leave the profession. While there are many reasons for this exodus, the fact remains that there are far fewer nurses working and in the pipeline.  
"Nursing as a profession is an aging profession," Baiardi said. Research shows huge percentages of the current workforce is looking to leave the profession. A big reason for that is burnout.  
"Simulation training will better prepare students for the jobs that are out there," she added. "By being better prepared, they will know how to handle situations in the workforce before they have to confront them in real time. That can help prevent burnout." 
Erika Moreno '23 earned her bachelor of science degree in Nursing just as the STAR Center was being brought online, but she sees the potential of it. 
"I think it's a good opportunity for UDM students to explore the real world without fear of doing anything wrong and harming the patient," Moreno said. 
A non-traditional student, Moreno left a previous career in human resources for her Nursing degree and is now working in the cardiovascular operating room at University of Michigan Hospital.  
She said simulation work begins with a case study where students are given details about the mannequin patients.  
"That starts our critical thinking and we work in teams, and I remember to ask the patient one thing and my team member remembers to ask something else, so we're tag-teaming and learning from each other and the situation," Moreno said. "Healthcare is new to me, so the simulation experience is helpful. It gave me that nursing experience before I had to do it in real life." 
The former simulation center was too cramped and outdated and didn't allow for easy simulcasting to other campuses. This new center will use artificial intelligence tools to increase the learning experience. Virtual-reality mannequins will have artificial intelligence and be able to answer questions from students. They will have vital signs and one will be able to simulate having a baby.  
Cameras and one-way mirrors will allow instructors to watch as students learn everything from bedside manner to labor and delivery. Collaborative spaces for active learning are also included in the renovations that created the Center. 
Much of the $4-million cost of the Center has been paid for by donors, but opportunities still remain to fund parts of it. 
"This is the future of healthcare education," Favor said. "It's great for Detroit Mercy, our students and the community." 
Learn more about the STAR Center.