Class of '23 mission award winners left lasting impression on University
Share:
The Vivere ex Missione awards are presented annually to four graduating students whose time at University of Detroit Mercy was marked by leadership, service and scholarship. Nominations are made by students, staff and faculty and the awardees are chosen by a committee of staff and faculty.
"Vivere ex Missione" means "to live the mission" and these students did just that as Detroit Mercy students. Below is the text of the citations each received with their honor: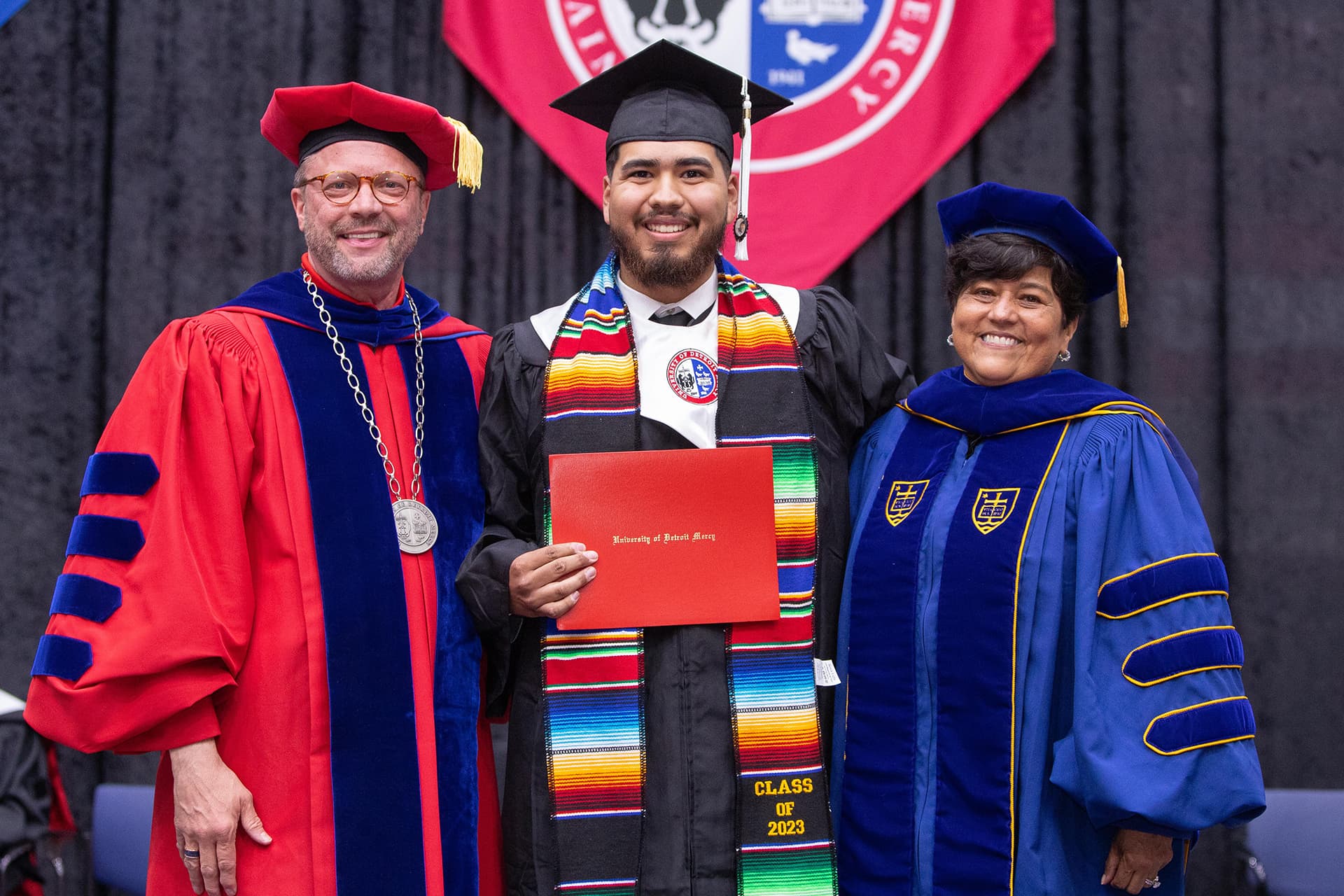 Jorge Reyna, Jr., Undergraduate student
There are many students who make their mark on campus while they are students, and some whose presence will be felt long after they graduate. Jorge Reyna is one of those students.
A graduate of Detroit Cristo Rey High School, Jorge came to University of Detroit Mercy to study communications. He was the recipient of a prestigious award by the Emma Bowen Foundation, which helps build a pipeline of people of color who will change the face of media. He served as an intern for four years at WDIV, Channel 4 and helped establish a strong internship program for future students studying communications with the TV station.
Jorge was also a familiar voice on the pages of the Varsity News, serving as staff writer and editor during his four years, sharing well-thought out views on issues of importance to students, staff and faculty.
A student representative on the College of Liberal Arts & Education's Strategic Vision Taskforce, Jorge organized an event to collect the information the College needed to help create its goals for the future.
Jorge is also a force in the community. He led service projects in his role of president of Lambda Theta Phi Latin Fraternity, including breast cancer awareness events, holiday toy drives and collected supplies for Detroit's homeless population. He serves as a coach and mentor to children learning to play baseball through the Southwest Aztecs Baseball Organization, a non-profit baseball league started by his father.
Inspired by his Catholic faith, Jorge has participated in mission trips, is creating literacy workshops for students of Detroit Cristo Rey as a way of building bridges between that school and Detroit Mercy. His service is not just for the community, he says, but a way of serving God.
For all these reasons, and too many others to list here, University of Detroit Mercy is proud to award the undergraduate Vivere ex Missione Award to Jorge Reyna.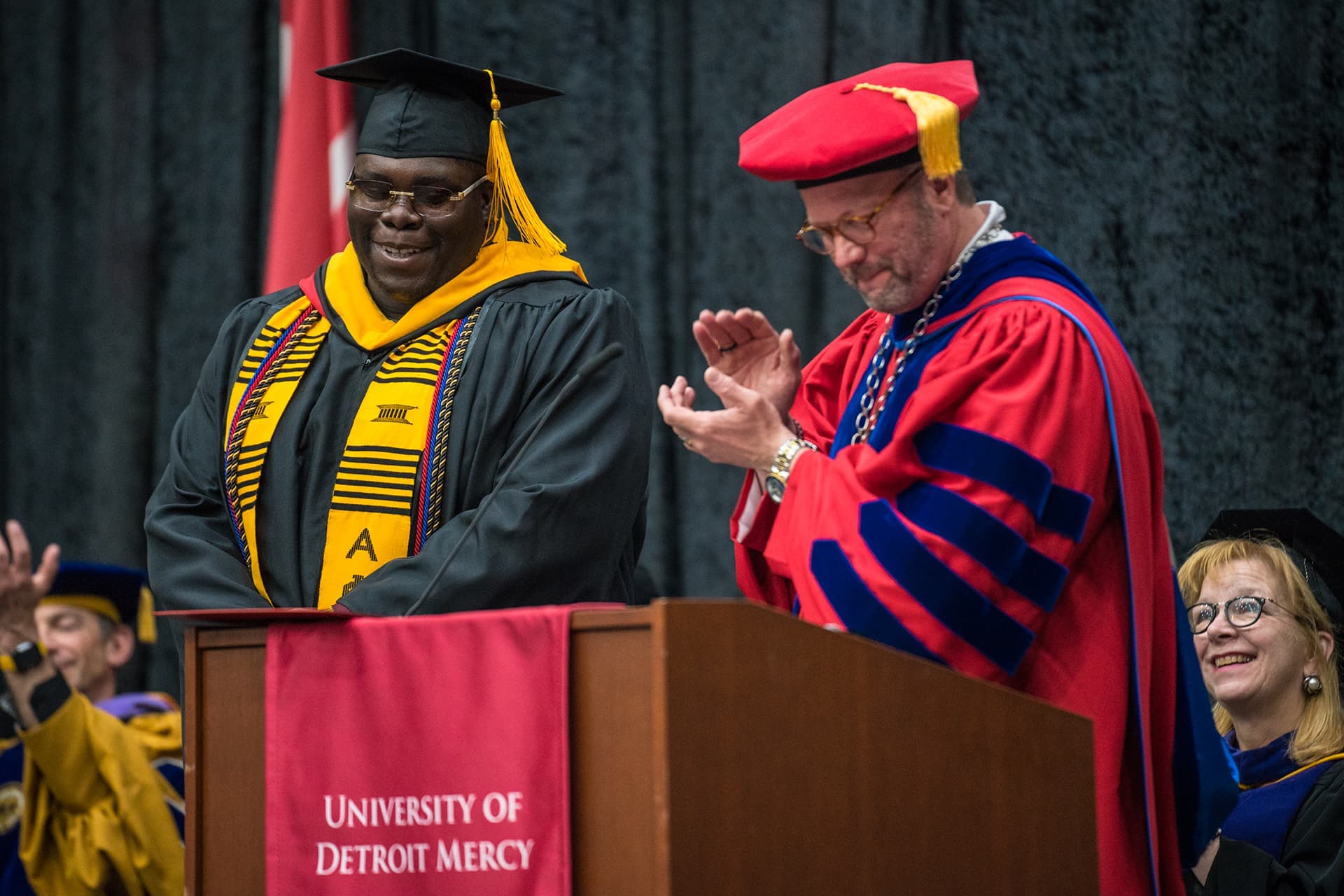 Ejiroghene Orhorhoro, Graduate student
Some students leave as big an impression outside of the classroom as they do inside and Ejiroghene Orhorhoro is one of them.
Masters of Health Services Administration Program student Ejiroghene, who goes by Daniel, works to help all those around him succeed. He created events to build lasting connections among students of many different backgrounds and graduate and undergraduate students.
As a member of the HAS's Student Advisory Board, is a voice for all students, especially those who may not feel comfortable expressing concerns, to raise issues to faculty and administration. He has also mentored younger students in this role, so his commitment to inclusivity will last long after he graduates.
Daniel has been working with Crossroads, a group that provides emergency assistance, advocacy and counseling to anyone in need. Through this group, he is working with the Detroit Police Department to improve response times and aid understanding of the role of Crossroads in the community.
In 2022, Daniel received the Midwest Chapter of the American College of Healthcare Executives scholarship by a unanimous vote of faculty. He used the money to attend the American College of Health Executives Congress and presented that information to his peers. He returned to that conference this year, bringing with him another student to benefit from the learning experience.
For his commitment to the College of Health Professions and to the students within it, University of Detroit Mercy is pleased to present the Graduate Student Vivere ex Missione Award to Ejiroghene Orhorhoro.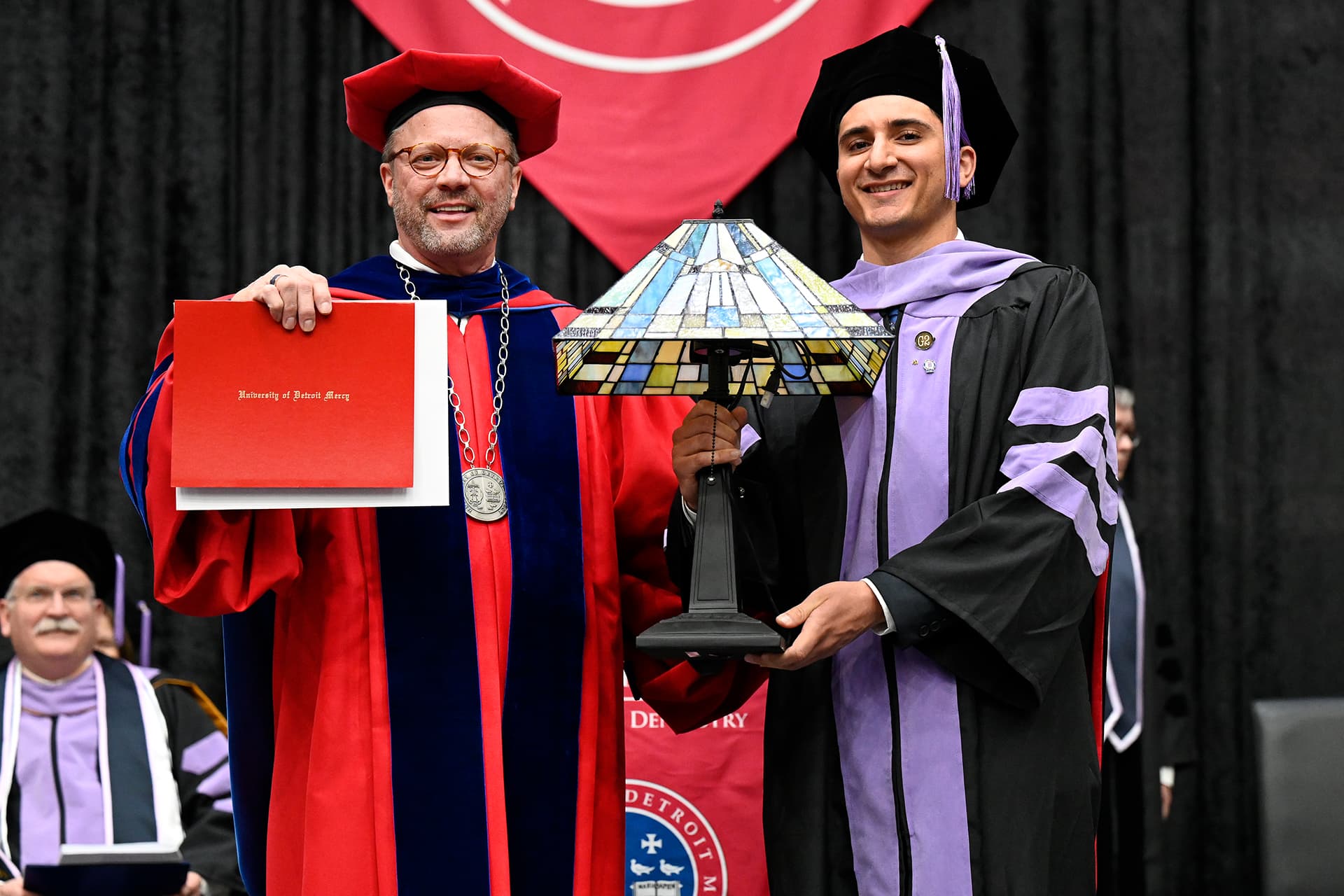 Oliver Daniel, School of Dentistry
Being a dental student is challenging, so is being a student-athlete. Oliver Daniel has taken on these two roles and has succeeded in both.
He joined Detroit Mercy's track & field and cross country teams in the fall of 2019, the same year he started classes at Detroit Mercy Dental. He found a way to balance the demands of Division 1 athletics with dental school, training at 5 a.m. on his own when class work conflicted with his practices. Even after his eligibility ended, he continued to bring his positivity to the team, volunteering as a coach, where he shares his experiences and mentors younger teammates learning to navigate being a student-athlete.
Oliver also excels in the classroom, demonstrating the same leadership as he shows on his team. Strong in academics, he was awarded a Letter of Commendation from Detroit Mercy Dental in Fall 2022, "in recognition of your outstanding didactic, clinical and leadership skills."
Oliver was the student leader of an August 2022 mission trip to Honduras by the Christian Dental Association, of which he is the president. He recruited students of all faiths to join the mission and organized donation of dental supplies from the dental school and local private practices. More than 900 Hondurans were treated free of charge during that trip.
After graduation, Oliver will join the U.S. Air Force, where his leadership skills and his concern for others will be put to good use.
For his commitment to the university, his fellow students and the community, University of Detroit Mercy School of Dentistry is proud to present the 2023 Vivere ex Missione Award to Oliver Daniel.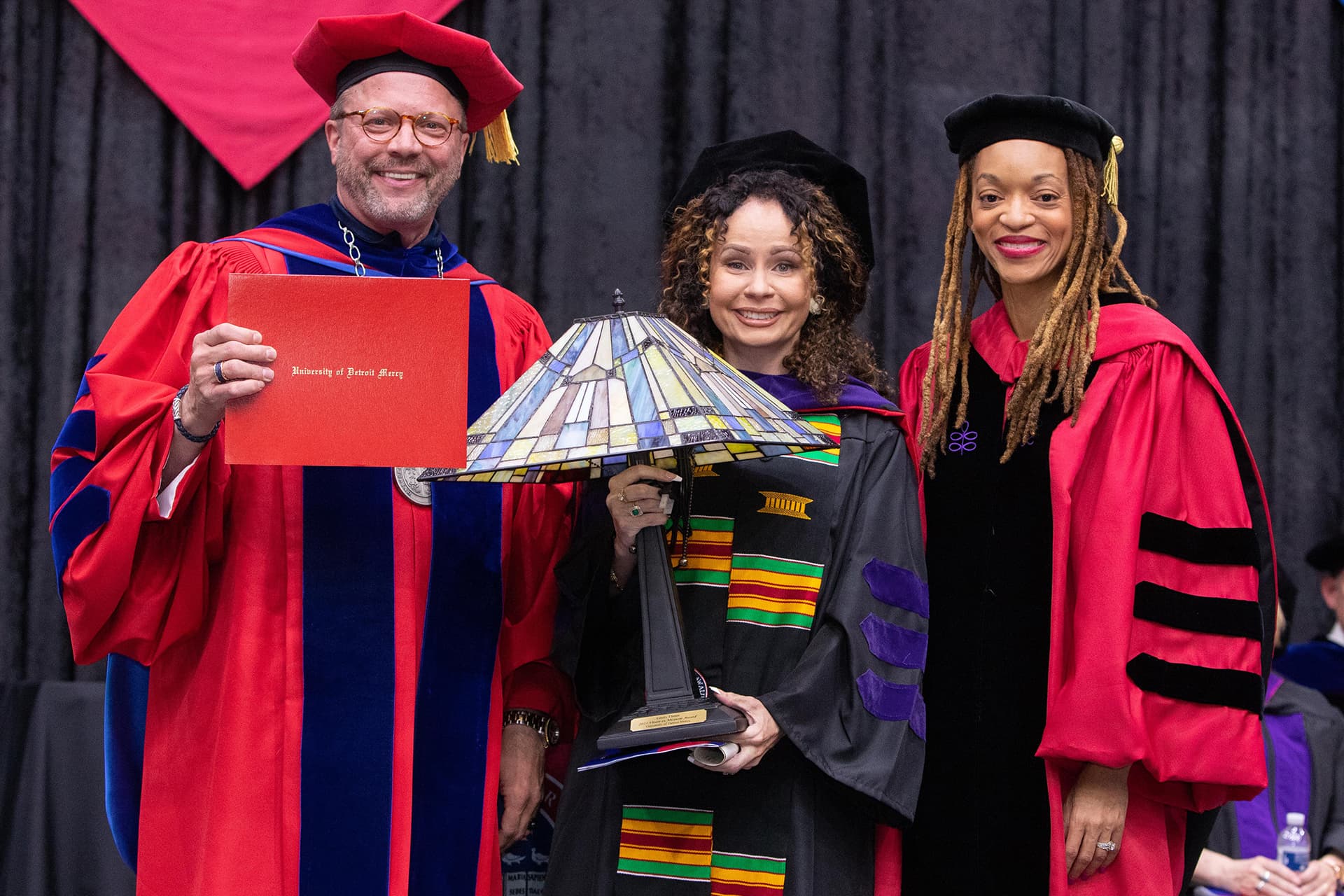 Emily Elmer, School of Law
Student. Mentor. Community servant. These words all apply in equal measure to Emily Elmer.
An exceptional member of the student body, Emily not only shines as a student, but she devotes a much of her time to helping other students succeed as well. She is a Teacher's Assistant, a coach for first-year Moot Court participants and a mentor to members of the 1L class. She shows everyone respect and kindness to everyone, understanding that everyone has different needs, understandings and beliefs.
Emily is extremely involved in many Detroit Mercy Law organizations. As Executive Director of Internal Competitions for the Moot Court Board of Advocates, Emily organized this year's Patrick A. Keenan Appellate Advocacy Competition, which gives students the opportunity to hone their oral advocacy. A member of the ABA Student Lawyer Editorial Board, Emily looks for ways to help students' personal growth.
She served as Fundraising Chair for the Detroit Mercy Law Black Law Students' Association and enrolled in the Veteran's Law Clinic. She works with the Black Law Students Association and the Jewish Bar Association of Michigan, groups that work with marginalized communities. Emily is also a NASA Solar System Ambassador and, in that role, created and presented a summer science learning series in partnership with the Detroit Public Library.
"Law is how you affect change in the world," Emily once told a reporter. We are certain she will be leading that change in her position of clerk in the Office of Legal Counsel in Michigan Gov. Gretchen Whitmer's Executive Office.
For her dedication to her fellow students, her school and the law, Detroit Mercy Law awards its 2023 Vivere ex Missione Award to Emily Elmer.
Share: