Class of '23: A year later than expected, graduate fought hard to walk across the stage
Share: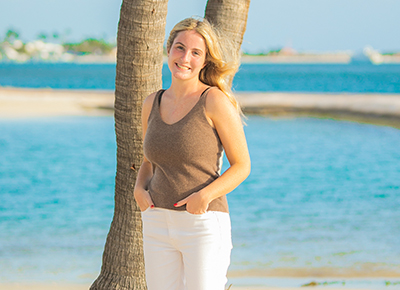 To mark the graduation of the Class of 2023, Marketing & Communications is profiling several students who were nominated by staff and faculty for their contributions to the University and their potential to make a difference after graduation. Click here for more information about 2023 commencement exercises.
On May 13, Keagan Tremel will walk across the commencement stage to pick up her diploma like hundreds of other graduates. For her, though, it's an especially important accomplishment, because not very long ago, she was told she may never walk again. 
"I am able to do this because I had a lot of support, from my family, friends and the faculty," Tremel said. 
She had chosen Detroit Mercy's Nursing program at the Aquinas Campus in Grand Rapids because her family was moving from Hartland to Holland and she wanted to be close to home.  
"I knew I was moving to the west side of the state," she said. "Detroit Mercy has a direct admit to the Nursing program and that was what really made me choose it." 
But in September 2018, three and a half weeks into her freshman year, Tremel was in a brutal car accident. 
"I had just started making friends," she said. "It's always weird to retell it. The accident broke part of my vertebrae and I was immediately paralyzed. When I woke up in the hospital I was told I would most likely never walk again."  
An eight-hour surgery repaired the damage, but the recovery would be hard.  
"I call it my 'fake' back," she said. "There's a lot of metal in it and I have a 12-inch scar on my back." On the bright side, she jokes, "I grew an inch during the surgery." 
Emerging from the surgery was only the beginning of her long road back. 
"I was in a wheelchair exclusively until May 2019," she said. "I had great support from my family and friends."  
A lot of support came also from the school, mostly in the form of Ivy Razmus, assistant professor and Suzanne Keep, associate professor and site director for the pre-licensure program in Grand Rapids. 
"Dr. Keep was with my parents in the Intensive Care Unit for most of the day. She held my spot in the school for a year due to medical reasons." 
Tremel returned to classes in August 2019, walking with a leg brace.  
"Dr. Keep, even though she isn't my main professor, has been the most supportive advisor," Tremel said. Keep helped her get accommodations, including being allowed to get to class late, seeing as Tremel was new to walking. When cold weather made the pavement slick, Keep contacted workers to ensure sidewalks were salted. 
Though back in classes, arrangements still had to be made for the clinical placements that are so important to the Nursing program. 
"I couldn't drive," Tremel said. "I was terrified." Her best friend offered to drive her to the placement sites. 
But she was back in school and making headway toward earning her bachelor of Nursing degree, something she had thought about for a long time. 
"The first thing that drew me to nursing was that I have six nieces and nephews, and being around them made me think I could be a nurse," Tremel said. 
And after her accident, she was certain that was where she should be. 
"Once I saw what the emergency room nurses did and how all the nurses helped me — I wanted to do for others what they did for me," she said.  
She has been active in the campus' Student Nurses Association for years and is currently vice president. 
Her walking is getting better, she said, though it's not yet to where she was before the accident. 
That doesn't matter to Tremel, though. She has her eyes on her commencement. 
"I'm excited to finally graduate," she said. "And to do it walking." 
— By Ron Bernas. Follow Detroit Mercy on Facebook, Twitter and Instagram. Have a story idea? Let us know by submitting your idea.
Share: