Class of '23: Dental work as child inspired grad to become dentist
Share: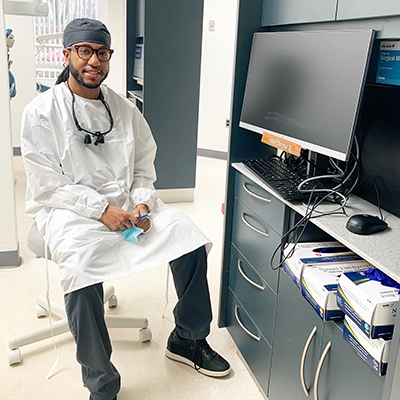 To mark the graduation of the Class of 2023, Marketing & Communications is profiling several students who were nominated by staff and faculty for their contributions to the University and their potential to make a difference after graduation. Click here for more information about 2023 commencement exercises.
Trey Hester's interest in dentistry was sparked by his own dental work.
As a child, Hester was bullied for having a misalignment with his teeth and had to wear braces for four years to fix it.
"My two front teeth were crisscrossed," he said. "I had some developmental issues and my teeth were just not coming in straight."
As his orthodontist appointments neared their end, Hester became intrigued by the panoramic x-rays of his teeth and the treatment process. Dentistry remained on his mind when he chose to write about the profession for a book report on careers in ninth grade.
"At 14 years old, I said, 'I'm going to be a dentist,'" Hester said.
Hester will have accomplished his childhood goal when he graduates from University of Detroit Mercy's School of Dentistry in May. He will start his career by working as an associate at Afdent's Fort Wayne, Ind., office later this year.
"It's a very humbling experience, and it feels good because it's been a very long journey," Hester said. "A lot of years, a lot of sacrifices because I was focused on this one goal. I'll have a Detroit Mercy degree, and that means a lot."
As part of their education, UDM students provide treatment and care to southeast Michigan residents. Hester relishes being able to help patients feel better about their smile, a full-circle moment from his own dental journey. 
"I had a patient break down in tears once," Hester said. "I'm not an emotional guy, but seeing a patient who said they hadn't had teeth in years, to have such a profound impact on a person by giving them confidence in their smile, it almost brought me to tears.
"Knowing that you're doing something that's bigger than you and impacting somebody to their core, for them to be able to chew, eat, smile, it makes all the long nights and hard work worth it."
Hester loves the art of dentistry and how he can fuse creativity with science to help people. He wants to master his craft and open his own clinic one day. But he's also passionate about making a difference in both his community and profession. 
Only 3.8% of dentists in the United States are Black, according to a 2020 study by the American Dental Association. It's a percentage Hester hopes to increase.
He serves on a board at Crockett Midtown High School and is slated to be the school's commencement speaker this year. He's introduced high school students to dentistry by attending career fairs with UDM representatives. Additional programming brings youth to the Corktown Campus and connects School of Dentistry students and faculty with the community through outreach initiatives, clinics and pipeline programs.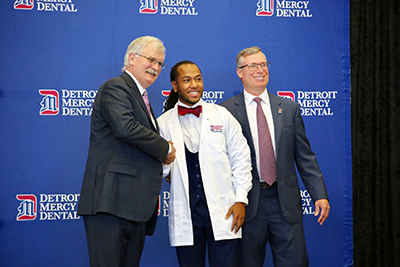 Outside the classroom and dental clinic, Hester volunteers at his church, Northwest Church of Christ, assisting with Forgotten Harvest giveaways.
"I know there are not many African Americans in dentistry. I am a big proponent of you cannot be what you cannot see," he said. "If people don't understand and see that it's even possible, it's not going to start to the light bulb to flip in their heads." 
Hester arrived at UDM's School of Dentistry in 2019 following a gap year where he worked with periodontist Anthony Neely, who is an associate professor at UDM, as well as endodontists Todd Ester and Brad Griffin at University of Michigan. 
He remembers being wowed while visiting the Corktown Campus as an undergraduate student at Michigan State University and participating in the Summer Enrichment Program. 
"I thought it was dental Wall Street," he said. "I was enamored with the whole facility." 
At UDM, Hester was involved with the American Dental Education Association's GoDental events and worked as an admissions ambassador. He represented the School of Dentistry at National Dental Association conventions in Orlando and Philadelphia and was a member of the Increasing Diversity in Dentistry (IDID) Pipeline Initiative. 
Hester glows about his UDM experience, which he shares with fellow students through these opportunities. 
"I really do love the fact that the clinical experience is second to none," Hester said, noting that he's extracted nearly 150 teeth and performed root canals, all while learning from faculty. 
As he starts his career, Hester is confident that UDM has prepared him for success. Over the past four years, he would compare his experience with peers at other dental schools and felt "our curriculum was a little bit tougher than theirs." 
"Now that I'm on my way out and I can see the clinical growth, I'm just so happy that I chose to go to this school for my clinical skills. I feel very confident in a lot of different procedures, and I can 100% credit that to Detroit Mercy curriculum. A lot of the professors give you that respect, like we're colleagues." 
Hester, who grew up outside of Atlanta, is grateful that his dental journey brought him back to Detroit, where he was born. He lived with his grandfather on Detroit's west side while studying at UDM. 
"I'm very proud to be here in Detroit, always came back for the summers," Hester said. "Detroit Mercy kind of matches the energy of the city. Detroit is a blue collar, gritty city. I just felt like every day I went into Detroit Mercy, I had to put on my hard hat and bring a lunch because I knew that I was going to work." 
— By Ricky Lindsay. Follow Detroit Mercy on Facebook, Twitter and Instagram. Have a story idea? Let us know by submitting your idea.
Share: