Class of '23: Valedictorian found a supportive home at Detroit Mercy
Share: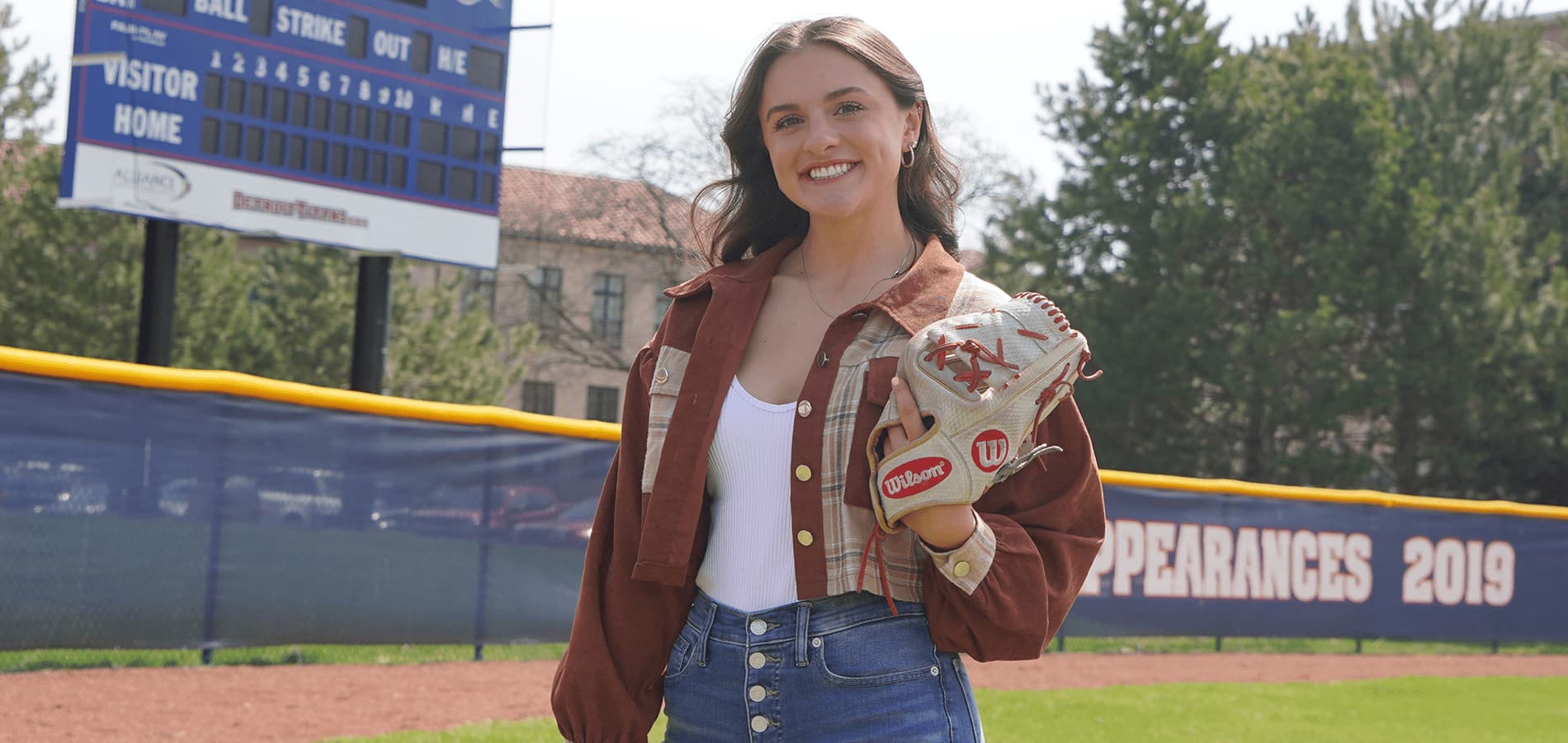 To mark the graduation of the Class of 2023, Marketing & Communications is profiling several students who were nominated by staff and faculty for their contributions to the University and their potential to make a difference after graduation. Click here for more information about 2023 commencement exercises. 
Kara Wolfbauer isn't going to remember every detail of her college experience, from class projects to softball games, internships or trips home to St. Clair Shores to be with family. 
But what she will remember is how University of Detroit Mercy made her feel.
It's a life mantra for Wolfbauer, Detroit Mercy's Class of 2023 Valedictorian.
"I'm blessed to have found all of these experiences and I'm going to remember how the University made me feel that way," Wolfbauer said. "I'm not going to remember what awards I got or what grades I got in class, but when I look back now it doesn't really matter.
"Even thinking back to when I was a kid, maybe I don't remember why, but I remember how people made me feel and that's important. That's a big aspect of my life."
The mantra goes back to when Wolfbauer was 11 years old, and lost her hair due to Alopecia areata, a condition that occurs when the immune system attacks hair follicles, that may be brought on by severe stress.
"A big part of who I am is because I was bald," she said. "I was an anxious child. I had a really happy childhood with my family, but I had a lot of things to learn. I was very stressed out."
What could have been a frightening and terrifying moment ended up being a life-defining few years. Instead of being bullied by classmates, she found the opposite experience, like one where after parting with her wig for a softball tournament, all of her teammates matched her with bandanas.
"All I remember is people being nice to me," she said. "I didn't have any issues. I've never had issues with it and that's because I remember how they made me feel. I had something unfortunate happen, but I learned a really, really big lesson from it. It's a big part of who I am.
"It made me very confident in who I am."
That confidence was at center stage during her time at Detroit Mercy.
Not only did Wolfbauer, a walk-on for the Titan softball team, dedicate herself and earn a starting role, scholarship and spot as a captain by the end of her athletic career, but she found her voice both in the classroom and beyond.
As a Communications Studies major, Wolfbauer immersed herself into her studies and gained valuable experience as an in-arena host during Detroit Mercy basketball home games. She hosted the majority of men's and women's home games during her junior and senior years.
It also led to an internship with the United Shore Professional Baseball League (USPBL) at Jimmy John's Field in Utica, where she accepted a full-time job following her college graduation.
Different parts of Detroit Mercy, from the College of Liberal Arts & Education, the Center for Career & Professional Development and the Athletic Department were instrumental in forging the connections that would help define her career path.
"I went to Tracey Knowles in (CCPD) and she looked over my resume with me and I told her what I wanted to do with my life and she knew there had been a student who had done an internship with the USPBL," Wolfbauer said. "P.J. Gradowski in the Athletic Department had a connection to the USPBL. Professor (Cynthia) Langham has always been helpful to me.
"I got to explore and understand what I really liked. I'm not sure I would have gotten this opportunity anywhere else."
The opportunity to find her voice as a host during college was also instrumental for Wolfbauer.
"When I first started, I was very nervous," she admitted. "I remember I would get scripts for basketball games and would memorize the heck out of them. But I learned how to be more personable on camera. I was just trying to figure it out. Once again, if I had gone to another school, they may not have been as patient with me.
"Between Detroit Mercy and the USPBL, I'm very comfortable now. I felt at home with the Calihan Hall crowd. The fanbase, from the people at Detroit Mercy and Jimmy John's Field, it all helped me find my voice."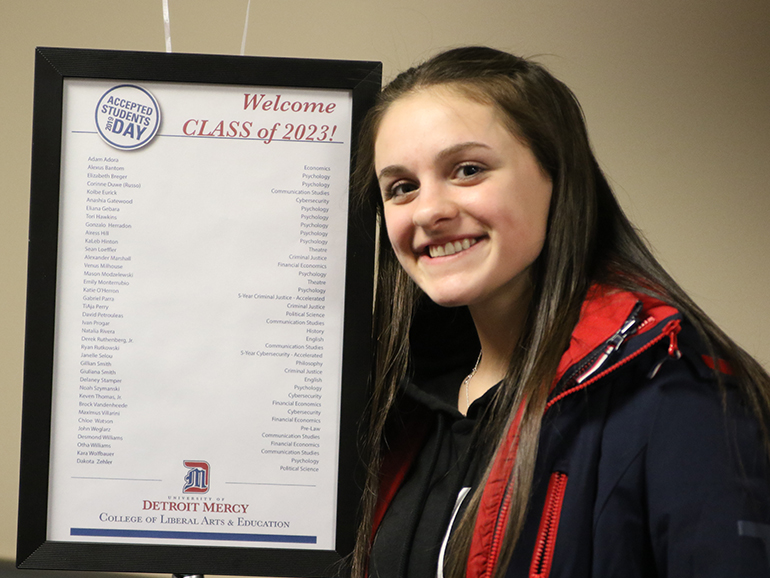 Wolfbauer initially had no set college plans as she neared the end of high school. And then her mother convinced her to attend Accepted Students Day.
"We walked into the Communications Studies department and we didn't go anywhere else after that," she said. "Professor Langham's son showed me around the department that day, showed me the Varsity News and all of this different stuff. My mom just kept looking at me and I said, 'I love this.'
"I'm just big on feel. I walked in here and I stopped looking at all other schools and ended up here."
The way the University embraces its students along with the people on the McNichols Campus have made Wolfbauer feel at home since she arrived.
"What I love genuinely about Detroit Mercy is that people come here from so many different religions and it's all inclusive and it's beautiful," she said. "Coming here, it's so different, it's so inclusive here. To me the Jesuit and Mercy values are about being a servant and being there for other people, it's not just about your religion. That's what I love."
She's enjoyed the tight-knit community feel as she walks the campus each day.
"I've just been comfortable here," she said. "One of my favorite people on campus is Miss Cynthia, one of the workers at the (Titan Dining Room), there's just so many people here that I just love. The Wellness Center has been great, Mike Miller in Athletics. It really just is the people and the culture."
Langham, chair of the Communication Studies department, has watched Wolfbauer flourish as a student from day one.
"It was exciting to watch Kara discover and take advantage of the many opportunities that were available to her," Langham said. "Early in her academic career, she recognized the importance of networking and took advantage of opportunities for internships both on campus and off campus. Kara's kindness, genuineness and positive attitude will serve her well no matter where her path may lead her."
In addition to being named Detroit Mercy's 2023 Valedictorian, Wolfbauer, who is also getting a Psychology degree from the University, received a plethora of honors at the 2023 College of Liberal Arts & Education Honors Convocation. She received several leadership honors and was named the John Daniels Student Leader of the Year Award, for showing outstanding growth throughout her undergraduate career and committing herself in the role of servant leader. She was also bestowed with the Communication Excellence Award.
Wolfbauer is the seventh Titan student-athlete to earn the Valedictorian distinction at the University and second in four years, following Sarah Hirschmann in 2020.
When Wolfbauer delivers her commencement address on May 13, she'll be delivering it to more than the family, friends, classmates and others sitting in the Calihan Hall seats.
Her grandparents, who were a second set of parents growing up to Wolfbauer, will be smiling down on the ceremony. Wolfbauer's grandmother knew she was going to apply for Valedictorian, but never found out that she was named the recipient.
Both her grandparents passed away in the last year, her grandma just last month.
"My family means everything to me," she said. "Everything that I am is because of my mom and my grandparents. My grandma's goal was to make it to mine and my cousin's graduation.
"But I think it'll be one of those things where it'll be sweet now, she missed my grandpa. I think they can watch together now. That's how I like to think of it.
"It's really sweet that it was something that she was excited about and it worked out."
— By Adam Bouton. Follow Detroit Mercy on Facebook, LinkedIn, Twitter and Instagram. Have a story idea? Let us know by submitting your idea.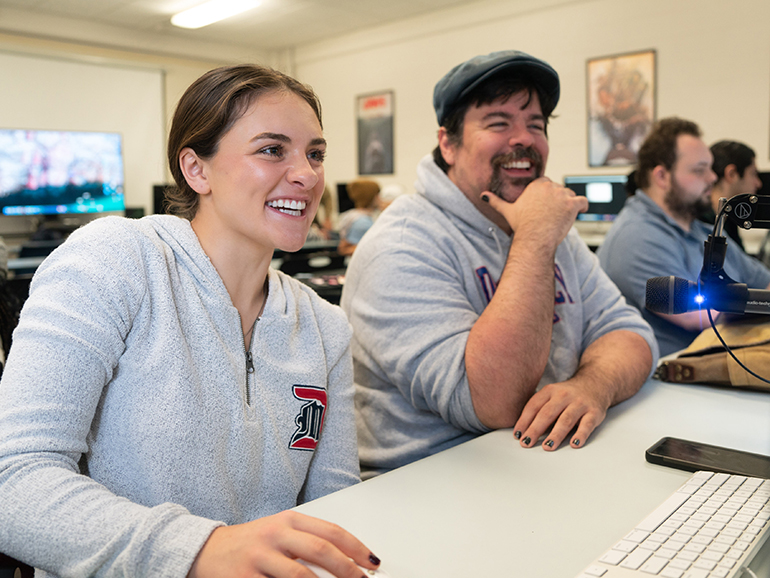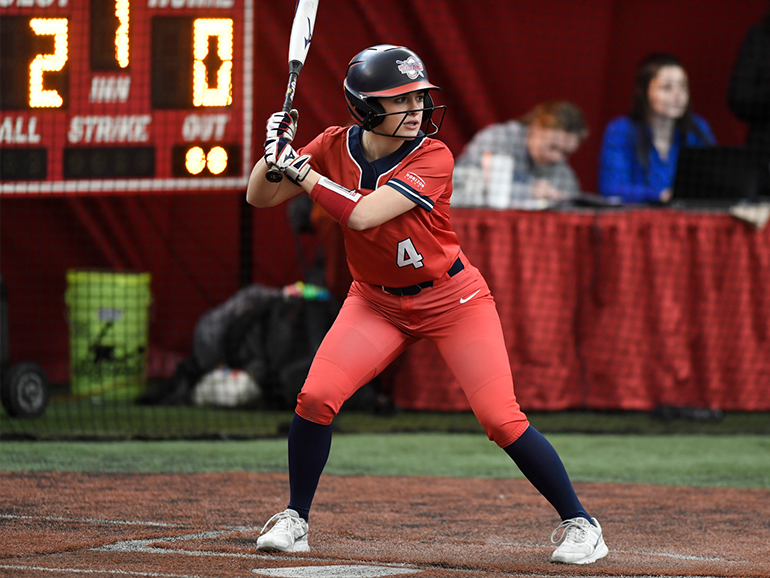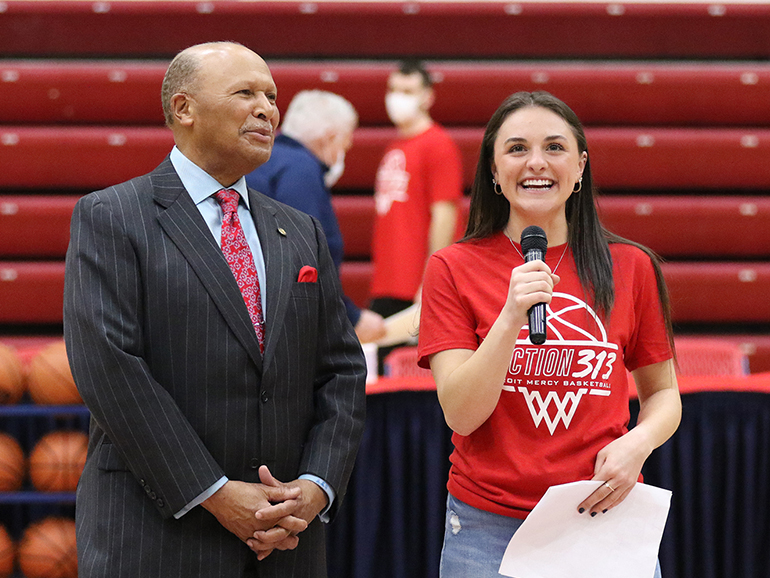 Share: