Psychology professor recognized as 2023 emerging scholar
Share: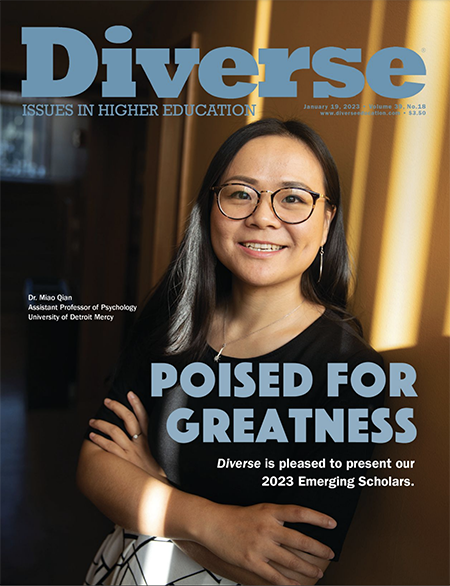 University of Detroit Mercy Assistant Professor of Psychology Miao Qian was featured on the cover of Diverse: Issues in Higher Education's Jan. 19 issue as one of the publication's 2023 emerging scholars. 
Qian teaches graduate and undergraduate courses in developmental psychology and her research on child social cognition explores where racial biases come from and how to reduce them. She joined the UDM faculty in 2021. 
Each year, Diverse recognizes 15 emerging scholars it feels are making strides to positively impact their higher education institutions. The publication makes its selections based on research, educational background, publishing and teaching record, and competitiveness and uniqueness of field of study. 
"I am very interested in the developmental roots for a lot of our social problems, such as race bias or gender inequality," Qian told Diverse. "When do our thoughts and beliefs around certain race groups or gender groups develop and why do we have stereotypical thinking about people who are different from us?" 
Qian's research, which was published in Developmental Science in November 2021, examined how young children's racial attitudes changed based on a single encounter with an outgroup member, finding that positive interactions reduced bias. 
Read Qian's profile, "exploring the roots of racial bias," on Diverse' website. 
Share: