Detroit Mercy service-learning project provides care packs for people in need
Share:
For more than six years, Nour Lyon and her husband have been distributing care packs with useful items to members of the unhoused community. 
"I always felt helpless walking by homeless people in Detroit or driving around and I thought, 'what can I have ready to go to give them?'" Lyon '12, an assistant professor in the Physician Assistant Program, said. "I didn't always have cash on me, and I thought that this would be something good and beneficial to give them." 
"I really enjoyed some of the conversations that I would have with some homeless people and to just be able to have something to give them, it felt really good so we tried to tailor what to put in these packs based on things most people might need." 
Last year, Lyon received a microgrant through the University that helped fund her care pack initiative and this spring, she received a Ford Community Corps Partnership (FCCP) grant which assists in funding her project and turns her PA class into a service-learning course.  
A service-learning course requires you to include a service activity within the course along with finding a community partner, so Lyon chose The NOAH Project (Networking, Organizing, and Advocating for the Homeless) as her community partner.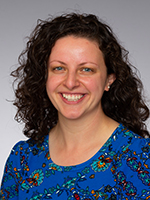 Lyon got her PA students involved in her project, who have said that it has changed their lives for the better. The students help assemble the care packs at Detroit Mercy and distribute them to the surrounding community while participating in clinicals in metro Detroit. 
"The gratitude is palpable and heartwarming, and as much as you know that you might've helped them, they definitely helped you more," said Madelyn Bastin, a fifth-year senior enrolled in Detroit Mercy's accelerated Physician Assistant program. 
"Although these care packages are limited in what they provide, connecting with this population brings the community together, allowing us to rebuild Detroit step-by-step," added Katelyn Sheena, a second-year graduate student in the PA program. 
The contents in these care packs are essential items that people need every day. They include water bottles, granola bars, fruit snacks, toothbrushes, toothpaste, Band-Aids, T-shirts and socks. 
"Not only do my classmates and I live all over the metro Detroit area, but we do a majority of our clinical rotations in some pretty underserved communities," Bastin said. "I can't tell you how many times I've passed someone in need while leaving the clinic or the hospital before and thought, 'Oh I wish I had something to give them.'" 
It's also helped give many students perspective outside of the classroom. 
"It pushes many students to step out of their comfort zone, connect and give individuals hope during their time of need," Sheena said. 
Now that Lyon has teamed up with The NOAH Project, they plan to find out what the unhoused people would prefer in their care packs. 
The University's commitment to serving and helping people in and around the communities of metro Detroit has been beneficial in helping the project grow. 
"It's great that the University gives opportunities for us to do these things, it's really nice," Lyon said. "The people are still there that taught me like Father Tim (Hipskind). I graduated 10 years ago and it's the same network of the same people, so it's really nice that they foster that sort of activity on campus." 
"Throughout my time at Detroit Mercy, the University has consistently emphasized the importance of serving the underserved," Bastin said. "While most can understand the value of this, it's quite another to witness the need firsthand." 
Lyon feels strongly about giving back with how she's been blessed in her life. 
"I like serving, I like doing things for others," Lyon said. "I think it helps me step back and realize how fortunate I am, so I either try to volunteer my time or do stuff like this that brings a good balance into my life."
— By Detroit Mercy Marketing & Communications. Follow Detroit Mercy on Facebook, Twitter and Instagram. Have a story idea? Let us know by submitting your idea.
Share: