Accepted Students Day 2023
Saturday, March 18 • 9 a.m. to 3 p.m.
Student Fitness Center
Accepted Students Day is an exclusive event designed for admitted students and their families. During Accepted Students Day, you will see what it is like to live and learn at Detroit Mercy. You will meet future classmates and talk with current students, faculty and alumni. Plus, you will get to explore other aspects of campus life, including student organizations, housing, study abroad, career services and leadership opportunities.
Day at a Glance
The day will begin with the Emerging Leaders Breakfast, a Morning Mixer and guest speakers. Then, you'll participate in breakout sessions based on your major. After eating lunch in the Titan Dining Room, guests can visit the Student Organization Fair and attend special interest sessions to learn more about student life. Accepted Students Day will wrap up with the Presidential Reception and our grand prize drawing.
Fun & Games
Have time in between sessions? Head over to the Media Lounge, located in the Student Fitness Center. Here, you can play a game of Mario Kart and snap pictures at the selfie station. You can also test your Detroit Mercy knowledge by participating in our campus-wide scavenger hunt. The winner will receive a fun prize!
Channel 955
The event will kick off with a Morning Mixer hosted by Channel 955. Be sure to stop by the Media Lounge to meet KP from Mojo in the Morning!

Gifts & Giveaways
Accepted Students Day is full of giveaways for students and parents alike. Show off your Detroit Mercy pride with a T-shirt and yard display. Plus, you won't want to miss our grand prize drawing. Stay until the end of the event for a chance to win a $500 gift card, an Amazon Echo, Detroit Mercy merch and more.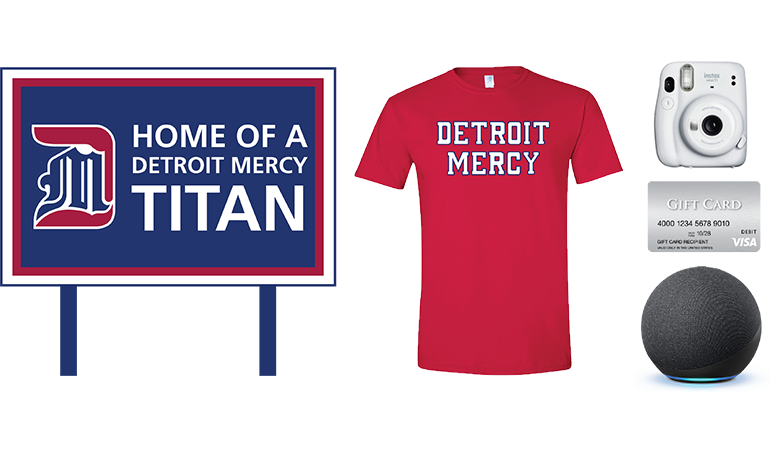 Form New Friendships
It's never too early to start making connections at Detroit Mercy. Join ZeeMee, aa social media app for college students, where you'll meet other future Titans who plan to attend Accepted Students Day. You'll also mingle with accepted students through our Meet Your Match activity. You will receive a button that matches at least three other people. Find one or more of your matches and you'll get a Detroit Mercy T-shirt.
Follow Us — @GoDetroitMercy
Follow Detroit Mercy Admissions on Facebook, Twitter, Instagram and TikTok to find updates about Accepted Students Day and learn more about life as a Titan. Tag us in your posts and use #ASD2023 for an opportunity to be featured!