Eswara Prasad Venugopal
Associate Professor of Physics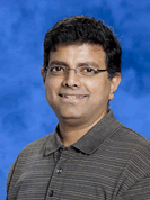 Contact Info: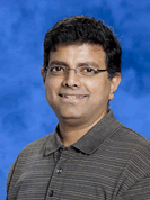 Areas of Expertise:
General Physics Courses and Laboratories for Engineering, Life Science & Liberal Arts Students
Nuclear and particle physics
Nuclear weapons issues
Racial issues in science and technology
Degrees
Ph.D., Physics, University of Massachusetts, Amherst
M.S., Physics, Utah State University
M.Sc. (tech), Computer Science, Birla Institute of Technology & Science, India
Biography
Associate Professor of Physics, teaches general physics courses and laboratories for engineering, life science and liberal arts students. He has published papers in theoretical atomic and particle physics. His Ph.D. dissertation dealt with chiral anomalies in photon-hadron interactions. His current research focuses on physics education, as well as the intersection between science, technology and society.
Dr. Venugopal also serves as affiliated faculty and member of the advisory committee of the African American Studies program at the university. With the help of a Jesuit 100 Grant, he developed and has taught a new interdisciplinary course titled Science, Technology and Race.
He holds a M.Sc. (Tech) degree in Computer Science from the Birla Institute of Technology & Science, India, a M.S. in Physics from Utah State University, and a Ph.D. in Physics from the University of Massachusetts, Amherst. He joined the University in 1998.