Get Started | University of Detroit Mercy Recreation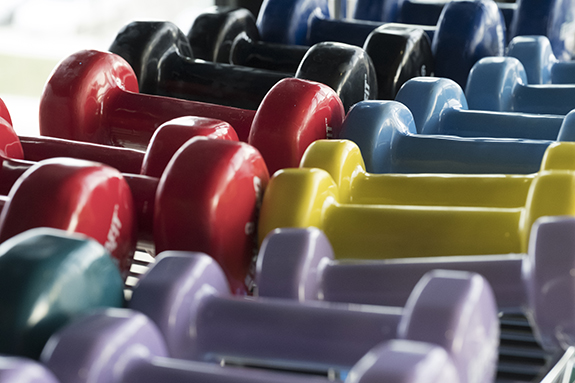 Membership to the Detroit Mercy Fitness Center is FREE for current Detroit Mercy Students and Employees!
Want to activate your Detroit Mercy ID to access the Fitness Center? It's simple. Follow these steps:
1. Sign the Liability Waiver found in Self-Service.
Log into TitanConnect
Select the TitanConnect Self Service link.
Click on the Personal Information tab, then Answer a Survey.
Select the Detroit Mercy Fitness Center liability waiver survey.
Read everything thoroughly, click on the Liability Waiver link, read that and return to the survey (Self Service tab should still be open).
Select the Survey and agree or disagree, then complete the survey.
2. Visit the Fitness Center to activate your ID
Your Detroit Mercy ID* card allows you access to the Fitness Center. In order for your ID card to properly work, it must be activated. After agreeing to the Liability Waiver in Self-Service, please visit the Fitness Center; our staff can walk you through the process.
*The six digit Detroit Mercy number (i.e. UDM000000) on the back of your ID card must be visible in order to successfully activate your card. If that number is not visible, stop by the Student Center to get a new ID card.
3. Come work out!
Please contact the Fitness Center at 313-993-1783 with any questions.
 

Benefits

As part of the free membership to the Fitness Center, members can also benefit from the following:

Free fitness classes
Locker reservations (for a $20 fee)
Court reservations
Basketball, volleyball, badminton and ping-pong checkouts
Sweat towel checkouts
Day locker checkouts
Shower accessibility
Two-guest admittance per visit
Exclusive access to Tommy's
Excellent place to study
High Definition TVs
Access to equipment
Great space to hang and work out

 

Guest policy

The Fitness Center allows one guest per visit for a current member. Guests must be at least 16 years of age.

There is a $5 fee for each guest visit, no exceptions. All guests must sign in at the front desk with a Fitness Center Member to complete the liability waiver and provide a valid photo ID.

Please note that the Fitness Center Member is responsible for the behavior and actions of the guest during the visit, and must remain with the guest while in the facility.

If an issue occurs, Fitness Center Management has the right to ask the guest along with the host Fitness Center Member to leave the facility.

For any questions on our guest policy, please visit the front desk.

 

Locker Reservations

Designated lockers in the locker rooms are available to rent for the semester. A fee of $20 is required to reserve one locker and one lock.

Contracts are able to roll-over for one semester at no extra cost. The end of each academic year will require a new contract and payment. This must be done before the end of each semester or locks will be removed and belongings will be held by University Recreation for one month. After one month, belongings will be taken to the Department of Public Safety.

Lockers and locks must remain in good condition, or else privileges will be revoked. A locker in good condition is defined as:

Without any damage to the outside or inside of the locker, such as scratches, marks, dents, drawing or lettering
Without any damage to the lock
Without any damage to the door and/or the locking system on the locker door

The University is not liable for any stolen items removed from a reserved locker. To prevent theft, it is recommended that all persons with reserved lockers maintain their lockers and accompany them with locks.

Only gym items and attire may be kept in reserved lockers.

Failure to comply with these regulations will result in removal from the locker reservation program.

Just want to check out a lock for the day? See the front desk to check out a lock for day use and locker assignment.

 

Bikes

Bike Rentals
You can now rent bikes, custom made by Detroit Bikes, in the Fitness Center. For 24 hours, you can ride around Detroit on one of our wonderful custom bikes. Rental forms are available at the front desk.

Bike Purchasing
Our custom Detroit Bikes are not only available for rental, you can also buy one.
Order Form