University Recreation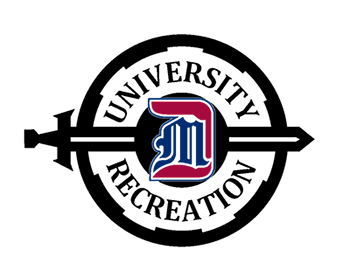 University Recreation offers a variety of fitness and recreational programs designed to positively impact students and contribute to the health and well-being of the Detroit Mercy community.
Students can get involved in intramural or club sports, participate in a variety of programs at the Fitness Center or take advantage of the URec Adventure Series.
If you want to get in shape, stay fit or just have a good time, University Recreation has a program for you.
 

Mission

The University Recreation Department is dedicated to the health and wellness of Detroit Mercy students and employees.

In collaboration with the University community, University Recreation offers an exemplary facility, programs and services that inspire participation and engagement.

Our recreational opportunities promote health, inspire well-being, enhance academic success and foster community. The student-centered environment provides an outlet for competition, exploration, fitness, play and social interaction.

 

Student Employment

University Recreation hires both work study and non-work study employees. Hiring generally takes place in the second semester for the next academic year. We leave a few spots for upcoming freshmen.

Our hiring is complete by Aug. 1 for an annual staff training prior to Term 1. Occasionally, we have an opening during the academic year. If you would like information about potential employment, contact Matt Higley.

Applications for the Fitness Center are available here.