Patrick  Meyer
Associate Professor of Law
Director, Kresge Law Library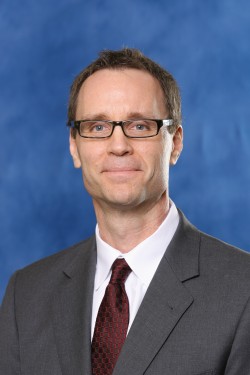 Contact Info:
Campus:
Riverfront Campus
Building:
Kresge Law Library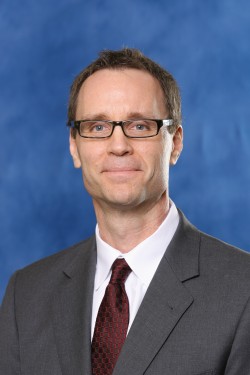 Areas of Expertise:
Legal Research and Law Libraries
Libraries - Law Libraries
Degrees
JD Washburn University School of Law
MLS Syracuse University
MS Kansas State University
Biography
Professor Meyer is the Director of the Kresge Law Library where he manages the library budget, has primary responsibility for the development of the collection, and fosters the creation of services to faculty and students. He has taught extensively for nearly 20 years and teaches several sections of Advanced Legal Research each year in online and traditional formats. Professor Meyer created the research module program for first year legal writing students in 2012, and was its administrator through 2014. He now oversees the development of a new required first semester course titled Introduction to Legal Research & Communication. Professor Meyer serves as Chair of the Curriculum Committee after serving as Vice Chair for two years. He is also a member of the Budget Committee and chairs the Library Committee. His scholarship focus is on legal research requirements of new attorneys, online teaching, and curricular issues.
Professor Meyer is the Immediate Past President of the Michigan Association of Law Libraries (MichALL) and serves on the Executive Board of the Society of Academic Law Library Directors (SALLD). He was previously President of the Southern California Association of Law Libraries (SCALL) and served on the SCALL board for five years. Professor Meyer was a member of the ThomsonReuters Legal Research and Writing Advisory Board. He has made numerous presentations on law firm legal research requirements, teaching an integrated research course, and new library space planning.
Recent Publications:
The Google Effect, Multitasking, and Lost Linearity: What We Should Do, 42 Ohio N.U. L. Rev. 705 (2016).
The Status of Curricular Change During the Industry's Great Recession: Radical, or the New Norm?, 42 Ohio N. U. L. Rev. 155 (2015).
Law Firm Legal Research Requirements and the Legal Academy Beyond Carnegie, 35 Whittier L. Rev. 419 (2014).
Law Firm Legal Research Requirements for New Attorneys, 101 Law Libr. J. 297 (2009), available at http://papers.ssrn.com/sol3/papers.cfm?abstract_id=1376086.
Bibliography of California Resources, in Locating the Law 69-96 (5th ed. 2009) (SCALL).