J. Richard  Broughton
Associate Dean for Academic Affairs & Associate Professor of Law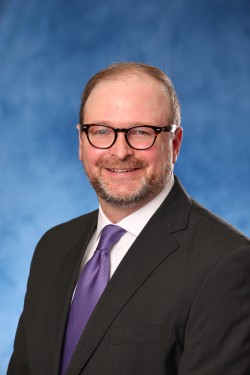 Contact Info:
Campus:
Riverfront Campus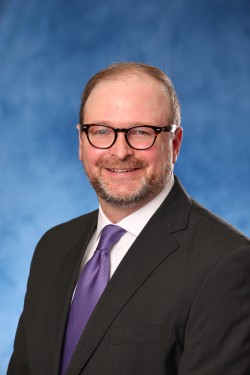 Areas of Expertise:
Constitutional Law
Criminal Law and Procedure
Death Penalty Legal Issues
Insanity Defense
Police Brutality and the Law
Supreme Court Nominations
U.S. Constitution
U.S. Supreme Court
Degrees
LL.M. Georgetown University '00
J.D. Widener University '99
B.A. Hampden-Sydney College '95
Biography
J. Richard Broughton is an Associate Professor of Law, and teaches Criminal Law, Criminal Procedure, Constitutional Law, and Federal Criminal Law.  He was a Visiting Professor at Detroit Mercy Law in the 2009-10 academic year.  Previously, he served as Visiting Assistant Professor of Law at Wayne State University, where he was named both the First-Year Professor of the Year and Upperclass Professor of the Year for 2008-09.  He also has taught on the law school faculties at Stetson University and Texas Wesleyan University (where he also won two teaching awards), and as a Lecturer in Government at Johns Hopkins University.
From 2005 to 2008, Professor Broughton served in the Criminal Division of the United States Department of Justice in Washington, D.C.  His work involved federal prosecutions of violent crime related to gang activity, drug trafficking, organized crime and racketeering.  He advised senior Justice Department leaders and federal prosecutors on issues of federal criminal and constitutional law arising in federal death penalty matters; assisted in federal capital prosecutions, appeals, and post-conviction litigation; helped to craft and review federal crime legislation; and assisted senior leaders in preparing for congressional hearings and oversight.  He received both the Meritorious Service Award and the Special Achievement Award from the Justice Department.
He also has served as Assistant Attorney General of Texas for Capital and Post-conviction Litigation, as a law clerk to the chief judge of the Texas Court of Criminal Appeals, and as a law clerk for the House Judiciary Committee during the 106th Congress.
Professor Broughton's scholarship focuses on American politics and institutions, and the intersection of politics, constitutionalism, and criminal justice.  His writing has appeared in law reviews and journals throughout the country, and has been cited in opinions from the United States Supreme Court and state appellate courts.  He also has provided legal commentary for numerous television and radio programs and newspapers.
Publications:
Jones, Lackey, and Teague, 48 John Marshall Law Review __ (forthcoming 2015);
 
The Snowden Affair and the Limits of American Treason, 3 Lincoln Memorial University Law Review ___ (forthcoming 2015) (symposium paper);
The Ineludible (Constitutional) Politics of Guns, 46 Connecticut Law Review 1345 (2014) (symposium paper);
The Criminalization of Consensual Adult Sex After Lawrence, 28 Notre Dame Journal of Law, Ethics & Public Policy 125 (2014);
Capital Prejudice, 45 UNIVERSITY OF MEMPHIS LAW REVIEW 135 (2012) (symposium paper);
Politics, Prosecutors, and the Presidency in the Shadows of Watergate, 16 CHAPMAN LAW REVIEW 161 (2012) (symposium paper);
Congressional Inquiry and the Federal Criminal Law, 45 UNIVERSITY OF RICHMOND LAW REVIEW 457 (2012);
Federalism, Harm, and the Politics of Leal Garcia v. Texas, 62 SYRACUSE LAW REVIEW 199 (2012) (symposium paper);
The Loudness of Justice Thomas, 88 UNIVERSITY OF DETROIT MERCY LAW REVIEW 737 (2011) (symposium paper);
On Straddle Crimes and the Ex Post Facto Clauses, 18 GEORGE MASON LAW REVIEW 719 (2011)
Some Reflections on Conservative Politics and the Limits of the Criminal Sanction, 4 CHARLESTON LAW REVIEW 537 (2010) (solicited symposium contribution)
The Inaugural Address as Constitutional Statesmanship, 28 QUINNIPIAC LAW REVIEW 265 (2010);
Kennedy and the Tail of Minos, 69 LOUISIANA LAW REVIEW 593 (2009)
The Fiscal Consequences of Justice, OHIO STATE JOURNAL OF CRIMINAL LAW AMICI (2009) (solicited commentary, available athttp://moritzlaw.osu.edu/osjcl/blog/August_09/Broughton.pdf);
Judicializing Federative Power, 11 TEXAS REVIEW OF LAW & POLITICS 283 (2007)
The Second Death of Capital Punishment, 58 FLORIDA LAW REVIEW 639 (2006)
Every Day More Wicked: Reflections on Culture, Politics, and Punishment by Death, 22 JOURNAL OF LAW & POLITICS 113 (2006)
Rethinking the Presidential Veto, 42 HARVARD JOURNAL ON LEGISLATION 91 (2005).
Off the Rails on a Crazy Train?:  The Structural Consequences of Atkins and Modern Death Penalty Jurisprudence, 11 WIDENER LAW REVIEW 1 (2004)(solicited symposium contribution)
Habeas Corpus and the Safeguards of Federalism, 2 GEORGETOWN JOURNAL OF LAW & PUBLIC POLICY 109 (2004)
Presentations:
Presented "The Ineludible Politics of Addressing Gun Crime," Law & Legal Education in the Americas Conference, hosted by University of Detroit Mercy School of Law, Detroit, Michigan on June 22, 2013;
"A Discussion on the Law and Politics of Guns," remarks hosted by The Federalist Society and Criminal Law Society, University of Detroit Mercy School of Law, Detroit, Michigan on April 16, 2013;
Presented "Senatorial Nullification," 3rd Annual Constitutional Law Colloquium, Loyola University Chicago School of Law, Chicago, Illinois on November 2, 2012.
Presenter, "Federalism, Harm, and the Politics of Leal Garcia v. Texas" at a symposium on "Crime and Punishment: The Modern Development of Homegrown Creative Justice" hosted by Syracuse Law Review in Syracuse, New York on April 21, 2012.
Presenter, "Capital Prejudice" at a symposium entitled "Cultural Competency and the Death Penalty" hosted by the University of Memphis Law Review in Memphis, Tennessee on March 30, 2012.

Speaker and panelist, Symposium on "The Death Penalty in America," hosted by Hamline Journal of Public Law & Policy, St. Paul, Minnesota (March 27, 2015);
Speaker and panelist, "The Reality of Police Brutality," hosted by Amnesty International and American Constitution Society, University of Detroit Mercy School of Law, Detroit, Michigan (March 25, 2015);
Speaker, Sandra Ruffin Memorial Symposium, "The Snowden Effect: The Impact of Spilling National Secrets," hosted by Lincoln Memorial University Law Review, Knoxville, Tennessee (January 30, 2015);
Presented "Congress as Prosecutor," 5th Annual Constitutional Law Colloquium, Loyola University Chicago School of Law, Chicago, Illinois (November 7, 2014);
Presented "The Ineludible (Constitutional) Politics of Guns," Michigan Academy of Science, Arts & Letters Annual Meeting, hosted by Oakland University, Rochester, Michigan (February 28, 2014);
Speaker and Panelist, Panel on Litigating the Second Amendment, Symposium on "Up in Arms: The Second Amendment in the Modern Republic," hosted by the Connecticut Law Review, Hartford, Connecticut (November 15, 2013);
Recent Media Converage:
Dzhokhar Tsarnaev indicted in Boston Marathon Bombings
Boston Bomb Defendant Cited Muslims' Deaths, U.S. Says
Bombing suspect charged, could face execution
James Porter, NRA President, Arrives at Crucial Time for Gun Rights Battle in Courts
Inside the NRA's Plan for Guns in Schools
DOJ Unlikely To Prosecute Holder Contempt Charge
STOLEN VALOR ACT: War medal forgery law ruled unconstitutional
Courses:
Criminal Law (1140)
Constitutional Law (2060)
Criminal Procedure (2100)
The Death Penalty in America (2600)
Fourteenth Amendment (3110)
Federal Criminal Law (6220)