Facility Operations
A few words from our Director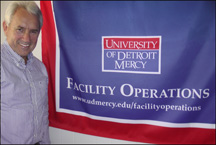 University of Detroit Mercy has a rich history that continues to grow with each graduating class…in all that you accomplish while you are here…in your fond memories of your years at Detroit Mercy.
Acknowledging the important role our University facilities play in each student's experience has led to the development of a Facility Operations team that continuously puts pressure on itself to reach a new level of improvement in all of its facilities and grounds. This dedicated team constantly challenges itself to identify critical areas to be addressed resulting in continuous improvements of the highest priority to the University's properties and services.
Many upgrades to all three campuses are highly visible—from site improvements to classroom renovations. And let's not forget the new Fitness Center! But often it's the improvements you don't see…the infrastructure improvements…that are extremely critical to the efficient operations of our campuses.
Reflecting on this department as a whole, continuous improvement may start at the top but it is truly ingrained throughout the team. Whether interacting with a student in the field or in the office, from fixing a toilet or processing a purchase order, our processes and procedures are specifically crafted to ensure the most efficient method with the highest customer service and the greatest cost savings. With every opportunity, our goal is to always provide and maintain a better living and working environment for Detroit Mercy students and employees alike.
Please call me at 313-993-1240 if you feel our department has not responded adequately to your needs. Your feedback is always welcome.
Dave Vandelinder
Director
Facility Operations & Construction Management
Mission
Facility Operations is dedicated to providing University of Detroit Mercy with an environment that will nurture the educational process. Through cost-saving initiatives, environmental preservation programs, and energy conservation strategies, our team continually strives for quality, integrity and professionalism in the services we provide the University. Facility Operations believes that through teamwork, education, and a renewed sense of commitment, this department can attain its goal of continuous improvement to the University's buildings, grounds, mail services, and management of the Student Fitness Center.
Vision
Facility Operations' Vision is to be renowned as a forward-thinking support unit to the physical development and growth of University of Detroit Mercy into a leading higher education institution. We are committed to serving students, faculty, staff, alumni and visitors by delivering quality services; by preserving the University environment; and by providing safe, functional and well-maintained buildings. Through careful allocation of resources and conscientious attention to the ever-changing needs of the University, we strive to create inviting campuses where people learn, live, work, and visit.
Facility Operations Team!
| | | |
| --- | --- | --- |
| Director | |  David Vandelinder |
| Construction Supervisor: | |  Rodney Warren |
| Construction Foreman: | |  Jennifer Camp |
| Facility Maintenance Supervisor: | |  Bernie Olsen |
| Business Manager: | |  Gay Vivier |
| Business Operations Coordinator: | |  Nicole Coleman |
| Environmental Coordinator: | |  Amy Sopko |
| Auxiliary Facility Serv. Supervisor: | |  Sandra Twymon-Orr |
Contact Us
Phone: 313-993-1240
Fax: 313-993-1175