This week on campus
Wednesday, Jan. 17
As part of Black History Month at Detroit Mercy, there will be a discussion and student panel celebration, "Martin Luther King Jr.'s Legacy," from 6 to 8 p.m. in the Genevieve Fisk Loranger Architecture Center of the Warren Loranger Architecture Building on the McNichols Campus. The pre-discussion will begin at 6 p.m. with guest speaker Rasheed Ali Cromwell, Esq. of Harbor Institute. Immediately following, there will be a student panel facilitated by Director of the African American Studies Program Alexander Zamalin.
Friday, Jan. 19
Do you have the skills to win University Recreation's first competition of the semester? Visit the Student Fitness Center at 5 p.m. to compete in everything from "most free throws," "most three-pointers" and more! Sign up on IMleagues.com or contact Matt Higley for more information at higleyml@udmercy.edu.
All this week
Through Saturday, Jan. 20, students, faculty and staff can purchase discounted 2018 North American International Auto Show tickets in the Student Life Office of the Student Union. Tickets are $10 and valid for any single day of the Public NAIAS Show, running from Saturday, Jan. 20 through Sunday, Jan. 28. Limit of two tickets per purchase, cash only.
Every Wednesday
Join the University Ministry staff in prayer at 12:30 p.m. on the second floor of the Student Union to pray for our city, our country, the many needs of our world and for your own personal intentions.
Next week on campus
Tuesday, Jan. 23 & Wednesday, Jan. 24
If you are healthy and able, consider donating blood to the Red Cross. The Red Cross will be available between 10 a.m. and 5 p.m. in the Student Union's Fountain Lounge. Donated blood can help in treating patients suffering from cancer, bleeding disorders, chronic anemia associated with cancer, sickle cell anemia and other hereditary blood abnormalities.
Wednesday, Jan. 24
Gather your team and sign up: The sixth annual Detroit Mercy Biggest Loser competition kicks off on Wednesday. All students, faculty and staff can compete. Cost is $25. Teams of three to six participants will compete to lose the highest percentage of body weight in hopes of winning money and achieving a healthier physique. Follow University Recreation on Facebook and look for a Biggest Loser Facebook group for more updates. This group will create a better community environment where you can ask questions, share little victories and take part in the Biggest Loser discussion. For more information, stop by the front desk or contact Fitness Center Coordinator Matt Chesley at cheslemd@udmercy.edu.
Thursday, Jan. 25
The Student Life Office is hosting an open forum for commuter students during dead hour in room 324 of the McNichols Campus Library. This event invites all commuters to come out and meet fellow commuters from other programs at Detroit Mercy. FREE refreshments will be served.
The Autism Alliance of Michigan will host one of its four professional development sessions on the education of autism from 6 to 8 p.m. in room 208 of the Student Union. This session will focus on "Seclusion and Restraint." See the event page for the other dates and topics.
Friday, Jan. 26
Students: Need help creating or updating your resume? A career development facilitator will be available during dead hour in room 103 of Reno Hall to provide tips on choosing proper resume formats, fonts and keywords to create a winning resume tailored to you. This is a great opportunity to workshop your resume with professionals before the Detroit Mercy Spring Career/Networking Fair.
University Recreation has organized a glow skating night; for $5 you can ice skate after dark at the John Lindell Ice Arena in Royal Oak. No skates? No problem — skate rental is included. Sign up at the Fitness Center! Watch the promo video online.
All month
Joseph DeWindt, father of the late Professor of History Edwin DeWindt, devoted his free time to painting. A special exhibit of 27 of his works, mostly landscapes, is on display in the McNichols Campus Library through Wednesday, Jan. 31.
MCD student enjoys challenge of being a Challenge Detroit fellow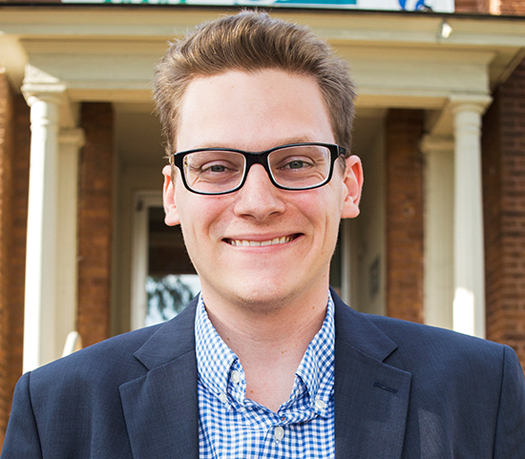 Detroit Mercy Master of Community Development (MCD) student Eric Lofquist likes a good challenge, so what better way to challenge himself than becoming a Challenge Detroit fellow? "A friend of mine from the MCD program, Caroline Dobbins, works for Challenge Detroit, and she had been a fellow herself, so she told me about it," Lofquist said. "I went to check it out, and I felt it not only went along with my degree but also some of the things I'm really interested in doing." Read his full story online.
URec fitness classes and intramurals

University Recreation fitness classes have begun and feature some new classes to get your resolutions started the right way. All classes are free for students, faculty and staff. Check out the URec website for schedule and times. Registration is also open for winter semester intramural sports. Sign up on IMleagues.com or contact Matt Higley for more information at higleyml@udmercy.edu.
The Theatre Company presents A Bright New Boise

Get your tickets early for The Theatre Company's next production of Samuel D. Hunter's A Bright New Boise, Feb. 9-25. Performances will take place at The Marlene Boll Theatre at the Boll Family YMCA, 1401 Broadway St., in downtown Detroit.
"In the bleak corporate break room of an Idaho Hobby Lobby, five lost souls humorously and heartrendingly seek liberation from their pasts by scrutinizing their lives, searching for significance, acceptance and repentance."
Visit the Theatre Company website or call 313-993-3270 for show times, ticket sales and special events surrounding the production.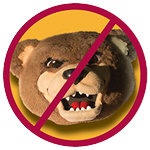 Coming soon: Detroit Mercy vs. OU Challenge
The score is tied 1-1, but we lost last year so we need your help! The third annual Donor Challenge between Detroit Mercy and Oakland University will run from Monday, Feb. 5 through Friday, Feb. 9. Results will be announced at the Detroit Mercy Titans Men's Basketball game at Oakland University on Friday. The losing school's mascot wears the jersey of the winning school. We will not lose to Grizz again! Stay tuned in CC and on social media for more information on how you can help Tommy Titan. #Dontwearthebear