This week on campus
Tuesday, Oct. 17
All Detroit Mercy students, faculty and staff are invited to join the National Society of Leadership and Success for a broadcast featuring business magnate, investor and philanthropist Sir Richard Branson from 7 to 8 p.m. in the Student Center Ballroom. Branson will share candid details of a lifetime of triumphs and failures learned over the fifty years since he started his first business. Branson will share an intimate look into his never-ending quest to push boundaries, seek new frontiers and make the world better for future generations.
Wednesday, Oct. 18
Join University Ministry as they host an Interfaith Meet & Mingle and learn about the many faith groups available at the University. The event will be from noon to 2 p.m. in Grounds Coffeehaus. Light refreshments will be served.
Motivational speaker Ishita Gupta invites all students to participate in a Confidence Breakthrough session from noon to 2 p.m. in Room 120 of the Chemistry Building.
Thursday, Oct. 19
As part of Greek Life Philanthropy Week, Phi Kappa Theta will be rolling an old car on campus for students to take a swing at and smash for charity. Every donation will guarantee a swing. Donations will be sent to the Children's Miracle Network. Be sure to meet at the Kassab Mall from 12:30 to 2 p.m. and get a swing!
The Center for Career & Professional Development will host a workshop about the importance of effective communication skills in the workforce from 12:45 to 1:45 p.m. in Room 165 of Reno Hall. This information session will be presented by professional recruiters and Detroit Mercy alumni from Real Estate One, the largest broker in Michigan. See the event page for more information.
The Student Life Office is hosting an open forum for commuter students from 3 to 4:15 p.m. in the Fountain Lounge. Commuters are invited to come and meet other students, enjoy refreshments and discuss what resources and events would help improve the experience as a commuter student on campus.
The Women's and Gender Studies program celebrates its 25th anniversary this year and everyone is welcome to participate in the festivities, including a reception, presentation and conversation regarding the program's next 25 years. Join WGS from 6 to 8:30 p.m. in the Warren Loranger Architecture Building's Genevieve Fisk Loranger Architecture Center. An RSVP is appreciated; please contact Director Rosemary Weatherston at weatherr@udmercy.edu.
Friday, Oct. 20
The Detroit Mercy-sponsored Live6 Alliance will host its next installment of the community dialogue series, Speakeasy, on Friday, Oct. 20 from 6 to 8 p.m. on the McNichols Campus. Speakeasy will vote on important Public Safety initiatives for the neighborhood and open a discussion on mobility in the area. For more information, contact Lauren Hood with Live6 at 313-610-6004 or info@live6detroit.org.
Hoop Night in the D, the annual Midnight Madness tipoff event, will kickoff at 6 p.m. inside Calihan Hall on the McNichols Campus. Admission is free and open to the public. We hope to see you there for free food, courtesy of the Taste of Detroit, as well as live music and, of course, basketball!
Saturday, Oct. 21
Looking to do some good in the community? Dive into our Service Plunge with University Ministry. Meet in the Student Center at 9 a.m. and head out on a service trip in the Detroit community. Breakfast and lunch are included. Register online and contact University Ministry for more information at 313-993-1560.
Sunday, Oct. 22
University Honors will officially induct new first-year honor students into the program from 6:30 to 8:30 in the Student Center Ballroom. The event also features a "Last Lecture" offered by Associate Professor of English Mary-Catherine Harrison. Registration is required; contact University Honors Program Co-Director Todd Hibbard at 313-993-1088 or hibbarja@udmercy.edu.
Next week on campus
Tuesday, Oct. 24
All Detroit Mercy students, faculty and staff are invited to join the National Society of Leadership and Success for a broadcast featuring Wendy Williams from 7 to 8 p.m. in the Student Center Ballroom. Williams is an American television host, actress, New York Times best-selling author, fashion designer and former radio personality inducted into the National Radio Hall of Fame. Williams will discuss her inspirational journey towards success, latest ventures into technology and fashion, and the importance of following a passion.
Wednesday, Oct. 25
The annual Law Day at Detroit Mercy will run from 10 a.m. to 2 p.m., sponsored by the Pre-Law Committee and co-sponsored by Pi Sigma Alpha, Phi Alpha Delta and Kaplan. The event features a sample LSAT class, a Moot Court simulation, tables with law school admissions counselors from many schools and a question and answer panel of law school admissions staff.
Fulbright Visiting Scholar Amal Akour visits Detroit Mercy to deliver two inspiring lectures. Her first lecture, "Tourism in Jordan," will take place from noon to 2 p.m. in the Presidents' Dining Room. Lunch will be served. Akour will also deliver an additional lecture, Oral Contraceptive Use in Jordanian Females, from 5 to 7 p.m in the Presidents' Dining Room. Please RSVP to Cate Caldwell at caldwecr@udmercy.edu or 313-993-1544 for both events by Friday, Oct. 20. See the noon and evening event pages for more information.
Thursday, Oct. 26
Calling all Detroit Mercy students organizations, faculty, staff and Halloween enthusiasts! Get out your best spooky paint colors and creative minds and join in the fun from 6 to 11 p.m. in Grounds Coffeehaus as we build and paint this year's facades for the annual Safety Street!
Friday, Oct. 27
Pounds of Snickers, Milky Way, Hershey and Twix bars will be handed out to brave little goblins and ghouls visiting University of Detroit Mercy for the 28th annual Safety Street from 4:30 to 6 p.m. on the McNichols Campus. See the event page for more information on this Titan tradition.
Immediately following Safety Street, students are invited to visit the Student Fitness Center for Spooktacular, featuring free food, toilet paper mummy competition, water pong, corn hole, music and costume contest with prizes.
Undergraduate research on display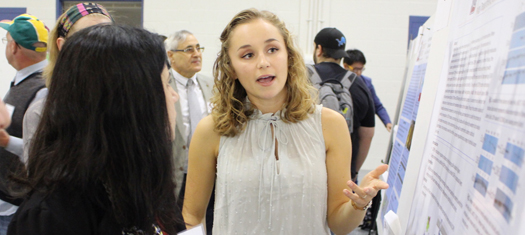 More than 80 students presented their research during the fifth annual Research Symposium in the Engineering High Bay, Oct. 13. The annual event provides a forum for undergraduate and graduate students to present their research to their peers, faculty, alumni and area high school students who have expressed an interest in science, technology, engineering and mathematics (STEM). Read the full story and see the photo gallery online.
Seniors: Leave your mark and join the campaign
Now is your turn as seniors to join thousands of alumni who understand how important it is to give back to University of Detroit Mercy. Donations from alumni help to only attract faculty that are top in their field, support student scholarships and improve facilities on campus.
The 2018 Class Gift Campaign has many events and activities this year open to seniors who participate in the campaign. All that is asked is a modest, one-time gift of $20.18, to honor your graduation year. Make your gift online today or drop your gift off at the McNichols Campus Library. The first event begins Tuesday, Oct. 31 and you won't want to miss it! This is your chance to leave your mark!
Last chance to donate candy to Safety Street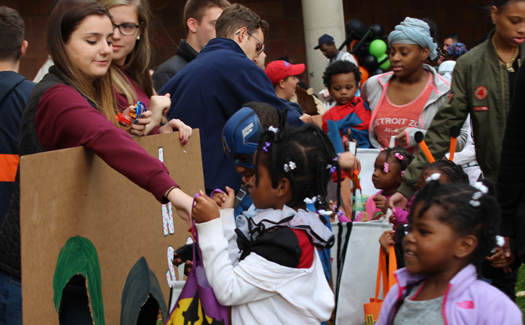 The Office of Student Life reminds faculty and staff to donate bags of candy to Detroit Mercy's annual Safety Street by Friday, Oct. 20, at 5 p.m. This year, Safety Street will be held on Friday, Oct. 27, from 4:30 to 6 p.m. in the Student Center's Fountain Lounge and Fisher Fountain area outside.
Nominate a colleague for the Commitment to Excellence Award
All Detroit Mercy faculty, staff and administrators are encouraged to nominate co-workers who are deeply committed to the success of Detroit Mercy's future for this year's Commitment to Excellence Award. We have many deserving and hard-working staff members and administrators, so please consider nominating a deserving individual. The deadline for nominations is 11:59 p.m. on Monday, Nov. 6. See the Commitment to Excellence page for more information and nomination forms.
Alumni gather in Washington, D.C.

More than 50 alumni gathered in Washington, D.C., earlier this month where University President Antoine M. Garibaldi, Ph.D., updated them on University achievement. Each of the last seven decades were represented, including a 1950 alumnus, a Mercy College alumna and a few alumni from 2014-2016. The group was honored to have been joined by U.S. Sen. Gary Peters of Michigan, one of their fellow Detroit Mercy alumni, who earned his MBA from the University in 1984. Read the full story online.
Thumbs Up!
Associate Professor of Counseling & Addiction Studies Sheri Pickover presented the paper, "Does counseling training work? A program evaluation of a university based training clinic," at the national Association for Counselor Educators and Supervisor's conference in Chicago, Oct. 7.