Come back and celebrate at Homecoming 2017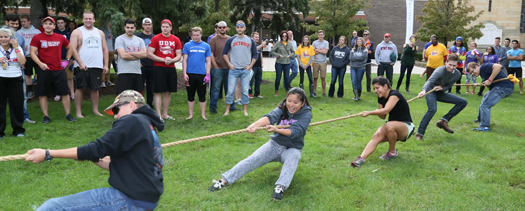 Join the party at University of Detroit Mercy's 2017 Homecoming on Sept. 29 & 30, as we fill our campus with food, fun and community activities. The celebration is open to all; young and old, students and alumni, neighbors and out-of-towners, we want everyone to feel at home. Check out the featured events for the weekend, and be sure to stay tuned to our social media feeds for future updates, videos and announcements. Let's build this Titan tradition together! #titanshomecoming
Register today for the Detroit Decades Dash Costume 5K/Fun Run, Tug-of-War competition or the Law Golf Tournament!
Join us for President's Convocation tomorrow
Faculty, administrators and staff are encouraged to attend the annual President's Convocation on Wednesday, Aug. 16, on the McNichols Campus. Let us join together as colleagues and celebrate as we prepare for the new academic year.
The day will begin at 8:30 a.m. with Mass in the St. Ignatius Chapel in the Commerce & Finance Building, followed by a continental breakfast at 9 a.m. in the lobby of the Student Fitness Center. The Convocation program begins at 9:45 a.m. in the Student Fitness Center and concludes with a buffet lunch. Join us afterward at the Buysse Ballpark across campus for the annual faculty softball game, as well as other activities including board games, corn hole, horseshoes and croquet.
Don't forget: Colleague Development Days is this week
All faculty, staff and administrators are encouraged to participate in the seventh annual Fall Colleague Development Days on Thursday, Aug. 17, and Friday, Aug. 18, on the McNichols Campus. The Thursday event offers 21 concurrent sessions, which will assist in updating and educating faculty, administrators and staff.
On Friday, two plenary sessions will help faculty, staff and administrators "meet, understand and teach today's learners: Generation NeXt." See the session overview for more details or visit the Colleague Development Day website. If you have questions, contact the event's coordinator, Sheryl Johnson-Roulhac, at 313-993-1017 or careerlink@udmercy.edu.
Detroit Mercy and community gear up to enhance Fitzgerald Neighborhood Aug. 23-24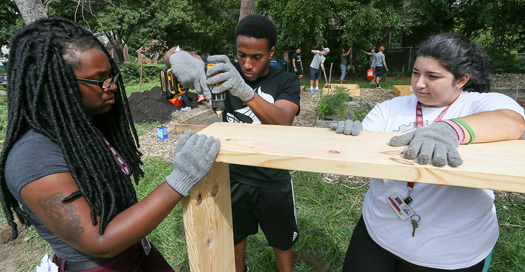 University of Detroit Mercy freshmen will kick off their college careers by doing volunteer work in the Fitzgerald neighborhood in northwest Detroit. The yearly tradition is part of the Detroit Mercy orientation program, "Prologues, Transitions and Viewpoints (PTV)." Students will work in several areas over two days on Aug. 23 and 24.
All Detroit Mercy faculty, staff and administrators are encouraged to volunteer and help at PTV. If you are interested, contact Director of the Institute for Leadership and Service Tim Hipskind, S.J., at hipskijt@udmercy.edu.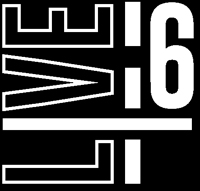 Live 6 Speakeasy this Friday
The Detroit Mercy-sponsored Live6 Alliance will host its next installment of the community dialogue series, Speakeasy, on Friday, Aug. 18, from 6 to 8 p.m. at Detroit Sip, 7420 West McNichols Road. Public Safety will deliver an update about the community and open a discussion about safety in our neighborhood. For more information, contact Live6 Alliance Director Lauren Hood at 313-610-6004 or info@live6detroit.org.
Time to retire old brand materials
The Office of Marketing & Communications reminds offices, colleges, departments and employees that it's time to retire our old identity and related materials. It is important to support our Build a Boundless Future brand through integrated identity materials now more than ever as the resurgence of our city continues and our work in the community and neighborhood expands. For information on our brand identity, click here. You can download our brand identity elements online.

Detroit Mercy celebrated hip hop culture and its influence on architecture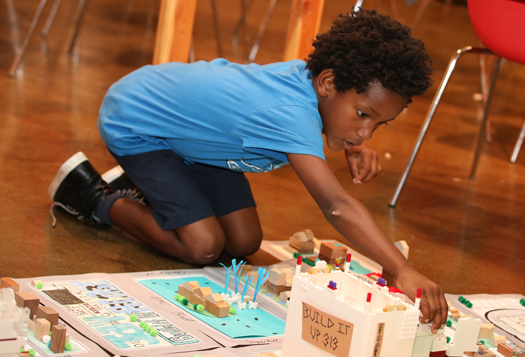 University of Detroit Mercy was proud to host Michael Ford '06 and the Hip Hop Architecture camp, Aug. 7-11. This one-week camp introduced under-represented youth ages 10-17 to architecture, urban planning, creative place making and economic development through the lens of hip hop culture. Students spent the week developing an urban plan for a thriving city, built models and designed structures with 3D modeling software. Last Friday, Aug. 11, the students also celebrated the 44th anniversary of the birth of hip hop.
Detroit Mercy's assistance to Marygrove students
With Marygrove's recent closing of undergraduate programs, Detroit Mercy wants to help students who wish to transfer to our University. The Transfer Team in the Office of the Registrar recently published a transfer guide for Marygrove students, which is available online. In addition, staff from Detroit Mercy's Office of Admissions and Office of Financial Aid are available to meet with Marygrove students by appointment or walk-in. Staff are also evaluating transcripts and eligibility for admission.
The goal of this individual attention is to help students enroll quickly for the fall semester. Future plans may include holding informational sessions and extended office hours, based on need, to accommodate day and evening appointments.
The Office of Marketing & Communications has provided this information to southeast Michigan media outlets and posted it on the University social media platforms. Please consider sharing this information with colleagues, friends and family impacted by Marygrove's decision and via your personal social media platforms. If you know of any students who need help, please ask them to contact the Office of Admissions at 800-635-5020 or email admissions@udmercy.edu.
A class in civil rights takes students where the movement started
A group of seven Detroit Mercy students and two of their professors gathered at the statue of Jesus on the McNichols Campus and said a prayer asking for safe travels during their journey south. The group was embarking on a weeklong travel course to Tennessee, Alabama and Mississippi, exploring the southern Civil Rights Movement of the 1950s and '60s. It is the first class of its kind at Detroit Mercy. Read the full story online.
Office of Registrar Transfer Team nominated
The Michigan Association of Collegiate Registrars & Admissions Officers (MACRAO) recently nominated the Transfer Team in the Office of the Registrar for the 2017 Innovation in Transfer Award. The team established Welcome Desk, a pilot program for a select group of new undergraduate transfer students in July 2016 and expanded it this year. While working in collaboration with the Office of Admissions and the academic colleges/schools, Welcome Desk was initiated to supplement, support and improve the post-admission transfer experience by connecting students with Detroit Mercy services and processes, and their academic advisors.
Thumbs Up!
University of Detroit Mercy President Antoine M. Garibaldi was highlighted in The Hub article, "Breaking Barriers: University strives to meld campus with community," focusing on Detroit Mercy's partnership and work with our neighborhood.
Associate Professor of Political Science Stephen Manning was interviewed by Jake Neher and Laura Weber Davis on the WDET-FM 101.9 Detroit Today radio show, Aug. 10. The topic was the escalating tensions between the United States and North Korea.
The Commission on Collegiate Nursing Education recently elected Dean of the College of Health Professions and McAuley School of Nursing Christine Pacini to serve as a member of the Board of Commissioners. This national accrediting organization functions to ensure the quality and integrity of baccalaureate, graduate and residency programs in nursing.
Associate Professor of Communication Studies Tom Stanton's New York Times sports bestseller Terror in the City of Champions was excerpted in the Sunday, Aug. 6, Detroit Free Press on the occasion of its softcover release. On Aug. 25, Stanton will be featured at the National Writers Series at Traverse City's Opera House.