Detroit Mercy 2nd Annual Charity Fashion Show
Titan Talk: Dhruv Patel
Accepted Students Day, March 25
This Old House at Detroit Mercy
In celebration of the broadcast premiere of This Old House-Detroit on April 3, Detroit Public Television (DPTV) held a community conversation followed by a celebration on March 24 on University of Detroit Mercy's McNichols Campus. Among the nearly 500 guests were talent from the show: host Kevin O'Connor along with Tom Silva and Richard Trethewey, and a special visit by PBS' President Paula Kerger. While the one-hour program was live streaming on the web, it was also scheduled to air on Channel 56 on Thursday, March 30 at 9 p.m. Video of the program is available online. See the press release for more information.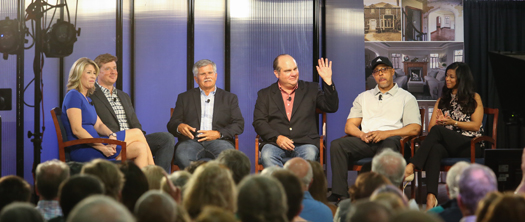 Upcoming CLASA events
On Wednesday, March 29 CLASA hosts Director of the Mexico Solidarity Network Tony Nelson and Organizer with the Tlanezi Calli Housing Cooperative of Mexico City Sergio Pacheco who will speak on "Homes for People, Not for Profit!" The talk will begin at 4 p.m. in Room 124 of the Health Professions Facility. See the event flyer for more information.
On Thursday, March 30 CLASA will also host two talks with New York Center for Court Innovation Youth Justice Board Program Associate Mary Walle, at 2 p.m. and 4 p.m. in Room 317 of the Jane & Walter O. Briggs Building. Walle will present her research on the history of the Sanctuary movement in Detroit. Detroit Mercy students will create an exhibit of Carney archives materials related to her topic; the exhibit will be on display in the McNichols Campus Library Lobby beginning March 30 through April. See the event flyer for more information.
On Friday, March 31 in honor of Cesar Chavez Day, CLASA will host a talk on the topic of migrants at 11 a.m. in Room 209 of the Commerce & Finance Building. See the event flyer for more information on the speaker.
Provost and VP for Academic Affairs honored with 2017 Gies Award
Provost and Vice President for Academic Affairs Pamela Zarkowski received the Gies Award for Achievement – Dental Educator at the 10th Annual Gies Award Gala held in Long Beach, Calif. The William J. Gies Awards for Vision, Innovation and Achievement are the preeminent recognition of exceptional contributions to and support of dental education.
Detroit Mercy Dental Dean Mert Aksu and Associate Professor of Periodontology & Dental Hygiene Kathi Shepherd introduced Zarkowski, followed by a short video highlighting her career and contributions to dental education. More than 20 faculty members as well as Detroit Mercy President Antoine Garibaldi were in attendance for the celebration.
"Gender, Inequality, Boundaries" video exhibit
Architecture and Digital Media Studies students will present a video exhibit titled "Us and Them: Gender, Inequality, Boundaries," on Friday, March 31 from 10 a.m. to 2 p.m. in Grounds Coffeehaus. Issues of race, class, sexual orientation, power, subordination and their connection with diverse forms of discrimination are the central focus of video installations. The exhibit is funded through the Women and Gender Studies teaching grant. See the event page for more information.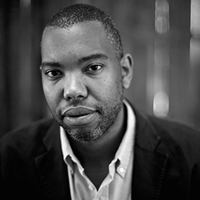 Ta-Nehisi Coates at Detroit Mercy, April 4
University of Detroit Mercy will welcome author, journalist, educator and National Book Award winner Ta-Nehisi Coates on Tuesday, April 4 in Calihan Hall on the McNichols Campus. He will deliver a talk entitled "Between the World and Me," based on his award-winning book of the same name, at 6:30 p.m. Admission is $10 to the general public and free to all University of Detroit Mercy students and colleagues with I.D. Tickets are general admission and can be purchased online. See the Detroit Mercy news release for more information.
Fulbright Brazil GPA grant exhibit
Detroit Mercy faculty and Detroit area K-12 teachers visited the northeast Brazilian cities of Salvador, Bahia and Sao Luis, Maranhao during the summer of 2016, thanks to a grant provided by the U.S. Department of Education's Fulbright Hays program. Though the grant period has ended, curriculum projects are now available to view online. Artifacts of the experience are also currently on display on the first floor of the Jane & Walter O. Briggs Building.
Honors Convocation celebrates academic excellence
Live6 Sound: The Chessmate community concert
The Live6 Alliance and Detroit Sound Conservancy invites the Detroit Mercy community to celebrate the legacy of the former Chess Mate Cafe/The Chessmate (now University Coin Laundry) with storytelling, community listening and live performances for three consecutive evenings, April 6-8, at Detroit Sip, 7420 West McNichols Road in Detroit. The Chessmate, at the intersection of Livernois and McNichols Road, has a history of late-night concerts, cutting-edge acts and legendary troubadours. See the event page for dates, times and to RSVP.
Thumbs Up!
Professor of History Roy E. Finkenbine presented on "Comparative Slavery and Slave Resistance in Brazil and the United States" at the spring meeting of the Metro Detroit Area Historians' Collegium at Henry Ford College, March 24.
Clinical Associate Professor of Nursing Andrea Kwasky was awarded the 2017 International Society of Psychiatric Nurses Clinical Practice Award at the International Society of Psychiatric Nurses annual conference in Baltimore, Md. Kwasky was also recognized by NAMI Michigan, in the category "Educator/Education System of the Year," at the Michigan's Mental Health Heroes NAMI Michigan Honors Awards Dinner, March 25.