Jacob Kagey
Associate Professor of Biology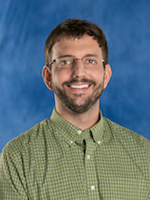 Contact Info: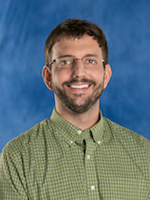 Areas of Expertise:
Genetics (BIO2700)
Genetics Lab (BIO2710)
Human Genetics (BIO3750)
Bioinformatics (BIO1040)
Human Genetics
Degrees
Ph.D. Emory University
B.A. Ohio Wesleyan University
Biography
Associate Professor of Biology. Dr. Kagey earned a B.A. in genetics from Ohio Wesleyan University and a Ph.D. in Genetics and Molecular Biology from Emory University. He was a NIH Fellowships In Research and Science Teaching (FIRST) postdoctoral fellow at Emory University. He joined the Biology department at UDM in the fall of 2011. Within the department Dr. Kagey teaches Genetics, Genetics lab, Senior Seminar, and Introduction to Biology. 
Research Overview:
Dr. Kagey's research utilizes Drosophila melanogaster (fruit flies) to identify mutations that alter the regulation of cell growth and division in developing flies, which are processes that are often altered in human cancers.Understanding what causes tissues to overgrow in fruit flies can be used to help understand the mechanisms involved in human carcinogenesis.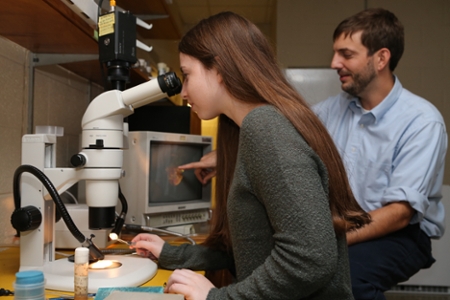 Recent Publications
Bell JS, Kagey JD, Barwick BG, Dwivedi B, McCabe MT, Kowalski J, Vertino PM. Factors affecting the persistence of drug-induced reprogramming of the cancer methylome. Epigenetics. 2016.
Barron DA and Kagey JD. The role of the Hippo pathway in human disease and tumorigenesis. Clinical and Translational Medicine. 2014.
Kagey JD, Brown JA, Moberg KH. Regulation of Yorkie activity in Drosophila imaginal discs by the Hedgehog receptor gene patched. Mechanisms of Development. 2012.
Kapoor-Vazirani P, Kagey JD, Vertino PM. SUV420H2-Mediated H4K20 trimethylation enforces RNA polymerase II promoter-proximal pausing by blocking hMOF-dependent H4K16 acetlyation. Molecular and Cellular Biology. 2011.