UDM launches Live6 Alliance
UDM hosted a press conference launching the Live6 Alliance, a community revitalization project, Aug. 31, on the McNichols Campus. More than 140 people attended the event. The Live6 Alliance will focus on strengthening the Livernois Avenue and McNichols Road commercial corridor in Northwest Detroit. The organization will build on neighborhood revitalization strategies already being implemented in the Livernois corridor.
University of Detroit Mercy anchors the organization, with generous support from The Kresge Foundation, the Detroit Corridor Initiative, the Detroit Economic Growth Corporation, area neighborhood associations and other anchor institutions. Funders have committed a total of $700,000 over two years to facilitate the Live6 Alliance's work. The UDM news release contains more information, videos and links to media coverage. Also see the photo gallery.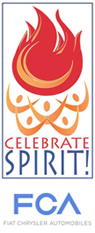 Celebrate Spirit!
All UDM students, faculty, staff and administrators are encouraged to attend the 16th annual Celebrate Spirit!, Thursday, Sept. 10. The official welcome to the new school year, Celebrate Spirit! will begin at 11:30 a.m. in Calihan Hall, featuring guest speaker and managing editor of America magazine Kerry Weber. See the Celebrate Spirit! website for more information.
Volunteers who wish to sing at UDM's Celebrate Spirit! celebration are welcome to participate in an open choral rehearsal on Thursday, Sept. 3 from 12:45 to 2 p.m. in the Commerce & Finance Building's St. Ignatius Chapel. Lectors and ministers of Holy Communion for the Mass of the Holy Spirit are also needed. For questions, contact University Ministry at ministry@udmercy.edu. The Celebrate Spirit! picnic, which will occur around the Fountain area near the Student Center, is sponsored by Fiat Chrysler Automobiles.
CLASA hosts Latin American art exhibit and reception
The James Carney Latin American Solidarity Archive (CLASA) and Gesu Peace and Justice Committee present the exhibit, "Paintings of Latin America," by artist Don "Donaldo" Voelker, which will be displayed in the McNichols Campus Library through the month of September. There will be a reception with the artist on Sunday, Sept. 20 from 1 to 3 p.m. in the McNichols Campus Library. See PDF flyer for more information and visit the McNichols Campus Library web page for library hours.
UDM welcomes first year students
Detroit Titans student-athletes and UDM fraternity members helped new students move into their freshman residence hall, Aug. 25, and move-in was highlighted in a WDIV Local 4 News back-to-school segment, Aug. 25.
Also, 354 first-year UDM students participated in a half-day of service, as part of UDM's "Prologues, Transitions & Viewpoints" (PTV) program, Aug. 26-27. The variety of service projects included more than 25 different agencies for an approximate total of 1,600 hours of service. Some students met with local business owners on Livernois Avenue during PTV to further integrate UDM with the surrounding community. Another group met with members of the Navin Field Grounds crew to clean up parts of old Tiger Stadium and play a round of baseball! See media coverage of the event. UDM welcomes its new class of students and thanks them for their powerful impact on the community!
NetWalking begins at UDM
NetWalking, an opportunity for faculty, staff and administrators to exercise while networking with fellow co-workers, will be held every Tuesday at 12:45 p.m. and every Friday at 1 p.m. this semester in the Student Fitness Center. All NetWalking participants receive a free pedometer. Come make some connections and get a good workout!
What does it mean to be Jesuit and Mercy educated?
With more than 80,000 alumni around the globe, the impact of a University of Detroit Mercy education can truly be felt worldwide. Our graduates are out there, making a difference in their communities, showing how education has the power to change the world.
To us, that's at the heart of a Jesuit/Mercy education, but we want to hear from you: What does it mean, to you, to be Jesuit and Mercy educated?
In the weeks leading up to Pope Francis' visit to the United States, the Association of Jesuit Colleges and Universities is asking students, alumni and faculty from Jesuit schools to share what a Jesuit education means to them by using the hashtag #JesuitEducated. But at UDM, that would only tell half our story. We're also using #MercyEducated, in honor of our Mercy heritage. Your stories will be used to promote not only the Pope's U.S. visit, but also Mercy Day on Thursday, Sept. 24.
So take a moment to drop us a line, send us a photo or even shoot a short video, then share it with UDMercy on Facebook or @UDMDetroit on Twitter or Instagram. And don't forget your hashtag!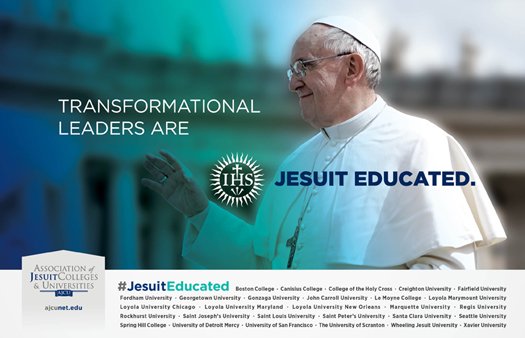 Titan Luncheons commence
UDM's Department of Athletics will host its first Titan Luncheon of the 2015-16 season on Wednesday, Sept. 9 from noon to 1:30 p.m. in Calihan Hall's Ed & Brooks Room on the McNichols Campus. The event is free; however, if interested in attending, participants are asked to RSVP by Monday, Sept. 7. Buddy's Pizza along with drinks and other refreshments will be provided at the luncheon. See press release for more information.
School of Architecture participates in NCARB Integrated Path Initiative
The National Council of Architectural Registration Boards (NCARB) has announced UDM School of Architecture as one of the first 13 accredited architectural programs to be accepted for participation in the NCARB Integrated Path Initiative. The initiative encourages programs that are accredited by the National Architectural Accrediting Board (NAAB) to propose a pre-graduation integration of education, experience requirements and the opportunity to take each of the six divisions of the new Architect Registration Examination 5.0.
When the program commences, UDM students will have the option to pursue a six-year course of study that will position them to complete all requirements for professional licensure at the time of graduation, reducing their time to licensure by as much as 33 percent.
UDM reflects on Hurricane Katrina
As we remember the disaster of Hurricane Katrina and its 10th anniversary, UDM as a Jesuit community reflects on the many contributions provided both during and years after the storm. We celebrate the members of the lgnatian family who came to New Orleans and the Gulf Coast through the province Katrina Relief Office to help families, churches, schools and communities rebuild. Twenty-two Jesuit colleges and universities including UDM, as well as 26 Jesuit secondary schools, came to the area more than 125 different times to support the community.
In approximately 30 months, participants gutted 240 homes, rebuilt 140 homes and provided 132,669 hours of labor. We also remember the construction of the Harry Thompson Center, a day shelter for the New Orleans's homeless members, designed by the UDM School of Architecture's Detroit Collaborative Design Center, which received the Rudy Bruner award in 2009. UDM takes a moment to thank all those who contributed to the cause for their hope, faith and kindness.
Thumbs Up!
Associate Professor of English Mary-Catherine Harrison's literacy program, RX for Reading Detroit, organized story hour for more than 40 children at New Center Park in Detroit and distributed books to the students and teachers who attended the event. Detroit Mayor's Office Liaison to City Council Aliyah Sabree also attended the event and accepted an award on behalf of the city in recognition of being the fastest growing community of Little Free Libraries in the country. See RX for Reading Detroit website for more information.