Paczki, ashes and Lenten reflection
Service and Immersion trip participants sponsored by University Ministry will once again sell paczki to raise money for their upcoming experiences on Thursday, Feb. 23, also known as Fat Thursday, the traditional paczki day in Poland. Individual paczek will be available for sale during Fat Thursday in the McNichols Library, Shiple Hall Lobby and the University Ministry Office.
University Ministry will offer Lenten ashes to the community, available all day at the Ministry Office in the Student Center on Wednesday, March 1. There will also be a Lenten service at noon in Shiple Hall's Young Martyr's Chapel, as well as at 4:30 p.m. in the Commerce & Finance Building's St. Ignatius Chapel on the McNichols Campus.
Co-director of the Institute for Leadership and Service Timothy Hipskind, S.J., will be the keynote speaker at the 2017 Detroit Lenten Day of Prayer and Reflection on Sunday, March 5, from 9:30 a.m. to noon at the Dearborn Inn, 20301 Oakwood Boulevard, in Dearborn. This event is sponsored by the Midwest Jesuits Chicago-Detroit and Wisconsin Provinces. See the event page for more information and to register.
Black History Month at Detroit Mercy
Special events for Black History Month continue with a Detroit 1967 roundtable discussion on Wednesday, Feb. 22, and a movie screening of "Loving" on Thursday, Feb. 23. See the special calendar listing for more information.
Live6 Alliance Speakeasy talk on youth engagement, Feb. 24
The Live6 Alliance will host its fourth installment of the speaker series Speakeasy on Friday, Feb. 24, from 6 to 8 p.m. at the Live6 pop-up space, 16647 Livernois Ave. This edition will focus on youth engagement and how to utilize the knowledge and insight the younger generation has to offer. The night will begin with a presentation, followed by a panel discussion by youth community members. See the event page for more information.
Last weekend to see Bus Stop
The Theatre Company production of William Inge's American classic Bus Stop finishes its run this weekend at the Marlene Boll Theatre at the Boll Family YMCA, 1401 Broadway Street, in downtown Detroit. Bus Stop follows a bus full of strangers who find themselves stranded at a roadside diner in Kansas City in the middle of a howling snowstorm. See the Detroit Mercy news release for more information, and tickets can be ordered online at www.TheTheatreCo.com or www.udmarts.com.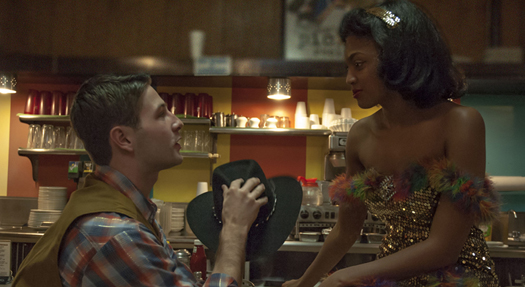 Architecture Lecture Series: Janette Sadik-Khan
As part of its 2016-17 Lecture Series, Detroit Mercy School of Architecture (SOA) welcomes Janette Sadik-Khan of Bloomberg Associates (New York, N.Y.) on Wednesday, March 1, at 5:30 p.m. in the Warren Loranger Architecture Building's Genevieve Fisk Loranger Architecture Center. This event is free and open to the public. See the SOA Lecture Series website for more events!
Day of Giving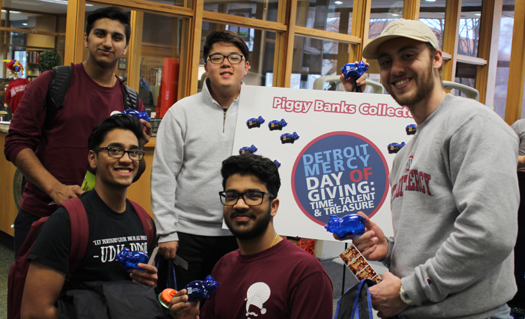 The Student Alumni Association (SAA) hosted the "Day of Giving: Time, Talent & Treasure" event in the McNichols Campus Library Lobby, Feb. 21.
Day of Giving focuses on educating students about the importance and need for alumni engagement and the role alumni play in meeting University priorities. Activities included a plinko trivia game, photobooth and a student video contest with a grand prize of $500. See the Day of Giving website for more information.
DCDC project on exhibition
Created in collaboration with the Detroit Collaborative Design Center, the Detroit Future City project titled, "By the People: Designing a Better America," is currently on display in New York City. This exhibition brings together more than 60 designs, challenging the country's persistent social and economic inequality. See the project details online.
CHP building expansion now open
Classes have now begun in the lower level of the new addition to the College of Health Professions (CHP) Facility on the McNichols Campus. Please stop by to take a look around, but use caution as workers are still completing the Collaboration Room on the first level and other areas of the facility. While the south entry is not currently open, please access the facility through the main CHP entrance that faces east.
Valedictorian process
Nomination forms for this year's valedictorian can be downloaded from the Student Life Office website and will be accepted through Monday, March 6. While the tradition of valedictorians calls for academic excellence (a minimum of 3.70 GPA) and instructional involvement, the role also calls for a graduate who has a meaningful message.
Thumbs Up!
Professor of Business Administration Michael Bernacchi was quoted in the Gas2 article, "Super Bowl commercials use autos to describe U.S. identity in divided times," Feb. 5. Bernacchi was also quoted in the WSJM 94.9 FM post, "Super Bowl advertisers trying to avoid politics," Feb. 3.
Adjunct Professor of Law Dennis Clark was featured in the Oakland County Legal News article, "Staying connected: Attorney displays passion for giving back," Feb. 8.
Professor of Philosophy David Koukal was interviewed by Stephen Henderson on WDET 101.9 FM's "Detroit Today" program, discussing President Trump and education, Feb. 16. Listen to the interview online.
Associate Professor of Education and Former Deputy Mayor of Detroit Isaiah McKinnon served on a panel at Wayne State University, discussing the disturbing trend in America in which children are funneled out of public schools into the juvenile and criminal justice system. These excessive practices have resulted in the suspensions, expulsions and arrests of millions of public school students, especially students of color and with disabilities.
Associate Professor of Chemistry & Biochemistry Prasad Venugopal will present in the panel discussion, "Nukes and your future? – A student & community forum," at Henry Ford College on Wednesday, March 1 from 6 to 8 p.m. See event page for more information.
Professor of Psychology Carol Weisfeld discusses happiness and a healthy marriage in an interview with WXYZ-TV Channel 7 host Alicia Smith. Watch the video online.