Congratulations, 2018 graduates!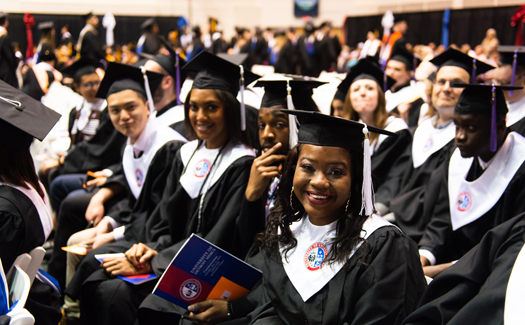 University of Detroit Mercy held commencement ceremonies on May 11 and 12, 2018, and welcomed more than 1,500 students to the University's alumni ranks. Read the full story online and be sure to check out photo galleries and video coverage of the event. #DetroitMercy2018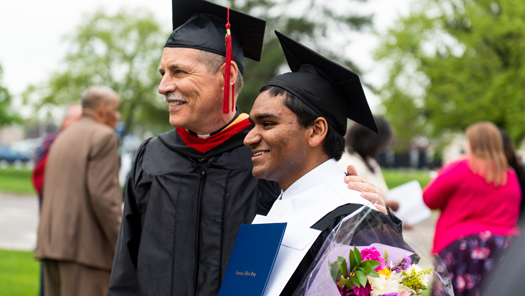 Valedictorian Kemp thankful she chose Detroit Mercy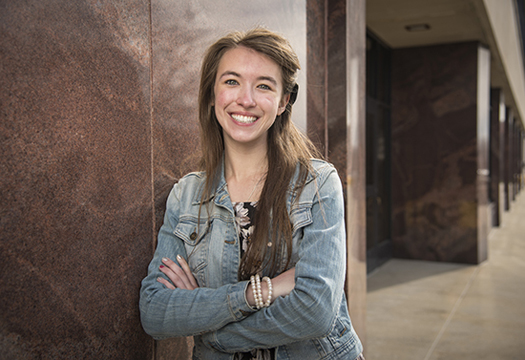 Christen Kemp wasn't quite sure what she was looking for in a college when she visited University of Detroit Mercy as a senior in high school. Still, her father elected to put down a deposit, encouraging her to study nursing.
But, as she represented the Class of 2018 as valedictorian at Commencement, May 12, Kemp knew Detroit Mercy was everything she could have ever wanted in a university and offered her opportunities she wouldn't have had anywhere else. Read her story online.
Get to know: Maurice Greenia '76, Rooted in art history and surrealism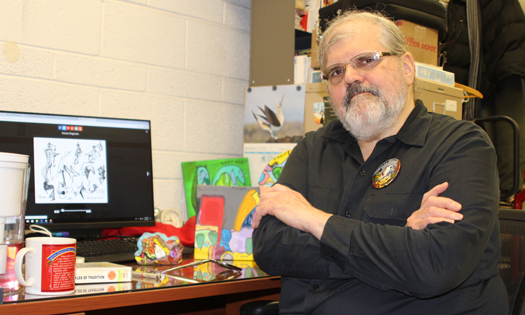 If you've spent time in the McNichols Campus Library, you've probably seen some of Maurice Greenia's work. The library technician and preservation specialist is responsible for many of the creative displays that showcase special themes, exhibits and events.
But outside his work on campus, Greenia, '76 is also an artist in his own right, known in the art world as "Maugre" — a combination of the first three letters of his first and last names — with a distinctive style that he describes as "rooted in art history and surrealism." Read his story online.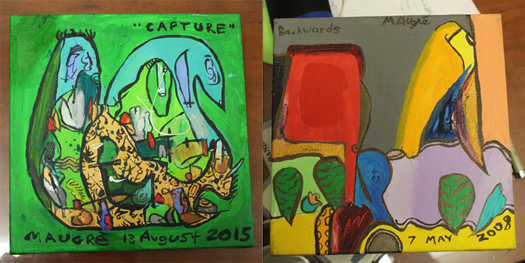 And that's a wrap!
On behalf of Marketing & Communications, we wish a happy spring and summer to all Titans and a special congratulations once again to the Class of 2018!
Be sure to stay up-to-date on the latest Detroit Mercy news on our website as well as on Facebook, Twitter, Instagram and Snapchat.
(Now, time to start testing the look and feel of the new Campus Connection; see you in the fall, Detroit Mercy!)

Thumbs Up!
Professor of Chemistry & Biochemistry Mark Benvenuto was interviewed by Radio Free Asia, broadcast on Tibetan radio, about a rare thermal spring of helium recently discovered in Tibet.
Detroit Mercy Dental Associate Professor Integrated Biomedical Sciences Eric Krukonis received a two-year National Institute of Health (NIH) R21 grant for his project, titled, "Ail-mediated serum resistance in Yersinia pestis and its contribution to plague virulence." As Krukonis stated: "Yersinia pestis causes the rapidly fatal infectious disease plague, making Y. pestis a bioterrorism threat. This project is aimed at distinguishing the contributions of Ail-mediated serum resistance and adhesion/toxin delivery to plague pathogenesis. Defining these critical interactions will lead to development of novel antiplague therapeutics and/or an effective plague vaccine."