This week on campus
Wednesday, Feb. 28
Join the School of Architecture for a Challenge Detroit information session at 6:30 p.m. in the Genevieve Fisk Loranger Architecture Center of the Warren Loranger Architecture Building. A panel discussion will feature alumni and students who have participated as Challenge Detroit fellows.
Student Life will host a movie night with Moonlight (2016) on the reel from 7 to 9 p.m. in the Student Union's Grounds Coffeehaus.
Thursday, March 1
Come have a FREE meal and casual discussion with classmates at the Lenten Soup & Substance presentation, "DACA: Dream or Nightmare," from 12:15 to 1:15 p.m. in Lansing-Reilly Hall on the McNichols Campus.
Students interested in pursuing the joint J.D./MBA degree program are invited to a Detroit Mercy Law open house from 12:45 to 2 p.m. in the College of Business Administration Dean's Conference Room in the Commerce & Finance Building. Refreshments will be provided. RSVP to buslepba@udmercy.edu.
Interested in learning more about working with the U.S. Army Criminal Investigation Division? Guest speakers from the United States Army will present information and answer questions, including pay and benefits, during dead hour in Room 165 of Reno Hall. Register online.
Motor City Madness tickets
Get your tickets: Motor City Madness is this Friday, March 2. women's basketball will play Northern Kentucky at 2:30 p.m. while the men's basketball team faces off against Green Bay at 5:30 p.m. Join us for the Titans tailgate at 4 p.m. on the second floor at the Chevrolet entrance of Little Caesars Arena; register online. See you all there, and go Titans!
Next week on campus
Spring Break
On behalf of Marketing & Communications, we wish all students a fun-filled, responsible and relaxing spring break.
Alumni Chili Cook-off a tasty success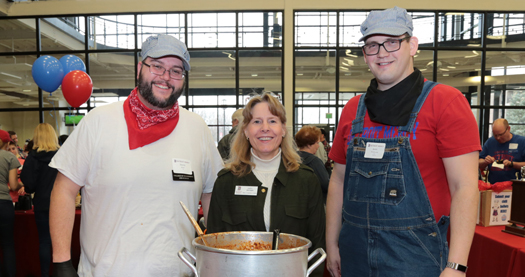 Nearly 300 alumni and friends gathered Feb. 24 on the McNichols Campus for the Detroit Mercy Alumni Chili Cook-off. Taste buds were sent into overdrive with pots of delicious chili created by representative teams of the University's colleges/schools, as well as the Titan Club. After an afternoon of games and activities, ballots were cast and the winner was announced at the Detroit Mercy vs. Green Bay men's basketball game.
The College of Engineering & Science, this year represented by Andy Wakeland '07, took home the coveted cook-off trophy for the third year in a row. Thanks to everyone who participated and came out to cheer on the Titans! See the photo gallery online.
Detroit Mercy to host the 2019 National Jesuit Student Leadership Conference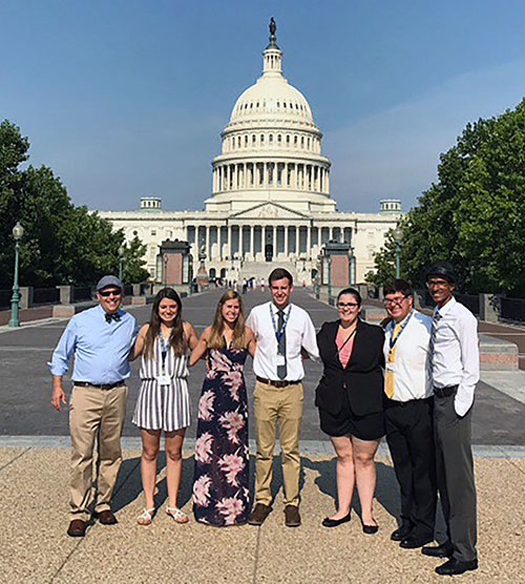 Detroit Mercy recently was chosen to serve as host site for the National Jesuit Student Leadership Conference (NJSLC) in 2019. The University will welcome hundreds of students, faculty and administrators from more than 28 Jesuit colleges and universities throughout the country to McNichols Campus in July 2019.
Sponsored by the Jesuit Association of Student Personnel Administrators, the conference is hosted by a different university each year and provides student leaders with collaborative opportunities to develop ideas, explore issues and build stronger leadership skills to better serve their institutions in the Jesuit tradition. NJSLC is comprised of workshops, group discussions, social programming, a day of service, and opening and closing banquets.
Read the full story online and stay tuned to Campus Connection for more updates to this story as we prepare for the conference.
That's a wrap: Theatre Company prepares for next show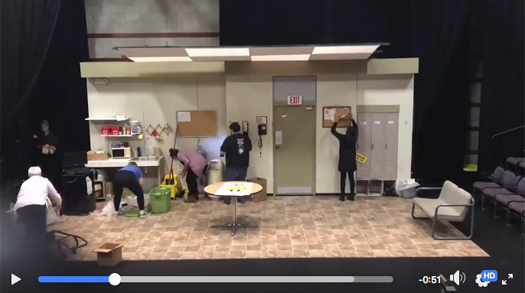 Detroit Mercy's Theatre Company has lowered the final curtain on A Bright New Boise and looks ahead to its next production, The Complete History of America (abridged), April 6-22. Watch a breakdown of the set at The Marlene Boll Theatre online.
Challenge Detroit fellowship applications still open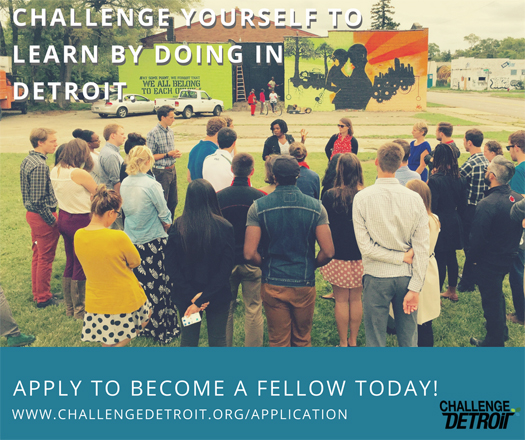 Challenge Detroit will select approximately 30 innovators from Detroit and across the United States to live, work, play, give and lead in Detroit for one year, beginning in September. Challenge Detroit's mission is to challenge young leaders through meaningful employment and intellectual work with area nonprofits designed to positively impact the city of Detroit. If you are interested in pursuing a fellowship, click here to submit an application before Sunday, March 11.
Challenge Detroit has been a great partner with the School of Architecture, with more than six Architecture and Master of Community Development students having served as Challenge fellows.
Our neighborhood and community are growing stronger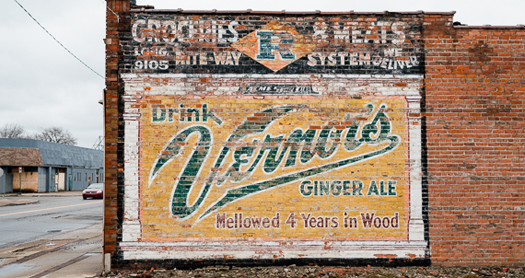 The neighborhood surrounding University of Detroit Mercy and the Live6 Alliance was featured in the ModelD article, "Reimagining McNichols: The multi-pronged effort to bring back a struggling commercial corridor," Feb. 27. This feature shows the continually growing energy within our community and is well worth a read.
New business administration certificate available for dual enrollment high school students
Do you know a high school student interested in business administration? Metro Detroit high school students are now eligible to earn a certificate in Business Administration from University of Detroit Mercy's nationally ranked business school before they even graduate. Best of all, it's free. Read the full article online.