This week on campus
Finals week is in full swing
On behalf of Marketing & Communications, we wish you all the best of luck on your exams, papers and projects and hope you have a relaxing winter break! You got this.
Friday, Dec. 15
Faculty, staff and administrators are invited to the annual Christmas Party and Employee Recognition Celebration from 3 to 5 p.m. in the Student Union Ballroom. The event is a chance for Detroit Mercy employees to gather and celebrate the Christmas and holiday season. Fellow employees will be honored for their years of service and presented with the Commitment to Excellence Awards.
Last chance to share some love: Detroit Mercy giving tree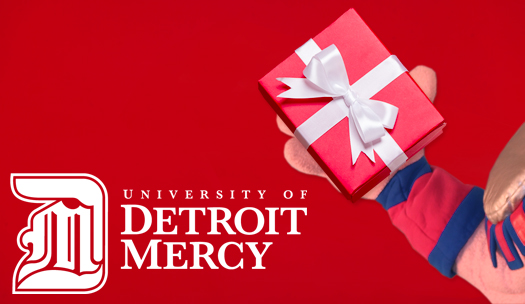 Through Friday, Dec. 15 the Detroit Mercy community can find our annual Giving Tree located outside of the Student Union Bookstore on the McNichols Campus. If you would like to participate, simply select an ornament, purchase the listed item, wrap it up and drop it off at the Student Life Office by Friday, Dec. 15.
All Giving Tree items will be donated to the St. Vincent de Paul Society/Gesu. If you have any questions please contact Adam Hollmann at hollmaap@udmercy.edu or 313-993-1154. The Detroit Mercy Giving Tree is sponsored by the Student Life Office, Student Program Board, Student Government Association and University Ministry.
Thanksgiving Dress Down Challenge supports Campus Kitchen
A heartfelt thank you is in order to everyone who participated in the Thanksgiving Dress Down Challenge this year. Your generosity has raised a total of $1,171.23 for the Detroit Mercy Campus Kitchen and help us continue our mission to serve and empower those in need in our community.
Congratulations to the ITS Department for to win the Thanksgiving Dress Down Challenge! Thank you again for your gracious support to this important project.
Visit Day packs a punch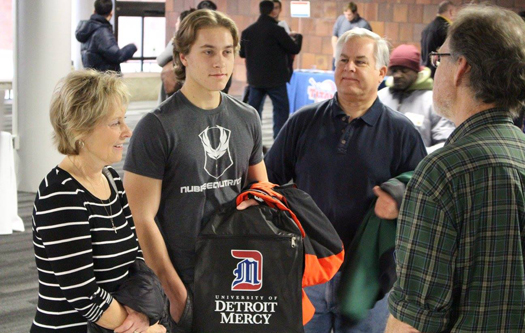 University of Detroit Mercy welcomed nearly 300 future students and their families to Visit Day last weekend. Students and their parents met with faculty during the organization fair and in program specific sessions. See our two photo galleries from College of Engineering & Science and College of Liberal Arts & Education as well as two highlight videos of the day here and here.
If you know of a future student interested in checking out Detroit Mercy, the next Visit Day will be on Saturday, Feb. 3. See the Visit page for more information.
Clash of the Titans raises over $110,000 through crowdfunding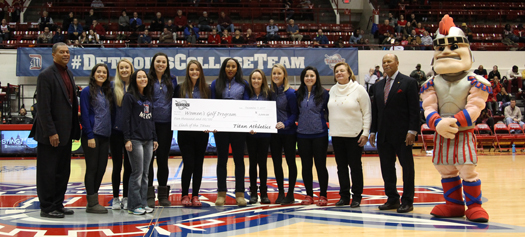 University Advancement Division's crowdfunding competition Clash of the Titans has come to a close with stunning results. To help support Detroit Mercy NCAA Division I athletic teams, this special fundraiser ran from Nov. 7 to Dec. 5 and raised more than $111,303 from 484 donors. The competition included a point system designed to ensure a level playing field for all the sport regardless of their size.
Congratulations to our Titan Women's Golf Team, as the winning program in this first-ever competition! Read the full story online.
Sisters of Mercy fund first-generation student support
A generous grant from the Sisters of Mercy West Midwest Ministry will help fund services to students who are the first generation in their family to attend university.
The $28,200 grant is the second from the Sisters of Mercy in two years and is earmarked for the University's FirstGen Network programming designed to improve success and retention of first-generation students, a group defined as students whose parents do not have a college degree. Nationwide, these students struggle more and drop out at a higher rate than students whose parents have college degrees. Read the full story online.
Professors' Volterra Reality Capture Workshop wins 2017 AIA Innovation People's Choice Award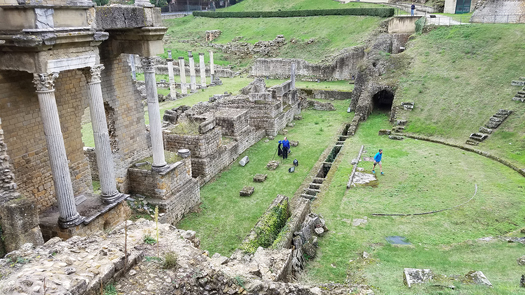 The Volterra Reality Capture Workshop run by University of Detroit Mercy professors won the 2017 American Institute of Architects (AIA) Innovation People's Choice Award. The Reality Capture Workshop (located in the city of Volterra, Italy) is a long-term collaborative project to create a complete digital documentation of a historical city and a methodology for the information dissemination. Read the full story online.
Detroit Mercy joins letter in global effort to address climate change
Last month, President of University of Detroit Mercy Antoine M. Garibaldi joined efforts with the Catholic Climate Covenant and the leaders of more than 161 Catholic colleges and universities, religious congregations, national organizations and health care providers in signing on to a letter to President Donald J. Trump and the United States Congress in regard to the global effort to address climate change. Read the full story online.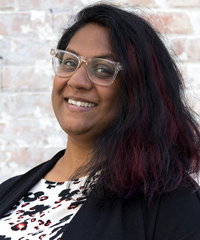 MCD student excelling as Detroit Revitalization Fellow
Madhavi Reddy considered herself lucky. She moved to Detroit from Toronto and landed a community development job with Community Development Advocates of Detroit (CDAD).It was Reddy's dream to continue her work in community development after moving to Detroit, but when she wanted to take the next step in her career, it led her to University of Detroit Mercy's Master of Community Development (MCD) program. Read the full story online.
Final reminder: Voluntary Early Separation Incentive Program
This will be the final reminder message for those interested in participation in the University's Voluntary Early Separation Incentive Program (VESIP).  To provide participants will valuable information related to the timing of pay, benefits and retiree health care, Human Resources schedules a 30-minute meeting with employees once they elect the program to provide them with a detailed check sheet that contains customized information related to their participation in the program.
As a reminder, to be eligible to participate in the VESIP, you must have been an active, full time employee on July 14, 2017 and as of Dec. 31, 2017, you must have been employed as a full-time employee of the University for a minimum of 10 years and be age 55 or older. 
Although applicants can submit paperwork to the Human Resources Office anytime between now and Friday, Dec. 29, HR encourages anyone who is confident they are going to participate in the program to avoid the last minute rush and submit their application prior to noon on Thursday, Dec. 21 (last work day of the year).
Men's soccer player Spiro Pliakos voted First Team Academic All-American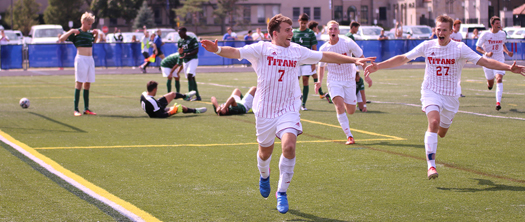 Detroit Mercy senior men's soccer player Spiro Pliakos (Rochester Hills) became the first male student-athlete in school history to earn First Team Academic-All American honors on Thursday after he was voted to the 2017 CoSIDA Academic All-America Division I Men's Soccer First Team. Read the full story online.
Reminder: Colleague Development Day as soon as we return
Don't forget to register for the annual Mid-Year Colleague Development Day on Thursday, Jan. 4 from 9 a.m. to 3:15 p.m. on the McNichols Campus. The day will include an informative plenary session followed by a mix of 60- and 75-minute workshops and presentations to inform, educate and inspire faculty, staff and administrators. An additional presenter has recently been added to the schedule, "Connecting the Dots: Using the Flipped Class Model to Increase Metacognition in the Classroom."
See the Colleague Development Days website for session times and topics. Register online by Tuesday, Dec. 19. For more information, please contact Center for Career & Professional Development Dean Sheryl Johnson-Roulhac at 313-993-1017 or careerlink@udmercy.edu.
Thumbs Up!
Associate Professor of Mathematics Dawn Archey recently won a $21,998 grant from the National Science Foundation (NSF) to support 15 early career mathematics researchers to travel to two conferences in Belgium in 2018. This award was made possible through the NSF Division of Mathematical Sciences. Read the full story online.
Professor of Psychology Libby Balter Blume and Director of Women's and Gender Studies (WGS) and Associate Professor of English Rosemary Weatherston co-authored an illustrated chapter titled, "Queering the Campus Gender Landscape through Visual Arts Praxis," in the edited book, Mapping Queer Space(s) of Praxis and Pedagogy published by Palgrave Macmillan. This chapter focuses on 12 years of Detroit Mercy's WGS biennial art exhibitions.
Professor of History Roy E. Finkenbine wrote the op-ed, "A historian destroys Roy Moore's myth about 'united' black families during slavery," featured in History News Network and RawStory, Dec. 11.
Associate Professor of Education and former Detroit Deputy Mayor Isaiah McKinnon has been appointed the Chair of the Elected Officials Compensation Commission. This Commission recommends adjustments to the salaries of the City of Detroit elected Officials, including the Mayor.
Director of the Student Success Center Susan Trudeau was appointed to the position of Professional Development Chair of the Michigan Tutoring Association.