This week on campus
Tuesday, Dec. 5
All Detroit Mercy students, faculty and alumni, as well as guests, community members and prospective students are invited to the public presentations of the Master of Community Development Capstone projects this week. The "Restorin' E. Warren" capstone project proposes recommendations for Detroit's East Warren Avenue through a comprehensive framework plan and will present from 6:30 to 8 p.m. at Bethany Lutheran Church, 11475 East Outer Drive in Detroit.
Wednesday, Dec. 6
The Master of Community Development capstone project, "Who Gets to Decide?" proposes a new self-assessment tool for community engagement practitioners and participants in Detroit. This team will host its public presentation from 6:15 to 8 p.m. at Church of the Messiah, 231 E Grand Boulevard in Detroit.
Relax and unwind before finals week and the hectic holiday season. Join the Student Program Board from 4 to 8 p.m. in the Student Union Fountain Lounge and "de-stress" with a relaxation program including, oxygen bar, massage chairs, spinal exercisers and foot massage machines. See the event page.
Thursday, Dec. 7
Come warm up and chow down on hot cocoa and cookies while decorating ornaments outside the University Ministry Office in the Student Union from 10 a.m. to 2 p.m.
Representatives from Alliance Catholic Credit Union will present on student loan tips as well as repayment options and smart financial planning at a lunch and learn from 12:45 to 1:45 p.m. in Reno Hall's Room 165. See the event page for more information.
Students, faculty, staff and administrators are invited to join the English Department for a Creative Writing Open House from 5:30 to 7 p.m. in Room 205 of the Jane & Walter O. Briggs Building. Come and meet the creative writing faculty, learn about classes and talk "craft."
Friday, Dec. 8
ReBUILDetroit scholars from Detroit Mercy and editors of a student-led research journal from Ball State University share their semester-long collaboration from 1 to 3 p.m. in Room 220 of the Engineering Building. Come learn more about the publication process, peer review and the experience between the scholars and editors of Ball State's Fine Focus Undergraduate Research journal. Light refreshments will be served.
University Ministry will host two Immaculate Conception masses at noon and 4:30 p.m. in St. Ignatius Chapel in the Commerce & Finance Building. All faiths are welcome to attend.
Saturday, Dec. 9
Sunday, Dec. 10
Celebrate the feast day of Our Lady of Guadalupe at the 9 p.m. Student Mass, the last of the semester, in St. Ignatius Chapel in the Commerce & Finance Building. All faiths are welcome to attend.
Next week on campus
Finals week
Finals week is upon us. On behalf of Marketing & Communications, we wish you all the best of luck on your exams, papers and projects and hope you have a safe and relaxing winter break!
Tuesday, Dec. 12
Blow off some steam during finals week and watch some short films at the Student Film Festival from 2 to 4 p.m. in Grounds Coffeehaus. All films showcased were written, produced, directed and performed by fellow Titans.
Friday, Dec. 15
The Detroit Mercy-sponsored Live6 Alliance will host a wrap-up and review installment of the community dialogue series, Speakeasy, from 6 to 8 p.m. at Marygrove College. This review Speakeasy will help put forth initiatives towards planning next year's community series. For more information, contact Lauren Hood with Live6 at 313-610-6004 or info@live6detroit.org.
Faculty, staff and administrators are invited to the annual Christmas Party and Employee Recognition Celebration from 3 to 5 p.m. in the Student Union Ballroom. The event is a chance for Detroit Mercy employees to gather and celebrate the Christmas and holiday season. Fellow employees will be honored for their years of service and presented with the Commitment to Excellence Awards.
Halls were decked for President's Christmas Party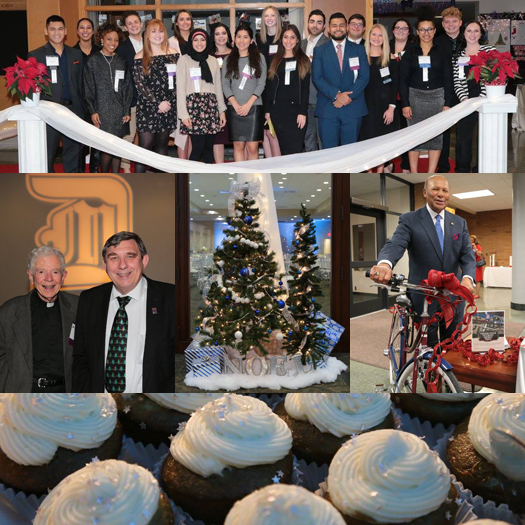 Thanks to everyone who joined us at the President's Christmas Party last week. This is always one of our favorite events of the holiday season. See the photo gallery online.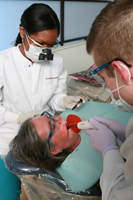 DHHS grant helps Detroit Mercy Dental bring care to pregnant women
Through the DHHS grant, Detroit Mercy Dental has yet another way to help underserved populations overcome barriers to care. Most people are well aware of the importance of consistent prenatal care for a healthy pregnancy, but less well known is the impact of regular dental care. Read the full story online.
Detroit Collaborative Design Center plays vital role in "Hope Starts Here" early childhood initiative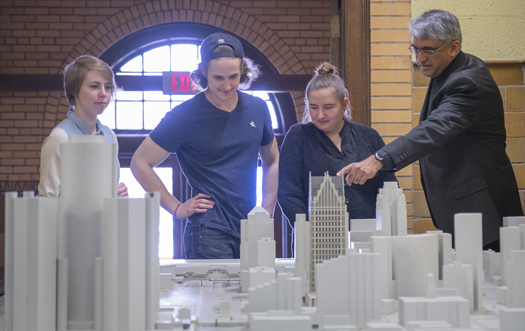 On Nov. 10, Crain's Detroit Business announced that The Kresge and Kellogg foundations would invest $50 million toward an early childhood system in Detroit. The effort is called "Hope Starts Here" and focuses on strengthening Detroit's early childhood education. The Detroit Mercy School of Architecture's Detroit Collaborative Design Center (DCDC) played an important role in the development of this plan. Read the full story online.
Exciting new developments taking place down the street from campus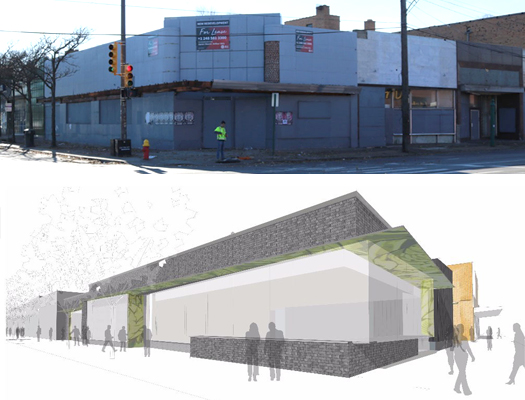 Developer Bagley Forest Properties, LLC plans to rehab the former B. Siegel Department Store building at the corner of Seven Mile and Livernois Avenue. Two buildings next door to the old department store, including an old Revco pharmacy, will also be demolished and incorporated into the larger structure as part of an $8 million retail and residential development plan. Read more online.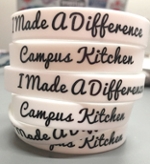 Business students raise funds for Campus Kitchen
To raise funds for Campus Kitchen, a group of Detroit Mercy business students will be selling bracelets for $2 through Sunday, Dec. 10. Support our University's chapter of Campus Kitchen and visit the McNichols Campus Library from 1 to 4 p.m. this week to get your bracelet.
Thumbs Up!
University Secretary and Senior Attorney Monica Barbour has been chosen by Crain's Detroit Business as one of the "Notable Women Lawyers in Michigan." Barbour will be recognized in a special section in the Dec. 11 issue of Crain's Detroit Business. This issue will soon be available in print and online.
The Reality Capture Workshop, a long-term collaborative project to create a complete digital documentation of a historical city and a methodology for the information dissemination, has been making some groundbreaking discoveries about Roman theater design. Managed and directed by Professor of Architecture Wladek Fuchs and Adjunct Professor of Architecture Mark Dietrick '85, the project was awarded an Innovation Award from AIA National and has been selected from a short list as the national "People's Choice Award Winner." Read more about the project online and watch the highlight video.
University of Detroit Mercy President Antoine M. Garibaldi spoke with 910 AM Superstation host Nolan Finley about the Assure Your Boundless Future tuition reset initiative. Listen to the full interview online.
A revised and expanded edition of Professor of English Nicholas Rombes' book, Cinema in the Digital Age, was recently published by Columbia University Press and Wallflower Press. See the book overview online.
Associate Professor of Education Karen Selby's proposal for the 2018 Michigan Reading Association Conference, Literacy Drives the Future, has been accepted. Selby will present the topic, "Social Justice Reading and Writing Engages Families: Qualities of Powerful Essay Writing Institute from the Teachers College Reading and Writing Project," at the conference, March 17-19, at Cobo Hall in Detroit.
Professor of Psychology Carol Weisfeld's book, The Psychology of Marriage: An Evolutionary and Cross-Cultural View, has been published by Lexington Books. The book contains contributing chapters from more than 17 Detroit Mercy faculty, graduate students and alumni. Read more about the book here and use the flyer as a special discount on your copy today.