This week on campus
Thursday, Nov. 23

Happy Thanksgiving Detroit Mercy! May you all have safe travels over the long weekend and a wonderful holiday with friends and family. Let us all give thanks for the blessings in our lives and find ways to support those less fortunate than us.
Friday, Nov. 24

The Detroit Mercy-sponsored Live6 Alliance will host its final installment of the community dialogue series, Speakeasy, from 6 to 8 p.m. at Detroit Sip, 7420 West McNichols Road, near the McNichols Campus. Speakeasy will open a discussion on the relationship between the University and the surrounding community, how we can collectively strengthen the bond and continue to move this neighborhood forward, together. For more information, see the event page.
Next week on campus
Wednesday, Nov. 29

Come enjoy Christmas carols, cookies and hot cocoa at the Student Fitness Center from 6 to 8 p.m. as we bless and officially light the Detroit Mercy Christmas tree.
Saturday, Dec. 2

Join University Ministry for Discover the D: Noel Night, as we head into Detroit for lunch and explore Midtown during the holiday season. Meet at the University Ministry Office in the Student Union at 5 p.m.
University of Detroit Mercy resets tuition to $28,000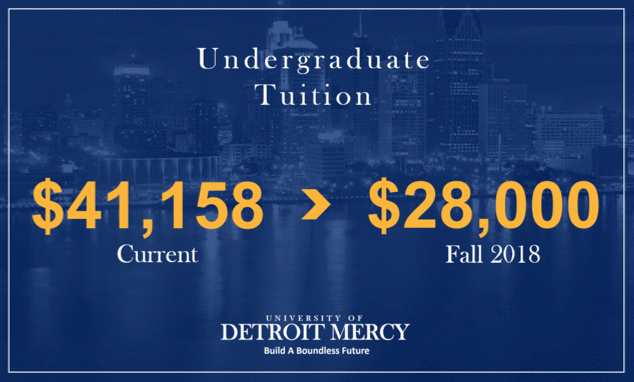 Detroit Mercy's Assure Your Boundless Future Tuition Reset will reset undergraduate tuition from $41,158 to $28,000 beginning the fall of 2018. The new price of $28,000 gives students and their families a more accurate cost of attendance at Detroit Mercy before scholarships and financial aid are awarded. 
Over the last two years, Detroit Mercy has conducted extensive research on its tuition and the cost of other university competitors, as well as surveyed hundreds of prospective students and parents. Those analyses indicated that a tuition reset will not only increase prospective students' awareness of the transformative, high-quality value of a Detroit Mercy education, but also attract and enroll even more academically talented students who may not have considered applying because of the published tuition price.
For more, visit udmercy.edu/assure.
Detroit Mercy students inspire youth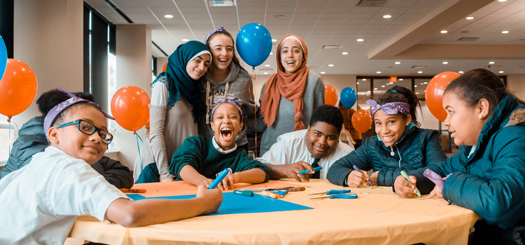 Last week, the Pre-PA Club hosted 62 grade school students at Detroit Mercy for a Kids Camp. Goals of the camp included educating grade school students about disabilities by providing fun and interactive activities that highlight the challenges of living with a disability. Students also discussed teamwork and altruism. The event is part of a larger mission of Pre-PA Club.
Beginning next year, Pre-PA students will host a party for pediatric patients in the extended care unit of Children's Hospital. To help prepare for the parties, GESU students helped to make decorations and assisted in designing fun 'chemocare covers.' Chemocare covers are decorative covers that lay over the medication for chemotherapy and hope to improve the experience of receiving chemotherapy for children at Children's Hospital.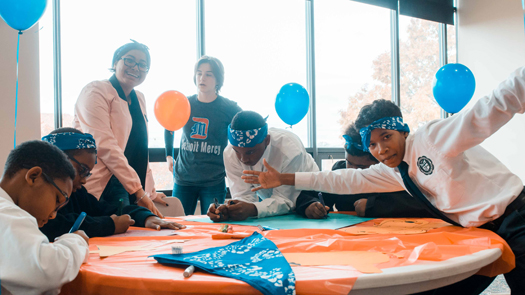 Dental summer enrichment program taking applications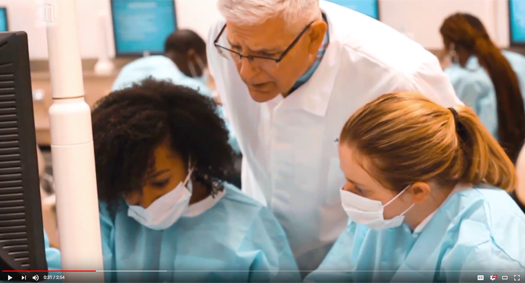 Detroit Mercy Dental launched a promo video for its summer enrichment program and is now taking applications. Know an undergraduate interested in a career in dentistry? Share this video with a friend.
Tracy-Bee and Abraham honored at Faculty Recognition Awards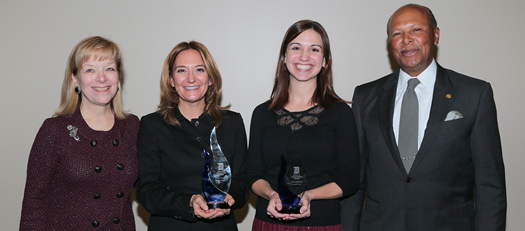 University of Detroit Mercy gathered to honor two faculty members at the 2017 Faculty Recognition Awards, Nov. 10. Professor of Biology Mary Tracy-Bee was awarded the Faculty Excellence Award and Associate Professor of Psychology Kristen Abraham was awarded the Faculty Achievement Award. See the photo gallery online and read more about the awards in our news story.
Give back this holiday season with our giving tree
From Wednesday, Nov. 22 through Friday, Dec. 15 the Detroit Mercy community can find our annual Giving Tree located outside of the Student Union Bookstore on the McNichols Campus. If you would like to participate, simply select an ornament, purchase the listed item, wrap it up and drop it off at the Student Life Office by Friday, Dec. 15.
All Giving Tree items will be donated to the St. Vincent de Paul Society/Gesu. If you have any questions please contact Adam Hollmann at hollmaap@udmercy.edu or 313-993-1154. The Detroit Mercy Giving Tree is sponsored by the Student Life Office, Student Program Board, Student Government Association and University Ministry.
Alumna's mission is to bring her neighborhood back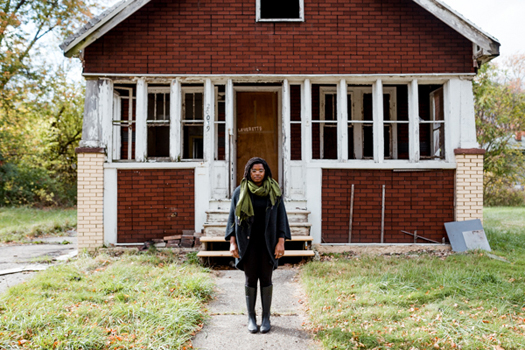 Alumna Rebecca "Bucky" Willis '12 was recently highlighted in the Model D article, "One Detroit resident's mission to revitalize her neighborhood through human-centered design." The article focuses on Willis' nonprofit Bleeding Heart Design (b.h.d.), and the work she is doing in the northeast neighborhood known as Lindale Gardens — the place she grew up. Read the full story online.
PA graduates have 100 percent pass rate
For the second year in a row, University of Detroit Mercy's Physician Assistant program celebrated a 100 percent first-time test-taker pass rate on the Physician Assistant National Certification Exam (PANCE) for the Class of 2017. Read the full story online.
Alumnus' gift honors kindness of Mercy nuns from 1946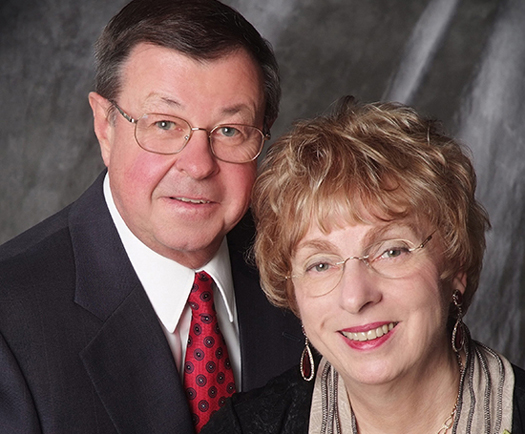 Chris Fette '64 was born in Virginia and spent most of his life in Pennsylvania, but it was one year in Detroit as a child and unquestioned kindness by the Religious Sisters of Mercy that changed his life and inspired a major gift to the College of Health Professions. Read the full story online.
Reminder: Register for Mid-Year Colleague Development Day
Detroit Mercy will host the annual Mid-Year Colleague Development Day on Thursday, Jan. 4 from 9 a.m. to 3:15 p.m. on the McNichols Campus. The day will include an informative plenary session followed by a mix of 60- and 75-minute workshops and presentations to inform, educate and inspire faculty, staff and administrators. An additional presenter has recently been added to the schedule, "Connecting the Dots: Using the Flipped Class Model to Increase Metacognition in the Classroom."
See the Colleague Development Days website for session times and topics. Register online by Tuesday, Dec. 19. For more information, please contact Center for Career & Professional Development Dean Sheryl Johnson-Roulhac at 313-993-1017 or careerlink@udmercy.edu.
Enjoy a fresh brew at Detroit Sip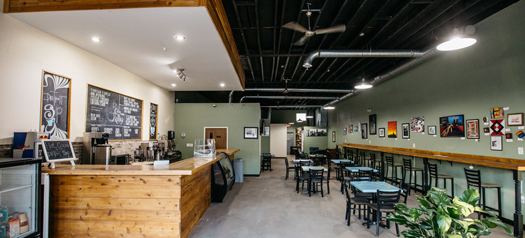 Need a boost of caffeine? Grab a hot cup at the neighborhood's newest coffee shop, Detroit Sip, now open for business! Detroit Sip is located right next to the future home to the Live6 Alliance offices and HomeBase. See media coverage of the shop's opening weekend.
Thumbs Up!
Associate Professor of Law Khaled Beydoun was a guest speaker at the National Constitution Center Town Hall in Chicago, discussing the topic, "Does the First Amendment protect hate speech on campus and online?" Watch the video coverage online.
Assistant Dean for Student Services & Enrollment Management Juliette Daniels represented University of Detroit Mercy as a session presenter at the NASPA Regional Conference in Detroit, Nov. 14. Together with colleagues from Ohio State University and the University of Minnesota, Daniels presented a session on student affairs theory and practice in working with graduate and professional students.