This week on campus
Tuesday, Oct. 24
All Detroit Mercy students, faculty and staff are invited to join the National Society of Leadership and Success for a broadcast featuring Wendy Williams from 7 to 8 p.m. in the Student Union Ballroom. Williams is an American television host, actress, New York Times best-selling author, fashion designer and former radio personality inducted into the National Radio Hall of Fame. She will discuss her inspirational journey toward success, latest ventures into technology and fashion, and the importance of following a passion.
Wednesday, Oct. 25
The annual Law Day at Detroit Mercy will run from 10 a.m. to 2 p.m., sponsored by the Pre-Law Committee and co-sponsored by Pi Sigma Alpha, Phi Alpha Delta and Kaplan. The event features a sample LSAT class, a Moot Court simulation, law school admissions counselors from many schools and a question and answer panel of law school admissions staff.
Fulbright Visiting Scholar Amal Akour visits Detroit Mercy to deliver two lectures. The first, "Tourism in Jordan," will be from noon to 2 p.m. in the Presidents' Dining Room. Lunch will be served. Akour will also deliver an additional lecture, "Oral Contraceptive Use in Jordanian Females," from 5 to 7 p.m in the Presidents' Dining Room. See the event pages for more information.
Thursday, Oct. 26
Calling all Detroit Mercy student organizations, faculty, staff and Halloween enthusiasts: Get out your best spooky paint colors and creative minds and join in the fun from 6 to 11 p.m. in Grounds Coffeehaus as we build and paint this year's facades for the annual Safety Street!
Friday, Oct. 27
The Center for Career & Professional Development will host an information session for students looking to make the most of their TitanCareerLink account. Come to Room 143 in Reno Hall from 3 to 4 p.m. and see the event page to register.
Pounds of Snickers, Milky Way, Hershey and Twix bars will be handed out to brave little goblins and ghouls visiting University of Detroit Mercy for the 28th annual Safety Street from 4:30 to 6 p.m. on the McNichols Campus. See the event page for more information on this Titan tradition.
Immediately following Safety Street, students are invited to visit the Student Fitness Center for Halloween Spooktacular, featuring free food, toilet paper mummy competition, water pong, corn hole, music and costume contest with prizes.
The Carney Latin American Solidarity Archive (CLASA) welcomes producer Jeff Cohen, who lead a discussion following a screening of his film, "All Governments Lie: Truth, Deception, and the Spirit of I.F. Stone." This event is free for Detroit Mercy students, and is open to the public from 7 to 9 p.m. in Room 113 of the Ford Life Sciences Building. See the event page for more information.
Saturday, Oct. 28
The final installment of the season for Market On The Ave, Live6's farmers and artisan market, will be from noon to 5 p.m. on Saturday, Oct. 28. Market On The Ave is located at the lot across from the McNichols Campus, between Florence and Grove Street. Thank you to everyone who participated in this year's events. Click here for more information.
Sponsored by Electronic Producers Music Club, come dance to the midnight hour with a number of local music artists and DJs at the Boo Bass Music Festival! Get in the Halloween spirit and dress up for cash prizes! The event will be in Grounds Coffeehaus from 8 p.m. to midnight.
Next week on campus
Monday, Oct. 30
Tuesday, Oct. 31
Thursday, Nov. 2
Friday, Nov. 3
Theatre Company presents: A Bright Room Called Day

The Theatre Company of University of Detroit Mercy presents Tony Kushner's acclaimed drama A Bright Room Called Day, Nov. 3-19. Performances will occur at The Marlene Boll Theatre at the Boll Family YMCA, 1401 Broadway Street, in downtown Detroit. A Bright Room Called Day examines unstable times in concert with alternative ideologies.
A Bright Room Called Day will have performances at 7:30 p.m. on Nov. 3, 4, 10, 11, 17, and 18 and 3 p.m. on Nov. 5, 12, and 19. Tickets can be purchased online at DetroitMercyArts.com or over the phone at 313-993-3270.  See the news release for more information and be sure to visit the The Theatre Company website and follow us on social media to stay up-to-date on performances, tickets and more
Work begins on HomeBase and Ella Fitzgerald Park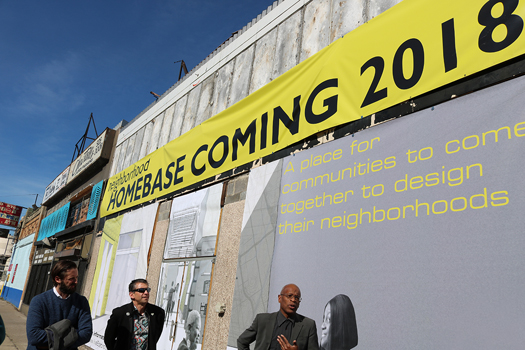 It continues to be an exciting time in the historic Fitzgerald Neighborhood as the groundbreaking for two new community assets, the Neighborhood Homebase and Ella Fitzgerald Park, was held last week. The HomeBase, located on McNichols Road, will be home to the Live6 Alliance, the Detroit Collaborative Design Center (DCDC) and shared space for various city of Detroit staff and community groups. Read the full story and see media coverage online. Watch the video of the presentation here.
Seniors: Leave your mark
Attention Detroit Mercy seniors: Join thousands of alumni who understand how important it is to give back to University of Detroit Mercy. Donations from alumni help attract faculty who are top in their field, support student scholarships and improve facilities on campus.
The 2018 Class Gift Campaign has many fun events and activities throughout the year open to seniors who participate in the campaign with a modest one-time gift of $20.18, or more, to honor your graduation year. Make your gift online today or drop your gift off at the McNichols Campus Library. The first event begins Tuesday, Oct. 31 and you won't want to miss it.
Detroit Mercy partners with American Center for Mobility

University of Detroit Mercy is a proud member of the newly created Academic Consortium at the American Center for Mobility (ACM) to train the next generation of high-tech talent at the state-of-the-art connected and automated vehicle technologies (CAV) facility in southeast Michigan. Read the full story online.
Clash of the Titans crowdfunding coming soon
Things are revving up as we prepare for our upcoming "Clash of the Titans" giving competition to help our Titan Athletic programs. Check it out and support your favorite team online. Stay tuned for more promotions and updates as we launch in November. 
Students dive into service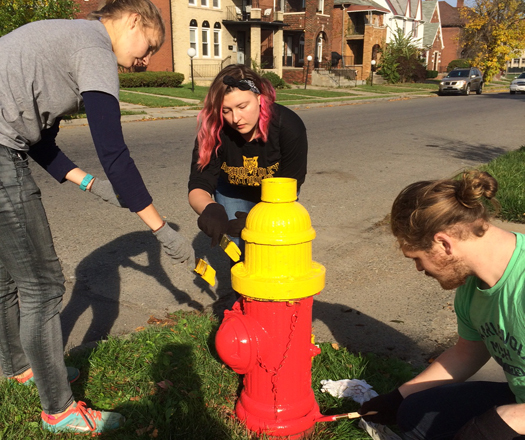 Last weekend, a group of students took the plunge and spent a crisp afternoon helping clean up the surrounding community through University Ministry's Service Plunge event.
Thumbs Up!
Associate Professor of Law Khaled Beydoun was quoted in the Huffington Post Australia article, "Somalia Bombings: The Deadly Tragedy 'No One Is Talking About'," Oct. 16. Beydoun's Facebook post was also quoted in the Newsweek article, "Why Isn't Somalia's '9/11' Drawing as Much Global Attention?," Oct. 18.
Professor of Education & Leadership Don DiPaolo led the inaugural Community Leaders Conference, sponsored by the Michigan United Way and the Saginaw Chippewa Tribe of Michigan, in Mt. Pleasant, Oct. 17.
Detroit Mercy President Antoine M. Garibaldi was interviewed on WXYZ-TV/Channel 7's Spotlight on the News, discussing several exciting projects the University is working on including, Ella Fitzgerald Park, the future home of Live6 Alliance, the Detroit Collaborative Design Center and the upcoming campaign kickoff. The full interview will be available soon.
Associate Professor of Religious Studies Justin Kelly, S.J. was part of the inaugural event of the Margaret Brennan, IHM, Institute for Spirituality, Church and Culture at Marygrove College, Oct. 15. Fr. Kelly was invited to respond to a presentation by Dr. Jillian Ahlgren of Xavier University on St. Teresa of Avila's understanding of prayer.
College of Health Professions Dean Neal Rosenburg collaborated on an article recently published in Maternal and Child Nutrition. Read the abstract here.
Adjunct Professor of Law Amer Zahr was quoted in the Arab American News article, "Land deal puts Dearborn mayoral race in media crossfire,"Oct. 17.