This week on campus
Wednesday, Oct. 11
The African-American Studies program begins its 2017 lecture series with "Revolutionary Pasts and Transnational Futures: 'Home Lessons' from Black and Third World Feminisms," led by Jocelyn Boryczka, Ph.D. Boryczka is an associate professor and faculty chair of service learning at Fairfield University. The talk will be on Wednesday, Oct. 11 at 2 p.m. in the Student Center Conference Room 201.
As part of its 2017-18 Lecture Series, Detroit Mercy School of Architecture (SOA) welcomes Schmidt Hammer Lassen Architects on Wednesday, Oct. 11 at 5:30 p.m. in the Warren Loranger Architecture Building's Genevieve Fisk Loranger Architecture Center. This event is free and open to the public. See the SOA Lecture Series website for more events.
The North America Nakba Tour and Students for Justice in Palestine invite the Detroit Mercy community to "The Exiled Palestinians: Stateless Palestinians from the Camps in Lebanon," on Wednesday, Oct. 11 at 6:30 p.m. in the Ford Life Sciences Building Room 115. The keynote speaker, Khawla Hammad, has been a stateless refugee in Lebanon for 69 years. Come listen to her powerful story, translated by Amena Elashkar, a 23-year-old Palestinian refugee and journalist.
Thursday, Oct. 12
Don't forget to attend the annual Fall Career & Networking Fair Thursday, Oct. 12, from 12:30 to 3:30 p.m. in the Student Center Ballroom. The career fair is an excellent opportunity for students and alumni to meet with a variety of employer representatives and graduate schools to discuss co-op, internship, part-time, volunteer, full-time degree-related employment or graduate school. Students can register for the fair using TitanCareerLink accounts online. All other participants can call the Center for Career & Professional Development at 313-993-1017 or careerlink@udmercy.edu.
Following the fair will be a workshop about best practices for applying with employers on Tuesday, Oct. 17; click here for more information!
Friday, Oct. 13
Detroit Mercy's College of Engineering & Science will host its annual symposium to highlight the research by undergraduate and graduate students on Friday, Oct. 13, from 10 a.m. to 1 p.m. in the Engineering Building High Bay. Each year, the College invites hundreds of high school students and alumni to experience the academic research achievements of our students. See the Symposium page for more information.
Alumni Tom Daniels and Thomas "Cookie" Marsh will discuss their new book, Black and White Like You & Me: Parallel Lines Sometimes Intersect, followed by a book signing on Friday, Oct. 13 from noon to 1:30 p.m., in the Presidents' Dining Room. The book tells the story of growing up in Detroit in the 1950s and 1960s on different sides of the racial divide and becoming best friends later in life. See the event page for more information.
Saturday, Oct. 14
Gear up and get messy with University Recreation for a nice, competitive game (or two) of paintball! As part of the Adventure Series, UREC is hosting a group of students at Lone Wolf Paintball for some multi-colored paint adventures on Saturday, Oct. 14, from 1 to 4 p.m. Transportation will be provided for those who need it. See the event page for more information.
The next installment of Market On The Ave, Live6's farmers and artisan market, will be from noon to 5 p.m. on Saturday, Oct. 14. Market On The Ave will continue on the second and fourth Saturdays of each month, running through October, at the lot across from the McNichols Campus, between Florence and Grove Street. Click here for more information.
Next week on campus
Thursday, Oct. 19
The Women's and Gender Studies program celebrates its 25th anniversary this year and everyone is welcome to join in the festivities, including a reception, presentation and conversation regarding the program's next 25 years. Join WGS on Thursday, Oct. 19, from 6 to 8:30 p.m. in the Warren Loranger Architecture Building's Genevieve Fisk Loranger Architecture Center. An RSVP is appreciated; please contact Director Rosemary Weatherston at weatherr@udmercy.edu.
The Student Life Office is hosting an open forum for commuter students on Thursday, Oct. 19, from 3 to 4:15 p.m. in the Fountain Lounge. Commuters are invited to come and meet other students, enjoy refreshments and discuss what resources and events would help improve the experience as a commuter student on campus.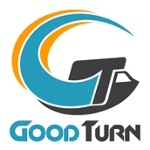 GoodTurn app offers aid to hurricane victims
GoodTurn, the mobile app for moving goods and helping nonprofit organizations, is currently under modification to help manage the delivery of donations to victims of the hurricanes in Texas and Florida. GoodTurn was developed at University of Detroit Mercy by a team of faculty, staff, students and alumni, and is funded by the Bill Ford Better World Challenge. Read more about its recent update online.
Donate candy and support for Safety Street!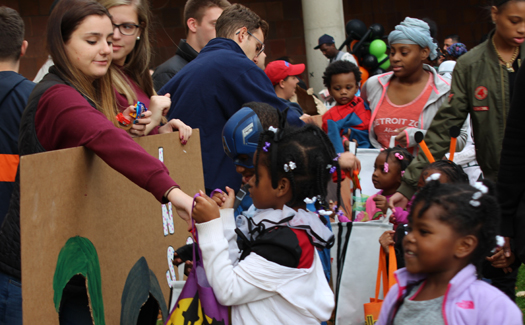 The Office of Student Life reminds faculty and staff to donate bags of candy to Detroit Mercy's annual Safety Street by Friday, Oct. 20, at 5 p.m. This year, Safety Street will be held on Friday, Oct. 27, from 4:30 to 6 p.m. in the Student Center's Fountain Lounge and Fisher Fountain area outside.
Acronym Usage Policy
Do not use acronyms such as DM, UDM, U of D or the like when referencing Detroit Mercy on public websites, marketing materials including fliers, brochures, pamphlets, booklets, and other promotional materials. Please remember that following the first reference to "University of Detroit Mercy," use "Detroit Mercy" for subsequent references. This standard applies to all promotional, web content and other material used to promote the institution. In the case of internal systems, such as financial aid records and grant information loaded into databases, the use of UDM is acceptable only when necessary due to character space limitations. For questions regarding the University brand or style guidelines, please contact Marketing & Communications at 313-993-1254, or visit udmercy.edu/brand.
The Ethics Bowl is coming!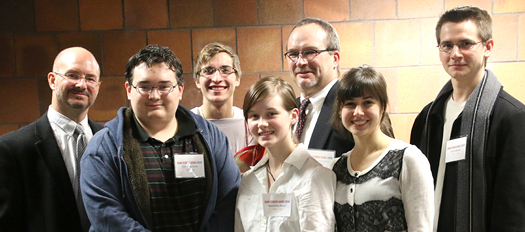 Mark your calendars for the 17th annual Detroit Mercy Ethics Bowl. A campus-wide tradition at Detroit Mercy, the Ethics Bowl is inspired by TV's College Bowl, but modified rules adapt the game to the subject of ethics. This year's bowl will be held on Friday, Nov. 3, from 12:30 to 6 p.m. in the Fountain Lounge on the McNichols Campus.
See the Ethics Bowl website for more rules, registration forms, case scenarios and more information. If you are interested in volunteering as a judge or moderator, simply reply to ethicsbowl@udmercy.edu and stay tuned.
Explore religious freedom at interfaith conference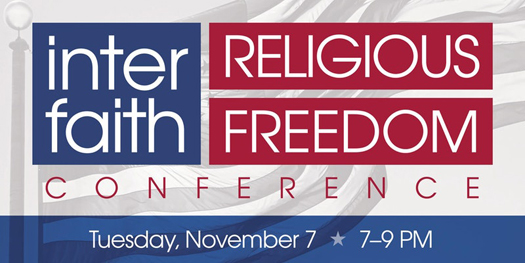 Detroit Mercy Law will partner with the J. Reuben Clark Law Society Detroit Chapter and the Michigan Catholic Conference to host an Interfaith Religious Freedom Conference on Nov. 7. The event welcomes people of all faiths to explore civic and legal challenges to religious freedom, and practical measures that may be taken to support religious freedom in daily life. Read the full story online.
Dept. of Health & Human Services grant to help Detroit Mercy reach underserved communities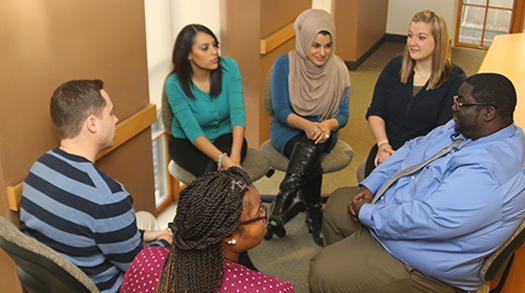 Counseling students at University of Detroit Mercy will soon have new opportunities to learn and work in medically underserved communities, thanks to a nearly $1 million grant from the Health Resources & Services Administration (HRSA), an agency of the U.S. Department of Health & Human Services. Read the full story online.
Students and faculty interviewed on wheelchair escalator development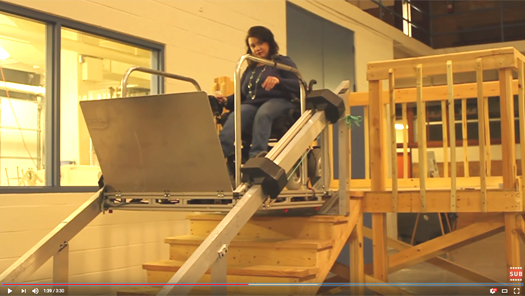 Detroit Mercy students and faculty were recently interviewed by Greg Bowman on the WWJ segment, "Making the Grade," discussing the development of the powered platform lift prototype called the wheelchair escalator. The product was designed to safely transfer a person in a wheelchair up a three- to 10-step staircase, moving vertically and horizontally, mirroring the action of an escalator. Listen to the interview here and learn more about the wheelchair escalator online.
Submit a Mid-Year Colleague Development Days proposal
Proposal submissions for the 2018 Mid-Year Colleague Development Days, which will be Jan. 4 & 5, 2018, must be submitted online by 8 a.m. on Tuesday, Oct. 17. The planning committee seeks program proposals that provide new thinking and best practices; engages faculty, staff and administrators in discussion; and encourages dialogue before, during and after sessions. All faculty and staff are invited to submit a proposal as a solo presenter or with a colleague.
Final notification of proposals accepted for the Mid-Year Colleague Development Days will be sent via email by Friday, Nov. 3. For questions about Colleague Days, contact Center for Career & Professional Development Dean Sheryl Johnson-Roulhac at careerlink@udmercy.edu.
Thumbs Up!
Associate Professor of Law Khaled Beydoun's article, "'Lone wolf': Our stunning double standard when it comes to race and religion," was published in the Washington Post, Oct. 2.
Associate Professor of History Diane Robinson-Dunn published a chapter titled, "'Fairer to the Ladies' and of Benefit to the Nation: Abdullah Quilliam on Reforming English Society by Islamising Gender Relationships," in the book Victorian Muslim: Abdullah Quilliam and Islam in the West, edited by Jamie Gilham and Ron Geaves and published by Oxford University Press and Hurst London.
Professor of History Roy E. Finkenbine was interviewed and quoted in the Chronicle of Higher Education article, "An Antidote for American Amnesia: Tiya Miles maps forgotten corners of slave history," Oct. 1.
Professor of Philosophy David Koukal's article, "The Disordered Soul and Presidency of Donald J. Trump," was published on Blog of the American Philosophical Association, Oct. 10.
Associate Professor of Teacher Education Karen Selby has been invited to attend the Qualities of Powerful Essay Writing Institute at Teachers' College, Columbia University. The Institute is an opportunity to examine the latest and greatest thinking about how to skillfully teach essay writing with a select group of educators from around the world.