Detroit Mercy Homecoming an overwhelming success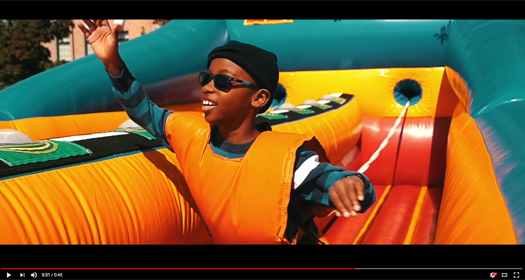 The weather could not have been more perfect as more than 1,500 combined students, alumni, faculty, staff and community members gathered for two memorable days of fun at Detroit Mercy Homecoming Weekend 2017. Thank you to everyone for coming out and helping support this new Titan tradition! See videos, photos and testimonials on our highlight page online. See you in 2018. Go Titans! #titanshomecoming

New advisory board formed for Master of Community Development program
To enhance the experience of Master of Community Development (MCD) students, University of Detroit Mercy's School of Architecture has formed an MCD advisory board. School of Architecture Dean Will Wittig said, "We constantly strive to ensure excellent programs that are nimble and relevant to our students, and the organizations and communities they serve upon graduation." Read the full story and see the complete board list online.
Wall Street Journal ranks Detroit Mercy
The Wall Street Journal's 2018 WSJ Times Higher Education college rankings were released Sept. 26, and Detroit Mercy ranked 188 out of 1,054 universities in the U.S. Last year Detroit Mercy ranked 270 in the rankings. Read the full story online.
Oakland County Bar Foundation grant to help fund Detroit Mercy new pro se clinic
A $10,000 grant from the Oakland County Bar Foundation will help fund a partnership between University of Detroit Mercy School of Law and the United States District Court for the Eastern District of Michigan designed to aid hundreds of low-income litigants who represent themselves in lawsuits before the federal court each year. Read the full story online.
Nominate a colleague for the Commitment to Excellence Award
All Detroit Mercy faculty, staff and administrators are encouraged to nominate co-workers who are deeply committed to the success of Detroit Mercy's future for this year's Commitment to Excellence Award. We have many deserving and hard-working staff members and administrators, so please consider nominating a deserving individual. The deadline for nominations is 11:59 p.m. on Monday, Nov. 6. See the Commitment to Excellence page for more information and nomination forms.
Rent a bike and cruise in Titan style

University Recreation is now offering bike rentals, thanks to a generous donation from alumnus Tom Page '71, '76. You can rent custom-made bicycles from Detroit Bikes to get around town while saving money on gas and practicing green living. Swing by the Student Fitness Center today to check out the bikes, sign the agreement and get rolling!
Submit a Mid-Year Colleague Development Days proposal
Proposal submissions for the 2018 Mid-Year Colleague Development Days, which will be Jan. 4-5, 2018, must be submitted online by 8 a.m. on Tuesday, Oct. 17. The planning committee seeks program proposals that provide new thinking and best practices; engages faculty, staff and administrators in discussion; and encourages dialogue before, during and after sessions. All faculty and staff are invited to submit a proposal as a solo presenter or with a colleague.
Final notification of proposals accepted for the Mid-Year Colleague Development Days will be sent via email by Friday, Nov. 3. For questions about Colleague Days, contact Center for Career & Professional Development Dean Sheryl Johnson-Roulhac at careerlink@udmercy.edu.
Upcoming events
As part of its 2017-18 Lecture Series, Detroit Mercy School of Architecture (SOA) welcomes Schmidt Hammer Lassen Architects on Wednesday, Oct. 11 at 5:30 p.m. in the Warren Loranger Architecture Building's Genevieve Fisk Loranger Architecture Center. This event is free and open to the public. See the SOA Lecture Series website for more events.
Don't forget to attend the annual Fall Career & Networking Fair Thursday, Oct. 12, from 12:30 to 3:30 p.m. in the Student Center Ballroom. The Career Fair is an excellent opportunity for students and alumni to meet with a variety of employer representatives and graduate schools to discuss co-op, internship, part-time, volunteer, full-time degree-related employment or graduate school. Students can register for the fair using TitanCareerLink accounts online. All other participants can call the Center for Career & Professional Development at 313-993-1017 or careerlink@udmercy.edu.
To prepare for the upcoming networking fair, consider attending a workshop on interviews and professional attire this Thursday, Oct. 5; click here for more information!
Detroit Mercy's College of Engineering & Science will host its annual symposium to highlight the research by undergraduate and graduate students on Friday, Oct. 13, from 10 a.m. to 1 p.m. in the Engineering Building High Bay. Each year, the College invites hundreds of high school students and alumni to experience the academic research achievements of our students. See the Symposium page for more information.
Alumni Tom Daniels '48 and Thomas "Cookie" Marsh '51 will discuss their new book, Black and White Like You & Me: Parallel Lines Sometimes Intersect, followed by a book signing on Friday, Oct. 13, in the Presidents' Dining Room. The book tells the story of growing up in Detroit in the 1950s and 1960s on different sides of the racial divide and becoming best friends later in life. See the event page for more information.
Gear up and get messy with University Recreation for a nice competitive game (or two) of paintball! As part of the Adventure Series, UREC is hosting a group of students at Lone Wolf Paintball for some multi-colored paint adventures on Saturday, Oct. 14, from 1 to 4 p.m. Transportation will be provided for those who need it. See the event page for more information.
The Women's and Gender Studies program celebrates its 25th anniversary this year and everyone is welcome to join in the festivities, including a reception, presentation and conversation regarding the program's next 25 years! Join WGS on Thursday, Oct. 19, from 6 to 8:30 p.m. in the Warren Loranger Architecture Building's Genevieve Fisk Loranger Architecture Center. An RSVP is appreciated; please contact Director Rosemary Weatherston at weatherr@udmercy.edu.
Thumbs Up!
Professor of Mechanical Engineering Nihad Dukhan delivered the keynote speech, "Metal-Foam Bipolar Plate for PEM Fuel Cells: Simulations and Preliminary Results," at the 10th International Conference on Porous Metals and Metallic Foam, in Nanjing, China.
Detroit Mercy Law Assistant Dean of Career Services & Outreach Jennifer Rumschlag was highlighted in the Michigan Lawyers Weekly article, "Survey shows revenue increasing for large law firms," Sept. 25.