Homecoming: Are you ready?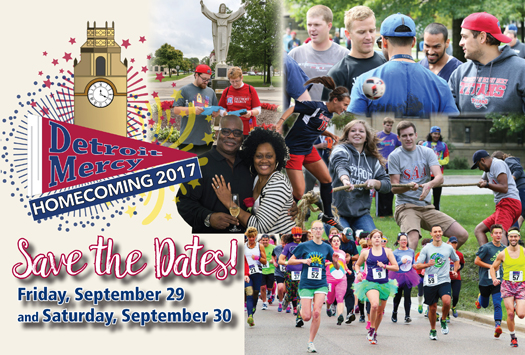 Detroit Mercy's 2017 Homecoming is set for this fall and jam-packed with more events, activities and Titan spirit brimming over our three campuses. Mark your calendars for Sept. 29-30 now and click here! #titanshomecoming
Market On The Ave begins this week
Looking for the freshest produce and most beautifully crafted works in Detroit? Live6 welcomes all to attend the 2017 season of Market On The Ave, beginning this Saturday, July 8. The farmers and artisan market will be available from noon to 5 p.m. on the second and fourth Saturday of each month, running July through October, at the lot across from the University, between Florence and Grove Street. Click here for more information and to sign up if you are a vendor and want to join the market!
Library exhibit: "The Life and Times of the Heidelberg Project"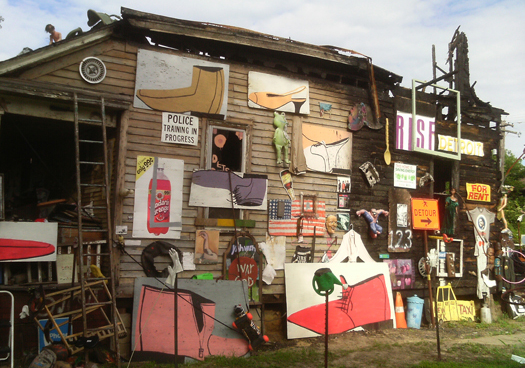 University of Detroit Mercy traces the life and times of Detroit's famed Heidelberg Project in its McNichols Campus Library summer exhibition, using photographs, flyers, newspaper and magazine articles, original artworks and other unique material. Since it began in 1986, the Heidelberg Project has garnered critical acclaim and controversy, both of which have been covered extensively by the press. Yet the project's context is not as well known. Come explore and discuss how it relates to the city of Detroit, its nearby neighborhood, the local art community and the current international art world.
"The Life and Times of the Heidelberg Project," which will be on display through Tuesday, Aug. 22, documents not only the project's press coverage, but also its influences, such as Detroit street artist Rosetta Archie; its connections with Detroit's theatre, poetry and arts scenes; its commentary on social issues and urban problems; and its impact on both Detroit's East Side and the international art world. For more information about the exhibit, contact McNichols Campus Library Technician and Preservation Specialist Maurice Greenia, Jr., at 313-993-1795 or greeniam@udmercy.edu.
Fiscal Briefing, July 12
All Detroit Mercy faculty, staff and administrators are invited to attend the next Fiscal Briefing on Wednesday, July 12 from 12:30 to 2 p.m. in the Ford Life Sciences Building, Room 113. Vice President for Business & Finance Vince Abatemarco will present the Fiscal Year 2017 operating results as well as the budget for Fiscal Year 2018.
Center for Social Entrepreneurship helps prepare new business owners for success
On June 27, Detroit Mercy's Center for Social Entrepreneurship in the College of Business Administration partnered with the Michigan Women's Foundation and Ford Motor Company Fund to present the EmpowerHER summit on the University's McNichols Campus. The event was established to support women (and a few men) who want to start or grow their own social venture startups that will ultimately help to address and solve issues that exist in the community. Read the full story online.
Summer Titan Caravans
Detroit Mercy Athletics is proud to announce the first-ever Titan Caravans this summer. In anticipation for the 2017-18 athletic season, Titan Caravans will convoy to six locations this year. At each event, those in attendance will have an opportunity to meet Titan coaches, staff and student-athletes, and take home prizes. See below for dates and times. For more information, contact Assistant Director of Marketing & Promotions Mitchell Sweet at 313-993-1700, ext. 7364, or sweetmb@udmercy.edu.
July 7
Detroit City FC vs. Ann Arbor
Keyworth Stadium in Hamtramck, 7:30 p.m.
July 12
Metro Detroit Youth Day
Belle Isle in Detroit, 8 a.m.
July 14
Ferndale Pig & Whiskey Festival
Ferndale, 4 p.m.
July 20
Ferndale Get REEL, Outdoor Movies
Ferndale, 8 p.m.
July 22
STAY Fit for Health Run
Plymouth Brennan Pool in Detroit, 10 a.m.
Live6 Speakeasy talk on community engagement, July 21
The Detroit Mercy-sponsored Live6 Alliance will host its next installment of the community dialogue series, Speakeasy, on Friday, July 21 from 6 to 8 p.m. on the McNichols Campus. Speakeasy will open a discussion about the importance of community engagement. For more information, contact Lauren Hood with Live6 at 313-610-6004 or info@live6detroit.org.
Camp Moxie on campus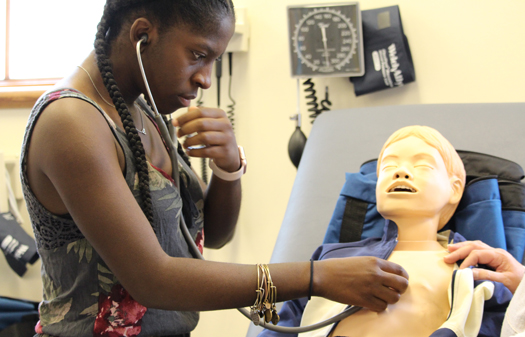 Detroit Mercy hosted the empowering four-day leadership adventure Camp Moxie, sponsored by the Michigan Women's Foundation, June 20-23. The 9-12th grade girls participated in several team-building exercises, leadership discussions and an immersive experience through our Nursing simulation lab.
Detroit Mercy Dental students to travel to Guatemala and help those in need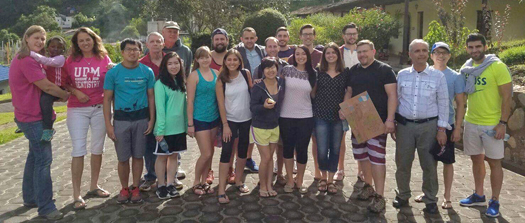 On Aug. 5, a group of 16 dental students, two dentists and one hygienist from University of Detroit Mercy's School of Dentistry and Clinic will embark on a mission trip to Chichicastenango, Guatemala. The American Student Dental Association (ASDA) chapter looks to provide dental care to more than 300 adults and children who do not have access to some of the basic amenities many take for granted. Many are in pain, and their lack of dental hygiene hinders their ability to eat and sleep properly. Read the full story online.
DCDC takes expertise on the road, thanks to Kresge grant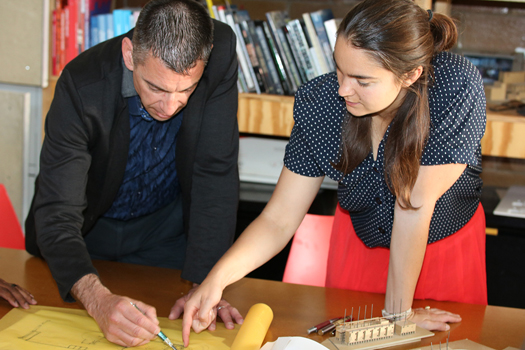 The national reputation of Detroit Mercy's Detroit Collaborative Design Center (DCDC) continues to rise. The DCDC is currently advising community development and economic engine groups in Memphis and Milwaukee as part of a grant from the Kresge Foundation's American Cities Practice. Read the full story online.
Retiring Law professors honored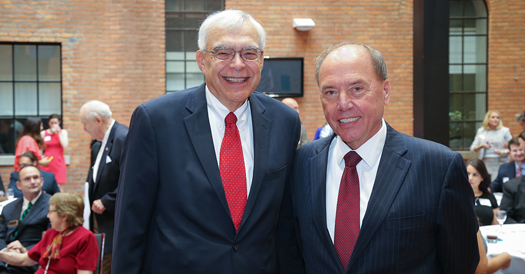 Friends, family and colleagues gathered at University of Detroit Mercy School of Law, June 9, to celebrate the retirement of adjunct professors Richard T. Krisciunas '72, '75 and Michael V. Morgan '69, '72. The pair has been co-teaching the School's Criminal Trial Clinic since 2008. Through their work, the professors have given hundreds of students the opportunity to go on the record in the courtroom. Krisciunas said his former students still call him to share their early experiences in court. Read the full story online.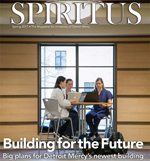 Check out Spiritus online
The Spring issue of Detroit Mercy's alumni magazine Spiritus is available online. Check out what's happening with our expanding law clinics and College of Health Professions expansion, and see who we honored with our Alumni Spirit Awards!
Thumbs Up!
Professor of Business Administration Gerald Cavanagh, S.J., Professor of Business Administration Gregory Ulferts, Business Administration Lecturer Terry Howard and Associate Professor of Law Andrew Moore presented at the World Union of Jesuit Alumni Congress, June 28-July 2, at John Carroll University in Cleveland. This Congress meets once every four years, and it is the first time the congregation has met in the U.S.
Detroit Mercy President Antoine M. Garibaldi was a guest on the WJR-Radio 760 AM radio program, "Caring For Kids," hosted by Children's Hospital of Michigan Foundation President & CEO Larry Burns. During the on-air interview, Dr. Garibaldi highlighted many of the programs and services that Detroit Mercy provides to the community. Listen to the interview online.
Assistant Professor of Architecture Tadd Heidgerken had several projects, including Selden Standard, Astro Coffee, Detroit Artifactory and the Red Bull House of Art, recently published in the photo book, Detroit: The Dream Is Now: The Design, Art, and Resurgence of an American City. See the Detroit Free Press article about the book.
Professor of English Nicholas Rombes was interviewed by "Detroit Today" host Stephen Henderson on WDET-FM 101.9 FM, discussing books that inspired Rombes as well as books he recommends this summer, June 30. Listen to the interview online.
Professor of Psychology Carol Weisfeld participated in the Summer Institute of the International Society for Human Ethology in Boise, Idaho, in early June. Weisfeld co-author three presentations: "Sex Differences in the Research of Linda Mealey," "Applying the Benefit-provisioning and Cost-inflicting Theory of Mate Retention to Predict Separation in Married Couples" and "Marriage in Brazil: A Cross-cultural Analysis Using the Marriage and Relationship Questionnaire (MARQ)."