Theatre Company presents Avenue Q
Detroit Mercy's Theatre Company presents the puppet-filled musical, Avenue Q, running March 23–April 9. Avenue Q is the smash-hit musical comedy packed with heart, big dreams and adult humor. Tickets to Avenue Q can be purchased online at www.UDMarts.com or over the phone at 313-993-3270. See the Detroit Mercy news release for more information.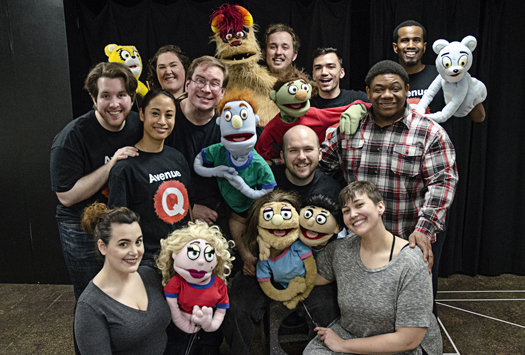 Top ten graduate school ranking in 2018 U.S. News survey
University of Detroit Mercy's Nurse Anesthesia program ranked the 10th best and the MBA program ranked among the top 20 graduate Management programs in the nation in U.S. News & World Report's "2018 Best Graduate Schools." The list was released today in the magazine's "2018 Best Graduate Schools" magazine. This is the College of Business Administration's third consecutive year for this high honor. See the press release for more information.
Cascade web training and helpdesk
Cascade training sessions have been scheduled for each Wednesday from 3 to 5 p.m. throughout March in Room 10 of the Commerce & Finance Building on the McNichols Campus. To ensure everyone has a computer to use, please RSVP using the sign-up links. The plan is to use the first part of each session for guided training, and follow that with some time for a workshop format. Please sign up for introductory/non-technical sessions here.
To access the new ITS Help Desk ticketing website, go to hd.udmercy.edu and log in with your TitanConnect credentials. A Quick Start guide is available online.
Grad Salute helps graduation candidates, March 16
Encourage all graduating Detroit Mercy students to stop by this year's Graduate Salute on Thursday, March 16 from 11 a.m. to 6 p.m. in the Student Center Fountain Lounge. Representatives from multiple offices will be on hand to help graduation candidates handle issues related to graduation, including Commencement cards and cap and gown order forms. New this year, our graduation photographer will be available to take photos of students who wish to include one with any graduations invitations or announcements. See the event page for more information.
Women's History Month
March is Women's History Month, aimed at highlighting the contributions of women to events in history and contemporary society. See the resources web page for quotes from important women throughout history.
Detroit Mercy delivers for NOAH
The Human Resources Department would like to thank everyone for their generosity and support of the coffee mug drive for NOAH-Detroit. In total, employees donated 488 cups of all shapes and sizes, which will be used to provide beverages to clients during NOAH's bag lunch program. Last year alone, the NOAH Project served approximately 40,000 bag lunches to disadvantaged individuals, and the demand for their services continues to grow.
As employees dropped off their donations, many expressed appreciation for being able to contribute to this important outreach. Catherine McAuley said that "proof of love is deed." Once again, Detroit Mercy employees have demonstrated their commitment to the compassionate service of others through their generous deeds.
Detroit Mercy hosts female middle school student tech program
Approximately 200 sixth- to eighth-grade female students from Detroit Public School Community District (DPSCD), Southfield Public Schools and Gesu Catholic School participated in the Girls Are IT! computing conference, March 8. The program demonstrates the importance of a career in technology through hands-on activities.
The Michigan Council for Women in Technology, Detroit Mercy Career Education Center and career service offices at Lawrence Technological University and University of Michigan-Dearborn collaborated on this event, sponsored by Ford Motor Company. A five-week program will begin next week to introduce middle-school girls to web programming as a problem-solving tool.
Dean Brackley El Salvador Scholarship dinner, March 20
The Detroit Mercy community is invited to attend this year's Dean Brackley El Salvador Scholarship Dinner on Monday, March 20. There will be food, music and information about Dean Brackley, the Carney Latin American Solidarity Archive program and how to support students in need in El Salvador. See the event page for more information.
Ethics discussion with Michael G. McMillan
Public Safety Fire Extinguisher Training guide
Detroit Mercy Public Safety encourages all faculty, staff and administrators to read the updated Fire Extinguisher Training guide available on the Clery Act page. The Clery Act requires institutions, including University of Detroit Mercy, to keep and disclose information about crime and incidents on or near our campuses.
Alumni Houston meet-up
Last chance to submit a Fall Colleague Development Day proposal
This is the last week to submit a proposal the Fall Colleague Development Days, to be held on Wednesday, Aug. 17, and Thursday, Aug. 18. Faculty and staff are invited to submit program proposals by 8:30 a.m. on Monday, March 20. Final notification of proposals accepted for Colleague Development Days will be sent to all by Thursday, April 20. For more information, contact Dean of the Career Education Center Sheryl Johnson-Roulhac at careerlink@udmercy.edu.
Thumbs Up!
Associate Professor of Education Don DiPaolo facilitated a retreat for national deans of students and fraternity/sorority CEOs entitled, "A Conversation That Matters," at NASPA in San Antonio, Texas, March 11.
Professor of History Roy E. Finkenbine was interviewed by Detroit Today host Stephen Henderson on WDET comparing efforts, during the Underground Railroad era and today, to aid and protect asylum seekers in the U.S., March 14. Finkenbine was also quoted in the B.L.A.C. article, "Ta-Nehisi Coates to visit University of Detroit Mercy."
Detroit Mercy President Antoine M. Garibaldi wrote "Help wanted. Credentials required. Are Michigan job-seekers ready?" a guest editorial about the future of higher education in Michigan, which appeared in Bridge Michigan, March 11.
Associate Professor of Education and Former Deputy Mayor of Detroit Isaiah McKinnon appeared on the Today Show and spoke at a General Motors function with Chief Executive Officer of General Motors Mary Barra, March 14.
Associate Professor of English Rosemary Weatherston presented the topic, "Voices of Life But Not of This World: 'Impossible Illness Narratives" in Health Education," at the 6th International Health Humanities Consortium conference in Houston, Texas, March 10.