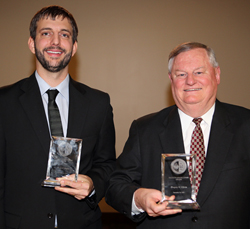 Faculty Excellence award recipients
Two members of the UDM faculty were presented with awards during the Faculty Recognition Dinner, held Nov. 14. Assistant Professor of Biology Jacob Kagey received the Faculty Achievement Award, which recognizes a junior faculty member in demonstrating distinctive merit and achievement in teaching and scholarly endeavors.
Professor of Information and Decision Sciences Gregory Ulferts received the Faculty Excellence Award which honors the most outstanding faculty member within University of Detroit Mercy, as determined by faculty colleagues for his excellence as a teacher and scholar.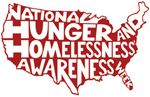 National Hunger and Homelessness Week events
In recognition of National Hunger and Homelessness Week, Nov. 17-23, UDM will host several events across McNichols Campus at the following locations and times:
Tuesday, Nov. 18 at 6 p.m.. - National Hunger and Homelessness Awareness Dinner with guests who have experienced homelessness, the Neighborhood Service
Wednesday, Nov. 19 from 3-6 p.m.. - Service project for Gleaners hosted by Campus Kitchen at UDM, Student Center's Fountain Lounge
Wednesday, Nov. 19 at 6:30 p.m.. - Engineering & Science Student Council Dodgeball Tournament, Fitness Center. There will be a $5 and canned good donation entry fee.
Thursday, Nov. 20 at 8:15 p.m.-5 a.m. - "Sleep out for the Homeless" event, Kassab Mall
Thursday, Nov. 20 and Friday, Nov. 21 at 2 p.m.. – Canned Food Sculpture, Kassab Mall
Throughout the week, there will also be a canned food drive benefiting Campus Kitchen at UDM, a "No Wasted Food Initiative" in the Titan Dining Room and a clothing drive for homeless veterans, sponsored by the Veterans Students Organization. All donations of canned goods or clothing can be dropped off at any events during the week or in the Student Life Office in the Student Center.
UDM to host NCAA Tournament in new Red Wings arena
University of Detroit Mercy and the Detroit Titans will host the NCAA first- and second-round games for the 2018 men's basketball tournament on March 16 and 18, 2015 at the new Red Wings arena currently under construction in downtown Detroit. See the media coverage for more details.
UCA Martyrs of El Salvador 25th Anniversary
To commemorate the six Jesuits and two women who were murdered at the University of Central America (UCA) on Nov. 16, 1989, about 40 members gathered for a prayer service on Thursday, Nov. 13 in the Lansing-Reilly courtyard rose garden on UDM's McNichols Campus.
Author Robert Lassalle-Klein will also present a talk on "Blood and Ink: The Challenge of the Jesuit Martyrs of El Salvador Today" on Wednesday, Nov. 19 at 7 p.m. in the Ford Life Sciences Building Room 113. The Catholic Studies program is sponsoring this event. See the anniversary page and November issue of the AJCU newsletter Connections for more information on the anniversary.
On a national level, 1,000 advocates acting on the legacy of the UCA martyrs marched to Capitol Hill in Washington D.C. on Monday, Nov. 17, marking the largest Catholic advocacy day in the U.S. this year. Watch the video coverage of the day here.
In reflection of the UCA tragedy, University Ministry is now offering an immersion trip to El Salvador from April 25-May 1, 2015. The trip is open to 10 students and any faculty member. For more information or to pick up an application, please contact University Minister Meg Marshall at marshamk@udmercy.edu.
Flu shots available across campus
The UDM Wellness Center will provide flu vaccines for students and faculty at several clinic locations on the McNichols Campus. Associate Professor of Nursing and Nurse Practitioner Carmen Stokes will be available at the following locations and times to provide vaccines at $15/shot:
Nov. 19 from 9-10 a.m., Reno Hall
Nov. 19 from 11:30 a.m.-1:30 p.m., Student Center
Nov. 20 from 9-11 a.m., Jane & Walter O. Briggs Building
Nov. 25 from 8:30-9:30 a.m., McNichols Campus Library
Nov. 25 from 10-11 a.m., Fisher Administration Center
All flu vaccine clinics will be held in their respective main lobbies.
UDM Law Moot Court teams succeed
UDM Law students had successful attendance at this year's Moot Court national competitions. The three briefs filed by the teams all finished at or near the top of their respective competitions in Washington, D.C. and Columbus, Ohio. See the press release for more information.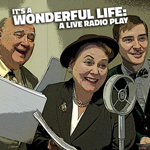 UDM Theatre present It's a Wonderful Life: A Live Radio Play
UDM Theatre Company presents It's a Wonderful Life: A Live Radio Play, to be performed in the Grounds Coffeehaus on UDM's McNichols Campus on the following dates:
Friday, Dec. 5, at 8 p.m.
Saturday, Dec. 6, at 8 p.m. (An afterglow follows this performance.)
Sunday, Dec. 7, at 2 p.m. and 8 p.m.
Capturing the timeless magic of the classic film, Joe Landry's It's a Wonderful Life: A Live Radio Play invigorates the story with vibrant new color and excitement. For more information, please email theatre@udmercy.edu or visit the UDM Theatre Company page. To purchase tickets, click here.
Mission Micro Grant Awards announced
The 2014-15 Mission Micro Grant Award recipients are now available online. On behalf of the Mission Micro Grant Evaluation Committee, Director and Associate Professor of English Rosemary Weatherston and Fr. John Staudenmaier, S.J., of the Office of Mission and Identity, UDM thanks those who applied and participated. For more information, see the Mission Micro Grant Program site.
UDM featured in literary tour of Detroit
The McNichols Campus Library and Jane & Walter O. Briggs Building were featured in the ModelD article, "A literary tour of Detroit," highlighting places within the city where great writers have taken root, Nov. 18.
Thumbs Up!
Instructor of Mathematics & Computer Science Scott Anderson was mentioned in the Crain's Detroit Business article, "Bus rapid transit study draws concerns over downtown stops, off-Woodward loop," on proposed transit stops and their proximity to employment centers, Nov. 16.
Several members of the College of Liberal Arts & Education English Department presented papers at the Michigan College English Association Conference, held at Eastern Michigan University in October. Associate Professor of English Michael Barry presented the paper, "Victimization and old-fashioned determinism." Associate Professor of English Heather Hill-Vasquez presented the paper, "When gender norms meet human injustices." Associate Professor of English Rosemary Weatherston presented the paper, "Story vs. guidebook: Undermining 'diversity' in minority literature courses."
Professor of Marketing Mike Bernacchi talks about Cyber Monday and the increase of sales versus traditional retailers in the Hometown Life article, "Black Friday, Cyber Monday part of shopping culture," Nov. 13.
President Antoine M. Garibaldi participated in a panel for the development summit "Build Transit Build Business" on Tuesday, Nov. 18 from 8:15-11 a.m. at the Hall of Legends at Ford Field in Detroit. This summit brought together business leaders, local officials and clergy to develop a deeper engagement with the Regional Transit Authority on future developments along Woodward Avenue.
Professor of English Nick Rombes was acknowledged in the MLive article, "Detroit Mercy professor and Ann Arbor resident brings film, mystery to debut novel," recognizing his newly published book, The Absolution of Roberto Acestes Laing, Nov. 11.
Economics Lecturer Joseph Weglarz contributed an essay entitled, "Classical Economics," to the recently published Government and the Economy: An Encyclopedia. The encyclopedia, published in October by Greenwood Press, an imprint of ABC-Clio, is a collection of essays that examine economic systems and the factors that influence them as well as the changing role of the American government in the economy.