U.S. Patent issued for E&S lift apparatus
On Oct. 14, UDM received the second patent in its history. The U.S. Patent Office issued patent no. 8,856,981 for a "stability-controlled assistive lifting apparatus." The Stability Enhanced Assistive Lift (SEAL) was developed by Associate Professor of Mechanical Engineering Nassif Rayess, retired Professor of Electrical and Computer Engineering Sandy Yost, and engineering students Obafemi Osunfisan, Mark Fazi and Raymond Slowik, beginning in 2009. They filed the patent application in 2011. The team's creation received the second place award in the Robotics Innovations Competition and Conference and the third place award in the ASME Innovation Showcase competition, both in 2010.
Safety Street, Oct. 24
UDM's 2014 Safety Street will be held on Friday, Oct. 24 from 4-7 p.m. in the Student Center's Fountain Lounge. The Office of Student Life requests faculty and staff to donate bags of candy by Friday, Oct. 24 at 5 p.m. The respective department with the most donated candy will be awarded a pizza party. If you have questions, please contact the Office of Student Life at 313-993-1150.
Special UDM announcement and press conference
On Wednesday, Oct 22 at 3:30 p.m. University of Detroit Mercy will host a press conference in the Student Fitness Center for a special announcement on an unprecedented collaboration with Marygrove College, Wayne County Community College District, and Wayne State University that will benefit our students and our community. Faculty and staff are invited to attend the event. Further information will be available on the UDM website following the press conference.

15th Annual UDM Ethics Bowl
The 15th annual UDM Ethics Bowl will be held on Friday, Oct. 31 from noon to 6 p.m. in the Student Center's Fountain Lounge on UDM's McNichols Campus. The Ethics Bowl is a campus-wide competition inspired by TV's College Bowl, but modified rules adapt the game to the subject of ethics. Faculty and staff are encouraged to download copies of the official Ethics Bowl registration form and recommend this great event to students. The Ethics Bowl committee is also seeking faculty and staff to act as judges and moderators. For details, reply to ethicsbowl@udmercy.edu. Rules, registration forms, and cases for this year's competition can be found at the UDM Ethics Bowl page.
E&S Student Research Symposium
Business ranked in 2015 U.S. News guide
University of Detroit Mercy College of Business Administration's undergraduate program was ranked as one of the top business programs in the nation according to the 2015 edition of the U.S. News & World Report's "Best Colleges" guide. The College's Management program also ranked 14th in the nation. U.S. News gathers data from colleges based on approximately 16 indicators of academic excellence such as peer assessment, student selectivity, graduation and retention rates, resources, faculty and average class size. For more information, see the press release.
Commitment to Excellence Award submission
All UDM faculty, staff, and administrators are encouraged to nominate staff and administrators who are deeply committed to the success of UDM's future for the Commitment to Excellence Award. Award recipients will be announced and honored at the UDM Christmas Party and Colleague Recognition Day in December. Each of the three recipients will receive a certificate, a commemorative piece and a monetary award. For more information and for the nomination form, please visit the HR website. Nominations are due Monday, Nov. 10.
UDM hosted Chinese Business Delegation
A delegation of more than 20 top Chinese CEOs and businessmen in the manufacturing industry met with University of Detroit Mercy's administration and deans from the Colleges of Liberal Arts & Education, Business Administration and Engineering & Science, Oct. 13. Discussion focused on how a UDM partnership can help bridge the gap between theory and application in an increasingly global economy.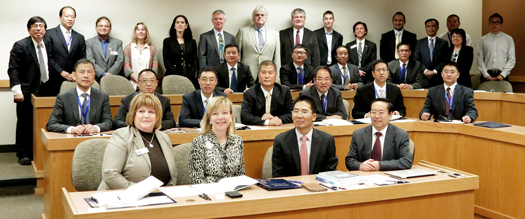 Thumbs Up!
Associate Professor of English Laurie Britt-Smith was chosen by the state of Michigan as a content expert in English/Language Arts for the Smarter/Balanced Assessment Consortium, Oct 13-15. Britt-Smith also assisted in setting 11th grade achievement levels for the new K-12 common core curriculum, which could also determine placement into college writing.
Assistant Professor and Chair of the Physician Assistant Program Amy Dereczyk has been recognized as a Distinguished Fellow of the American Academy of Physician Assistants. She earned the recognition due to her outstanding contributions to patient care, education and the profession.
Professor of Law Lawrence Dubin commented in the Lansing State Journal on jury issues in the Aiyana Stanley-Jones murder trial, Oct. 10.
President Antoine M. Garibaldi was featured on WTVS Channel 56's community affairs program, American Black Journal, Oct. 19. Click to watch the interview.
Adjunct Assistant Professor of Endodontics Arnold Gartner, Adjunct Associate Professor of Endodontics Louis Hirschman and Adjunct Professor of Endodontics Edward Snella were the recipients of the Michigan Association of Endodontics 2014 President's Leadership Award, in recognition of their leadership, contribution and dedication to the specialty of Endodontics.
Detroit Titans Head Coach Ray McCallum was interviewed on WJBK Fox 2's sports roundtable discussion of the upcoming basketball season, Oct. 19.
Director of University Ministry David Nantais was interviewed by 760 AM WJR's morning host Paul W. Smith about the Bishop's synod's recent meeting in Rome, Oct. 16.
Professor of Psychology Carol Weisfeld and Director of the UDM Wellness Center Annamaria Silveri co-authored the chapter, "A healthy respect for sex differences, with cardiovascular disease and posttraumatic stress disorder as cautionary lessons," in the book Evolutionary Science of Human Behavior, published by Linus Learning.