Spirit of UDM: Alumni Achievement Awards
The registration deadline approaches for the second annual University-wide celebration, Spirit of UDM: Alumni Achievement Awards, on Friday, April 17 at 6 p.m. in the Student Center Ballroom. Faculty and staff receive a reduced dinner reservation of $35 each, while guests of faculty and staff are $50 each. See registration page for more information. Reserve a spot before end of business day Tuesday, April 14.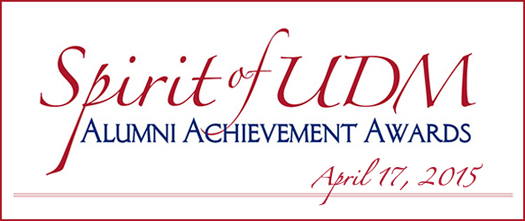 UDM Research Days events
UDM hosted the annual Celebration of Scholarly Achievement on Tuesday, April 14 from noon to 2 p.m. in the Student Center Ballroom on UDM's McNichols Campus. The Celebration of Scholarly Achievement is a chance for faculty, staff and students to highlight and recognize research publications, posters and other creative projects from the UDM community. See the Celebration of Scholarly Achievement page for more information on this event.
Faculty members from UDM's McNichols and Corktown campuses will highlight their research projects funded through the Institutional Research Funds or School of Dentistry Faculty Research Grants on Wednesday, April 15 from 2:30 to 4 p.m. in the Student Center President's Dining Room on UDM's McNichols Campus. Following the presentations will be a report on sabbatical projects conducted during the 2014-2014 academic year from 4:30 to 6 p.m.
Register for the April 15 event at Eventbrite. For more information, contact Director of Sponsored Programs and Research Activities (OSPRA) Cate Caldwell at caldwecr@udmercy.edu or 313-993-1544.
UDM hosts transportation meeting
UDM summer youth programs
Faculty and staff are encouraged to promote UDM's exciting academic summer programs or camps offered for youth on UDM's McNichols Campus. Participants can choose from a variety of program interests, providing enrichment for young students and giving them a taste of college life at UDM. For more information, see the summer program web page.
Tech Day, April 17
Faculty, staff and students are invited to the College of Engineering & Science's 25th Annual Technology Discovery Day Event: STEM Spring Fling on Friday, April 17 from 8:30 a.m. to 1 p.m. More than 700 high school students from Metro Detroit will be participating in this year's event. A variety of displays and activities from the College and local companies expose students to engineering and science. For more information, contact E&S Director of Pre-college Programs Pamela Rhoades Todd at 313-993-3374 or visit UDM's Tech Discovery Day site.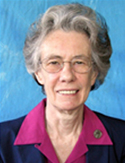 Presentation: Mary Sullivan, RSM, April 25
Mary Sullivan, RSM, will speak about Catherine McAuley on Saturday, April 25 from 9 a.m. to 3 p.m. at Mercy Center (D Wing, Gate 4), 28650 W. 11 Mile Road, in Farmington Hills. Sr. Mary, a known scholar on the life of Catherine McAuley and author of The Path of Mercy: The Life of Catherine McAuley, will discuss Catherine's Gospel Virtues, her human characteristics, what "mercifulness" means today and Catherine's hopes for those in the Mercy family today. A $20 donation is suggested for the presentation. This event is open to the public and sponsored by the Companions in Mercy. Register online.
De-Stress Fest, April 16
Faculty, staff and students are invited to De-Stress Fest on Thursday, April 16 from 12:30 p.m. to 3:30 p.m. in the Student Fitness Center on UDM's McNichols Campus. The event is a chance to relieve stress and enjoy games with complimentary refreshments. Come watch the highlighted Bubble Soccer event. For more information, contact Student Fitness Center Assistant Director Deanna Blevins at 313-993-1783 or deanna.blevins@udmercy.edu.
MCA recognizes UDM student of the day
The Michigan Colleges Alliance (MCA) launched a collective marketing campaign, "We are the Independents," designed to increase awareness of independent higher education options in Michigan. The campaign dispels myths about private education and helps promote the 15 MCA institutions, including UDM.
Business student Nicole Fitch was recognized as Student of the Day on Monday, April 13, and featured on the front page of the campaign's website.
Dental Alumni Day, May 1
UDM School of Dentistry will host its annual Dental Alumni Day on Friday, May 1 at the Inn at St. John's in Plymouth, Mich. This year, President of Transitions Group of North America Lisa Philp will present a course titled, Bridging the Gap - Generational Diversity. For more information or to register, please visit the 2015 Dental Alumni Day web page. For questions, contact School of Dentistry Continuing Education Manager Debra Huff at 313-494-6626 or huffda@udmercy.edu.

Jesuit Alumni Service Day, April 25
University of Detroit Mercy will host a Jesuit Alumni Service Day in Detroit on Saturday, April 25 from 8:15 a.m. to noon on UDM's McNichols Campus. Volunteers will clean up two sites around the campus, including Gesu Church. This event is free and open to the public. Register online.
UDM participates in Shell Eco-Marathon
E&S student Melissa Kutchey is interviewed on WDIV-TV's Local 4 News segment on the Shell Eco-Marathon Americas event, which took place in Detroit, April 9-12. The UDM engineering student team met other teams from South, Central, and North America, who had gathered for friendly competition on the streets of Detroit in their ultra-energy-efficient vehicles. The UDM vehicle achieved a fuel efficiency of 181 miles per gallon, which placed it 22nd of 42 cars entered in the Prototype-Gasoline category and as the highest ranked Michigan school in that category. For more, see the interview.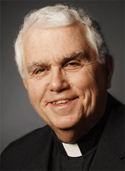 JAFD Spring Luncheon, May 6
The Jesuit Alumni and Friends of Detroit will host their 2015 Spring Luncheon on Wednesday, May 6 from 11:30 a.m. to 1:30 p.m. at the Atheneum Suite Hotel in Detroit. This year's luncheon will feature Joseph P. Daoust, S.J., who served as general counselor at the headquarters of the Society of Jesus in Rome from 2008-2014. Fr. Daoust will speak on the topic, "Pope Francis and the Jesuits: The View from Rome," explaining how Pope Francis has touched the world with his humility, simplicity and focus on the poor. Register online before Sunday, May 3. For more information, see the JAFD Facebook and email questions to jesuitalumdetroit@gmail.com.
Voice for Justice Auction
Thumbs Up!
Professor of Business Administration Michael Bernacchi discussed marketing tactics for the new John Varvatos store in the Detroit Free Press article, "Why John Varvatos and Detroit store matter," April 7.
Professor of History Roy Finkenbine gave the annual Lincoln Lecture at Detroit Country Day School, discussing "Lincoln and African Americans," April 8.
Associate Professor of English Mary-Catherine Harrison's literacy program, RX for Reading Detroit, established three new library stations at the DCHC Healthy Teens Community Center, the Arab American Chaldean Council WIC Center and the ACC Behavioral Health Clinic. The latter is featured on the RX for Reading Detroit site.
Assistant Athletic Director for Sports Medicine Mike Miller has been inducted into the Ball State University Ring of Honor for athletic training. The ceremony will take place in June at the National Athletic Trainers Association's (NATA) annual conference in St. Louis, Mo.
Professor of English Nicholas Rombes read from his novel, The Absolution of Roberto Acestes Laing, at Magers & Quinn Bookstore in Minneapolis as part of the annual Association of Writers & Writing Programs Conference, April 8. His novel was also reviewed in The Brooklyn Rail.