Jesuits elect new Superior General
The 36th General Congregation of the Society of Jesus has elected Arturo Sosa Abascal, S.J., of the Venezuelan Province, as the new Superior General. To celebrate the election, Associate Professor of Architecture and Detroit Mercy Superior of the Jesuit Community Gilbert Sunghera, S.J., will preside at a special Mass for Fr. Sosa on Wednesday, Oct. 19 at noon in the Commerce & Finance Building's St. Ignatius Chapel. See news release for more information on Fr. Sosa.
Heat up the Mall, Oct. 21
Come out to the Lillie B. Kassab Mall on Friday, Oct. 21 for one of Detroit Mercy's favorite fall semester traditions: Heat Up the Mall! From 5:30 to 7:30 p.m. all faculty, staff, students and alumni are invited to make s'mores around mini bonfires, eat caramel apples and doughnuts, drink hot chocolate and cider, and paint pumpkins. The Student Alumni Association and the Office of Alumni Relations sponsor this event.
Donate candy and support Safety Street!
The Office of Student Life reminds faculty and staff to donate bags of candy to Detroit Mercy's annual Safety Street by Friday, Oct. 21 at 5 p.m. This year, Safety Street will be held on Friday, Oct. 28 from 4:30 to 6 p.m. in the Student Center's Fountain Lounge and Fisher Fountain area outside. The department with the most donated candy will be awarded a pizza party.
Detroit Mercy dives into Service Plunge
Hoop Night in the D, Oct. 19
Detroit Mercy Titans Athletics will host the official introduction of the 2016-17 Men's and Women's Basketball teams and coaches at the annual Hoop Night in the D on Wednesday, Oct. 19 at 7 p.m. in Calihan Hall. The event will feature a scrimmage as well as other skill competitions and is free for all fans. Doors open at 6 p.m. A tailgate precedes the event in the parking lot outside the front entrance of Calihan Hall and will feature food, games and music. See news release for more information.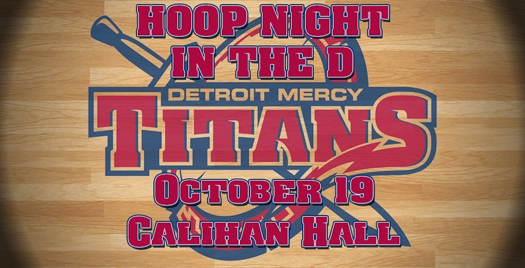 Upcoming talks
The African American Studies program hosts its next talk, "Dudley Randall and the Black Arts Movement," keynoted by Wayne State University Distinguished Professor of Africana Studies Melba J. Boyd on Wednesday, Oct. 19 from 3 to 4 p.m. in Room 233 of the Commerce & Finance Building. See the event page for more information.

The Carney Latin American Solidarity Archive (CLASA) presents two talks by Manhattan College History Professor Julie Pycior on Friday, Oct. 21 at 10 a.m. and 11 a.m. in the Student Center Presidents' Dining Room. In the first talk, Pycior will discuss her book, Democratic Renewal and the Mutual Aid Legacy of U.S. Mexicans, with its emphasis on self-help and community solidarity, continuing to inform Mexican-American activism and subtly influence a number of major U.S. social movements.
In the second talk, Pycior will share a chapter of her upcoming book, Bearing Witness: Dorothy Day, Thomas Merton, and the Question of Belief in Times of Crisis, explaining how she became interested in researching the lives of activists Dorothy Day and Thomas Merton. The events are free and open to the public. For more information, see the event page.
Photos highlight E&S Symposium and Lab Dedication
Law Clinic focuses on asylum issues
The Detroit Mercy Immigration Law Clinic hosted a moving presentation by Nurjahan Khatun, Oct. 13. At the age of 9, Khatun was severely injured in an acid attack in Bangladesh. After receiving treatment in the U.S., she was granted asylum. Watch the Fox2 News and WXYZ-TV Detroit News coverage of the presentation.
CBA Centennial Gala and Center for Social Entrepreneurship opening
As part of the College of Business Administration's Centennial celebration this year, the College will host a gala dinner featuring keynote speaker Mark Ellis '90, president and COO for Marketing and Sales at Time Inc. on Friday, Oct. 28. A ribbon-cutting ceremony will commemorate the opening of the new Center for Social Entrepreneurship. See Centennial page for more events and to RSVP online.
Architecture Lecture Series: Steven Haulenbeeck
As part of its 2016-17 Lecture Series, Detroit Mercy School of Architecture (SOA) welcomes Steven Haulenbeek of Steven Haulenbeek Design (Chicago, Il.) on Wednesday, Oct. 26 at 6 p.m. in the Cranbrook Art Museum's deSalle Auditorium, 39221 Woodward Avenue in Bloomfield Hills, Mich. This event is free and open to the public. See the SOA Lecture Series website for more events!
Detroit Mercy Law Day, Oct. 26
Law Day is an annual event each Fall semester featuring a sample LSAT class, Moot Court simulation, tables with law school admissions counselors from many schools and a question and answer panel of Detroit Mercy Law admissions staff. This event will take place on Wednesday, Oct. 26 from 10 a.m. to 2 p.m. in the Fountain Lounge. The event is open to all faculty, staff and students and is sponsored by the Pre-Law Committee and co-sponsored by Pi Sigma Alpha, Phi Alpha Delta and Kaplan. For more information, email lawday@udmercy.edu.
Sr. Beth Finster's Golden Jubilee
Save the date on Sunday, Nov. 6 for a Mass and celebration to recognize University Ministry Assistant Director Beth Finster, S.S.J., on her 50th anniversary as a Sister of St. Joseph. Assistant to the President for Mission and Identity John Staudenmaier, S.J., will preside at a noon Mass in the St. Ignatius Chapel, followed by an open house in Lansing-Reilly Hall from 1 to 3 p.m. Register online today!
Undergraduate Business program ranked
College Choice recently ranked Detroit Mercy College of Busienss Administration's Undergraduate Business program No. 2 in its top 10 "Best Undergraduate Business Schools in Michigan," Oct. 12. Among the other universities to make the list are Michigan State, Wayne State and Central Michigan University. See the full list online.
Challenge Detroit alumna interviewed
Architecture alumna Julia Kowalski '15 was interviewed by WWJ-AM and spoke on her work with the Detroit Collaborative Design Center and the importance of architecture and engineering co-ops. Kowalski will participate in the yearlong fellowship program, Challenge Detroit, helping to revitalize Detroit. Listen to the full interview online.
Thumbs Up!
Professor of Business Administration Michael Bernacchi was quoted in the Net Quote article, "Motor Voters: What your car says about your politics," Sept. 30. Bernacchi also commented on the recent news stories of clowns in The Detroit News article, "Detroit area clown encounters play into fears nationwide," as well as the Yahoo! Finance article, "Creepy clowns? Here's how you can trade coulrophobia this Halloween," Oct. 6 and Oct. 12 respectively.
Associate Professor of Law Khaled Beydoun was highlighted in The Hill article, "Tin foil hats, conspiracy theories and American politics," Oct. 2.
Assistant Professor of Nursing Rosanne Burson and Assistant Professor of Nursing Katherine Moran won the 37th annual Alpha Sigma Nu Book Awards for their book, The Doctor of Nursing Practice Scholarly Project: A Framework for Success. The Alpha Sigma Nu Book Awards are open to all faculty and administrators at Jesuit colleges and universities, including emeritus faculty and administrators, who have published a book in the three years immediately prior to the year of the category. This year's category was "Professional Studies."
Detroit Mercy President Antoine M. Garibaldi was recognized in the University of Minnesota Department of Educational Psychology Fall 2016 alumni newsletter in the article, "Antoine Garibaldi lifts up Detroit."
Adjunct Professor of History Ken Grant delivered the keynote address, "Monasticism and the Renewal of the Church," at the 60th anniversary event at St. Augustine's House in Oxford, Mich., Oct. 15.
Adjunct Professor of Performing Arts Daniel Greig's musical work, "My Burden Is Light," was published by Lorenz Corporation of Dayton, Ohio. Listen to his piece online.
Assistant Professor of Political Science Genevieve Meyers was quoted in the B.L.A.C. article, "Who's Voting?" Oct. 6.
Professor Emeritus John Molinari was quoted in a KQED News article, "Infection outbreak shines light on water risks at dental offices," Sept. 30.
Associate Dean of Architecture Joseph Odoerfer was featured in the Detroit Free Press article, "Buildings time forgot: Architecture tours focus on mid-century modern," Oct. 7.
Associate Professor of Counseling & Addiction Studies Sheri Pickover was interviewed on helping children of the child welfare system for the podcast, "Make a Mental Note." Listen to the podcast online.
Assistant to the President for Mission and Identity John Staudenmaier, S.J., will be featured on the PBS documentary program, "American Experience," highlighting the life and legacy of Nikola Tesla, Oct. 18. The program will premiere nationally and locally on WTVS-Channel 56.
Professor of History Gregory Sumner discussed the wartime contributions and sacrifices of the Motor City at the Rosie the Riveter statue unveiling ceremony in Royal Oak, Oct. 7.