E&S presents annual Student Research Symposium
UDM's College of Engineering & Science (E&S) will present its 2nd annual Undergraduate & Graduate Student Research Symposium on Friday, Oct. 17 from 9:30 a.m. to noon in the Engineering Building High Bay on the McNichols Campus. The event offers an opportunity for people from UDM and surrounding communities to engage with students, faculty and alumni in discussions about research and careers in science, technology, engineering and mathematics.
More than 70 projects from engineering, biology, chemistry, math and more will be presented. The University community is invited to attend the event and celebrate the work and efforts of its talented students in research and design. Visit the event page to register.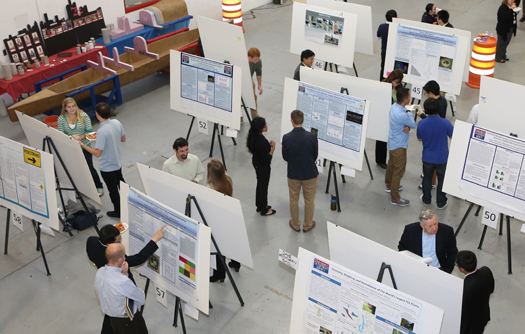 Associate Vice President of Human Resources receives Top HR Professional Award
Associate Vice President of Human Resources Steve Nelson was awarded the 2014 Top HR Professional Award by the Michigan Council of the Society for Human Resource Management (MISHRM) at its inaugural Top HR Professional Recognition ceremony on Oct. 10 at Cobo Center in Detroit. Ten finalists were nominated for this award, and two were chosen as recipients. Nelson was nominated for exemplifying the highest standards of the profession by promoting and contributing to the transformation of the human resources profession at both UDM and in the community.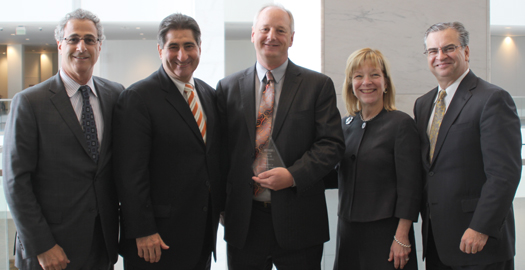 Titan Tip-Off event, Oct. 23
Mark your calendars for the Titan Tip-Off event on Thursday, Oct. 23 in Calihan Hall at 7 p.m. Doors will open at 6 p.m. The pre-season UDM basketball event features a dunk contest, shortened scrimmages for both the Titan Men's and Women's teams and post-game autographs/photos with players. Find more details on the Detroit Titan Athletics page.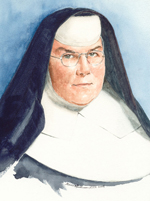 2014 Michigan Women's Hall of Fame honorees announced
Mother Mary Carmelita Manning, RSM, (1888-1962) is among 11 women and one man who will be honored at the Michigan Women's Hall of Fame Awards Dinner and Induction Ceremony on Thursday, Oct. 30 at the Kellogg Hotel and Conference Center in East Lansing. Mother Manning was the foundress of the Detroit Province of the Sisters of Mercy. In that role, she oversaw the construction and operations of 25 Mercy hospitals (15 in Michigan), including the Michigan and Iowa Mercy Hospitals that are now part of Trinity CHE, as well as the establishment of Mercy College, now a part of University of Detroit Mercy. She also built and opened Our Lady of Mercy High School, now Mercy High School. Read and learn about the honorees in this press release.
Safety Street candy donation
In preparation for UDM's 2014 Safety Street, which will be held on Friday, Oct. 24 from 4:30 p.m.- 6:30 p.m. in the Student Center's Fountain Lounge, the Office of Student Life requests faculty and staff donate bags of candy by Friday, Oct. 17 at 5 p.m. The respective department with the most donated candy will be awarded a pizza party. If you have questions, please contact the Office of Student Life at 313-993-1150.
Visiting Research Professors appointed
Provost and Vice President for Academic Affairs Pamela Zarkowski has appointed two professors at the University of Windsor (UW), Drs. G. Brent Angell and Suzanne McMurphy, as Visiting Research Professors to UDM based on the recommendation of Associate Professor of Sociology and Social Work Aloha Van Camp and Dean of the College of Liberal Arts & Education Mark Denham. The professors are studying vehicle injury and accident prevention in Canadian First Nation communities and continue to expand the target population to include Native Americans in the United States. This appointment will provide the professors with continued funding and strengthen the relationship between UDM and UW.
Submit questions to "Ask the Professor" podcast
"Ask the Professor," UDM's weekly podcast/radio show where University of Detroit Mercy professors participate in a quiz question and answer session, is looking for questions to read on the air during this season's recordings. Questions can be on any subject matter, and there is no limit to the amount of questions asked. Please send questions with correct responses, along with your name and department to atp@udmercy.edu.
Thumbs Up!
Professor of Marketing Mike Bernacchi discussed 2015 Ford F-150 advertising campaigns in the Detroit Free Press article, "School in session for buyers, sellers of new Ford F-150," Oct. 8 and was referenced by Yahoo! Finance in the article, "The Fastest-Growing Holiday In America Is ... Spooky," Oct. 8. Bernacchi also appeared on WJBK Fox 2's segment, "Let It Rip: The Ebola crisis," discussing the economic impact of the Ebola crisis, Oct. 9.
Professor of Counseling and Addiction Studies Nancy Calleja, in collaboration with Spectrum Child and Family Services, has been awarded an $180,000 two-year grant from the Ethel and James Flinn Foundation to implement trauma-focused cognitive-behavioral therapy with court-involved adolescents. The grant is part of the Flinn Foundation's evidence-based practices initiative, and the program will serve adolescents and their families in Detroit and Highland Park.
Professor of Law Lawrence Dubin talked to 760 AM WJR's morning host Paul W. Smith about the start of the Bob Bashara murder trial. Listen to the interview here.
Professor of Mechanical Engineering Nihad Dukhan won the Best Paper Award in the Porous Media and Membranes category for his essay, "Flow Regimes in Foam-Like Highly Porous Media," at the 10th International Conference on Heat Transfer, Fluid Mechanics and Thermodynamics in Orlando, Fla., July 16.
Adjunct Professor of Philosophy Philip Fortier has been appointed to the Multiple System Atrophy Coalition Board of Directors for his work in MSA awareness and education using his campaign, Tim's MSA Shoe, Sept. 23.
President Antoine M. Garibaldi was a reviewer of the National Research Council's report, Review of Army Research Laboratory Programs for Historically Black Colleges and Universities and Minority Institutions.
Associate Professor of English Heather Hill-Vásquez was chosen as the 2014 "Final Lecturer" by the University Honors Program, presenting her Final Lecture at the Honors Program Induction Ceremony and Dinner, Oct. 5.