Commencement ceremonies, May 8-9
University of Detroit Mercy will hold its annual commencement ceremonies on May 8 and 9, 2015.
School of Dentistry, Friday, May 8 at 9:30 a.m.
School of Law, Friday, May 8 at 6 p.m.
Undergraduate and Graduate Commencement, Saturday May 9 at 1:30 p.m.
All three ceremonies will take plan in Calihan Hall on UDM's McNichols Campus. In total, the University will graduate approximately 1,500 students during the three commencement ceremonies.
The School of Dentistry's keynote speaker will be Dr. Jack Dillenberg, D.D.S., M.P.H., inaugural dean of AT Still University's Arizona School of Dentistry & Oral Health. The School of Law's keynote speaker will be United States Secretary of Labor Thomas E. Perez, J.D. UDM's 2015 undergraduate and graduate commencement ceremony will recognize The Honorable Damon J. Keith with an honorary degree of Doctor of Humane Letters. See press release, media coverage and the Commencement site for more information.
Spirit of UDM video and gallery online
UDM summer youth programs
Faculty and staff are encouraged to promote UDM's exciting academic summer programs or camps offered for youth on UDM's McNichols Campus. Participants can choose from a variety of program interests, providing enrichment for young students and giving them a taste of college life at UDM. For more information, see the summer program web page.
UDM hosts hundreds at Tech Day
School of Dentistry commended for emergency response
On Wednesday, April 15, School of Dentistry Clinic faculty, students and oral surgery residents resuscitated a non-responsive patient in the clinic waiting room. Several faculty members, including Dr. Ayman Madaway and Nurse Sue Jones, began to administer CPR and applied an Automatic Electronic Defibrillator to the patient while EMS was summoned. After EMS arrived, the decision was made to allow clinic faculty to continue resuscitation efforts for over 30 minutes, resulting in the patient's restored pulse and breathing. The sheer commitment and tenacity of the UDM faculty first responders is to be commended. See media coverage of the story.
RX for Reading Detroit event, April 23
Associate Professor of English Mary-Catherine Harrison's literacy program, RX for Reading Detroit, will host a Bookies and Cookies party celebrating the installation of a new "Little Free Library" post (pictured) on Thursday, April 23 at 3 p.m. in the Gesu Catholic School Community Green. Light refreshments will be served.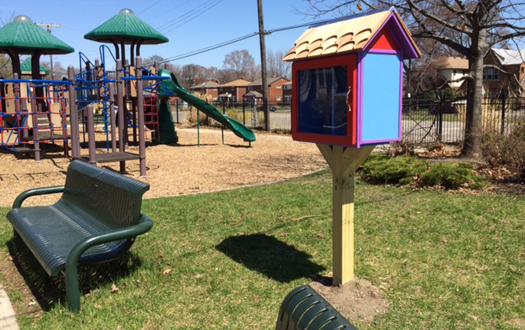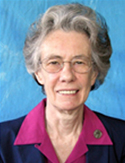 Presentation: Mary Sullivan, RSM, April 25
Mary Sullivan, RSM, will speak about Catherine McAuley on Saturday, April 25 from 9 a.m. to 3 p.m. at Mercy Center in Farmington Hills. Sr. Mary, a known scholar on the life of Catherine McAuley and author of The Path of Mercy: The Life of Catherine McAuley, will discuss Catherine's Gospel Virtues, her human characteristics, what "mercifulness" means today and Catherine's hopes for those in the Mercy family today. A $20 donation is suggested for the presentation. This event is open to the public and sponsored by the Companions in Mercy. Register online.
Jesuit Alumni Service Day, April 25
University of Detroit Mercy will host a Jesuit Alumni Service Day in Detroit on Saturday, April 25 from 8:15 a.m. to noon on UDM's McNichols Campus. Volunteers will clean two sites around the campus, including Gesu Church. This event is free and open to the public. Register online.
Dental Alumni Day, May 1
UDM School of Dentistry will host its annual Dental Alumni Day on Friday, May 1 at the Inn at St. John's in Plymouth, Mich. This year, President of Transitions Group of North America Lisa Philp will present a course titled, Bridging the Gap - Generational Diversity. For more information or to register, please visit the 2015 Alumni Day web page. For questions, contact School of Dentistry Continuing Education Manager Debra Huff at 313-494-6626 or huffda@udmercy.edu.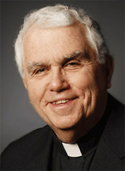 JAFD Spring Luncheon, May 6
The Jesuit Alumni and Friends of Detroit (JAFD) will host their 2015 Spring Luncheon on Wednesday, May 6 from 11:30 a.m. to 1:30 p.m. at the Atheneum Suite Hotel in Detroit. This year's luncheon will feature Joseph P. Daoust, S.J., who served as general counselor at the headquarters of the Society of Jesus in Rome from 2008-2014. Fr. Daoust will speak on the topic, "Pope Francis and the Jesuits: The View from Rome," explaining how Pope Francis has touched the world with his humility, simplicity and focus on the poor. Register online before Sunday, May 3. For more information, see the JAFD Facebook and email questions to jesuitalumdetroit@gmail.com.
UDM Research Days
More than 250 members of the UDM community participated in research-focused events and activities during the second annual Research and Scholarly Achievement Days, sponsored by Delta Dental of Michigan, April 14-15. These events highlight the diverse scholarship of faculty, undergraduate and graduate students and spotlight the impact of UDM in industry, design, education, health care and other fields.
The cornerstone event, Celebration of Scholarly Achievement, showcased 11 books, 10 book chapters, 74 journal articles, 32 conference proceedings, three non-print projects/electronic presentations, 71 posters and four student awards. One faculty member and one Ph.D. candidate also made oral presentations.
This year's activities also featured presentations by UDM faculty members who received internal research grants during the 2014-15 academic year. Researchers discussed a diverse range of topics, including the impact of herbicides on the ability of crayfish to find food, teaching innovations in the gross anatomy lab and empowering peer support specialists in the mental health workplace. Finally, a panel of faculty members who recently completed research leaves discussed the results of their projects. In all, 12 UDM faculty members, students and administrators presented their research results to colleagues.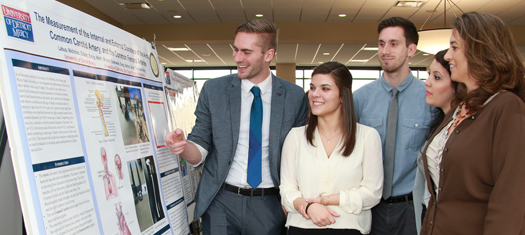 Sisters of Mercy podcast, April 22
A Nun's Life Ministry will visit the Sisters of Mercy Institute office in Silver Spring, Md., for a live podcast on Wednesday, April 22 from 5 to 6 p.m. (EST). Cynthia Serjak, RSM, and Amanda Carrier, RSM, will join Sisters Julie Vieira and Maxine Kollasch, members of the Sisters, Servants of the Immaculate Heart of Mary (IHM) to talk about discernment, prayer, spirituality and more. People across the globe will join the live chat room featuring Sue Weetenkamp, RSM, and Sister of Mercy candidate Kelly Williams. This podcast production, a part of Motherhouse Road Trip, will also be livestreamed (audio and video) online. Watch online here.
Campus Leadership and Service Awards Reception
CLASA fundraiser dinner
Approximately $5,400 was raised at the 4th annual UCA Jesuit Martyrs scholarship fundraiser dinner, April 7. This scholarship will help at least three Salvadoran students from underprivileged backgrounds attend the University of Central America (UCA) in El Salvador. Dean Brackley, S.J., founded the scholarship. Honduran human rights activist Padre Melo gave the keynote talk presentation.
Thumbs Up!
Assistant Professor of Performing Arts Greg Grobis will lead the tenor section and cantor at the Installment Mass for the National Shrine of the Little Flower Basilica on Wednesday, April 22 at 7 p.m. This event will be televised on EWTN, Catholic TV and other media outlets in both North America and Europe. Individuals wanting to attend are encouraged to visit the National Shrine website for parking arrangements prior to Mass.
Professor of Chemistry & Biochemistry Shulamith Schlick presented a lecture entitled, "Stabilization of Membranes Used in Fuel Cells by Ceria Nanoparticles: XRD and TEM Experiments," at the General Motors Tech Center in Warren, Mich., April 1.
Associate Professor of Psychology Linda Slowik and her fellow colleagues have been awarded the "Building Bridges Award" for research on dental anxiety experienced by periodontal patients. This award will be presented at the upcoming Association of Psychological Science conference in May and is sponsored by the National Institute of Dental Craniofacial Research (NIDCIR), one of 27 institutes and centers that make up the National Institutes of Health.