First Year Experience events
Join freshman students on the McNichols Campus in their half-day of service, as part of Phase II of UDM's orientation program "Prologues, Transitions & Viewpoints" (PTV), on Wednesday, Aug. 26 and Thursday, Aug. 27. Volunteers will meet their group on UDM's McNichols Campus at 7:45 a.m. for breakfast in the Titan Dining Room, followed by a service project until 1 p.m. To RSVP or for more information on the service projects available, contact Director of Service Learning for the Institute for Leadership & Service Timothy Hipskind, S.J., at 313-993-2003.
As a reminder, University Mission Leave policy provides expanded opportunities to participate in Mission or Community Service activities. The policy provides up to 24 hours of paid leave each year for approved activities, including participation in the PTV program.
Director IC3 Academy and cofounder of Good Travel Limited Catie Goddard '06 will speak at the annual First Year Convocation on Friday, Aug. 28 from 10:30 a.m. to noon in Calihan Hall on UDM's McNichols Campus. All are welcome to attend the event. See the First Year Convocation web page for more information.
Welcome new faculty and staff!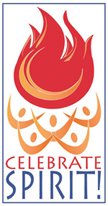 Celebrate Spirit! Save the Date
All UDM faculty, staff and administrators are encouraged to join in the celebration on Thursday, Sept. 10 for the 16th annual Celebrate Spirit!. The official welcome to the new school year, Celebrate Spirit! will begin at 11:30 a.m. in Calihan Hall, featuring guest speaker and managing editor of America magazine Kerry Weber. See the Celebrate Spirit! website for more information.
Volunteers who wish to sing at UDM's Celebrate Spirit! celebration are welcome to participate in an open choral rehearsal on Thursdays, Aug. 27 and Sept. 3 from 12:45 to 2 p.m. in the Commerce & Finance Building's St. Ignatius Chapel. Lectors and ministers of Holy Communion for the Mass of the Holy Spirit are also needed. For questions, contact University Ministry at ministry@udmercy.edu. The Celebrate Spirit! picnic is sponsored by Fiat Chrysler Automobiles.
UDM hosts GM Student Corps ceremony
UDM hosted the closing activities and ceremony of the third GM Student Corps program on the McNichols Campus, Aug. 19. More than 100 high school students participated in a day of activities that served as the capstone of their 10-week service project program. See the press release for more information on their accomplishments of leadership and service throughout the program.
Michigan Catholic features UDM and Gesu partnership
The strong bonds between UDM and Gesu Elementary School were featured in The Michigan Catholic article, "Neighbors in education: Proximity a blessing for Gesu, nearby colleges," Aug 20. This article highlights the partnership and signing ceremony as well as UDM School of Architecture's research collaboration with Gesu students.
NSA awards engineering grant
The National Science Foundation has awarded UDM's College of Engineering & Science a grant of $593,500 for support of the project, "Scholarships for Robotics and Mechatronics Systems Engineering," beginning Sept. 1, 2015 through Aug. 31, 2020, under the direction of College of Engineering & Science Associate Dean of Research & Outreach Shuvra Das and Professor of Electrical & Computer Engineering Mark Paulik.
Thumbs Up!
Professor of Business Administration Michael Bernacchi discussed the Dream Cruise's positive effect on Detroit's image in the Detroit Free Press article, "Dream Cruise brings upbeat image and spenders to region," Aug. 17. The article was also published in InAutoNews, Aug. 17.
Professor and Chair of the Department of Counseling and Addiction Studies Nancy Calleja received a $780,000 grant from the Substance Abuse and Mental Health Services Administration, Aug. 20. Calleja is the project director/principal investigator of the 2015-2018 training and clinical practice project aimed at preparing primary and behavioral health professionals in the assessment and treatment of addiction. The project will include four of UDM's clinics: Counseling, Dentistry, McAuley Health and Psychology as well as faculty from each of the sponsoring programs including Associate Dean of Graduate Nursing Janet Baiardi, Assistant Professor of Counseling and Addiction Studies Dan Duryea, Professor of Nursing Carla Groh, Associate Professor of the Physician Assistant program Sharon Moser, Associate Professor of Psychology Cheryl Munday, Clinical Assistant Professor of Patient Management E.J. Newness, Associate Professor of Counseling and Addiction Studies Sheri Pickover and Clinical Assistant Professor of Patient Management Elizabeth Rodems.
Professor of Law Lawrence Dubin was mentioned in the MLive article, "Read all the 'deeply offensive' text messages that prompted Ann Arbor judge to resign," Aug. 17.
Assistant Professor of Education Nancy Gibney taught a free community class on early literacy reading strategies for new mothers at Pregnancy Aid Inc. The mothers who attended the event also received new infant board books from RX for Reading Detroit.
Assistant Professor of Performing Arts Gregory Grobis presented his paper, "The Power to Instigate Change through Theatre and a Terrible, Horrible, Very Bad Day," at the Association of Theatre in Higher Education conference in Montreal, Quebec Canada, July 31.
College of Engineering & Science Dean Gary Kuleck was recognized in the August issue of the AJCU newsletter, as part of the group of AJCU Engineering deans who penned a U.S. News & World Report Op-Ed on Pope Francis and Climate Change.
Professor of History Gregory Sumner is scheduled to discuss his new book on Detroit in World War II at the Michigan Military Technical & Historical Museum and was highlighted in the C&G Newspapers article, "Guest speakers and media sale coming to museum," Aug. 15.
Associate Professor of Chemistry & Biochemistry Prasad Venugopal was a panelist at a Hiroshima commemoration event at St. John's Episcopal Church in Royal Oak, Aug. 6. He spoke on "The Agreement to Keep Iran from Acquiring a Nuclear Bomb." He was also invited by the Oakland County Campaign for Liberty to speak on the same topic at its monthly meeting, Aug. 19.