University website update
University of Detroit Mercy's new, mobile responsive website is scheduled to launch on Tuesday, Feb. 28.
The web redevelopment team is currently in the final testing stage of the new site, and requests that all colleagues "pause" in making content changes to their current web pages during these next two weeks, unless absolutely essential. This will allow the web redevelopment team to focus on the transition to the new site, and ensure changes are not missed as we move from old to new. Thank you for your cooperation during this period.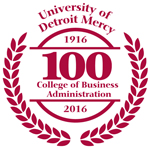 Celebrate CBA Centennial and basketball
In recognizing the College of Business Administration's Centennial, the College will sponsor the Detroit Mercy Titan's Men's Basketball game on Sunday, Feb. 19 at 2 p.m. in Calihan Hall. Come cheer on the Titans as they take on Valparaiso. CBA will honor student-athletes from the College's 100 years during halftime. See the Centennial page for more information.
Interfaith Dinner celebrates religious diversity
Detroit Mercy vs. OU Donor Challenge
Thank you to everyone who participated in the second annual Donor Challenge between Detroit Mercy and Oakland University. After some close battling, OU pulled ahead and forced Tommy to wear a Grizzly jersey, tallying 626 donations to our 470. Detroit Mercy Titans will be sure to bring the heat next year and reclaim the title. Congratulations to the Financial Aid department for bringing in the most donations. See photos from the Alumni Chili Cook-off, Feb. 10.
Theatre Company presents: Bus Stop
The Theatre Company of University of Detroit Mercy presents William Inge's romantic American classic Bus Stop, Feb. 9-26. There will be 12 performances at The Marlene Boll Theatre at the Boll Family YMCA, 1401 Broadway Street, in downtown Detroit. Bus Stop follows a bus full of strangers who find themselves stranded at a roadside diner in Kansas City in the middle of a howling snowstorm.
Bus Stop will feature seven events associated with The Detroit Theatre Discussion Project (DTDP) that is supported by a grant from the Michigan Council for Arts and Cultural Affairs. DTDP features post-show discussions following Thursday and Sunday performances. Experts from Detroit Mercy and the community will speak and answer questions about topics related to the production. More information can be found on the Detroit Mercy news release and tickets can be ordered online at www.TheTheatreCo.com or www.udmarts.com.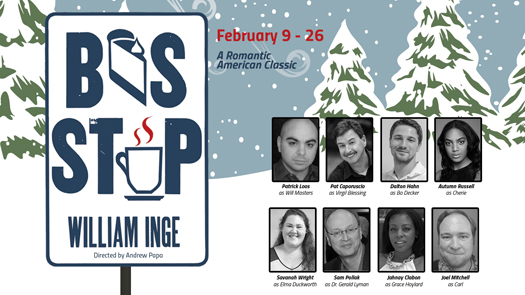 Detroit in World War II book discussion, Feb. 16
Professor of History Greg Sumner will host a discussion on his book, Detroit in World War II, on Thursday, Feb. 16 from 6:30 to 8:30 p.m. at The War Memorial, 32 Lake Shore Drive in Grosse Pointe Farms. See the event page for more information and to register.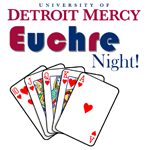 Euchre and game night, Feb. 19
Join University alumni, faculty, staff and students for a euchre tournament and game night on Sunday, Feb. 19 at 4 p.m. The entry is $25 with refreshments included. All proceeds benefit the Campus Kitchen Project at Detroit Mercy. Register online.
"In Our Own Voice:" National Alliance on Mental Illness talk, Feb. 21
All members of the Detroit Mercy community are welcome to attend the "In Our Own Voice" presentation on Tuesday, Feb. 21 from 7 to 8:30 p.m. in Room 114 of the Chemistry Building.
In Our Own Voice (IOOV) is a unique public education program developed by NAMI (National Alliance on Mental Illness), in which two trained speakers share compelling personal stories about living with mental illness and achieving recovery. The speakers take their audience on a journey discussing their dark days, acceptance, treatment, coping skills and successes, hopes and dreams. This event is supported by a Mission Micro Grant. See the event page for more information.
Paczki Palooza, Feb. 23
Service and Immersion trip participants sponsored by University Ministry will once again sell paczki to raise money for their upcoming experiences on Thursday, Feb. 23, also known as Fat Thursday, the traditional paczki day in Poland. Pre-order your paczki today and return the form either in person to University Ministry or by email to finsteba@udmercy.edu by Monday, Feb. 20. Individual paczek will be available for sale on Fat Thursday in the McNichols Library, Shiple Hall Lobby and the University Ministry Office.
Day of Giving: Time, Talent & Treasure
The Student Alumni Association (SAA) will host the Day of Giving event on Tuesday, Feb. 21 in the McNichols Campus Library Lobby. Day of Giving will focus on educating students about the importance and need for alumni engagement and the role alumni play in meeting University priorities. As a part of this initiative, SAA hosted a student video contest with a grand prize of $500. The submitted videos are now in and open for voting. Cast your vote for the best video before Monday, Feb. 20.
CBA and Beta Alpha Psi host income tax assistance clinic
College of Business Administration and the Alpha Xi chapter of Beta Alpha Psi in conjunction with the Accounting Aid Society will provide free income tax assistance for Detroit-area residents and Detroit Mercy students. Trained student volunteers will assist individuals on Feb. 4, 18, 25, March 18, 25 and April 1. The clinic will be open each Saturday from 9 a.m. to 1 p.m., located in Room 10 of the Commerce & Finance Building on the McNichols Campus. See the news release for more information.
Submit proposal for Fall Colleague Development Days
The 2017 Fall Colleague Development Days call for proposals is now open. This year's Fall Colleague Development Days will be held on Wednesday, Aug. 17 and Thursday, Aug. 18. Faculty and staff are invited to submit program proposals that provide new thinking and engage fellow faculty and staff in interactive activities, approximately 60-75 minutes long. Proposals must be submitted online by 8:30 a.m. on Monday, March 20. Final notification of proposals accepted for Colleague Development Days will be sent to all by Thursday, April 20. For more information, contact Dean of the Career Education Center Sheryl Johnson-Roulhac at careerlink@udmercy.edu.
Detroit Mercy alumni in the U.S. House and Senate
Fun fact for the Jesuit educated: Ten percent of the members of the 115th U.S. Congress, now in session, are graduates of Jesuit colleges and universities. Of the 56 Jesuit institution alumni, two are from University of Detroit Mercy. See the Detroit Mercy blog post for more information.
Thumbs Up!
Associate Professor of Law Khaled Beydoun's article, "America, Islam, and constitutionalism: Muslim American poverty and the mounting police state," was published in the Cambridge University Press Journal of Law & Religion.
Clinical Associate Professor of Biomedical & Diagnostic Sciences Sanjay Chand and Professor of Biomedical & Diagnostic Sciences James Geist will present at the annual meeting of the Michigan Dental Association in Grand Rapids, April 26-29, each with two speaking engagements. Chand will present, "Diabetes: The Disease, Drugs, and the Dental Patient" and "Infection Control and Infectious Diseases in Dentistry." Geist will present, "Oral Pathology of Hard and Soft Tissues" and "Cone Beam Computed Tomography."
Detroit Mercy Dental Assistant Dean of Student Services & Enrollment Management Juliette Daniels and Assistant Professor of Biology Steven Chang will present at the American College Personnel Association National Meeting at Ohio State University in March. Daniels and Chang will address the topic, "International Students and Academic/Behavioral Misconduct: Questions, Issues, Strategies." Daniels was also asked to serve on a panel for Graduate and Professional School Student Affairs Administrators.
Adjunct Professor of History Ken Grant presented the topic, "Reform and renewal in church history," at the meeting of the Indiana and Northern Illinois chapters of the Society for the Holy Trinity at St. Augustine's House, Feb. 6. Grant was also interviewed by the Grosse Pointe News regarding the "World Religions" series offered at St. James Lutheran Church.
Assistant Professor of Law and Director of the Immigration Law Clinic Alex Vernon was featured in the Detroit Legal News article, "Up to the challenge: Attorneys come to aid of those impacted by immigration ban," Feb. 9.