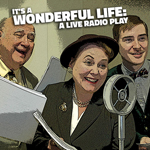 UDM Theatre presents It's a Wonderful Life: A Live Radio Play
UDM Theatre Company presents It's a Wonderful Life: A Live Radio Play, to be performed in the Grounds Coffeehaus on UDM's McNichols Campus on the following dates:
Friday, Dec. 5, at 8 p.m.
Saturday, Dec. 6, at 8 p.m. (An afterglow follows this performance.)
Sunday, Dec. 7, at 2 p.m. and 8 p.m.
Capturing the timeless magic of the classic film, Joe Landry's It's a Wonderful Life: A Live Radio Play invigorates the story with vibrant new color and excitement. For more information, please email theatre@udmercy.edu or visit the UDM Theatre Company page. To purchase tickets, click here.
Giving opportunities across campus
Make a difference and donate to one of the many giving opportunities on the McNichols Campus this holiday season.
The Homeless Veteran Coat Drive, sponsored by Veteran Students, is accepting new and used coats outside of the Student Life Office until Wednesday, Nov. 26.
The Alpha Phi Omega Coat Drive, benefiting St. Vincent de Paul, is also accepting coats outside of the Fountain Lounge in the Student Center until Wednesday, Nov. 26.
Gifts labeled on the giving tree in the Student Center Lobby, benefiting the Gesu Parish Ministry, can be dropped off in the Student Life Office until Friday, Dec. 5.
The Student Social Work Association (SSWA) is holding a campus-wide coat drive to benefit the homeless of Detroit through Friday, Dec. 5. Coats, sweaters, hats, gloves and other weather-appropriate items will be accepted in donation boxes marked "SSWA" across campus. Boxes can be found on the main floor of Jane & Walter O. Briggs Building, the Warren Loranger Architecture Building, Ford Life Sciences Building, McNichols Campus Library, Fisher Administration Center, and Shiple Hall.
Multiple canned food drives supporting Campus Kitchen at UDM and Gleaners throughout the holiday season are accepting donations at the Student Fitness Center, Dining Services Offices, Student Life Office, Jane & Walter O. Briggs Building Room 212, Calihan Hall, and Engineering Building.
Dental students save life
On Friday, Nov. 17, three School of Dentistry students rescued an unconscious man in his mid-60s, who crashed into a lamp post in the median at Martin Luther King Jr. Boulevard and the I-96 service drive. Dental students Horacio Falcon and Virgil Barbu as well as Orthodontist resident Susan Rizk called 911, deflected traffic, and performed CPR until paramedic assistance arrived. The man's identity and current condition are unknown. These students were in the right place at the right time, properly trained and prepared for medical emergencies, and have been commended for their services and quick response to the emergency.
Reflections on the UCA Jesuit Martyr tragedy
Also, author Joe Mulligan, S.J.'s lecture on the UCA tragedy is now available online.
Chemistry Club hosts Nitrogen Ping Pong event
University of Detroit Mercy's Chemistry Club will host a Nitrogen Ping Pong event on Friday, Dec. 5 at 2 p.m. in the Engineering Building High Bay.
Approximately 1,500 ping pong balls will be shot out of a trash can using liquid nitrogen. Students and faculty may purchase $2 cups from the Chemistry Club to place around the trash can prior to the event, winning money if their cup catches a ping pong ball. Half of the profits raised will be donated to Mittens for Detroit.
UDM Biggest Loser competition begins registration
UDM's Student Fitness Center will sponsor the third annual UDM Biggest Loser competition and registration is underway through Jan. 14. Register a team of four at the Student Fitness Center at $20 per person for the competition, which will run from Jan. 14 – Apr. 1.
Every month a single male and female competitor will take home a cash prize. A grand prize will be awarded to the overall winning team. For contest details, visit the Student Fitness Center site.
Video coverage of past UDM events available
For those unable to attend, video coverage of several events on UDM's McNichols Campus is now available to watch, including the following:
Livernois celebrates holiday season
To help promote businesses along Livernois, Shop Livernois, University Commons and the Avenue of Fashion are planning a Holiday Blast. "Home for the Holidays" activities will take place from Friday, Nov. 28 through Saturday, Dec. 23 during normal business hours on Livernois between 8 Mile and the Lodge Freeway. Throughout the holiday season all participating businesses will have free raffle tickets to pick up to win prizes. Santa Claus will also appear on Saturday, Dec. 20 from noon to 3 p.m. at Noni's Coney on Livernois.
Also of note, the Livernois Community Storefront has concluded its services with the space currently occupied by the bookstore, Pages on Livernois, while its permanent space on Livernois is under construction. The Storefront, which was developed by Detroit Collaborative Design Center staff and students, generated great energy on Livernois during the past two years. News about Livernois events is still available on the Storefront Facebook page.
UDM research newsletter now online
The Fall 2014 issue of the Research@UDM Newsletter is now online. This newsletter, published once per term, highlights both student and faculty research and grant activity. Take a look and see the great things your colleagues have accomplished.
Thumbs Up!
Professor of Marketing Mike Bernacchi comments on the millennials' influence on the holiday marketplace in the Detroit Free Press article, "Millennials shape the new holiday shopping experience," Nov. 23. Bernacchi also talks with "Save the Thanksgiving" activist Annie Zirkel on the holiday's significance in the Fox 2 Detroit video segment, "Let It Rip Weekend," Nov. 23.
Career Education Center Assistant Dean Elissa Clemons presented the topic, "Selling yourself: Interview strategies for the experienced international student," at Michigan's Global Future Conference, Nov. 21.
Professor of Law Lawrence Dubin comments on the Hazel Park same-sex marriage plea in The Detroit News article, "Michigan couple take gay marriage plea to high court," Nov. 17.
President Antoine M. Garibaldi comments on UDM's commuter status in The Detroit News article, "Advocates: Transit can fuel business in Metro Detroit," Nov. 18.
Clinical Associate Professor of Law David Koelsch mentions an entrepreneurial advantage to President Obama's recent temporary deportation relief plan in the Crain's Detroit Business article, "Experts: Parts of Obama immigration plan good for business; may fall short for tech workers," Nov. 23.
The new Chapel of the North American Martyrs for the Jesuit High School in Sacramento, Calif., was dedicated in September and highlighted in an article in the November issue of Architect, the magazine of the American Institute of Architects. Professor of Architecture Gilbert Sunghera, S.J., launched the chapel project in 2005 through the Detroit Collaborative Design Center and the UDM Liturgical Space Consulting Service. This included identifying project goals and budget, reviewing potential sites on campus and the initial design development and review. Although the architecture firm Hodgetts plus Fung, Los Angeles, oversaw final design and construction, the overall shape of the building did not change from earlier design.