Ceara O'Leary and panel to speak on community development

UDM School of Architecture welcomes Enterprise Rose Fellow Ceara O'Leary to speak on "Fellowships in Community Development" on Wednesday, Oct. 1, from 5:30-7:30 p.m. in the Genevieve Fisk Loranger Exhibition Center of the Warren Loranger Architecture Building on UDM's McNichols Campus. Following O'Leary's presentation will be a panel of additional speakers from several Detroit Fellowship Programs. For more information, see the event page.
CLASA speaker addresses domestic violence
Laura Finley, associate professor of Sociology & Criminology at Barry University, will speak on domestic violence and social service agency reformation from 5-6 p.m. on Thursday, Oct. 2 in the Chemistry Building Room 114. This event is co-sponsored by the James Carney Latin American Solidarity Archive (CLASA), UDM's Domestic Violence Committee and Gesu Peace and Justice Committee. For more information, see the event page.
Visit Day, Oct. 4
Visit Day, Saturday, Oct. 4 from 9 a.m. to noon, is an opportunity for high school juniors and seniors to spend time on UDM's McNichols Campus and learn what it is like to be a UDM student. Prospective students and their families will gather information on academic programs, scholarships, campus life and career services at UDM. To register for an upcoming Visit Day, please click here or call the Office of Admissions at 313-993-1047.
UDM Theatre Presents: The Best of Enemies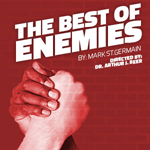 UDM Theatre Company presents The Best of Enemies, to be performed at the Marygrove Theatre on the following dates:
Friday, Oct. 3, from 8-11 p.m.
Saturday, Oct. 4, from 8-11 p.m.
Sunday, Oct. 5, from 2-4 p.m.
The Best of Enemies depicts how respect, understanding and trust can be delicately forged to resolve deep and bitter differences. For more information or to purchase tickets, please email theatre@udmercy.edu or visit the UDM Theatre Company page.
School of Architecture summer Volterra exhibit
UDM's School of Architecture invites all students, faculty, staff and alumni to attend the opening reception of the student work exhibition from the May - July 2014 Volterra (Italy) SOA Study Abroad Program on Monday, Oct. 6 at 5 p.m. in the Genevieve Fisk Loranger Exhibition Center of the Warren Loranger Architecture Building on UDM's McNichols Campus. During the reception, Associate Professor of History Sarah Stever will sign her book, Velio of Volterra: The Story of an Italian Master Alabaster Craftsman.
For 27 years, Stever taught the "History of Art" course in the Volterra program. Her book's subject is Velio Grandoli, an alabaster artisan, who taught alabaster sculpture to UDM students since the first Volterra program in 1987. The exhibit will also feature alabaster sculpture from artist Laura Shintani.
UDM alumnus speaks to Emerging Leaders Program
UDM alumnus John Kyees '74, former CFO of Urban Outfitters and board member of Vera Bradley, will speak during Emerging Leaders Program courses on Oct. 9 from 12:45-1:45 p.m. for undergraduate students and from 4-5 p.m. for graduate students in Room 209 of the Commerce & Finance Building on UDM's McNichols Campus. The talk provides an opportunity for an executive alumnus to speak with students on the topic of "Team Leadership." Both talks are open to all UDM students. See Kyees' bio here.
Jesuit Alumni & Friends of Detroit event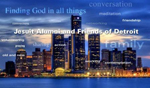 The Jesuit Alumni & Friends of Detroit group is hosting its first evening event on Thursday, Oct. 16 from 5:30–8:30 p.m. in the Atheneum Suite Hotel in Greektown, 1000 Brush St, Detroit. The guest speaker is Pat Conroy, S.J., a Jesuit of the Oregon Province of the Society of Jesus. Fr. Conroy is the 60th chaplain to the United States House of Representatives. Learn more and register by contacting jadf@eventbrite.com.
E&S holds annual Student Research Symposium
UDM's College of Engineering & Science (E&S) will present its 2nd annual Undergraduate & Graduate Student Research Symposium on Friday, Oct. 17 from 9:30 a.m. to noon in the Engineering Building High Bay on the McNichols Campus. The event offers an opportunity for people from UDM and surrounding communities to engage with students, faculty and alumni in discussions about research and careers in science, technology, engineering and mathematics.
More than 70 projects from engineering, biology, chemistry, math and more will be presented. The University community is invited to attend the event and celebrate the work and efforts of its talented students in research and design. Visit the event page to register.
UDM President attends discussions in Rome
President Antoine M. Garibaldi attended a series of discussions with a select group of Association of Jesuit Colleges and Universities (AJCU) presidents and the Congregation for Catholic Education in Rome, Italy, Sept 28-30. Some of the topics examined included how academic freedom shapes campus culture, how the governance structure of universities works as it relates to the local Church and how the Catholic and Jesuit mission and identity influence approach to campus issues. As part of the conference, the AJCU group attended Mass celebrated by Pope Francis. See the photo gallery here.
E&S partners with Seelio to advance students
University of Detroit's Mercy's College of Engineering & Science has partnered with Seelio, a student portfolio network to help students in the competitive job hunt. Seelio is an educational service and technology company that collaborates with colleges and universities like UDM to provide students with visually rich, online multimedia portfolios with which they can showcase their work, achievements and passions.
The site provides immediate access to projects and publications, demonstrates connections to collaborators and provides potential employers with a multi-dimensional look at student portfolios. These galleries enable UDM to show the world its leadership in developing prepared and successful students. See the press release for more.
Mercy Day tea party
Engineering ranked in 2015 U.S. News list
University of Detroit Mercy's Engineering program is ranked 104th in the 2015 U.S. News & World Report's Best Engineering Schools ranking list. The engineering list comprises of 140 schools ranked in this category.
UDM President on TV
UDM Chemistry Club magic show at Menlo Park ceremony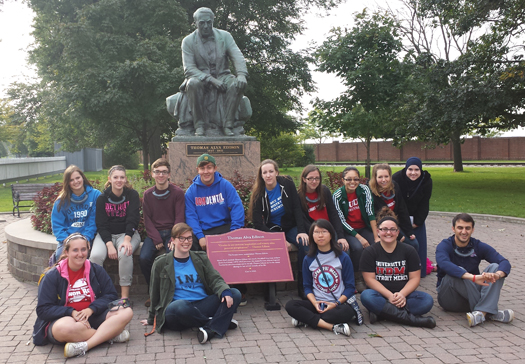 Thumbs Up!
Professor of Marketing Mike Bernacchi spoke about getting the most out of holiday shopping with Murray Feldman on WJBK FOX 2, Sept. 22. Bernacchi also discussed the effects on ad slots and sponsorship after recent NFL controversies in The Detroit News article, "Automakers stand by NFL despite abuse scandal," Sept. 24.
Associate Professor of English Mary-Catherine Harrison's essay review, "Economics and Ethics in the Victorian Novel," was published in Studies in the Novel (Volume 46, Number 3, Fall 2014).
Assistant Professor of Political Science Genevieve Meyers has published the book chapter, "Decentralization in Uganda: Towards Democratic Local Governance or Political Expediency?," in the book, Challenges to Democratic Governance in Developing Countries.
Assistant Professor of Counseling Victoria Sepulveda and Assistant Professor of Old Dominion University Jeffry Moe's article, "Beyond competence: Fostering LGBTQQI ally development through supervision," has been accepted for publication in the Journal of LGBT Issues in Counseling.