UDM partners with Beijing University of Chemical Technology
Provost and Vice President for Academic Affairs Pamela Zarkowski and Dean of the College of Liberal Arts & Education Mark Denham visited the Beijing University of Chemical Technology (BUCT) in Beijing, China in January. In looking to solidify and develop the mutually beneficial relationship with BUCT, Zarkowski and Denham met with BUCT Vice President Dongsheng Chen as well as approximately 70 students, who have enrolled in the BUCT Robotics program to complete their degree at UDM in Fall 2017.
This agreement will likely include students in the Computer & Information Systems and Mechanical Engineering programs in the future. Zarkowski also signed an agreement to explore the idea of expanding our cooperative program to law students as well.
President Garibaldi to speak at U of M
UDM President Antoine M. Garibaldi will speak on Thursday, Feb. 26 at 4 p.m. at the University of Michigan Ann Arbor Campus for the School of Education's Symposium Series on Race and Social Justice in Education. His topic will be "Increasing racial and gender diversity in American higher education." This event is open to the public and all are welcome to attend.
University Chorus sings for Black History Month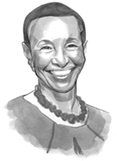 SOA welcomes legal scholar Reese Fayde
UDM's School of Architecture (SOA) welcomes Reese Fayde, principal of Reese Fayde & Associates, to speak on Wednesday, Feb. 25 from 5:30 to 7:30 p.m. in the Genevieve Fisk Loranger Exhibition Center of the Warren Loranger Architecture Building on UDM's McNichols Campus. As part of the SOA's 2014-15 Lecture Series, Fayde will present her history of service in the non-profit sector to rebuild, revitalize and manage affordable housing in older urban neighborhoods. See the event page for more.
Philanthropy Awareness Day, Feb. 26
University Advancement, in collaboration with the Student Alumni Association (SAA), will host UDM Philanthropy Awareness Day on Thursday, Feb. 26. Free hot chocolate and "thank you letter" writing booths will be in the Loft Dining Room and the McNichols Campus Library from 11:30 a.m. to 2 p.m. on UDM's McNichols Campus. UDM's Riverfront and Corktown campuses will each host their own Philanthropy Awareness Day in March.
UDM faculty and staff who made a gift in fiscal year 2014 will proudly wear a pin showing their donor status. In fiscal year 2014, 7,414 alumni and friends donated more than $5 million dollars in support of current UDM students. Thank you!
MCA recognizes UDM student of the day
The Michigan Colleges Alliance (MCA) launched a collective marketing campaign, "We are the Independents," designed to increase awareness of independent higher education options in Michigan. The campaign dispels myths about private education and helps promote the 15 MCA institutions, including UDM.
UDM student Melissa Guerra will be recognized as Student of the Day on Thursday, Feb. 26 and will be featured on the front page of the campaign's website.
Campus Kitchen at UDM competition
Campus Kitchen at UDM is competing against other Campus Kitchens around the country to see who can raise the most money by Friday, Feb. 27. In November and December 2014 alone, Campus Kitchen at UDM donated 644 pounds of food to the hungry in the Detroit community. Help support the program by donating online.
UDM Economic Symposium at Macomb University Center
The 2015 UDM Economic Symposium will take place on Saturday, Feb. 28 from 9 a.m. to noon at the Macomb University Center, 44575 Garfield Road in Clinton Township. Addressing Michigan's economy, the program theme is "The State of the Union." See the Symposium page for more information. RSVP by Thursday, Feb. 26 to Donna Gormley, transfer admissions counselor at Macomb University Center, at 586-263-6232 or gormeldm@udmercy.edu.

UDM Law to hold annual McElroy Lecture
UDM School of Law will present a lecture by legal scholar Nelson Tebbe of Brooklyn and Cornell Law Schools on Wednesday, March 4 at 5 p.m. in Room 226 of the Riverfront Campus in Detroit. As part of UDM Law's annual McElroy Lecture Series on Law and Religion, Tebbe's topic will focus on "Religion and social coherentism: A progressive theory of religious freedom." The lecture is complimentary and open to the public. See the event page for more information.
Calihan Hall hosts Horizon League Championship first-round
The Detroit Titans Men's Basketball team, which earned a fifth seed in the 2015 Horizon League Championship, will host the first-round game on Tuesday, March 3 at 7 p.m. in Calihan Hall on UDM's McNichols Campus. This game is not included in the season ticket package, and all general admission tickets will be $5. To purchase tickets, call the Detroit Titans Ticket Office at 313-993-1700 or order online.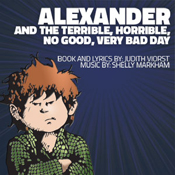 UDM Theatre announces upcoming production and grant
UDM Theatre Company presents Alexander and the Terrible, Horrible, No Good, Very Bad Day, to be performed in the Grounds Coffeehaus on UDM's McNichols Campus on the following dates:
Friday, March 20, at 7 p.m.
Saturday, March 21, at 10:30 a.m., 1:30 p.m. and 5 p.m. (An afterglow follows this performance.)
Sunday, March 22, at 2 p.m.
Friday, March 27, at 7 p.m.
Saturday, March 28, at 10:30 a.m., 1:30 p.m. and 5 p.m.
Sunday, March 29, at 2 p.m.
Alexander and the Terrible, Horrible, No Good, Very Bad Day is a delightful musical adaptation of the popular children's book, which follows feisty Alexander and a series of unfortunate events that occur throughout his day. For more information, please email theatre@udmercy.edu or visit the UDM Theatre Company page. To purchase tickets, click here.
UDM Theatre Company has been awarded a grant of $11,250 in funding from the Michigan Council for Arts and Cultural Affairs (MCACA), which includes funds provided by the National Endowment for the Arts for the Alexander Project. Through the Alexander Project, a live production of Alexander and the Terrible, Horrible, No Good, Very Bad Day will travel at the end of March 2015 to perform free of charge at four local Detroit elementary schools where arts funding has been limited. UDM's Education department has also developed a curriculum packet for the schools' classrooms.
RX for Reading raises money for child literacy
RX for Reading Detroit, a literacy program started by Associate Professor of English Mary-Catherine Harrison six months ago, is aiming to raise $2,500 to purchase 1,000 new books for children in low-income families. They have currently raised $562. RX for Reading Detroit has set up libraries at a number of health and dental clinics serving low-income children, including UDM's McAuley Health Center, the Pediatric Dental clinic on UDM's Corktown Campus, Children's Health Center in Midtown and The Covenant Community Care Clinic on Moross in Detroit. Donate or learn more about the cause on the RX for Reading Detroit website.
Harrison will promote her program on CBS Radio's morning talk show with host Alisa Zee, broadcasting on channels WOMC, WYCD, 98.7 AMP, WXYT-AM 1270 and 97.1 The Ticket on Sunday, March 8. Harrison will highlight her campaign on 760 AM WJR's talk show with host Paul W. Smith, to broadcast at 7 p.m. on Friday, March 13. See media coverage for more.
ADA Foundation presents Community Leadership Award
The American Dental Association (ADA) Foundation presents UDM School of Dentistry and its TeamSmile program with the 2014 E. "Bud" Tarrson Dental School Student Community Leadership Awards. This award recognizes excellence in dental school student volunteer programs that provide services to underserved populations within the U.S. UDM School of Dentistry and six other dental schools have received this year's award.
Upcoming events on Livernois and in the community
Detroit SOUP is presenting its next proposal dinner on Thursday, Feb. 26 from 6 to 8:30 p.m. at Lola's on the Ave., 19150 Livernois in Detroit. Detroit SOUP is a microgrant food program celebrating and supporting creative projects in Detroit. Come support and help fund the next Livernois Corridor community project for only $5, which includes soup, salad and a vote on a proposal. All proceeds go to the winning proposal.
As part of the Freep Film Festival, the horror film "It Follows," partially filmed on UDM's McNichols Campus, will premiere for one week starting Friday, March 20 at Cinema Detroit, 3420 Cass Avenue in Detroit. See the Cinema Detroit page for show times and movie trailers.