Flint water response initiative on campus
Faculty, staff and students are encouraged to donate cases of water, water bottles, water filters, baby wipes, toothbrushes and disposable plates to one of the many collection stations across all three UDM campuses in an effort to assist residents of Flint, Mich. during the city's water crisis.
Currently, stations have been set up at Grounds Coffeehaus, Student Fitness Center, McNichols Campus Library, Calihan Hall, Shiple Hall, Residence Life Office, The Loft and Admissions Office on 1st floor of the Fisher Administration Center on UDM's McNichols Campus. Donations can also be sent to the main offices of the Corktown and Riverfront campuses. Collections will continue through Friday, Feb. 26. For more information, contact Assistant Director of Student Life Drew Peters at 313-993-1593 or petersas@udmercy.edu.
Homecoming 2016: Are you ready for this weekend?
Join thousands of Detroit Titans basketball fans for Homecoming 2016 on Saturday, Feb. 13! Cheer on the women's basketball team as they take on Valparaiso at noon in Calihan Hall. Faculty, staff and alumni can register today online for the Homecoming Tailgate in the Student Fitness Center at 1 p.m., featuring the Alumni Chili Cook-off. Registration includes access to Tailgate, a ballot for the Alumni Chili Cook-off, a ticket to the women's basketball game and a ticket to the men's basketball game against Milwaukee at 3 p.m. in Calihan Hall.
Following the men's basketball game, a Mass will be held at 6 p.m. in the St. Ignatius Chapel in the Commerce & Finance Building. The Office of Student Life will also host a Homecoming Casino Night for students on Wednesday, Feb. 10 from 7 to 9 p.m. in the Student Center Fountain Lounge.

UDM offers campus visits for high school students
Faculty and staff who know high school students considering attending University of Detroit Mercy are encouraged to promote the upcoming President's Day visit of UDM's McNichols Campus on Monday, Feb. 15 at 8 a.m. See the Visit Campus website for more information or call 800-635-5020.
If a student cannot attend the event, incoming freshman tours are also available on the following days and times:
Mondays and Thursdays (excluding holidays) at 9:30 a.m. and 2:30 p.m.
Fridays at 9:30 a.m.
Transfer student tours are available on the following days and times:
Tuesdays at 10 a.m. and 2 p.m.
Wednesday and Thursday tours at 10 a.m.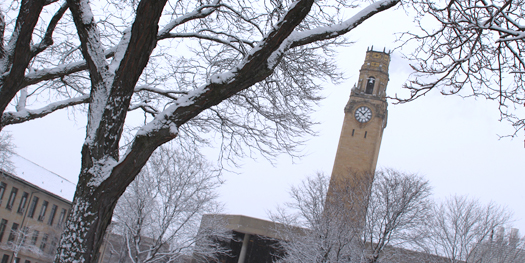 Reflecting on the Lenten Season
To begin the Lenten Season at UDM, faculty, staff and students can receive ashes on Tuesday, Feb. 9 at midnight in Shiple Hall's Young Martyrs Chapel. Ashes will also be available on Ash Wednesday, Feb. 10 in the University Ministry Office, at the noon and 4:30 p.m. Masses in the St. Ignatius Chapel and at the 9 p.m. Mass in the Young Martyrs Chapel.
Enjoy a fish fry and tour of a Detroit historical church each Friday during Lent. Register to participate in a Friday Fish Fry on the University Ministry website or call 313-993-1560. Students will pay $2 and faculty will pay $5 per event.
University Ministry will host a "Stations in the D" event on Friday, March 18 from 5 to 7 p.m., taking a group through a modern Stations of the Cross trip around the city of Detroit, returning to the McNichols Campus for a Fish Fry at 7 p.m. All participants are encouraged to pay what you can for this event. Register on the University Ministry website or call 313-993-1560.
John Staudenmaier, S.J. also presents several online sessions of the Spiritual Exercises of St. Ignatius Loyola to reflect on during Holy Week. The four audio talks explore present day applications of the Spiritual Exercises in daily life to deepen our relationship with God.
Students analyze ads at Super Bowl Ad Nauseum
Black History Month guest speaker: Martha Jones
In observance of Black History Month, UDM will host speaker Martha Jones, distinguished Arthur F. Thurnau professor and University of Michigan professor of history and Afro-American & African Studies, on Thursday, Feb. 11 from 5:30 to 7 p.m. in the President's Dining Room on UDM's McNichols Campus. Jones will present the lecture, "Birthright Citizenship: A History of Race and Rights in Antebellum America." For more information on upcoming UDM Black History Month events, see the special events page. For information on other Black History Month stories, videos, reflections and prayers, see the Jesuit Resource website.

JAFD speaker reflects on comedy and the Gospels
In a light-hearted but meaningful talk, Michael Tueth, S.J., points out patterns of comedy in the Gospels, the joy of the Christian vision, and comedic ideas you might use in prayer at the Jesuit Alumni and Friends of Detroit (JAFD) gathering, Feb. 4 at the Detroit Athletic Club. See video coverage of the event.
NetWalking in the Student Fitness Center
NetWalking, an opportunity for faculty, staff and administrators to exercise while networking with fellow co-workers on an indoor track, will be held every Tuesday and Friday at 1 p.m. this semester in the Student Fitness Center. Look for the ‪NetWalking ‬leader in a red‬ shirt. All first-time participants receive a free pedometer. Come make some connections and get a good workout!
Chinese New Year and Bonfire, Feb. 12
Celebrate the Chinese New Year with food, games, gifts and music on Friday, Feb. 12 from 5 to 7 p.m. in the Student Center Ballroom. Head downstairs to the Fountain Area outside the Student Center from 7 to 10 p.m. and enjoy the rescheduled OU Bonfire, rallying Titan spirit for the upcoming Metro Series basketball games. Both events are free and open to all faculty, staff, students and alumni. The Ballroom will remain open until the conclusion of the bonfire to view the event from upstairs.
Valedictorian selection process
Faculty and staff are encouraged to nominate a student who will have the honor and responsibility of delivering the Valedictorian address to fellow 2015-16 graduates. While the tradition of valedictorians called for academic excellence (a minimum of a 3.70 GPA) and instructional involvement, the role also calls for a graduate who has a meaningful message prepared for delivery. Applications are due no later than Monday, Feb. 29. For more information or to begin a Valedictorian candidate nomination form, see the Student Life Office website.
Send a Valentine's Day message
The Student Alumni Association will sell orange "Crush" grams for Valentine's Day outside the Titan Dining Room on Thursday, Feb. 11 and Friday, Feb. 12 from 12:30 to 2 p.m. Faculty, staff and students can send a message of care and love to someone with a special note and delivery on campus for $1 per gram, or 3 for $2. Valentine's Day grams can also be purchased on the 4th floor of the Fisher Administration Center.
Thumbs Up!
Professor of Business Administration Michael Bernacchi commented on Shell's Powering Progress Together Conference in The Guardian article, "Corporate America's Detroit love affair," Feb. 4.
Associate Professor of Education and Deputy Mayor of Detroit Isaiah McKinnon and Professor of Criminal Justice Michael Witkowski (longtime UDM professor who passed away January 1, 2015) wrote a chapter in the book, El Sistema: Music For Social Change, a collection of inspirational essays published in January 2016 by Omnibus Press.