September 27, 2005

Founders Week
Founders Week continues with two major events:
On Thursday, Sept. 29, UDM's Academic Symposium will present the Honorable Henry Cisneros, former Secretary of the Department of Housing and Urban Development, speaking on "The Role of the University and Community Development" at 4 p.m. in Life Sciences Building, Room 113. Following his presentation, a panel discussion will offer additional perspectives on the topic.
On Friday, Sept. 30, the University will host the Founders Gala at 6 p.m. in the GM Wintergarden in the Renaissance Center.
The evening will include the presentation of alumni awards to James J. Padilla '69, '70 and William C. Young, '64. For more information regarding these events, please visit the Founders week website or call University Advancement at 993-1540.
Our Town opens, Sept. 30


UDM's Theatre Company opens its 2005-2006 season on Friday, Sept. 30 with "Our Town" by Thornton Wilder. The play will run for three weekends at the Marygrove Theatre. For ticket information, visit The Theatre Company web site or contact the Theatre Department at 313-993-3270.
McNichols Faculty Assembly elects officers
At its initial meeting on Sept. 20, the Faculty/Administration Shared Governance's McNichols Faculty Assembly elected the following officers:
President, Carol Weisfeld
Vice President, Prasad Venugopal
Secretary/Treasurer, Mary Higby
Parliamentarian, Gregory Sumner
Communications Officer, Michael Barry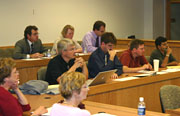 During its trial year, the Assembly, which represents faculty in all of the schools/colleges of the University except for Law and Dentistry, will establish liaisons with, or oversee, faculty-administration teams established by the Shared Governance Task Force. The teams will guide the University in matters ranging from budget, strategic planning, as well as in areas of previous faculty responsibility, such as curriculum, standards, and the tenure and promotion of faculty.
For a complete list of faculty representatives, visit McNichols Faculty Assembly.
Business community to gather at Mass for Commerce
The 12th Annual Mass for Commerce will be held Wednesday, Oct. 19, 8 a.m. at Sacred Heart Major Seminary Chapel in Detroit. A breakfast follows mass at the Cathedral. The event celebrates Detroit business, professional and spiritual life with Detroit's Catholic community. For more information, call 313-883-8764 or visit the web site.
Affirmative Action to be discussed
A discussion on "The Future of Affirmative Action: A Dialogue," will be held Thursday, Oct. 13, 7-8:30 p.m. in the Don Ridler Field House, Lawrence Technological University. Frank H. Wu, dean, Wayne State University Law School and Ward Connerly, businessman and regent, University of California, will present their perspectives on the topic. The talk provides an informative context, given the proposed amendment, "The Civil Rights Initiative," to the Michigan Constitution. To RSVP for the free, public event, call 248-204-2203.
Volunteer for Super Makeover, Oct. 22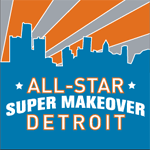 Help prepare for Super Bowl XL by volunteering for the Super Makeover, Oct. 22. The Super Makeover brings together thousands of metro Detroit residents to work on beautification projects in downtown Detroit and key destination points in the region. More than 1,000 volunteers are needed to pick up garbage, clear debris, paint, weed, and complete other necessary preparations for February's big event. To register, visit http://www.theworldiscoming.com/supermakeover.html or call 313-313-1999.
[sic] seeks submissions
UDM's student arts journal, [sic], is looking for student submissions for its 2005-2006 issue. Students may submit poems, short stories, personal essays, academic essays, photographs and digital graphics to English Professor Rosemary Weatherston at weatherr@udmercy.edu by Friday, Oct. 28. For additional information, call 313-993-1083.

Thumbs Up!
Roy E. Finkenbine, professor, History, presented the paper, "Compensation..Should Be Given to the Outraged and Guiltless Slaves: Reparations Thoughts in Antebellum American Abolitionism," at the Society for Historians of the Early American Republic annual meeting in Philadelphia, in July.
Isaiah McKinnon, associate professor, Education and Vietnam veteran, was the keynote speaker at the National Prisoner of War/Missing in Action ceremony, Sept. 16. McKinnon was also elected to the Board of Directors of the March of Dimes and the University of Detroit Jesuit Cub Club.