August 23, 2005

President's Convocation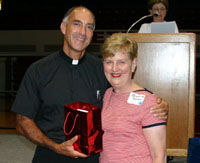 More than 300 faculty, staff and administrators attended the President's Convocation, August 19 in Calihan Hall. UDM President Gerard L. Stockhausen, S.J., reflected on his vision for the University to "grow in size, presence and fulfillment of UDM's mission and vision statements." Fr. Stockhausen emphasized such strong indicators as enrollment increases, neighborhood partnerships, and new academic endeavors that will enable UDM to achieve this vision. The University has also developed a five-year financial plan that assumes modest growth, and in the coming months, the Board of Trustees will determine capital projects for the McNichols Campus as well as the Dental and Law Schools.
Fr. Stockhausen sees "a bright future for the University," with a number of important initiatives ahead, including shared governance, North Central Accreditation, NCAA recertification and a strategic plan for the University. "There is no magic wand," says Fr. Stockhausen, "but working together we will see a huge transformation of this University over the next five years." Following Convocation, participants enjoyed a picnic lunch and recreational activities.
Photo: Part of Convocation also honored recently retired University employees. Pictured here are Fr. Stockhausen and Caroline Roulier.

UDM in Top Tier again
For the fifth consecutive year, University of Detroit Mercy ranks in the top tier of Midwestern Master's Universities in the 2006 edition of the U.S.News and World Report's "America's Best Colleges." The University is the top ranking Michigan university in that category. UDM is also rated number five in the Midwestern Master's category for the institution's strong "Campus Diversity."
Welcoming the new academic year


Celebrate Spirit, the official welcome to the new school year for UDM faculty, staff and students, will take place Thursday, September 15 at 11:30 a.m. in Calihan Hall. The celebration will include a dynamic multimedia presentation by UDM's Digital Media Studies students and Mass of the Holy Spirit, followed by a picnic lunch and Student Organizations Fair near the fountain. For more information, visit the Celebrate Spirit web site.
Founders Week, September 25-30
The University will sponsor many activities during Founders Week, September 25-30, beginning with the rededication of the renovated St. Ignatius Chapel and concluding with the annual Gala on Friday, September 30. For more information, including a schedule of events, visit the Founders Week web site.
Sisters of Mercy discuss being a woman in today's church
The Sisters of Mercy will sponsor, "What is a Sister," on August 25 from 6:30-8:30 p.m. at the House of Mercy, 17204 Oak Drive. This informative session will answer your questions about being a religious woman in today's church. Refreshments will be served. To RSVP, call 313-340-1162.
Thumbs Up!
Cheryl C. Munday, associate professor of Psychology, presented, "A Literary View of Attachment in Middle Childhood," at the workshop, "Philip Pullman's The Golden Compass: Coming of Age in a Fractured World," at the American Psychiatric Association's 158th Annual Meeting in Atlanta, May 21-26.
The following Dental School faculty members were awarded promotion and/or tenure effective July 1, 2004:
Judith Luxmore, assistant professor of Periodontology and Dental Hygiene, has been promoted to clinical associate professor.
Joel Grand, assistant professor of Patient Management, has been promoted to associate professor.
Mary Parise, assistant professor of Patient Management, has been promoted to associate professor.
Melanie McCarthy, assistant professor of Pediatric Dentistry, has been promoted to associate professor.