Homecoming Weekend 2016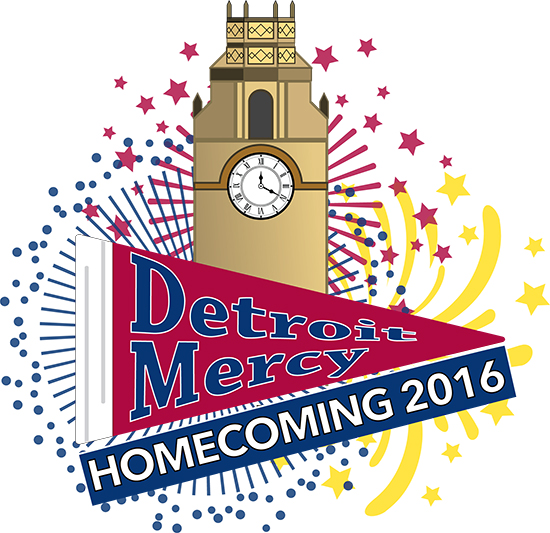 FRIDAY, Sept. 30
Join our Colleges and Schools as they host activities designed to entertain, inform and inspire. This is a great day to visit faculty, meet current students and reunite with other alumni. All the Colleges and Schools come together in the evening for an all-campus Homecoming Barbecue.
School of Dentistry, Continuing Education Program
College of Liberal Arts & Education & University Libraries, Ask the Professor
College of Engineering & Science, CASEE Lab Dedication & Ribbon Cutting
School of Architecture, Reception and Innovation Talk
School of Law, Golf Outing & Dinner
Campus-wide BBQ
SATURDAY, Oct. 1
Relive the spirit of Detroit during this day of fun, festivities and fellowship. There is something for everybody from our 5K run to our Detroit Street Fair, athletic activities, family fun center and a vow renewal Mass. Bring your family and friends and come back home to Detroit Mercy.
5K and Fun Run/Walk: Detroit Decade Dash
Detroit Mercy Scavenger Hunt
Detroit Street Fair
Fun Center
Alumni Basketball Game
CBA Financial Market Demonstrations
Engineering and Chemistry Buildings Open Houses
Architecture Building Open House
Library, Pictorial Display of University's History
St. Francis-style Tug-of-War and Party
Titans Women's Soccer Game
Vow Renewal Mass and Reception
Detroit Mercy Night at Comerica Park, Sept. 13
Join University of Detroit Mercy for a night of food, fun and Tigers baseball on Tuesday, Sept. 13. A tailgate at the Detroit Athletic Club precedes the game and includes a picnic dinner and one complimentary drink ticket. The first 500 people to purchase tickets will receive a Detroit Mercy/Detroit Tigers baseball cap. For more information and to register online, visit community.udmercy.edu/Comerica.

Detroit Mercy Summer Camps
The Design Thinking Camp, a two-week commuter camp from July 25 through Aug. 5, starts each day with a calisthenics for your mind, a team-based creativity exercise. Student will learn to innovate everyday products and processes in an immersive, hands-on experience. For faculty/staff, cost is $50.
For more information or to register, please visit our Summer Camp website or contact Pre-College Program Director Pamela Rhoades Todd at 313-993-3374 or toddpa@udmercy.edu.
See pictures from this year's Science Technology Engineering Preview Summer (STEPS) camp for girls on campus now through July 22.
Challenge Detroit Fellowship continues to succeed
Recently, the School of Architecture has shared some major highlights regarding its participation in the Challenge Detroit Fellowship program.
Seven percent of this year's fellowship classe comes from SOA, including Adam Coppersmith, Miranda Dufresne (last years Vive Ex Missione Award recipient), and Julia Kowalski. Kowalski also currently works with the SOA Detroit Collaborative Design Center. 2014 Valedictorian Elizabeth Grabowski was invited to return for a 2nd Year as one of only four Challenge Detroit Senior Fellows.
UDMSOD provides dental care
Students from the School of Dentistry Clinic hosted a sealant program event for children in need of dental services at the New Breed Community Development Corporation's temporary office location, June 20. A similar clinic will take place on Monday, Aug. 1 at Cornerstone schools with the Titans for Teeth Mobile Clinic. See media coverage from WXYZ Action News 7, WXON TV 20 and Detroit Mercy news release for more information.
Various faculty members performed oral screenings at Special Olympics Special Smiles (SOSS) during the Michigan Special Olympics Summer Games on June 3-4 at Central Michigan University. The Alpha Omega Chapter at Detroit Mercy Dental has participated in the Summer Games and other similar events in the past. As a school, UDMSOD has taken participation a step further to develop an official partnership with SOSS.
St. Ignatius of Loyola Feast Day, July 31

Sunday, July 31, is the feast day of St. Ignatius of Loyola, who founded the religious order of the Society of Jesus in 1540. There will be a noon Mass on Friday, July 29 in the Commerce & Finance Building's St. Ignatius Chapel. Light refreshments will be served following the Mass in Sacred Heart Square, between the McNichols Campus Library and the Jane & Walter O. Briggs Building. Everyone is welcome to attend!
For more information about St. Ignatius, see his biography page.
Get in the swing: Titan Golf Outing, Aug. 1
Calling all golfers! Registration is now open for the annual Titan Golf Outing on Monday, Aug. 1, at Fox Hills Golf & Banquet Center in Plymouth, Mich. The $140 registration fee includes a continental breakfast, lunch, four drink tickets and a buffet dinner. Those looking to only attend the dinner can do so at a cost of just $35. Visit the Detroit Titans website for more information and to register.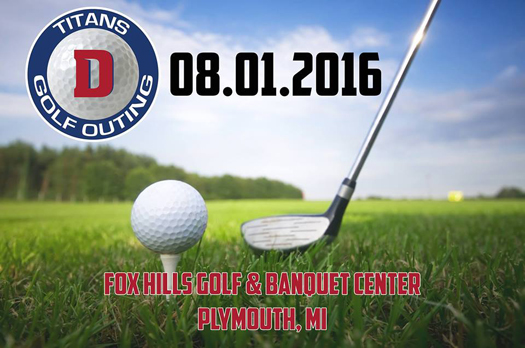 Colleague & Academic Advisor Training & Development Days
Join fellow colleagues from all three campuses for the 6th Annual Fall Colleague & Academic Advisor Training & Development Days on Wednesday, Aug. 17 and Thursday, Aug. 18 on the McNichols Campus. The expanded event offers 36 sessions that will assist in educating faculty, administrators and staff on a variety of topics. Six of the sessions are specifically focused on the training and development of Detroit Mercy Undergraduate and Transfer Academic Advisors.
The opening plenary session, scheduled for Wednesday, Aug. 17 will engage the University community in a dialogue about the five criteria in the Detroit Mercy Assurance Argument report, in preparation for the upcoming Higher Learning Commission (HLC) visit. Session descriptions and online registration are available online. Online Registration will close on Wednesday, Aug. 10 at 5 p.m.
For more information, please contact Colleague & Academic Advisor Training/Development Days Event Coordinator Sheryl Johnson-Roulhac at 313-993-1017 or sheryl.johnson-roulhac@udmercy.edu.
Titans host another successful basketball camp
President's Convocation, Aug. 16
Faculty, administrators and staff are also encouraged to attend the annual President's Convocation activities Tuesday, Aug. 16 at 8:30 a.m. on the McNichols Campus. The Convocation is a chance for Detroit Mercy colleagues to come together in preparation for the new academic year. The day will begin at 8:30 a.m. with Mass in the St. Ignatius Chapel in the Commerce & Finance Building followed by a continental breakfast at 9 a.m. in the lobby of the Student Center Ballroom. The Convocation program will begin at 9:45 a.m. in the Student Center Ballroom.
Following the program, attendees are invited to enjoy a picnic and games, including softball and volleyball, around Buysse Ballpark, west of the Briggs Building. There will also be indoor games in the Library. Come out for a great day at Detroit Mercy!
New neighborhood development
The City of Detroit turns development efforts towards the neighborhood surrounding the University. The initiative is called the Fitzgerald Revitalization Project, aimed at the rehabilitation of vacant and dilapidated parcels in northwest Detroit neighborhoods. See the Crain's Detroit Business, BLAC Detroit and eGlobalTravelMedia articles online for more information.
Thumbs Up!
Professor of Chemistry & Biochemistry Mark Benvenuto presented a seminar entitled, "Large scale industrial chemical processes," at the International Hazardous Materials Response Teams Conference in Baltimore, Md.
Professor of Business Administration Michael Bernacchi was quoted in The Detroit News article, "Downtown burger scene set to sizzle," June 27.
Associate Professor of Law Khaled Beydoun wrote an opinion piece for Al Jazeera titled, "Structural racism in the US won't diminish with time," July 11.
Professor of Business Administration Gerald Cavanagh, S.J., presented the topic, "Pope Francis and the United Nations: Planet Partners," at the Global Compact for Sustainable Development Conference at the University of Notre Dame.
College of Business Administration Center for Social Entrepreneurship Director Phil Cooke, S.J., spoke at a vigil in Detroit in honor of the lives lost at Mother Emanuel AME in Charleston, S.C., and was mentioned in the Episcopal News Service article, June 14.
Professor of Mathematics, Computer Science & Software Engineering Kevin Daimi received the Best Paper Award by the International Academy, Research and Industry Associations for his paper titled, "Securing vehicle ECUs update over the air." The award was presented during AICT 2016, the Twelfth Advanced International Conference on Telecommunications in Valencia, Spain, May 22-26.
Professor of Law Lawrence Dubin was quoted in The Detroit News article, "Prosecutor delay on Sanford Report draws questions," June 20. Dubin was also mentioned in The Detroit News article, "Sanford Case in limbo as murder charges not yet dropped," June 24. Dubin was featured in The Detroit News article, "Detroit police arrest four for threats against cops," July 11.
College of Business Administration Dean Joseph Eisenhauer discussed job opportunities for MBA graduates in the Crain's Detroit Business article, "Millennial adjustment: Colleges devise new ways to attract, launch a new generation," June 5.
Professor of History Roy E. Finkenbine published a History News Network op-ed entitled, "Latest Hollywood trend?: Underground railroad chic," July 3.
University of Detroit Mercy President Antoine M. Garibaldi spoke on the Detroit Public Schools in the 101.9 FM WDET interview, "The uncanny, unsettling similarities between DPS and 1980's New Orleans schools," June 14. President Garibaldi was also featured in the annual Kresge Foundation report regarding the Live6 Alliance.
Associate Professor of Education and Deputy Mayor of Detroit Isaiah McKinnon spoke on "Detroit resilience," to Lieutenant Governors from throughout the United States and the Virgin Islands at the Amway Grand Hotel in Grand Rapids, July 6.
Associate Professor of Health Services & Health Services Administration Maia Platt has been selected to serve on the Association of University Programs in Health Administration/Health Administration Press (AUPHA/HAP) Editorial Board for Graduate Studies. Platt's term will run through March 2019.
College of Engineering & Science Associate Dean Katherine Snyder and Professor of Chemistry & Biochemistry Robert Ross published the paper, "Gender effects in physics assessments of kinematic graphs," in the Proceedings of the American Society for Engineering Education's 123rd Annual Conference and Exposition in New Orleans, LA, June 26-29. Ross was also awarded the Distinguished Educator and Service Award for 2016 from the Engineering Physics and Physics Division of ASEE.
An excerpt from Associate Professor of Communication Studies Tom Stanton's book Terror in the City of Champions, was featured in the Detroit Free Press on June 18 and July 3. Stanton's book was ranked #16 on the New York Times' just-released Sports and Fitness Bestsellers List for July. Stanton was also mentioned for his work in the Voice New article, "KISH: Former Voice owner pens compelling true story about Detroit," June 17. Stanton visited the Petoskey bookstore McLean & Eakin and was highlighted in the News Review article, July 1.