Mercy Day, Sept. 24
Wednesday, Sept. 24, is Mercy Day and UDM recognizes what "mercy" means to its students, faculty and alumni. The McNichols Campus Library will display comments throughout this week. Share your thoughts by completing this form. Also, on Wednesday, a tea party will be held in honor of Sisters of Mercy foundress Catherine McAuley from 1-3 p.m. in the lobby of the McNichols Campus Library.
SOA welcomes alumnus Michael Ford and Hip Hop Inspired Architecture
UDM School of Architecture (SOA) welcomes Michael Ford '06 of Flad Architects to speak this Wednesday, Sept. 24 from 5–7:30 p.m. in the Genevieve Fisk Loranger Exhibition Center of the Warren Loranger Architecture Building on the McNichols Campus. Ford will speak on "Hip Hop Inspired Architecture," exploring the development of hip-hop in post-industrial America. Ford's lecture is part of the Detroit Design Festival events happening this week. Both the Hip Hop Inspired Architecture and The Alley Project (TAP) Gallery of Southwest Detroit exhibits will be on display in the Warren Loranger Architecture Building this week, Sept. 22-26, from 9 a.m. to 6 p.m. For more information, see the event page.
Detroit Design Festival's Light Up Livernois
The Livernois Community Storefront will host the Light Up Livernois event, part of the Detroit Design Festival (DDF), on Livernois Ave. north of UDM's McNichols Campus on Sunday, Sept. 28 from noon to 9 p.m. Livernois Ave. will feature a block party of events and installations showcasing Detroit's cutting–edge design with the rest of the world. UDM's School of Architecture will have an exhibit in the Livernois Community Storefront and Adjunct Faculty of English Ann Eskridge's group, Extra Mile Playwrights, will have a community script reading. Click for more information.
The Detroit Design Festival is North America's festival of independent design. With over 500 designers, 25,000 attendees and 30 Design Happenings, DDF celebrate Detroit's role as a global center of design and creativity.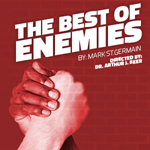 UDM Theatre Presents: The Best of Enemies
UDM Theatre Company presents The Best of Enemies, a Michigan premiere production written by Mark St. Germain. Performances will be at the Marygrove Theatre on the following dates:
Friday, Sept. 26, from 8-11 p.m.
Saturday, Sept. 27, from 8-11 p.m. (An afterglow follows this performance.)
Sunday, Sept. 28, from 2-4 p.m. (A show discussion follows the performance.)
Friday, Oct. 3, from 8-11 p.m.
Saturday, Oct. 4, from 8-11 p.m.
Sunday, Oct. 5, from 2-4 p.m.
The Best of Enemies depicts how respect, understanding and trust can be delicately forged to resolve deep and bitter differences. For more information or to purchase tickets, please email theatre@udmercy.edu or visit the UDM Theatre Company page.
UDM ranked in 2015 College Choice standings
University of Detroit Mercy is ranked 14th in the 2015 College Choice Ranking of Regional Universities (Midwest region). This list is based on factors college freshmen said were most important to their collegiate decision, including academic reputation, financial aid offerings, overall cost and success of graduates in the post-college job market. See the full ranking list here.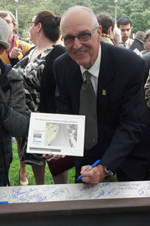 M-1 Rail kicks off project
Special Consultant to the College of Engineering & Science Leo Hanifin celebrated with Michigan politicians and business leaders during the official kick-off and press conference of the M-1 Rail project on Monday, Sept. 15. At the preliminary breakfast, M-1 Board Chairman Roger Penske and CEO Matt Cullen publicly recognized UDM and Hanifin for developing the plan used to raise funds and start the design and development process seven years ago.
The planning team included five other UDM faculty members:
Professor of Civil, Architectural & Environmental Engineering Alan Hoback
Adjunct Instructor of Mathematics & Computer Science Scott Anderson
Professor of Architecture Steve Vogel
Former Associate Professor of Architecture Julie Kim
Associate Professor of Architecture Wladek Fuchs
Groundbreaking occurs for Livernois Streetscape
Jesuit priest discusses El Salvador martyrs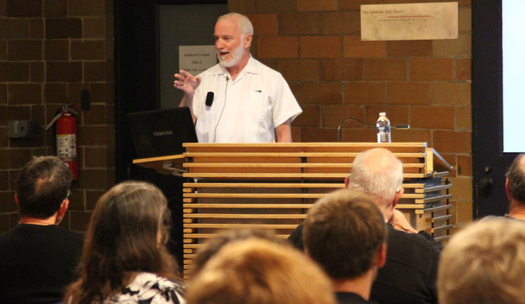 During the Sept. 22 lecture, author Joe Mulligan, S.J., spoke on the eight martyrs who were killed at the University of Central America in 1989 and their historic significance.
Thumbs Up!
Professor of Marketing Mike Bernacchi shared his thoughts on what shapes and motivates millennials in the September edition of Chrysler's internal video series, Insider Outlook – Marketing to Millennials.
Professor of Law Lawrence Dubin evaluates possible claims for GM recall victims in the article, "Number Of Deaths Related To GM Ignition Switches Rises," Sept. 15.
Professor of Civil, Architectural & Environmental Engineering Utpal Dutta was quoted in the Detroit News article, "As road worries surface with flooding, group pushes Mich. legislators for funds," Aug. 14.
On Friday, Sept. 19, UDM President Antoine M. Garibaldi spoke at the Senior Men's Club of Birmingham, Mich. on the "Strength and Vitality of University of Detroit Mercy and Michigan's Private Universities." Approximately 150 people attended the event. Also, tune in to Michigan Matters on CBS Channel 62 on Sunday, Sept. 28 at 11:30 a.m. for Dr. Garibaldi's conversation with host Carol Cain.
Associate Professor of Communication Studies Jason Roche and his documentary Stealing Home were mentioned in the Rolling Stones article, "Keepers of the Corner: The Navin Field Grounds Crew," Sept. 17.
Adjunct Professor of Economics Harry Veryser's interview, "The Tragedy of Detroit: 'It Didn't Have to Be This Way,'" has received newfound attention on ten blog posts recently in response to the bankruptcy proceedings of Detroit.