UDM President on TV
UDM President Antoine M. Garibaldi, Ph.D., was the featured guest on the WXYZ-TV Channel 7's Spotlight on the News, hosted by Chuck Stokes, the station's Editorial/Public Affairs director, Aug. 24. The half-hour show focused on University of Detroit Mercy's academic quality and students, special programs and community outreach, how UDM is working with civic and community leaders on rebuilding the city and its neighborhoods, and our institution's future. Click here to watch the full interview.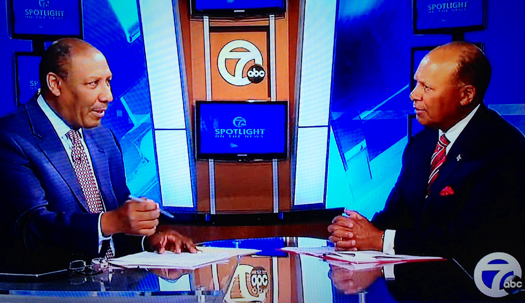 Upcoming Welcome Week events
The Student Life Office welcomes all faculty, staff and students back to UDM for an exciting new school year! Welcome Week events include:
UCLA Department of Public Health Chair to speak at UDM
To kick-off this year's UDM School of Architecture Lecture Series, the School of Architecture in collaboration with the College of Health Professions, will present UCLA Department of Public Health Chair, Dr. Richard Jackson to speak on Tuesday, Sept. 9 at 1 p.m. in the Warren Loranger Building on the McNichols Campus. Jackson is a national expert on the relationship between public health and our physical environment. He will also speak as part of an AIA seminar held at Lawrence Tech University that evening.
2014 Celebrate Spirit: Save the date!
Faculty, staff and students are invited to attend the UDM community's official welcome to the school year at Celebrate Spirit! on Thursday, Sept. 11 from 11:30 a.m. - 1:30 p.m. at Calihan Hall on UDM's McNichols Campus. For more details on the event, visit the event page.
UDCA presents University District Home and Garden Tour
The University District Community Association (UDCA) will host its annual home and garden tour Sunday, Sept. 14 from 11 a.m. - 5 p.m. with the tour beginning at Gesu Church, 17139 Oak Street in Detroit. Tickets will be $15 if purchased in advance, and $18 at the door. UDM students receive a discounted rate of $10 each. Volunteers are also requested on that Saturday for set up and Sunday for the tour. To volunteer, contact Nora Gessert at 734-395-1693 or email her at noragessert@yahoo.com. Visit the UDCA website to learn more about the event and upcoming University District news.
UDM Student Fitness Center sets fall term hours
The UDM Student Fitness Center hours of operations are:
Monday-Friday from 7 a.m. – 10 p.m.
Saturday from 1 p.m. – 7 p.m.
Sunday from 1:30 p.m. – 9 p.m.
The Student Fitness Center now offers "Tommy's Loyalty Program" (buy 10 smoothies, get one free) and Friday Happy Hours with 50 percent off all smoothies on Fridays from noon to 6 p.m.
UDM Theatre Company announces 2014-2015 schedule
The UDM Theatre Company proudly announces its 44th season. Performances for each production will run for two consecutive weekends, Friday and Saturday at 8 p.m. and Sunday at 2 p.m., on the following dates:
The Best of Enemies - Michigan Premiere performed at Marygrove Theatre
Sept. 26, Sept. 27*, Sept. 28**
Oct. 3, Oct. 4, Oct. 5
It's a Wonderful Life: A Live Radio Play - performed at Marygrove Theatre
Nov. 7, Nov. 8*, Nov. 9**
Nov. 14, Nov. 15, Nov. 16
The Whale - Michigan Premiere performed at Marygrove Theatre
Feb. 6, Feb. 7*, Feb. 8**
Feb. 13, Feb. 14, Feb. 15
Alexander and the Terrible, Horrible, No Good, Very Bad Day - performed at Grounds Coffeehaus, UDM's McNichols Campus.
March 20, March 21*, March 22*
March 27, March 28, March 29
*Afterglow following performance **Show discussion following performance
See the press release for more information.
PTV inspires students and Detroit community
On Thursday, Aug. 21, faculty and student leaders volunteered to assist the freshman class with service projects as a part of UDM's Prologues, Transitions and Viewpoints (PTV). Volunteers included 300 first-year students, 50 student leaders, 22 faculty colleagues, totaling more than 1,000 hours of service at 16 different agencies.
One PTV group in particular showed creativity by repurposing old tires to form a cross at its cleanup site and planted it with flowers. Another group working in Palmer Park needed help in pulling out a rented bobcat tractor stuck deep in the mud. UDM Facility Operations staff and a Palmer Park resident responded to the call for assistance. These selfless acts, and the many more throughout the day, inspired both the UDM student volunteers and the community they worked with, to bring the community closer together.
Thumbs Up!
Associate Professor of Law Bret Boyce's article, "Sexuality and gender identity under the constitution of India," will be published in the University of Iowa School of Law's Journal of Gender.
Professor of Law Lawrence Dubin published the eBook, Trial Practice, Second Edition, through LexiNexis Electronic.
Professor of Nursing Carla Groh was featured as one of the "15 Top Psychiatric Nursing Professors," according to NursePractitionerSchools.com, Aug. 17.
Designer and Enterprise Rose Fellow at UDM's Detroit Collaborative Design Center Ceara O'Leary has been featured in the Architizer article, "9 Women Who Are Rocking Public Interest Design," Aug. 18. O'Leary has also been one of the leaders involved in the Livernois Work Group and its storefront activities.
Professor of Chemistry Shulamith Schlick presented her lecture, "Comparing ex situ and in situ degradation of sulfonated poly(ether ether ketone) (SPEEK) membranes," as part of the Division of Polymer Chemistry Symposium: "Polymer degradation, performance and ultimate stability," Aug. 14.
Professor of History Gregory Sumner has signed with The History Press for his new book, Forging Thunderbolts: Detroit and the Second World War, to be published in 2016.