This week on campus
Tuesday, March 13
Join the Michigan Opera Theatre for I, Too, Sing America: A Celebration of African-American Artists & Athletes from 5 to 7 p.m. in the Commerce & Finance Building's St. Ignatius Chapel. Through live music, poetry, narrative and video, this innovative performance highlights the stories and achievements of African-American artists and athletes who defied limitations and paved the way for integration in their fields. See the event page.
Alpha Sigma Nu, the honor society of Jesuit universities, will host a University-wide conversation and FREE dinner from 5 to 7 p.m. in the parlor of Lansing-Reilly Hall. Guest speakers will include Associate Professor of Architecture Gilbert Sunghera, S.J., and Director of the Institute for Leadership & Service Kathleen Zimmerman-Oster. This event is free and open to the public. All are welcome to attend.
The Arab Cultural Society and the Lebanese Student Association will host belly-dancing lessons with FREE food from 5 to 7 p.m. in the Student Union Fountain Lounge.
Students who participated in Alternative Spring Break will share stories at Ministry Night from 6 to 7:30 p.m. in Shiple Hall's Young Martyrs Chapel. FREE food will be provided.
Wednesday, March 14
Female Detroit Mercy students are encouraged to attend the American Association of University Women Work Smart workshop for a crash course in salary negotiation. This event will be held from 4 to 6 p.m. in the Presidents' Dining Room in the Student Union. AAUW Work Smart is designed for women who are already in the workforce at any career level and helps women negotiate for new jobs, raises or promotions. Pre-registration is required. See the event page for more information.
As part of its 2018 Winter Lecture Series, Detroit Mercy School of Architecture welcomes Emily Kutil of Black Bottom Street View from 5:30 to 7:30 p.m. in the Warren Loranger Architecture Building's Genevieve Fisk Loranger Architecture Center. This event includes a preview of an interactive exhibition of panoramic photographs from Detroit's historic Black Bottom neighborhood, which will be on display through Tuesday, March 20. This event is free and open to the public. See the SOA Lecture Series website for more events.
Thursday, March 15
The Institute for Leadership and Service's Emerging Leaders Program presents a leadership slam featuring Chief Financial Officer at MoneyGram International Larry Angelilli from 11:20 to 12:30 p.m. in Room 238 of the Commerce & Finance Building. Refreshments will be served. For more information, see the Emerging Leaders Program website.
The Student Social Work Association and the Social Work Department will hold the second annual Just Walk Campus Tournament and Digital Blackout event in the Student Fitness Center. This event features two-person walking teams comprised of faculty, staff and students competing for a prize while learning to disconnect from technology every once in a while. See the event page for registration details, prizes and more information.
Students: Stop by the annual Grad Salute from 11 a.m. to 6 p.m. in the Student Union Fountain Lounge. This event is a centralized resource fair for graduating students to learn more about Commencement and other graduation-related activities. See the event page for more information.
Students who participated in Alternative Spring Break will once again share stories at a lunch and learn during dead hour in Grounds Coffeehaus. FREE food will be provided.
Join the African and Caribbean Students Organization as they host An African Love Story, a short play, from 7 to 9 p.m. in the Student Union Ballroom. This evening will showcase music, dance and art from the African diaspora.
Friday, March 16
Students: Need help creating or updating your resume? A career development facilitator will be available from 1 to 1:45 p.m. in Room 103 of Reno Hall to provide tips on choosing proper resume formats, fonts and keywords to create a winning resume tailored to you.
The Center for Career & Professional Development will also host an interview preparation workshop from 1 to 1:45 p.m. in Room 143 of Reno Hall. This session will especially benefit students planning to attend this year's Spring Career Fair.
University Ministry will host the Stations in the D experience at Sweetest Heart of Mary Church,

4440 Russell Street, in Detroit. Meet at the University Ministry Office at 5:30 p.m. and carpool downtown for prayer and a fish fry. Call 313-993-1560 and RSVP

before Thursday, March 15.
Impact Movement Detroit will host its second Midwest Lock-In overnight from Friday March 16 at 7 p.m. through Saturday, March 17 at 8 a.m. Impact chapters are invited to join and enjoy food, dance, an open mic and networking activities. Register online.
Next week on campus
Tuesday, March 20
All are welcome to join a short discussion at University Ministry Night from 6 to 7:30 p.m. in the Young Martyr's Chapel in Shiple Hall. FREE homemade food and refreshments will be provided.
Wednesday, March 21
University Ministry will host Director of the Vatican Observatory Guy J. Consolmagno, S.J., to discuss "Where Faith and Science Meet" from 7 to 8:30 p.m. in the Student Union Ballroom. Come and learn how a life of faith and science are lived. Register online.
Thursday, March 22
Come have a FREE meal and casual discussion with fellow classmates at Soup & Substance from 12:15 to 1:15 p.m. in Lansing-Reilly Hall on the McNichols Campus.
The Detroit Mercy Titans for Life organization will host its 7th annual Baby Shower to benefit the Image of God pregnancy centers from 12:30 to 2 p.m. in the Student Union Fountain Lounge. Please join for food, games, prizes and supporting a great cause. See event page for more information.
Students: Be sure to dress appropriately and bring your resume to the Spring Career/Networking Fair from 12:30 to 3 p.m. in the Student Union Ballroom. The Career Fair is an excellent opportunity for students to network with employers and representatives from graduate and professional schools.
The Pre-PA Club will host a Cancer Awareness Day presentation featuring students from the Detroit Mercy Cancer Biology class during dead hour in Room 124 of the Health Professions Facility. Topics of discussion will include understanding cancer onset, learning about early detection methods and exploring current and experimental treatments.
Through a special project with the John Dingell Veterans Hospital in downtown Detroit, Detroit Mercy engineering and nursing students will demonstrate the prototype build of a powered platform lift called the Wheelchair Escalator from 1:30 to 4 p.m. in the Engineering Building's High Bay.
The Autism Alliance of Michigan will host the third of its four professional development sessions, educating attendees on autism and its effect on learning for students diagnosed with the condition. This session will focus on " Facilitation Skills for Productive Meetings," and run from 6 to 8 p.m. in Room 208 of the Student Union. See the event page for more information.
Sunday, March 25
University Honors Convocation is an annual event that celebrates the academic excellence and leadership of University of Detroit Mercy students. There will be a special Honors Convocation Mass at 1:30 p.m. in the Commerce & Finance Building's St. Ignatius Chapel. Students will be honored by their respective College/Schools; see the event page for specific times and locations.
New event system coming soon

Detroit Mercy Live is a multi-faceted online tool designed to help our students stay connected with campus life, powered by the Campus Labs system. Detroit Mercy Live will primarily serve students looking to get involved, and student organizations, as well as administrators willing to host events on campus. Detroit Mercy Live will be phased in over the next few months in preparation for a Fall 2018 implementation.
During Phase 1, McNichols Campus undergraduates will use the system to cast their ballots in Student Government Association Executive Elections beginning Tuesday, March 20. Students will receive email instructions with a link to Detroit Mercy Live shortly.
Currently, student organization leaders and faculty/staff event planners are building organizational profiles and adding to the system. University Services will soon transition to Detroit Mercy Live for all McNichols event requests. One-hour training sessions are scheduled for faculty, staff, and administrators who coordinate and host events. Register online.
Major crowdfunding success across the board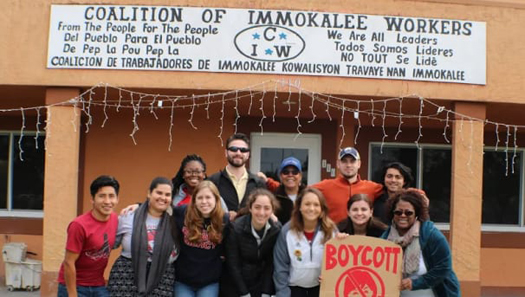 Five unique crowdfunding projects came to a close, running Feb. 5 through March 5, collectively raising more than $26,000. These projects include Student SAE Vehicle, John McLean Lecture, Concrete Canoe, Bio-Research Travel and Support Our Scholars. Additionally, the crowdfunding campaign for Alternative Spring Break, scheduled to end March 31, exceeded its goal during the month of February and raised more than $5,500 with 169 donors.
Campaign for Detroit Mercy making significant progress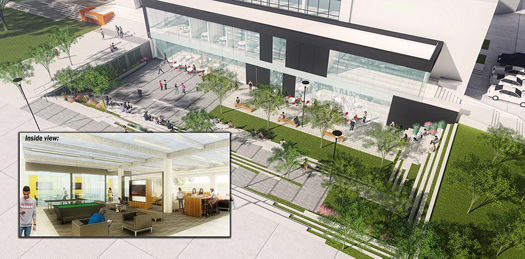 The Campaign for Detroit Mercy has made considerable progress toward the $100-million fundraising goal by 2019 and students are seeing the results in expanded programming, new learning spaces and enhanced opportunities in the classroom. Read more about the recent developments online.
Strategize the future vision for Detroit Mercy
Feeling inspired? The Shared Governance Strategic Planning Team is seeking bold and optimistic ideas to help shape Detroit Mercy's future. All ideas are welcome. Submit your thoughts online and be sure to sign up for a group visioning session; help our team better understand what the University should focus on moving toward our boundless future.
Law students win Regional Transactional LawMeet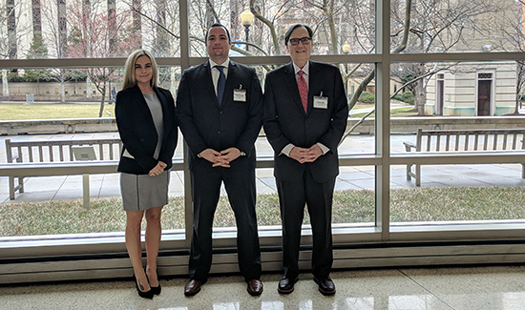 University of Detroit Mercy Law students Jessica Gnitt and Matthew Tapia took first place at the 2018 Regional Transactional LawMeet held in Washington, D.C., on Feb. 23. The Transactional LawMeet is the premier competition for law students interested in a transactional practice. Read the full story online.
Detroit Mercy hosts first rounds of NCAA
University of Detroit Mercy will serve as host for rounds 1 and 2 of the NCAA Division I Men's Basketball tournament on Friday, March 16 and Sunday, March 18 at Little Caesars Arena. Four years ago, the University submitted a competitive bid to serve as host in 2018 and beat out other institutions for this opportunity.
Fall Colleague Development Day Call for Proposals
Faculty and staff: Mark your calendars for the 8th Annual Fall Colleague Development Days, scheduled for Monday, Aug. 20 and Tuesday, Aug. 21. As a reminder, please submit your proposals online by Monday, March 19. The Planning Committee is inviting program proposals that provide new thinking and best practices, engage faculty, staff and administrators in discussion, and encourage dialogue before, during and after sessions. All faculty and staff are invited to submit proposals as a solo presenter or with a colleague.
Final notification of proposals accepted for Colleague Development Days will be sent via email by April 20. Questions about Colleague Days should be directed to Sheryl Johnson-Roulhac at careerlink@udmercy.edu.
Thumbs Up!
Detroit Mercy Dental Dean Mert Aksu and Provost and Vice President for Academic Affairs Pamela Zarkowski co-presented at the American College of Legal Medicine in Charleston, S.C. The topic of the presentation was Nuances in the Legal Aspects of Dental Advertising, based on an article published in the Journal of the American College of Dentists, Spring 2017.
Professor of Psychology Libby Balter Blume published the editorial, "Theorizing Families," in the Journal of Family Theory & Review and edited the special issue, "Family Theory: Past, Present, Future," to celebrate JFTR's Tenth Anniversary. The special issue is available for one year online.
Marketing & Communications Web Content Specialist Dave Pemberton presented his paper, "On Bended Knee: An analysis of the NFL's response to the national anthem protests," at the 2018 Michigan Academy of Science, Arts and Letters conference.
Professor of Architecture Dan Pitera was highlighted in the Tulane University news article, "Design, architecture and justice intersect," March 7. Pitera participated in a distinguished speaker series and discussed ways in which neighborhood design and development can act as a mechanism for social justice.
Professor of Philosophy Gail Presbey will be awarded the Pax Christi Michigan Purple Ribbon for Peace Award at the annual Pax Christi Michigan conference on Saturday, April 14 at Ss. Simon and Jude Catholic Church in Westland, Mich. The conference's theme is "People, Poverty, Planet: Our Prophetic Mission." See the honoree list online.