Martin Luther King, Jr. Week at Detroit Mercy
Live6 Alliance Speakeasy talk on Public Safety, Jan. 20
The Live6 Alliance will host its third installment of the speaker series Speakeasy on Friday, Jan. 20 from 6 to 8 p.m. at Detroit Sip, 7420 West McNichols Road. This edition will focus on public safety, an issue of great importance to the Live6 neighborhoods. The night will begin with a presentation, followed by a panel discussion of safety experts. See the event page for more information.
Alumni Chili Cook-off, Feb. 10
Get your tickets for the Alumni Chili Cook-off event on Friday, Feb. 10 from 5:30 to 7 p.m. Admission is $20 per person; children 10 and under are free. Admission includes food, beverages and giveaways as well as family-friendly activities including a photo booth, face painters and yard games. Participants will also have admission to the men's basketball game against Oakland University following the cook-off at 7 p.m. Check out this year's chili chefs and RSVP online!
Detroit Mercy Titan Athletics will also host a reunion luncheon, honoring the 1976-77 men's basketball team and the return of Detroit Titan legend Dick Vitale, from 3 to 5 p.m. in the Student Center Ballroom. See the news release for more information and to RSVP.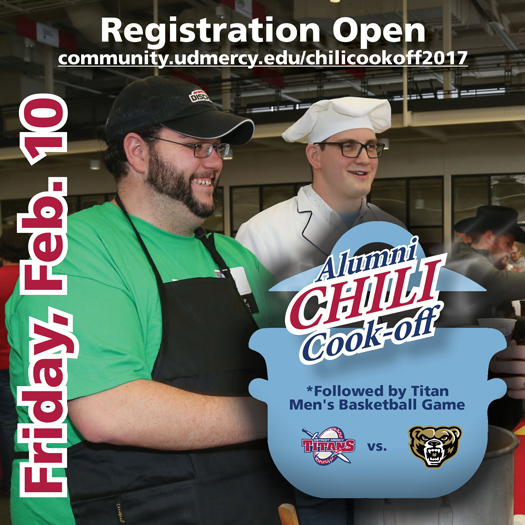 Men's basketball upsets OU
Congratulations to the Detroit Mercy Titans Men's Basketball Team after a great #MetroSeries win against Oakland University's Golden Grizzlies, Jan. 13. See photos, videos and fan reactions on Detroit Mercy Titans Facebook, Twitter and Instagram as well as the following media coverage:
Men's Basketball Players Jaleel Hogan and Corey Allen were also named Jan. 16 Horizon League Men's Basketball Player of the Week and Freshman of the Week, respectively. See the Horizon League's website article for more information.
The second annual Donor Challenge between Detroit Mercy and Oakland University will run from Monday, Feb. 6 through Friday, Feb. 10. Results will be announced at the Men's Basketball game at Calihan Hall. The losing school's mascot will have to wear the jersey of the winning school. #Dontwearthebear
U.S. Senator visits campus
Updated Mission and Vision Statements
As part of the University's new brand and identity campaign, updated print versions with the new logo of Detroit Mercy's Mission and Vision Statements are available. Please contact Marketing & Public Affairs at 313-993-1254 for a copy.
Thumbs Up!
Professor of History Roy E. Finkenbine gave the talk, "Selma Revisited" on Martin Luther King, Jr. Day at the Baldwin Library in Birmingham, Mich.
Associate Professor of Communication Studies Tom Stanton's latest nonfiction book, Terror in the City of Champions, has been named a 2017 Michigan Notable Book by the state library and was featured in the Detroit Free Press article, Jan. 7.