Red Mass, Sept. 29
The UDM School of Law hosted its 103rd annual Red Mass, Sept. 29 at Saints Peter and Paul Jesuit Church adjacent to the School in downtown Detroit. UDM's Red Mass is an occasion for judges, lawyers and officials of all faiths to pray together for guidance at the beginning of the new judicial term and join in the Renewal of the Lawyer's Oath of Commitment. The celebrant of the Mass was the Most Reverend George V. Murry, S.J., Ph.D., Bishop of the Diocese of Youngstown, Ohio.
This year's Lawyer's Oath of Commitment was led by the Honorable Patrick J. Duggan '58 of the U.S. District Court for the Eastern District of Michigan. Judge Duggan was introduced by his grandson, Michael Edward Duggan Jr. '13, and joined by his son, Detroit Mayor Mike Duggan, and family. See the news release for more information.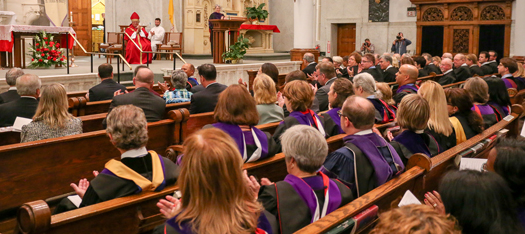 Mercy Day, Sept. 24
UDM School of Dentistry hosts bike tour
The UDM School of Dentistry will host a bike ride through Detroit's Corktown and surrounding neighborhoods on Tuesday, Sept. 29 at 6 p.m. Riders will meet in the Patient Parking Lot of UDM's Corktown Campus. This event is free, open to the public and bikes will be provided. Metropolis Bikes will provide support for the evening. For more information, contact Personal Counselor and Wellness Coordinator for Dental Student Affairs Julie Hamilton at hamiltja@udmercy.edu.
CLAE Minor Fair, Sept. 30
UDM's College of Liberal Arts & Education (CLAE) will host the CLAE Minor Fair on Wednesday, Sept. 30 from 11 a.m. to 2 p.m. outside of the Jane & Walter O. Briggs Building on the McNichols Campus. It's a great chance for undergraduate students to discover minor programs available to them.
Visit Day, Sept. 26
Engineering & Science Research Symposium, Oct. 16
The UDM College of Engineering & Science will host its Student Research Symposium on Friday, Oct. 16 from 8:30 a.m. to 12:30 p.m. in Engineering Building's High Bay. The Symposium will highlight the research done by undergraduate and graduate students in the College. For more information, visit the Annual Student Research Symposium web page.

UDM Theatre presents The Whale
UDM Theatre Company will open its 45th season this weekend, Oct. 2-5, with Samuel D. Hunter's The Whale, a new artistic partnership with The Ringwald Theatre in Ferndale, Mich. The Whale is a powerfully emotional production filled with humor, honesty and touching glimpses of human frailty. Order tickets online and see the Theatre Company website for dates and times of the season's productions.
Upcoming CLASA events
The James Carney Latin American Solidarity Archive (CLASA) presents several events over this week:
two discussions featuring Joe Mulligan, S.J., on Wednesday, Sept. 30 in Room 324 of the McNichols Campus Library. The first discussion will begin at 10 a.m. on the subject, "Pope Francis' Visit to the Americas," followed by an 11 a.m. discussion on the subject, "The Beatification of Archbishop Oscar Romero of El Salvador." Both talks are free and open to the public. This event is sponsored by the James Carney Latin American Solidarity Archive and co-sponsored by Gesu Peace and Justice Committee. See Download the flyer (PDF) for more information on the event.
a discussion on the film, Resistancia: The Fight for the Aguan Valley, with documentarian Jesse Freeston on Wednesday, Sept. 30 from 7 to 10 p.m. in Room 317 of the Jane & Walter O. Briggs Building on the McNichols Campus. See event page for more information.
Jorge Parra, finalist for the Kalamazoo College Arcus Center's 2015 Global Prize for Transformative Social Justice Leadership and solidarity activist Paige Shell-Spurling, on Thursday, Oct. 1 at 10 a.m. in Commerce & Finance Building Room 228 on UDM's McNichols Campus. The two speakers will discuss the struggle for workers' rights in Colombia and their participation in the Arcus Center prize competition.
See event flyers and stay updated on future CLASA events online.
School of Architecture reflects on summer in Italy
UDM School of Architecture (SOA) faculty and students who participated in last summer's study abroad program at the Volterra International Residential College in Volterra, Italy, have shared their experiences on the SOA Volterra program website.
Associate Professor of Architecture Wladek Fuchs also shared a reflection on the 10-day, three-part International Design Workshop organized jointly by UDM SOA and the Volterra-Detroit Foundation. In addition to the UDM host team, students and faculty from three other academic institutions participated in the workshop, lecture series and design challenge: University of Illinois at Urbana–Champaign, Warsaw University of Technology in Poland and University of Pisa in Italy. This year's theme of the workshop was "Society and Technology: Water, Food, Waste and Energy."
There will be an exhibit of Volterra student work on display this week in the Warren Loranger Architecture Building on UDM's McNichols Campus. For more information, see www.udmercy.edu/volterra.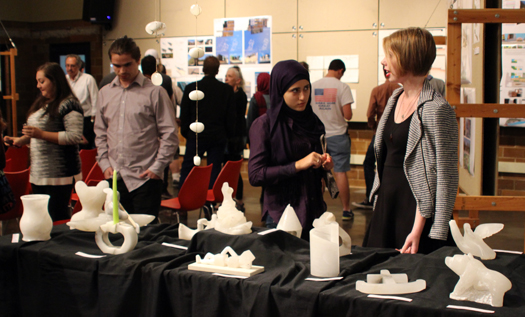 UDM at Macomb University Center Open House, Oct. 15
UDM programs will be promoted at the Macomb University Center Open House on Thursday, Oct. 15 from 4:30 to 7 p.m. on Macomb Community College's Center Campus, 44575 Garfield Road in Clinton Township. Representatives from UDM will be available to answer questions about UDM programs offered at the Center, transfer programs and financial aid information. See Macomb Community College website for more information. Register online today!
Manresa Jesuit Retreat House Concert Series
The Manresa Jesuit Retreat House invites faculty, staff and students to the first of four concerts in its 2015-16 series, "Go for Baroque," featuring the University of Michigan Baroque Chamber Orchestra. The event begins on Sunday, Oct. 4 at 3 p.m. at the Manresa Jesuit Retreat House, 1390 Quarton Road in Bloomfield Hills. There will be an afterglow following the performance. Tickets are $18 in advance and $20 at the door. For more information or to order tickets, visit the Manresa Jesuit Retreat House website or call 248-644-4933 (ext. 10).
Thumbs Up!
UDM President Antoine M. Garibaldi was listed as one of the 100 most connected people in metro Detroit and highlighted in the Crain's Detroit Business article, "Crain's Most Connected."