McNichols Campus Library hosts Detroit historical art exhibit
The McNichols Campus Library will host the art exhibit, "A History of Detroit's Visual Arts Scene," from July 11 through Aug. 29 with hours on Mondays through Thursdays from 9 a.m. to 6 p.m. and Fridays from 9 a.m. to 5 p.m. Limited to painting, drawing and sculpture made or shown in Detroit proper, the installation will include original art from Detroit area artists both past and present as well as articles from local papers.
UDM volunteers to help with Arise Detroit! Neighborhoods Day
UDM students and staff will assist Meijer in adopting Bagley Elementary School for a renovation and beautification project this Saturday, Aug. 2, in coordination with the eighth annual Arise Detroit! Neighborhoods Day. UDM is among many schools, community groups, organizations and businesses that are scheduled to participate in over 200 activities, including planting gardens, building and demolishing houses and organizing health fairs, concerts and various art projects. If you are interested in volunteering on Saturday from 9 a.m. - 2 p.m., contact Wendy Nix at nixwe@udmercy.edu or call her at: 313-578-0386.
Attend August activities on Livernois
Several summertime activities are scheduled at the Livernois Community Storefront at 19410 Livernois, Detroit throughout the month of August. Jazz on the Ave/Customer Appreciation Day on Saturday, Aug. 2 from noon to 9 p.m., features a homemade marketplace with local crafts for sale. 
The Livernois Community Storefront will also host Fitness Day on the Ave on Saturday, Aug. 9 from noon to 4 p.m., with health and wellness vendors. As part of the 3rd Thursday event, Aug. 21 from 4 p.m. to 9 p.m. the space will host a James Brown Dance Party featuring hustle lessons and a costume contest. Every day until Aug. 28, D:Hive is holding their BUILD class in the space on Thursday afternoons. For more information on future events, please visit the Facebook page.
UDM alumnus and treasurer of Detroit to teach fall graduate class
Alumnus John Naglick '78, '83, returns to University of Detroit Mercy this fall to teach "Accounting During a Cash Crisis" to graduate students in the MBA program and Business Turnaround Management certificate program. Crediting Professor of Business Administration Gerald Cavanagh, S.J. for teaching him the importance of maintaining ethical standards in difficult situations, Naglick currently serves as finance director and interim treasurer to Detroit and is a certified public accountant.
St. Ignatius Loyola feast day celebration
This Thursday, July 31, is the feast day of St. Ignatius Loyola. To celebrate the occasion, Loyola Press has initiated the campaign, Find Your Inner Iggy! This series follows "Iggy" through key moments from his life and invites us to share our own spirituality some 500 years later. Share your moments on Facebook, Instagram, Vine, or Twitter using the hashtag #FindIggy and be rewarded with enlightenment, peace, and free gifts!
UDM Law Service Days wrap up
UDM School of Law staff and students volunteered at several community service events this summer, coordinated by the Community Service Committee in the spirit of UDM's Mission and Vision. On May 13, 14 volunteers worked alongside members of the State of Michigan's Department of Natural Resources to repaint a large pavilion at the Belle Isle Conservatory. The committee held its second service day at Arts & Scraps Warehouse in Detroit on June 12, packaging and preparing art project packs for more than 15,000 Detroit children.
With the recent rededication and reopening of the Ss. Peter and Paul Warming Center in early July, School of Law Dean Phyllis Crocker led administrators, staff and faculty to prepare lunches for 70 Warming Center guests.
After lunch preparation, Crocker also presented the Warming Center with 20 laundry baskets of donated items including 1,500 trial size bars of soap, 150 razors, 144 pairs of socks, 180 tubes of toothpaste, 78 rolls of toilet paper, 68 toothbrushes, over 1,000 pieces of plastic cutlery, detergent to do over 500 loads of laundry, 150 garbage bags, over 10 pounds of sugar, 8 large cans of coffee and 40 other personal care items. This combined effort of dedication and selfless generosity helped fully stock the Warming Center shelves.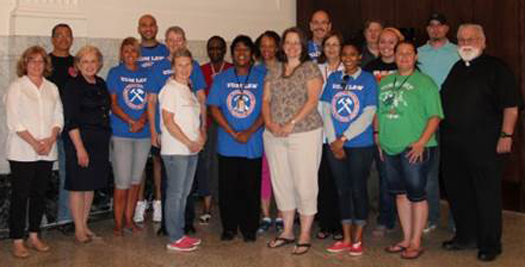 UDM Law service group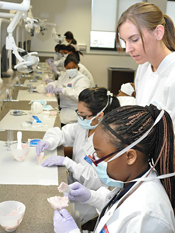 2014 Dental Imprint Program successfully concludes
Approximately 200 local middle and high school students completed the Dental Imprint Program this year. Coordinated by the School of Dentistry's Office of Multicultural Affairs, the program is designed to expose young students to careers in the field of dentistry. According to Clinical Professor of Dentistry Deirdre Young, since its inception in 2010 over 800 Detroit area students have participated. Students highlighted the warm spirit and helpful attitude of their program directors, mentors, and staff. One student expressed, "With UDM's assistance, we can now visualize ourselves as future healthcare professionals!"
UDM Theatre production performed downtown
The original, multimedia play, "Jordan Anderson Writes a Letter," written by Professor of Performing Arts Arthur Beer with portions filmed by Assistant Professor of Communications Studies Jason Roche, was performed at the Charles H. Wright Museum of African American History, July 16. Highlighting emancipation and the Civil War, this play was performed for attendees of the National Underground Railroad Conference, hosted locally by the National Park Service and the Michigan Freedom Trail Commission. The Black Abolitionist Archive at UDM sponsored the performance.
Jesuit school alumni seek immigration reform
More than 1,200 alumni of Catholic Jesuit universities have collectively sent a letter to the U.S. House of Representatives calling on them to "seek comprehensive immigration reform without delay," July 17. University of Detroit Mercy alumni Vern Buchanan '86 and Gary Peters '84, representing the Republican house of Florida and the Democratic house of Michigan respectively, are among the current members receiving this call for change.
Thumbs Up!
Mert Aksu, dean of the School of Dentistry, was quoted in the article, "Two dental schools adopt SNODENT," on adopting the Systemized Nomenclature of Dentistry into their dental record systems, June 16.
Assistant Professor of Counseling Jocelyn Bennett-Garraway was awarded a 2014 Planning Grant from the Michigan College Access Network (MCAN). The grant will be utilized for course development to provide additional training to school counseling students and help prepare more high school students to pursue post-secondary education.
Professor of History Roy E. Finkenbine was quoted in the article, "Underground Railroad's women to get their due at Detroit conference," in The Detroit News, July 14.  Finkenbine also served as a member of the Planning Committee for the National Underground Railroad Conference in Detroit from July 16-20.
Alexandra Hichel, web developer/designer for the College of Liberal Arts & Education, was elected as president of the International Association of Business Communicators (IABC) Detroit Chapter for the 2014-15 term.