Theatre Company presents: 100 Saints You Should Know
The Theatre Company of University of Detroit Mercy will launch the second production of its 46th season with the Detroit premiere of Kate Fodor's drama 100 Saints You Should Know, Nov. 3-20. This play focuses on finding spiritual relevance in a universe full of lost connections. There will be 12 performances at The Marlene Boll Theatre at the Boll Family YMCA, 1401 Broadway Street, in downtown Detroit.
100 Saints You Should Know will feature seven events with The Detroit Theatre Discussion Project (DTDP) that is supported through a grant from the Michigan Council for Arts and Cultural Affairs. The DTDP features five post-show discussions, a pub trivia night and afterglow reception following selected performances. Experts from Detroit Mercy and the community will speak and answer questions about topics related to themes from the production. More information can be found in the news release; order tickets online at www.TheTheatreCo.com or www.udmarts.com.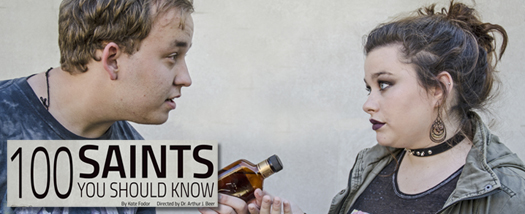 Architecture Lecture Series: Steven Haulenbeeck
As part of its 2016-17 Lecture Series, Detroit Mercy School of Architecture (SOA) welcomes Steven Haulenbeek of Steven Haulenbeek Design (Chicago, Il.) on Wednesday, Oct. 26 at 6 p.m. in the Cranbrook Art Museum's deSalle Auditorium, 39221 Woodward Avenue in Bloomfield Hills, Mich. This event is free and open to the public. See the SOA Lecture Series website for more events!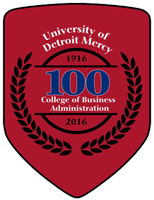 CBA Centennial events
As part of the College of Business Administration's Centennial celebration this year, the College will host a gala dinner featuring keynote speaker Mark Ellis '90, president and COO for Marketing and Sales at Time Inc. on Friday, Oct. 28. A ribbon-cutting ceremony will commemorate the opening of the new Center for Social Entrepreneurship.
The College will also host its Business Leadership Awards ceremony on Sunday, Oct. 30. The event will begin with a 10 a.m. Mass in the Commerce & Finance Building's St. Ignatius Chapel on the McNichols Campus, followed by a brunch and induction ceremony at 11:15 a.m. at the Detroit Golf Club, 17911 Hamilton Road in Detroit. See Centennial page for more events. RSVP before Thursday, Oct. 27 by calling 313-993-1204.
Upcoming talks
The Catholic Studies program and James Carney Latin American Solidarity Archive (CLASA) co-present Tom Florek, S.J., Jorge Atilano, S.J. and Gabriel Mendoza, S.J. to speak on the topic, "The Tale of Two Cities - Tancitaro Michoacan & Detroit Michigan: From Violence to Reconstruction of the Social Fabric," on Tuesday, Nov. 1 at 7 p.m. (in English) and Wednesday, Nov. 2 at 7 p.m. (in Spanish) in the Genevieve Fisk Loranger Architecture Center of the Warren Loranger Architecture Building.
CLASA also presents three talks by Margaret Potts, founder of People over Pipelines. The first topic, "Leadership: Reflections from Pine Ridge," will begin on Thursday, Nov. 3 at 5:30 p.m. in Room 13 of the Jane & Walter O. Briggs Building. The second topic, "Pipeline Problems and Environmental Racism," will follow at 6:45 p.m. Margaret Potts has worked with underserved populations in both Chicago and at the Pine Ridge Indian reservation. The third talk on "The Pipeline at Standing Rock Reservation: Its Impact on the Environment," will be held on Friday, Nov. 4 at 11 a.m. in Room 209 of the Commerce & Finance Building.
The events are free and open to the public. For more information, please contact Director of CLASA Gail Presbey at 313-993-1124 or presbegm@udmercy.edu. See the CLASA event hub for list of other events.
Kassab Mall "heats up" at annual fall event
Detroit Mercy Law Day, Oct. 26
Law Day is an annual event each Fall semester featuring a sample LSAT class, Moot Court simulation, tables with law school admissions counselors from many schools and a question and answer panel of Detroit Mercy Law admissions staff. This event will take place on Wednesday, Oct. 26 from 10 a.m. to 2 p.m. in the Fountain Lounge. The event is open to all faculty, staff and students and is sponsored by the Pre-Law Committee and co-sponsored by Pi Sigma Alpha, Phi Alpha Delta and Kaplan. For more information, email lawday@udmercy.edu.
Submit a Mid-Year Colleague Development Days proposal
Proposal submissions for the 2017 Mid-Year Colleague Development Days, which will be Jan. 5-6, 2017, must be submitted online by 8 a.m. on Wednesday, Oct. 26. The planning committee seeks program proposals that provide new thinking and best practices; engages faculty, staff and administrators in discussion; and encourages dialogue before, during and after sessions. All faculty and staff are invited to submit a proposal as a solo presenter or with a colleague.
Final notification of proposals accepted for the Mid-Year Colleague Development Days will be sent via email by Tuesday, Nov. 15. For questions about Colleague Days, contact Career Education Center Dean Sheryl Johnson-Roulhac at careerlink@udmercy.edu.
Nominate a colleague for the Commitment to Excellence Award
Faculty, staff and administrators are reminded to submit nominations for the 2016 Commitment to Excellence Awards before midnight on Monday, Nov. 7. All full-time staff (non-exempt) and administrative (exempt) employees of the University are eligible. Recipients will be selected by the end of November and the awards will be presented at the annual Employee Christmas Party & Colleague Recognition event on Friday, Dec. 16. Criteria and the nomination form can be found online. Completed forms should be emailed to cteaward@listserver.udmercy.edu. Paper copies should be sent to Commitment to Excellence Award 2016, Human Resources Office, FAC 200, McNichols Campus. Please direct any questions to staffadmindevelopment@listserver.udmercy.edu.
Thumbs Up!
Associate Professor of Education Donald DiPaolo's aticle, "Leadership Isn't Minor-But It Can Be!" was recently published in volume 15, issue 4 of the Journal of Leadership Education.
Professor of History Roy E. Finkenbine gave the talk, "The Real Nat Turner," at the Berkley Public Library, Oct. 20.
Associate Professor of Education and Former Deputy Mayor of Detroit Isaiah McKinnon spoke at the Michigan Premiere of the film, "Walk With Me," which chronicles the trials and landmark cases overseen by 94-year-old federal judge and civil rights leader Damon Keith.
Associate Dean of Architecture Joseph Odoerfer was quoted in the Detroit Free Press article, "Michigan modern architecture defines Detroit's growth period," Oct. 16.
Dean of the College of Health Professions and McAuley School of Nursing Christine Pacini has been appointed chairperson of an American Association of Colleges of Nursing (AACN) national task force, Vision for Nursing Education. This group is charged with the responsibility of establishing a new vision for nursing education to guide the development of academic nursing programs (baccalaureate, master's and doctoral) that prepare graduates with the competencies needed to positively impact health and health care. The resulting position statement will provide the foundation for the revision of the AACN Essentials for Nursing Education.
Professor of English Nicholas Rombes' poem, "Our Dead Sister," was published by online arts magazine, Queen Mob's Teahouse.