Hitchcocked! An Audio Serial - Media
Media & Illustrations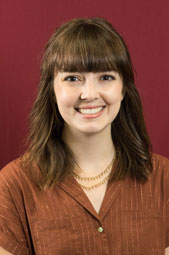 Costume Designer for the Detroit Mercy Theatre Company and Assistant Professor Mary Elizabeth Valesano got creative when it came to working on HItchcocked: An Audio Serial.
"After all, what can a costume designer do for a production with no costumes," she asked. "This question led me to do some very creative thinking about ways that I could engage with this project, collaborate with the production team, and create visual work to support the storytelling of Hitchcocked."
Since Hitchcocked: An Audio Serial was an audio production, the costume renderings needed to work outside of common conventions. Valesano began drawing specific scenes from each of the five episodes using them to communicate characters' personalities and relationships to offer imagery as a supplement to the audio-only experience.
Valesano said this solution to traditional costume design for the production allowed her to collaborate with the director and the student performers to imagine and express the physicality of characters. On March 9, she presented her work at the 25th annual United States Institute for Theatre Technology (USITT) conference. Valesano enjoyed the process and the challenge of finding a new way to support audio-only productions and hopes these illustrations add a little extra life to the listening experience.
Episode Media
Episode 1 - The Trouble with Alma
Detroit. December 1999, a few days before the millennium. We meet Alma, a mild-mannered assistant manager at a video store, and her friend, Grant, a fellow film fanatic, who gives her the gift of an immersive game experience based on the films of Alfred Hitchcock. It's just a little harmless fun. Or is it?
Episode 2 - To Catch A Murderer
In episode two, the game leads Alma and Grant to the roof of a high-rise building where the two of them realize they may be in way over their heads.
Episode 3 - The 39 Props
Alma and Grant enlist the help of her Uncle Charlie to solve the game's latest clue and they discover a mysterious message causing them to question whether it's really a game at all.
Episode 4 - East by Northeast
In a race against time, Alma and Grant head off on the road trip to end all road trips -- thwarted at every turn by unexpected characters and obstacles. Will they reach their destination in time?
Episode 5 - Dial "H" for Hitchcock
Alma and Grant discover an evil plan and thousands of lives hang in the balance. Don't miss a second of this heart pounding conclusion. Miss out, and you just might be…Hitchcocked!