---
Detroit Mercy Brand and Logo
Use of brand identity on University of Detroit Mercy business cards, email signatures and other materials
Using the University Brand
All University of Detroit Mercy official business cards, email signatures and letterhead are required to use the University brands only. Use of other institutional, organizational or company names, logos or other brand elements on Detroit Mercy business cards, email signatures and letterhead are prohibited. Any Detroit Mercy business cards, email signatures or letterhead that contain the name, brand and/or logo of other institutions, organizations or companies must be replaced with new cards and email signatures.
If you have any questions regarding the usage, do not hesitate to contact Marketing & Communications at 313-993-1254.
Order forms for new letterhead, envelopes and business cards
See the Hatteras website for online order forms for new letterhead, envelopes and business cards.
Please be aware the order form has three options (McNichols, Law and Dental) depending on your respective campus location. See also our communication request form for other graphic design needs, photographer request form and story submission form.
For more information, please contact the Office of Marketing & Communications via email at marcom@udmercy.edu. 
Acronym Usage Policy - Do not use acronyms such as DM, UDM, U of D
Do not use acronyms such as DM, UDM, U of D or the like when referencing Detroit Mercy on public websites, marketing materials including fliers, brochures, pamphlets, booklets and other promotional materials.
Please remember that following the first reference to "University of Detroit Mercy," use "Detroit Mercy" for subsequent references.
This standard applies to all promotion, web content and other material used to promote the institution. In the case of internal systems such as financial aid records and grant information loaded into databases, the use of UDM is acceptable only when necessary due to character space limitations.
Following the Brand Standards Guide ensures clear and consistent communication of the University's identity. The guide states specific directions on the use of the University's official identity elements including logo, crest, typeface, school colors, etc. on printed materials and other special applications.
Questions?
For answers to questions and resolutions of issues not covered by the Brand Standards Guide, please contact the Marketing &  Communications department at 313-993-1254.
Logos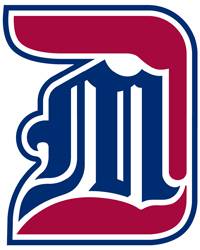 University of Detroit Mercy has two primary logos/wordmarks (the logo and crest) to identify itself in public, on the Detroit Mercy website and in internal documents. Each has a specific policy governing print and electronic use. You can download logo image files. Any questions or requests/exceptions regarding Detroit Mercy's identification policies must be referred to the Department of Marketing & Communications at 313-993-1254. For information related to Athletics logos, contact the Athletic Department.
Official Detroit Mercy Colors
The logo and crest must be printed in Pantone Matching System (PMS) 1945-red and 288-blue or black, according to the guidelines defined below. Some elements of the crest are printed in black, along with the blue and red. These graphics may not be printed in any other colors, nor in one PMS color without the other. On rare occasion, the crest and logo official colors may be "trapped" or printed using four-color process. Contact the Marketing & Communications department on guidelines for trapping the colors. The logo and crest can also be printed with foil stamping.
Use of the correct Detroit Mercy colors, in print and online, is critical to the success of our branding efforts. The table below provides specifications in most recognized color systems. If you have questions, please contact Marketing & Communications at 313-993-1254.
Color System
Blue
Red
White
 Color Sample
 
 
 
Hexadecimal color (web)
002D72
A6093D
FFFFFF
RGB color (web)
0, 45, 114
166, 9, 61
255, 255, 255
Process color (CMYK)

C100/M80/Y6/K32

C5/M100/Y55/K28
Spot color
(Pantone aka PMS)
PMS 288
PMS 1945
Black ink only (Grayscale)
Solid black (K100)
60% black (K60)
Logo/Crest Integrity
In any approved use, the logo and crest may not be altered in any way, including colors, backgrounds, fonts, proportions, or existing elements of the design. The logo and crest should not be used with additional text or graphics to create a "new" logo, unless designated in the Brand Standards Guide or by the Department of Marketing & Communications.
Questions and Requests
The Detroit Mercy logo can be downloaded from this site
in PNG or JPG format. It is also available in electronic format from the Detroit Mercy Marketing & Communications department. The crest requires special permission for approved use. Questions about logo/crest policy should be directed to Marketing & Communications at 313-993-1254.
Graphic guidelines
Detroit Mercy logo
The Detroit Mercy logo is the University's official public identifier. In the majority of Detroit Mercy communications, the logo should be used to ensure consistency of the University's image. It is especially important to use the logo on materials that will be distributed or seen outside of the University, i.e. for marketing, recruitment and general information.
Color
This is the logo showing official red and blue colors (numerical values listed above). The red may not be printed in any other red or in any other color other than black. The blue may not be printed in any other blue or in any other color other than black.
Black
The logo may be printed in all black if only black or black and one other color are being used for the print job or if reproduction with the screened logo option will be poor, i.e. when printing on newsprint or photocopying. The logo may also be printed in white on a dark background in some instances.
Detroit Mercy Crest (Seal)
The Detroit Mercy crest is a unique and honored symbol of the institution's identity. It is not intended for use as a graphic or a design element, and it should not be used in publications or materials in which use of the Detroit Mercy logo is appropriate as the University identifier.
The Detroit Mercy crest is to be used only on official, institutional documents, such as transcripts and diplomas and on formal proclamations, certificates, invitations, etc., issued from the Office of the President or the Vice President for Academic Affairs. Any other use of the crest is limited and should always be referred to the Marketing & Communications department before publication.
The crest should not be used online, nor in combination with the Detroit Mercy logo.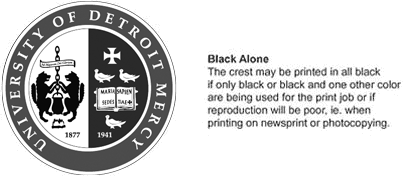 Letterhead, envelopes and business cards
Official University of Detroit Mercy letterhead, envelopes and business cards should be used for all external communications. The University uses 24# Cougar Opaque paper stock for the letterhead with corresponding #10 business envelopes. Letterhead is printed on 8 1/2 x 11 inch paper and utilizes the Detroit Mercy logo and the official Detroit Mercy colors. Business cards are printed on Cougar Opaque 80# cover stock. To maintain consistent style and identity with letterhead and business cards, please order letterhead, etc. from Hatteras Printing through their online order form or call Marketing & Communications for design specifics at 313-993-1254.
Detroit Mercy's brand background
University of Detroit Mercy has implemented a new brand identity with a new logo and brand line to help position itself for a robust future.
The new brand was announced Thursday, Sept. 15, 2016 at the Celebrate Spirit! event attended by the University community. View the Brand video shown at the event.
Research Study & Findings
The branding process began in fall 2015 when the University undertook an extensive brand research study that included surveys, interviews and focus group sessions with alumni and donors, prospective undergraduate students and current students, faculty and staff, and community leaders and employers.
Research questions focused on the University's reputation, its name and location, its Catholic identity and alumni engagement.
The research findings clearly showed that our stakeholders recognize University of Detroit Mercy for its academic excellence and reputation. Other positive attributes included the University's service to the community, students' access to real-world experience, its small class sizes and personal approach, and its Catholic identity. Concerns, however, were raised related to its location and safety as well as cost.
The University also learned that most stakeholders have a positive perception about its name. Many believe the name best represents the history and identity of the institution, especially its connection to Detroit. However, the many different ways stakeholders refer to the University presents an identity issue.
Outcomes
As a result of this research, the University remains even more committed to its name: University of Detroit Mercy. But on second reference, and as shorthand, the University will begin to refer to itself as Detroit Mercy instead of using acronyms that may not be easily recognized or accurately reflect its name. Detroit Mercy reflects pride in its city and its values, emphasizing its strong connection to Detroit and the city's revitalization.
In addition, the University will have a new logo with a more collegiate look that links to its long history.
To reflect the educational experience the University offers students and its role in the city's revitalization, the University will implement a more aspirational brandline: Build A Boundless Future. This phrase reflects the hopes and goals of our students and the important difference a Detroit Mercy education can make in helping them reach their goals.
Promoting the brand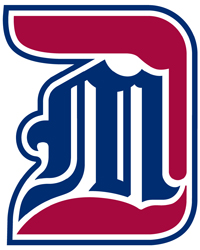 Check out Detroit Mercy's new brand in two new TV commercials, "Are You Ready" and "A New Era," which are airing  on cable TV channels.
The new identity will be prominent on new banners and fence scrims around the McNichols Campus and on billboards around metro Detroit. New recruitment materials will also convey the new brand identity. See a preview of various marketing materials.
To order Detroit Mercy swag, visit the Bookstore website. Download the new logo, digital letterhead and more here!
Breaking down the new logo
The logo, inspired by the popular old English D used for a time by University of Detroit, immediately brings to mind a university. Its combination of the "D" in red and the "M" in blue, honors the traditions of both founding schools, while at the same time becoming something greater than its parts.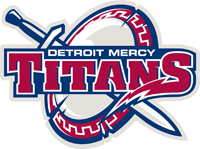 Instead of acronyms, the University will be referred to as "Detroit Mercy" on second reference. It's short, specific and memorable. It accentuates the ties between the University and the city and honors the consolidation between University of Detroit and Mercy College of Detroit. The law and dental schools will be referred to as Detroit Mercy Law and Detroit Mercy Dental, respectively.
The aspirational brandline is simple yet strong and easy to remember. The word "build" ties the University to Detroit's legacy as a city that builds things and hints at Detroit Mercy's important role in helping revitalize Detroit. Most importantly, it speaks to the hopes of current and future students, and points out the role of faculty and administration in giving students the tools they need to build a boundless future for themselves and the city of Detroit.