Gregory Grobis
Associate Professor of Performing Arts
Department Chair
Managing Director for the Detroit Mercy Theatre Company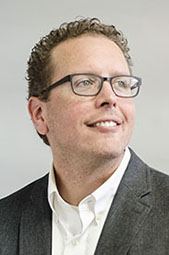 Contact Info: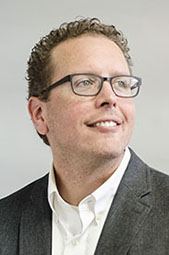 Areas of Expertise:
Acting and Directing
Arts Management
Musical Theatre
Detroit Mercy Theatre Company
Degrees
M.F.A. from Wayne State University
B.A. from Bethel College
Biography
Associate Professor Greg Grobis is the department of performing arts chair, managing director of the Detroit Mercy Theatre Company (DMTC) and a faculty member. Grobis teaches Introduction to the Theatre, Fundamentals of Acting, Acting II, Music of the Theatre, Theatre for Social Change, Principles of Arts Management, Performing Arts in New York City and Los Angeles and other courses. At Detroit Mercy he serves on the Women's and Gender Studies Program steering committee and is a member of the McNichols Faculty Assembly.
In addition to teaching, he directs and acts inside of the DMTC while mentoring students majoring in theatre at Detroit Mercy. Since graduate school, Grobis has managed over 125 theatre productions at Detroit Mercy and other professional theatres throughout the United States. Directing credits: regional: "Evil Dead: The Musical" produced by Sweat Equity/313 Presents at the Detroit City Theatre (received 2020 Wilde Award for best supporting actress in a musical), "The Whale" produced by DMTC and Ringwald Theatre (2016 Wilde Award for best actor in a play), other DTMC directing credits include: "You're A Good Man, Charlie Brown," "Young Frankenstein," "Avenue Q," "This is How It Goes," "Anatomy of Gray," "Cabaret," and "The 25th Annual Putnam County Spelling Bee."
As a musician, he worked at the National Shrine of the Little Flower Basilica in Royal Oak, Michigan for 16 years serving as the tenor section leader of the parish choir. He serves on the board of directors of Detroit Children's Theatre and is an elite cyclist fundraiser for Make-A-Wish Michigan. Grobis joined Detroit Mercy in 2008.
 

Research Leading To Creative Work and Scholarship

Directing:

You're A Good Man, Charlie Brown – Detroit Mercy Theatre Company
Evil Dead: The Musical – Sweat Equity/313 Presents at the Detroit City Theatre
Young Frankenstein – Detroit Mercy Theatre Company
Avenue Q - Detroit Mercy Theatre Company
The Whale*  -  Detroit Mercy Theatre Company / Ringwald Theatre *Joe Bailey won the 2016 Wilde Award for best actor in a play for Charlie
This is How It Goes - Detroit Mercy Theatre Company
Anatomy of Gray – Music Director - Detroit Mercy Theatre Company
Cabaret- Detroit Mercy Theatre Company / Marygrove College
The 25th Annual Putnam County Spelling Bee - Detroit Mercy Theatre Company / Marygrove College

Acting:

A Bright Room Called Day, Roland, directed by Jamie Warrow - Detroit Mercy Theatre Company
100 Saints You Should Know, Matthew, directed by Dr. Arthur J. Beer - Detroit Mercy Theatre Company
The Tempest, Ferdinard, directed by Andrew Huff - Detroit Mercy Theatre Company
Pride and Prejudice, Mr. Gardiner, directed by Louis Rackoff - Hope Summer Rep.
Hairspray, Wilbur, directed by Mary Bremer-Beer - Warren Civic

Publications:

Conversations Magazine,  "Speaking of Justice", Fall 2013 – Number 44

Music Albums:

"A Fireside Christmas", 2012 music album available on Itunes.com

Refereed Conference Paper Presentations:

2018 Association of Theatre in Higher Education, Paper: "Revolutionizing your theatre season with mission, values, and data."
2017 Association of Theatre in Higher Education, Paper: "Audience Engagement: The Detroit Theatre Discussion Project with The Theatre Company at University of Detroit Mercy."
2016 Association of Theatre in Higher Education, Paper: "The Low Hanging Fruit Project: an interdisciplinary arts leadership initiative."
2015 Association of Theatre in Higher Education, Paper: "The Power to Instigate Change through Theatre and a Terrible, Horrible, Very Bad Day."
2013 Conference on Justice in Jesuit Higher Education, "On Fire at the Frontiers.", Paper: "Theatre: a valuable vehicle for justice in Jesuit Higher Education."

 

Grants

2018 Michigan Council for Arts and Cultural Affairs project support grant for $15,000 for the "American Privilege" project.

2017 Michigan Council for Arts and Cultural Affairs project support grant for $18,000 for the "Detroit Theatre Discussion Project."

2016 Michigan Council for Arts and Cultural Affairs project support grant for $27,000 for the "Low Hanging Fruit Project."

2015 Michigan Council for Arts and Cultural Affairs project support grant for $11,250 for the "Alexander Project."

2014 University of Detroit Mercy Micro Mission grant award of $250 for "Jordan Anderson Writes A Letter" Project.

2014 Michigan Humanities Council project grant award of $15,000 for "Jordan Anderson Writes A Letter" Project.

2014 Michigan Council for Arts and Cultural Affairs project support grant award of $6,000 for the "Jordan Anderson Writes A Letter" Project.

 

Organizations & Affiliations

Pedagogy and Theatre of the Oppressed                                       
Association for Theatre in Higher Education                                           
I-Group Talent Agency                                                                      
National Association of Teachers of Singing                                
American Alliance for Theatre and Education                             
Performing Arts Alliance                                                                   
Fractured Atlas
Theatre Communication Group