Andrew Papa
Assistant Professor of Theatre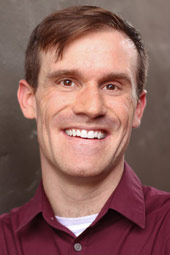 Contact Info: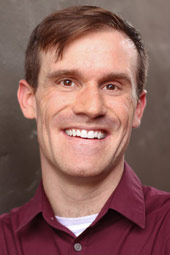 Areas of Expertise:
Voice and Speech
Accents/Dialects
Improvisation
Acting
Degrees
M.F.A. from Wayne State University
B.F.A. from Central Michigan University
Biography
Andrew Papa received his Bachelor of Fine Arts in Broadcast & Cinematic Arts at Central Michigan University, his Master of Fine Arts in Acting at Wayne State University, and holds a Certificate in Advanced Theatre Training from The Moscow Art Theatre School in Moscow, Russia. Papa is also a Fitzmaurice Voicework® certified teacher, and has studied at the Stratford Festival in Ontario and The Second City Training Center in Chicago, Ill. Papa joined Detroit Mercy in 2015.
In addition to teaching, Papa regularly works as an actor and director with the Detroit Mercy Theatre Company (DMTC). He also continues to remain active professionally in the theatre and voice over industries. Papa has performed as an actor with the Jewish Ensemble Theatre, the Williamston Theatre, and the Matrix Theatre Company, among several others. He also works as a dialect/text/speech coach, having worked at the Tipping Point Theatre and Wayne State University's Hilberry Theatre and Bonstelle Theatre, as well as with professional clients, one-on-one. Recent research interests include performance anxiety, theatrical intimacy, and performance theory and pedagogy
 

Courses Taught at University of Detroit Mercy

Acting II
Acting and Directing for the Camera
Acting Styles
Directed Studies in Acting
Fundamentals of Acting
Fundamentals of Human Expression
Introduction to the Arts
Introduction to Theatre
Scene Study and Analysis
Voice and Movement
Voice and Diction

 

Research Leading to Creative Activity & Scholarship

Acting

Alabama Story - Detroit Mercy Theatre Company
It's A Wonderful Life - Detroit Mercy Theatre Company
Motherhood Out Loud - Matrix Theatre Company
The Complete History of America [abridged] - Detroit Mercy Theatre Company
The Foursome - Tipping Point Theatre
True West - Tipping Point Theatre
The 39 Steps – Tipping Point Theatre

Directing

Bus Stop - Detroit Mercy Theatre Company
Check Please - University of Detroit Mercy
Ebenezer – Detroit Mercy Theatre Company
War of the Worlds: The Panic Broadcast - Detroit Mercy Theatre Company

Dialect Directing/Text Coaching

100 Saints You Should Know - Detroit Mercy Theatre Company
Alabama Story - Detroit Mercy Theatre Company
Midsummer Night's Dream – Detroit Mercy Theatre Company

Publications

Papa, Andrew. Review of Feldenkrais for Actors: How to Do Less and Discover More, written by Victoria Worsley. Methods: A Journal of Acting Pedagogy, Fall 2018, p. 153-155.
Papa, Andrew. Review of The Successful Voice: Strategies, Drills and Exercises for Public Speaking, Acting and Everyday Conversation, written by John Ross, Jr. Voice and Speech Review, 24 Apr. 2018, p. 224-226.
Papa, Andrew. Review of Book of Sides II: Original Two-Page Scenes for Actors and Directors, written by Dave Kost. Routledge (Taylor & Francis Group), 2017

Academic Conferences (Presentations, Panels, & Papers)

Papa, Andrew. "Driven to Love: Finding Combustible Characters, Energetic Scenes, and Resilient Performances." Association for Theatre in Higher Education Digital Conference, 24 Jul. 2020, Detroit Marriott at the Renaissance Center, Detroit, MI. Conference Presentation.
Rothacker, Thomas and Papa, Andrew, et. al. "How to Teach & Reach: A Sharing of Ideas When Working in the Acting Studio with Non-Majors." Association for Theatre in Higher Education Digital Conference, 01 Aug. 2020, Detroit Marriott at the Renaissance Center, Detroit, MI. Conference Presentation.
Aliano, Kelly and Papa, Andrew, et. al. "Transforming the Teacher-Student Relationship Through Assessment in the Theatre Classroom." Association for Theatre in Higher Education Digital Conference, 24 Jul. 2020, Detroit Marriott at the Renaissance Center, Detroit, MI. Conference Presentation.
Chang, Megan and Papa, Andrew, et. al. "Teaching Resilience in the Performance Studio." Association for Theatre in Higher Education Digital Conference, 01 Aug. 2020, Detroit Marriott at the Renaissance Center, Detroit, MI. Conference Presentation.
Papa, Andrew, Cabral, Adriano, and Gonzales, Elisa. "Emotional, Intellectual, and Spiritual Approaches to the Fitzmaurice Focus Line." Connectors Communicators and Culture, Voice and Speech Trainers Association Conference, 06 Aug. 2019, Embassy Suits, Orlando, FL. Conference Presentation.
Hague, Daydrie and Papa, Andrew. "Anxiety and the Performer." Soma & Science: Bridging the Gap in Interdisciplinary Voice Training, Voice and Speech Trainers Association/Pan-American Vocology Association Joint Conference, 13 Aug. 2018, Cornish Playhouse, Seattle, WA. Conference Presentation.
Browne, Mary Maxine and Papa, Andrew, et. al. "Voice-Speech-Action: Connecting Truth to Power in Performance." Theatres of Revolution, Association for Theatre in Higher Education Conference, 05 Aug. 2018, The Westin Boston Waterfront, Boston, MA. Conference Presentation and Panel.
Hague, Daydrie, Chaffee, Amy, and Papa, Andrew. "Anxiety and the Performer: History, Hypotheses, and Help." Spectacle: Balancing Education, Theory and Practice, Association for Theatre in Higher Education Conference, 04 Aug. 2017, Planet Hollywood Hotel and Casino, Las Vegas, NV. Conference Panel and Paper.

 

Organizations & Affiliations

Actor's Equity Association (EMC)
Applied Improvisation Network
Association for Theatre in Higher Education (ATHE)
New Play Exchange (NPX)
Productions Plus Talent Agency
Theatre Communications Group
Voice and Speech Trainers Association (VATSA)

 

Awards & Honors

Gallery Award Winner – Edward the Second (Best Rogue-Actor)
Harriet Kanter Award – Wayne State University
Irene Ryan Nominee (Semifinalist) – American College Theatre Festival
Jacqueline Eckhous Award – Wayne State University
Riecker Interpretive Theatre Award – Central Michigan University
Second City Immersion Scholarship – Second City Conservatory
The Wilbur Moore Prize – Central Michigan University
Wilde Award Nominee – Alabama Story (Best Performance, Supporting Actor)
Wilde Award Nominee – The Cider House Rules (Best Actor in a Drama)