Karen Selby
Associate Professor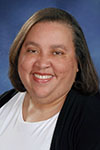 Contact Info: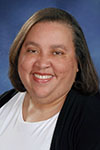 Degrees
Ph.D. University of Michigan
M.A., Teachers College, Columbia University
B.A., Kalamazoo College
Biography
Associate Professor, Department of Education, Karen Selby, Ph.D.,  came to the University in 2007. She received her B.A. from Kalamazoo College and M.A. at Teachers College, Columbia University. Her doctorate, from the University of Michigan, focused on literacy strategies in the social studies curriculum of full time Islamic schools. Her research continues to focus on multicultural literature, families, literacy, and the use of technology. Selby's most recent research looks to continues the theories of literacy in the urban school. Teaching interests, which reflect her lifelong commitment to the liberal arts and sciences, include children's literature, reading, English, language arts, social studies and research methods. Her favorite authors include Maxine Greene (Releasing the Imagination) and Christopher Paul Curtis (The Watsons Go to Birmingham 1968).