Jiawen Wang
Associate Professor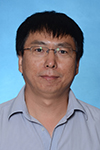 Contact Info: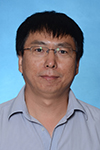 Degrees
Ph.D., Michigan State University
M.A., Michigan Michigan University
B.A. Shandong Teachers' University
Biography
Associate Professor of Education.  Teaches Educational Psychology, Educational Technology, and Special Education. He has had teaching experience in various cultural settings, working with various populations of students of different age levels. He holds an M. A. in TESOL (Teaching English to Speakers of Other Languages), and a Ph.D. in Educational Psychology and Educational Technology, both from Michigan State University. Before coming to study in the U.S., he had been teaching English at high school for more than 10 years in China with a B.A. in English Education and British and American Literature. His research interests are general educational technology, online education, second language acquisition, language technology, immigrant language maintenance, teacher education and special education, with an orientation towards quantitative methodology.