Michael DiGiovanni
Executive-in-Residence
Adjunct Professor of Economics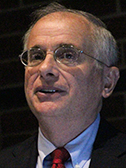 Contact Info: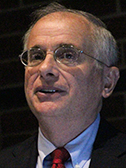 Areas of Expertise:
U.S. Auto Industry Forecast
U.S. Macroeconomic Forecast
Degrees
M.A., Mathematical Economics, University of Detroit
B.A., Economics, University of Detroit
Biography
Adjunct Professor of Economics, Michael DiGiovanni teaches Microeconomics, Macroeconomics, Economic Conditions and Economic Analysis. DiGiovanni comes to Detroit Mercy from General Motors, where he retired in 2010 (after 31 years) as Executive Director of Global Market & Industry Analysis. Prior to General Motors, he was Chief Economist for the Detroit District of the U.S. Army Corps of Engineers.
DiGiovanni also serves as Executive in Residence for the College of Liberal Arts Education, and as a member of the Dean's Advisory Board for the College of Liberal Arts & Education. He received his Bachelor of Arts with a major in economics and his Master of Arts in mathematical economics from the University of Detroit. DiGiovanni came to Detroit Mercy in 2010.