Renady Hightower
Associate Professor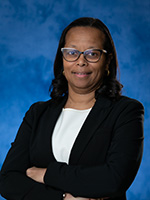 Contact Info: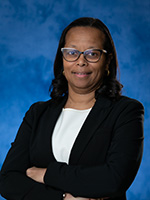 Areas of Expertise:
Medical Anthropology
Cultural Anthropology
Physical Anthropology
Health (Care) Administration
Leadership
International Health
Degrees
Ph.D., Medical Anthropology, Wayne State University
M.P.A., Wayne State University
MBA, University of Detroit Mercy
MHSA, University of Detroit Mercy
M.S., Public Administration, Wayne State University
B.S., University of Illinois Champagne-Urbana
Biography
Dr. Renady Hightower joined University of Detroit Mercy community in August 2014 as Administrative Chair for the Health Services Administration Program. She received her faculty appointment as Associate Professor January 1, 2016. Dr. Hightower served as the Program Chair August 4, 2014 thru May 15, 2018. During that period, Dr. Hightower oversaw both the undergraduate and graduate Health Services Administration programs; and the dual MHSA/ MBA programs held at the Detroit McNichol's and University Center Macomb campuses. Dr. Hightower teaches both undergraduate and some graduate courses and supports interdisciplinary learning in the Health Services Administration Program.
In 2016 Dr. Hightower was a faculty participant in University of Detroit Mercy Fulbright-Hays Group Project Abroad to Brazil. The focus of the 2016 UDM Fulbright -Hays GPA was the study of African Diaspora in Northern Brazil. The inter-collaborative cultural and scholar experience culminated into a project focused on the relationship between race, environment and health outcomes in Northern Brazil. Dr. Hightower's final UDM Fulbright- Hays GPA project was entitled "Race Does Matter in Community Health: Intersecting Cultural Anthropology and Community Health".
In winter 2017, Professor Hightower did a Directed Study with a MHSA student through collaboration with University of Detroit Mercy MCD and the Cuba Study Abroad programs. The focus of the graduate directed study was on understanding quality in the Cuban healthcare system. One of the most important outcome(s) from that unique experience was the creation of a Health Care Day in University of Detroit Mercy Cuba Study Abroad program.
In 2018, Dr. Hightower was privileged to be selected to participate in University of Detroit Mercy's second award of the Fulbright- Hays GPA to Brazil. During 2018 UDM Fulbright-Hays GPA experience, Dr. Hightower was also asked to take on the role of Curriculum Coordinator as well. The topics of interest Dr. Hightower chose to focus on were: 1) Healthcare in Traditional Communities and Territories; and 2) the Evolution of the Concept Quilombolo.
Dr. Hightower has a interest in photography and is currently learning how to use the camera to capture unique human and cultural experiences.
 

Research Interests

Racial and ethnic disparities in health

Social justice and equity in medicine

Historical experience and accounts of African Americans in U.S. Medicine

Environmental racism

The concept of resistance and how cultural and ethnic identify is used as a form of resistance.